Crazy Arm | 'Dark Hands. Thunderbolts' ALBUM Launch | SATURDAY 25 SEPTEMBER 2021
Greenbeanz Photography
Brave starts here | Crazy Arm | Dark Hands, Thunderbolts | LP Launch Gig Review | Saturday 25 September 2021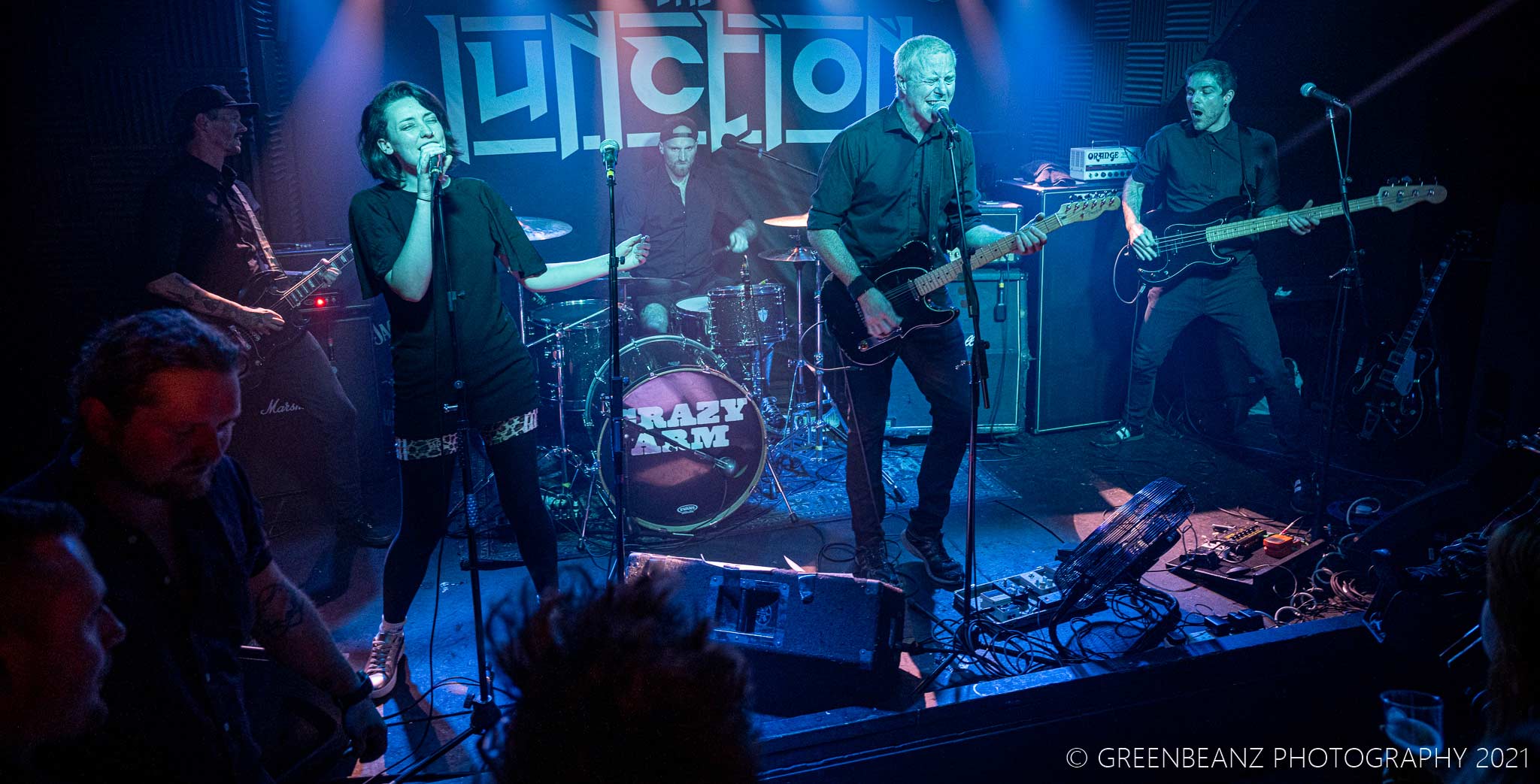 ABOVE : Crazy Arm debut songs off their fourth LP 'Dark Hands, Thunderbolts' on 25/09/21
"Not all adventures start with the confident stride of those looking forward to the bold promise of a new exciting challenge. Some begin by accident, or with just a few hesitant timid steps. A new chapter of tales to be told, from the band Crazy Arm, who in Darren Johns can boast an epic storyteller, took the former option, making those first few bold steps on Saturday night, here in Plymouth. The first date of a national tour celebrating the new album 'Dark Hands, Thunderbolts'.
Since the enforced venue closures of 21st March 2020 it has been incredibly difficult for bands and grass-roots venues to reschedule and juggle delayed and cancelled tours and shows, so credit to Crazy Arm and all the venues that are making this possible for a hungry audience starved of that live music fix for too long.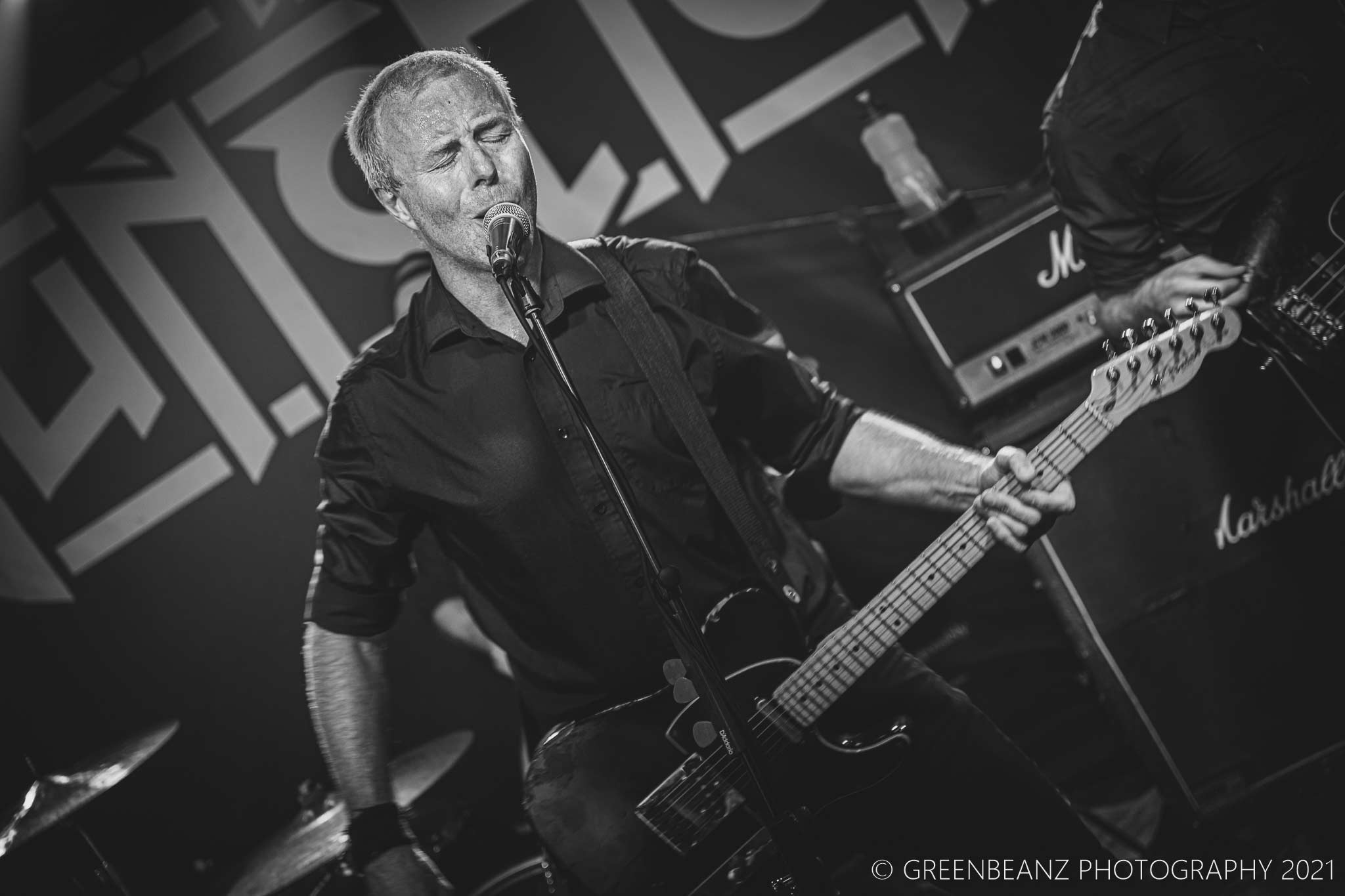 ABOVE : Crazy Arm's Darren Johns kicks off UK tour in Plymouth at The Junction in 2021
The night began with 'Heavy Heavy Hands' singer Angelique Kergosien epitomising that confidence and spirit of adventure, in a performance that seemed at some points to blow even her fellow band mates away. An amazing tour de force and lesson in how to front a band and drag the audience into your world. The enigmatic singer bounded on and off the stage as though the same compressed energy of a frustrated lockdown that had fuelled their album, was now powering a motor that threatened to bounce us all off the walls. So reverberant were the waves left in her wake.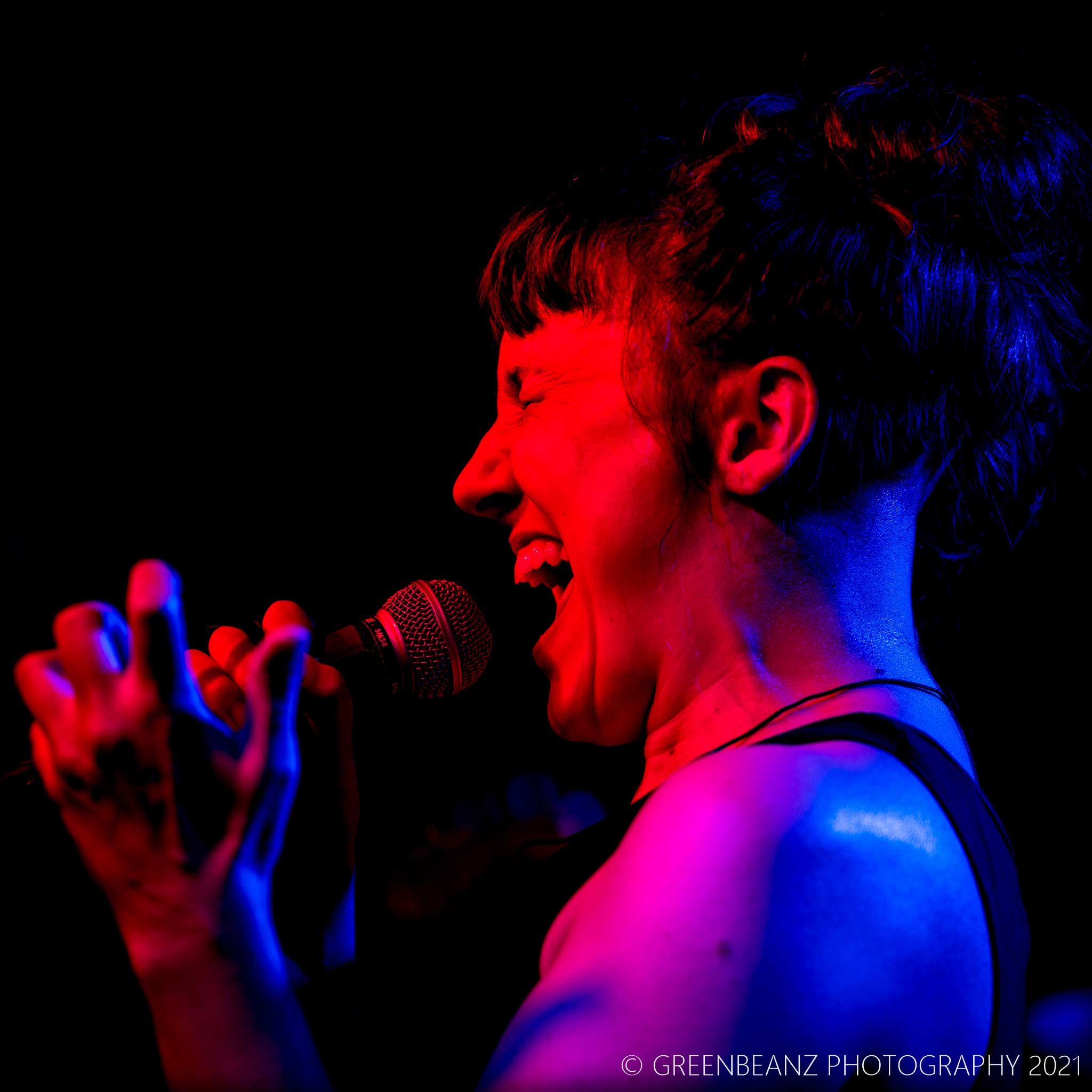 ABOVE : 'Heavy Heavy Hands' Angelique live at The Junction in 2021
With one of the drummers who played on the new Crazy Arm album celebrating it's release tonight, on bass, and the albums producer on drums, here was here a storm of their own making. The live versions of these songs put together over lockdown if anything, were more intense and resonant, threatening at times to steal the proverbial thunder from the headliners. Grungy Eurodelia with some delicious SubPop guitar treacle stirred through, it was a tasty forward to introduce any collection.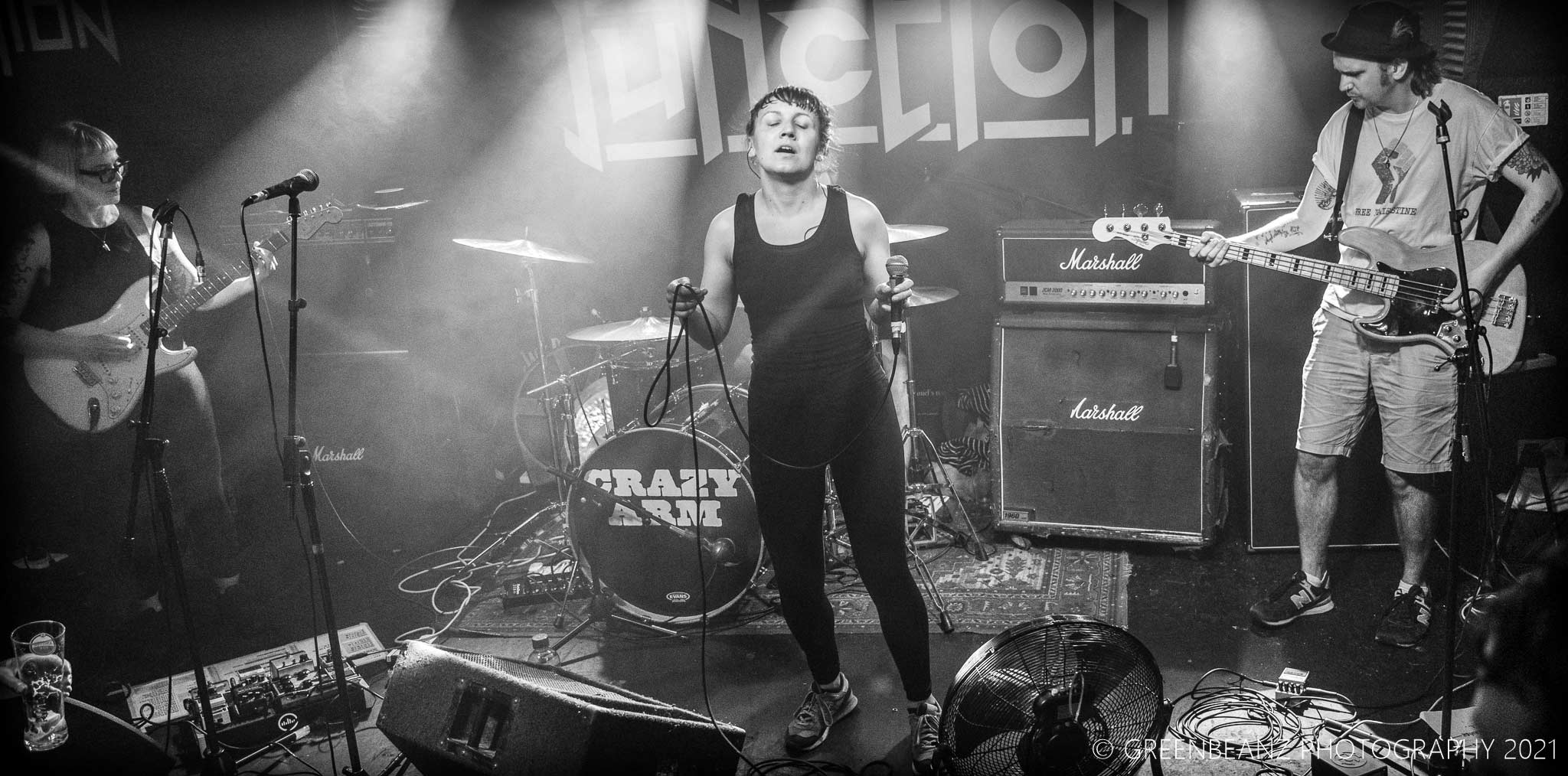 ABOVE : 'Heavy Heavy Hands' supporting Crazy Arm at The Junction in 2021
Next up in this compendium of epic tales, local picture book heroes 'The Bus Station Loonies' fronted by a songsmith whose genius has always been in making people forget he put down his colouring book and got off the drum stool to assume the mantle, welcomed for one night only Darren Johns in a cameo as bass player.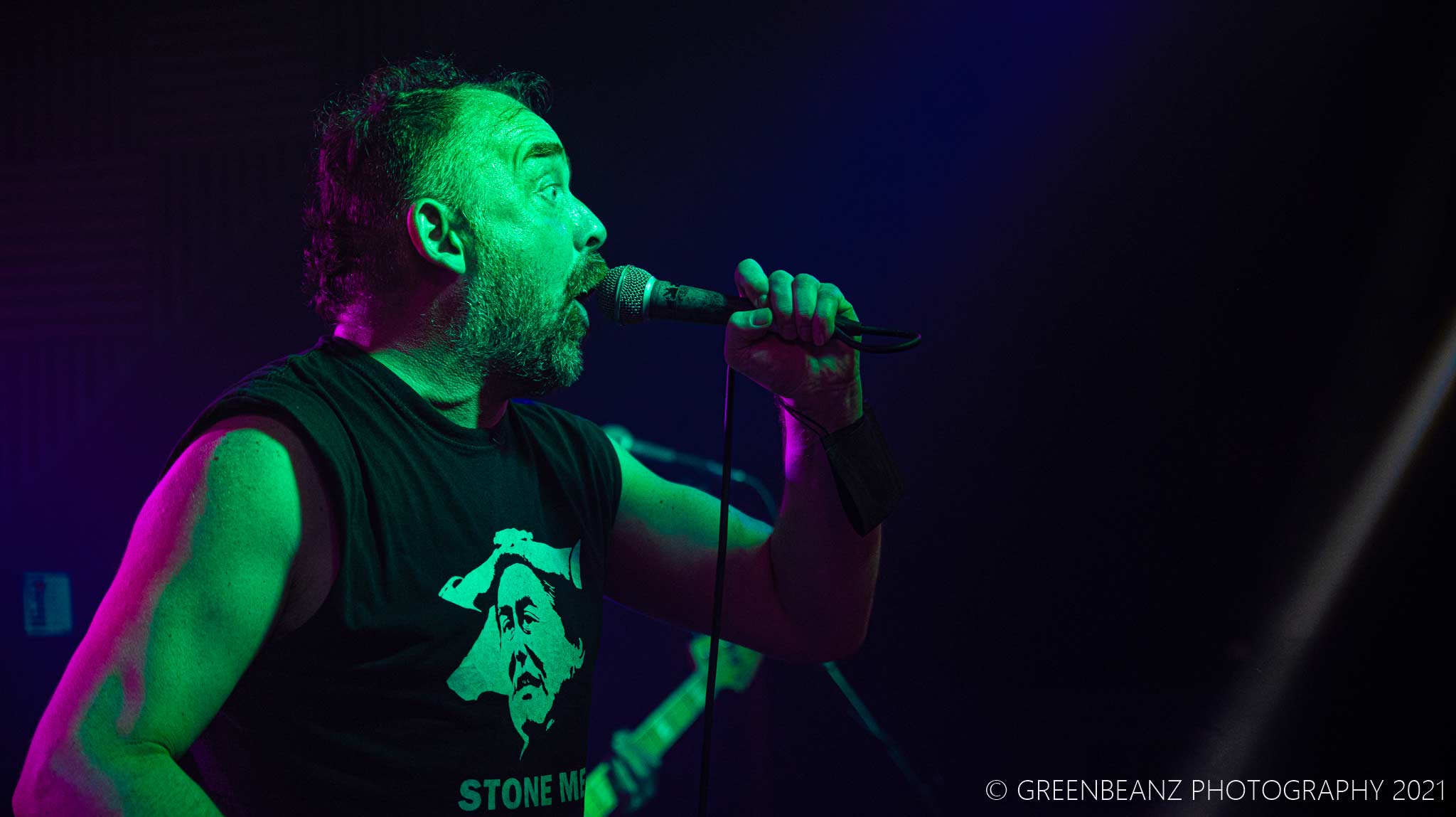 ABOVE : Chris from The Bus Station Loonies
Not quite as carefully obscured as a fat Hitchcock marching across the back of a scene, or the loonies social commentary hidden in a noisy whoopee cushion, but second fiddle (or stringed instrument at least) none the less, in a band that have never ceased to remind us all of the genius of Ricky Wilde, and how cool synths are, by not having any.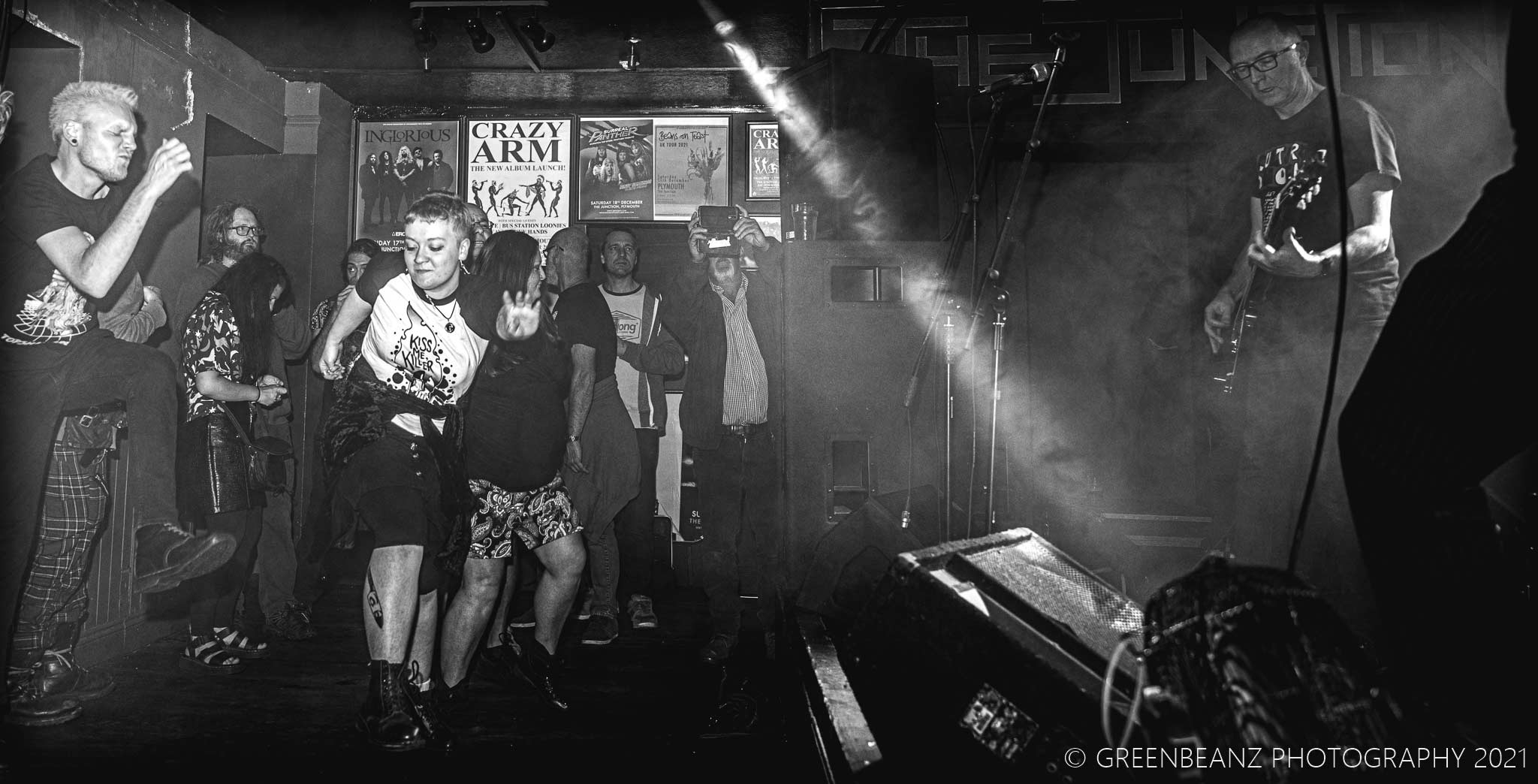 ABOVE : Loonie fans kicking up dust at The Junction in Plymouth 2021
A set that could only have been improved by playing 'Hops and Barley' at least twice (just my opinion) the jaunty fun had seemingly just begun, when as quickly as they had arrived, they had finished. Awesome sauce as the kids would say, and a bit like the opposite of going to the dentists, or a really good edition of the Beano or Dandy without as many gnashers and no Cow Pies.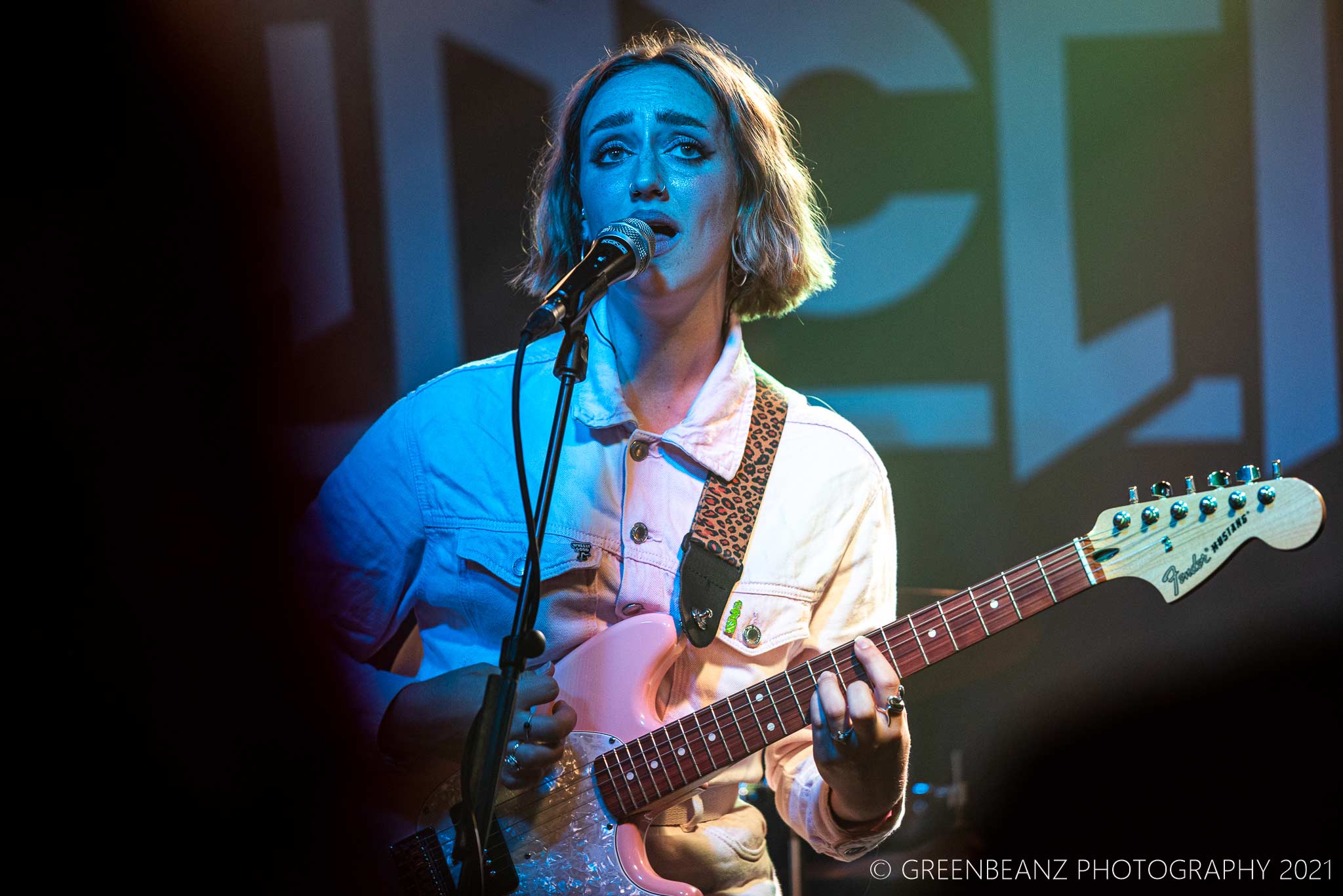 ABOVE : Ok Bye in a set that sprakled before the storm clouds rolled in
The last of the supporting acts came in the shape of Exeter's 'Okay, Bye'. A brief nodding acquaintance with this ninetieseque bubbling smorgasbord of fizzy guitar driven songs is enough to fall under their infectious spell and have you hunting out the sequels. If it makes you want to jump up and down and you can sing along at the same time, then this is surely a band doing a lot of things right.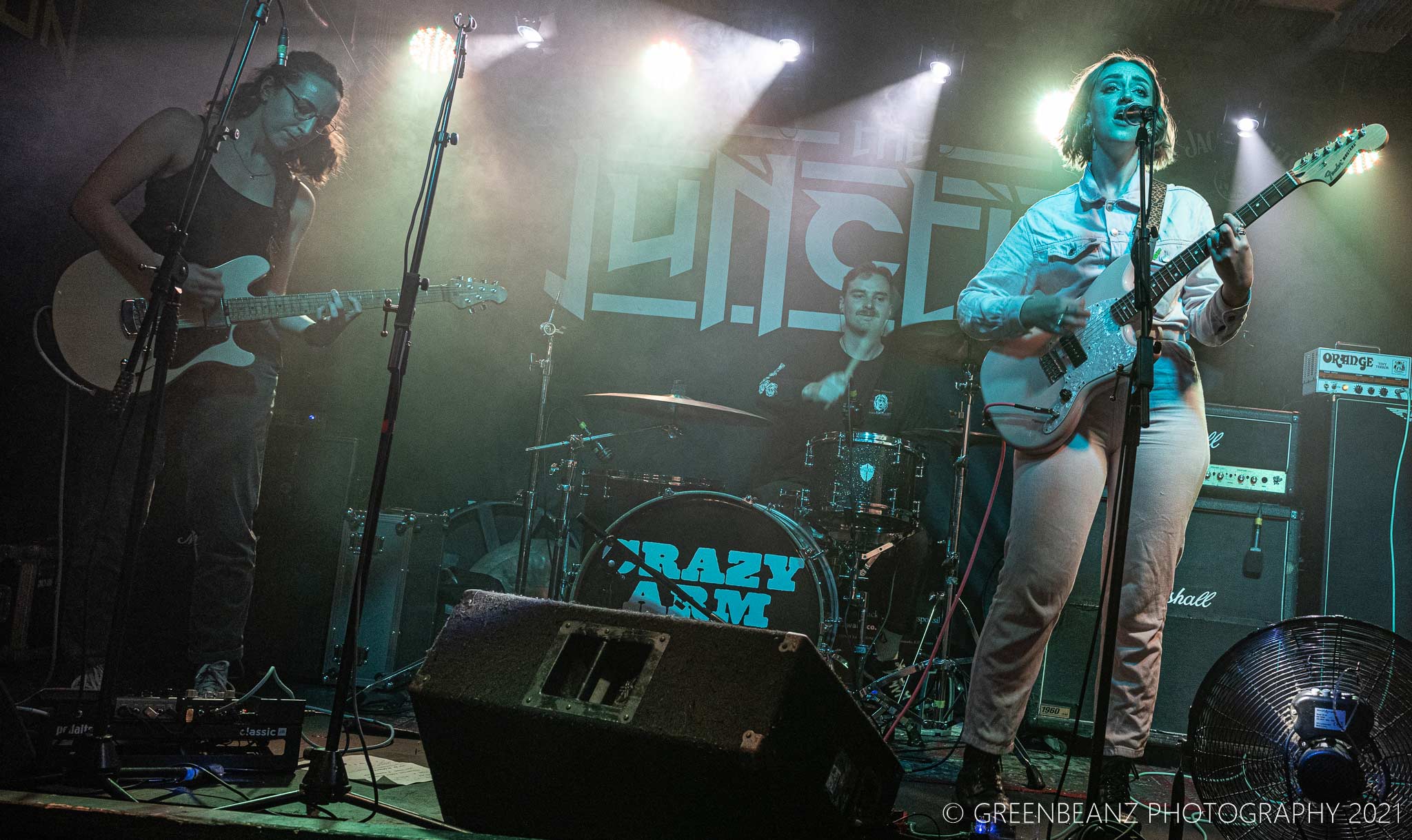 ABOVE : Ok Bye supporting Crazy Arm at The Junction in Plymouth 2021
They neatly rounded off an eclectic support program before the arrival of Crazy Arm, and the debut of some songs from the new album, and a few classics from what is now an excellent library in which to lose yourself.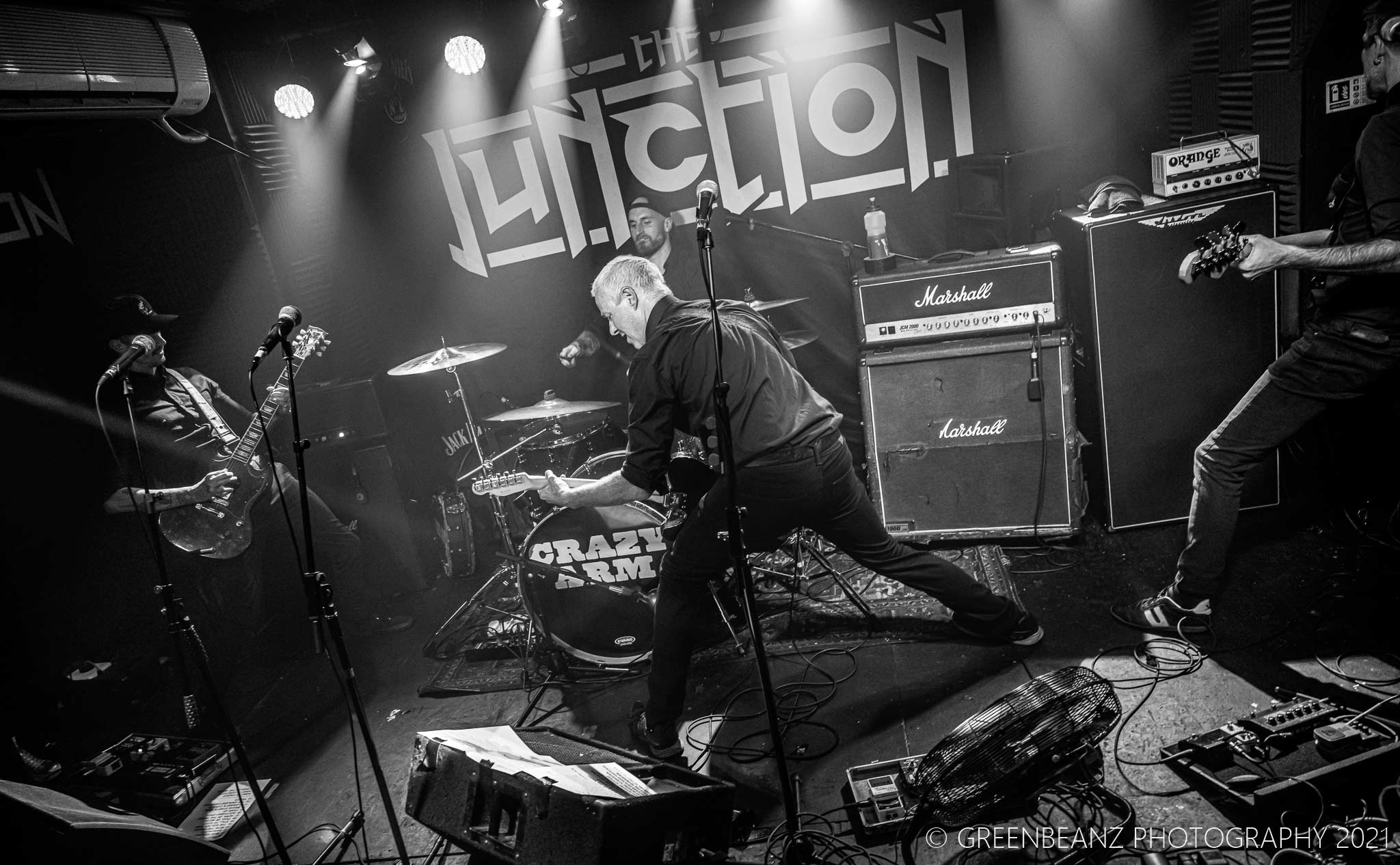 ABOVE : Crazy Arm live in Plymouth in 2021
Opening up like the new album with 'Montenegro' those splashed chords of cinematic colour set and give way to the chug of what sounds like the arrival of a bunch of mounted outlaws in a western. That for me is the key to this band, honed even more precisely on this new LP. There is an organic dynamic that underpins those huge rock staples, so that it never resorts to anything mechanical, or by the book. It can get messy like all the best and most expressive art forms always do, because it acknowledges that life is like that.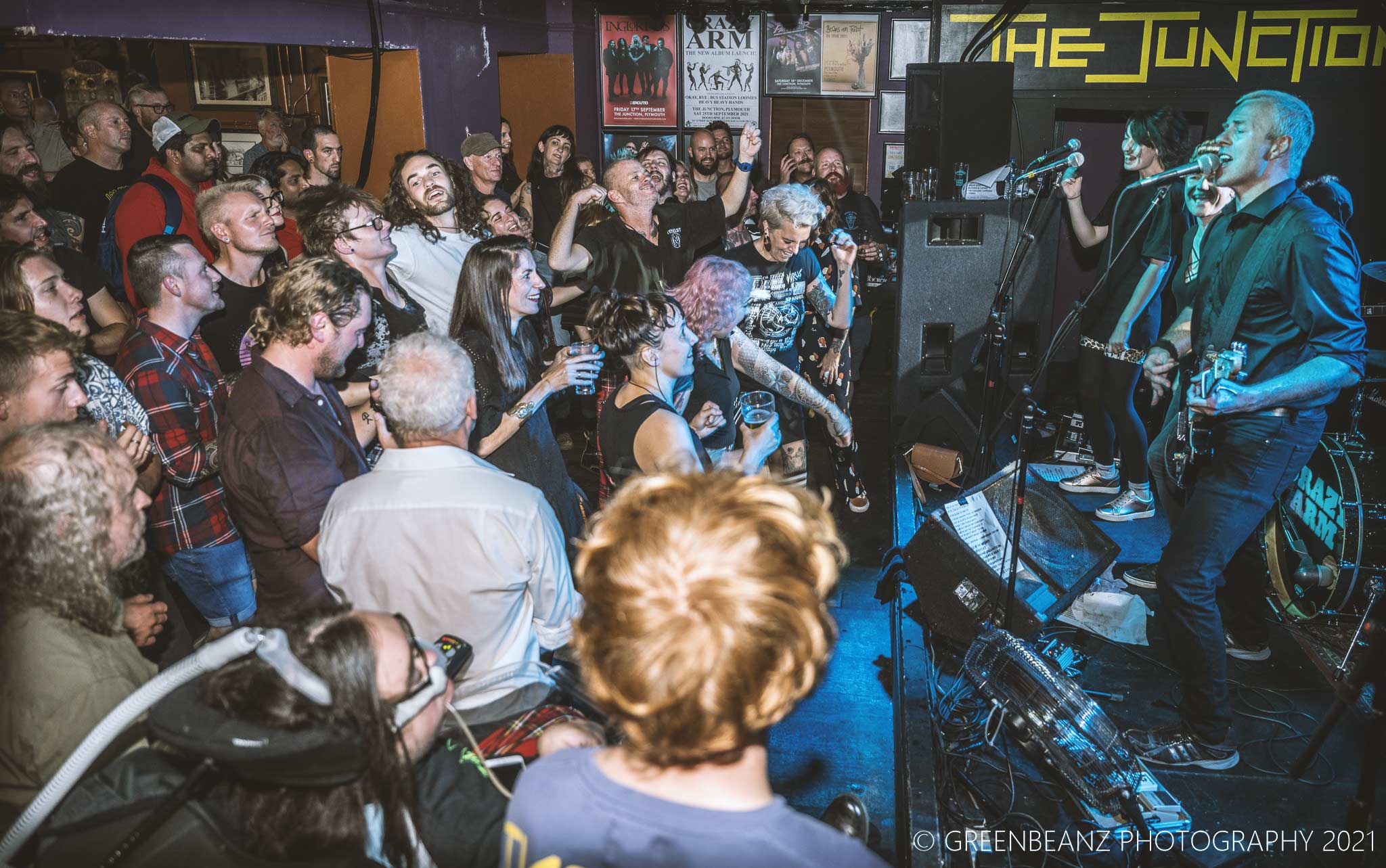 ABOVE : Crazy Arm at full steam in 2021
'Bandalito' continues that aural assault like the best bank job you ever dreamt up (maybe just me) and you can hear the plan played out once again, reminding you of what got them here. 'Mow the Sward' makes absolute sense of the support , all bands with a keen pop sensibility underpinning those songs and Crazy Arm deliver another sing/hum along gem here, to a pick and mix stuffed full with the flavours of all those influences they wear so effortlessly on their snotty sleeve. The joy of days remembered.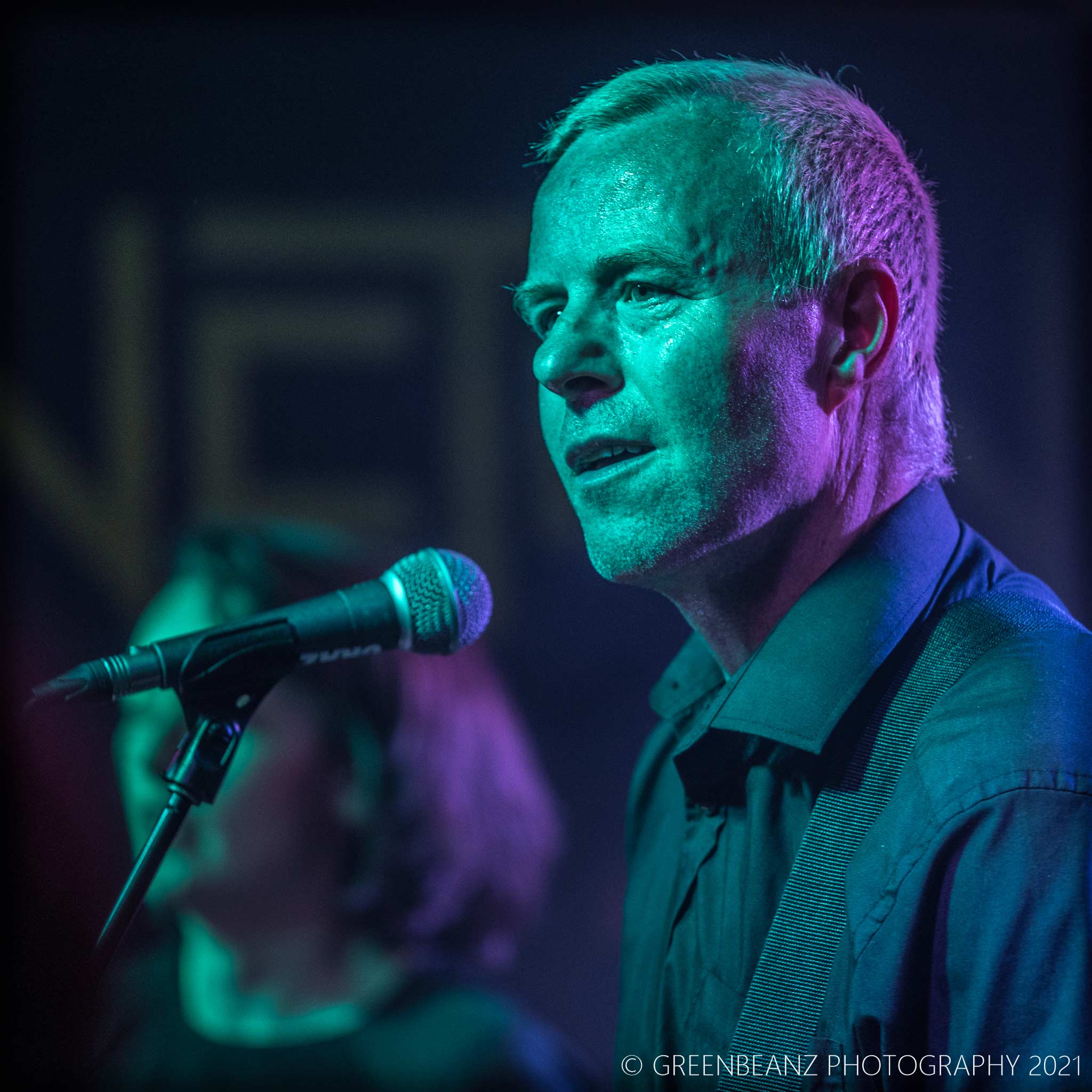 ABOVE : Crazy Arm's Darren John's at the launch of their new album
"It's been a really long time and yet it feels like it has been no time at all. It is a very strange thing" says Johns before launching 'The Golden Hind' into an ocean of eager and expectant fans, who lap up the shanty like tale of forced enlistment and the danger of corporate brutality. It is so lovely to hear the whoa's of Born to Ruins 'Still to Keep', feel so at home here with the new material. It is a testament again to the strength of songwriting on display, that a song you could use as a battering ram can be so much fun to sing along to.
ABOVE : Crazy Arm are back
Matt Wise's explosive drumming really helps hammer these ideas home, and considering this is the first night of the tour it is nice to hear that you would be hard pressed to fit a rizla in between him and the three stringed troubadours when they are in full flow.
BELOW : Becky Saxton with Crazy Arm 2021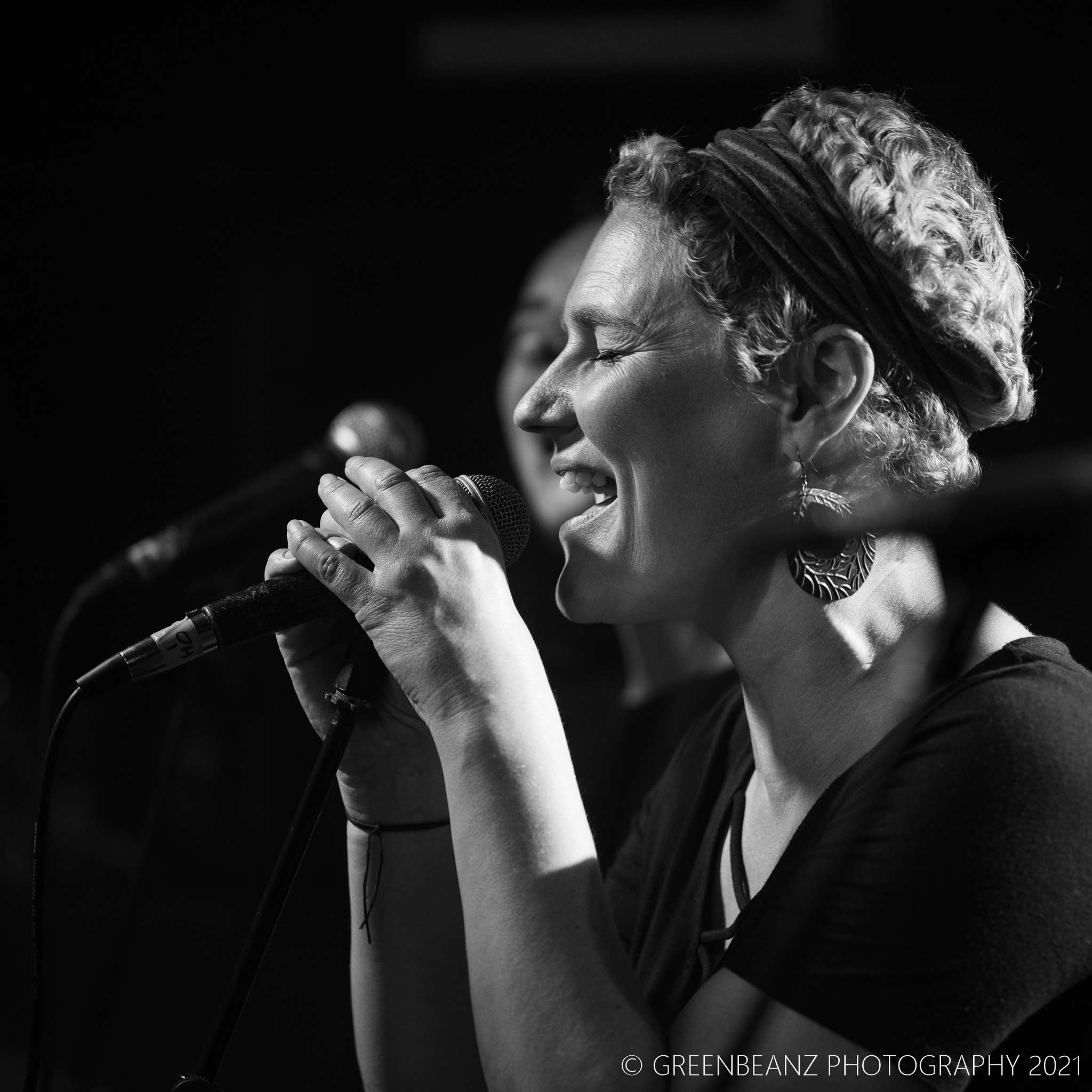 'Trail of Med's' and 'Howl of the Heart' make their debut before 'Southway Drive' reminds us all of those westcountry roots that hold all this euphoric melancholy down, and anchor it in something very real. New single 'Fear Up' reinforces that desolate wilderness setting with it's epic western like tones setting up the appearance of Simon Dobson's mournful Trumpet breaks beautifully. An appearance warmly celebrated by a crowd that took the roof of for Becky Saxton and ' Brave starts Here' the mother of all hoe-downs, and something I have not been able to excavate from my ear since first hearing it about a year ago now.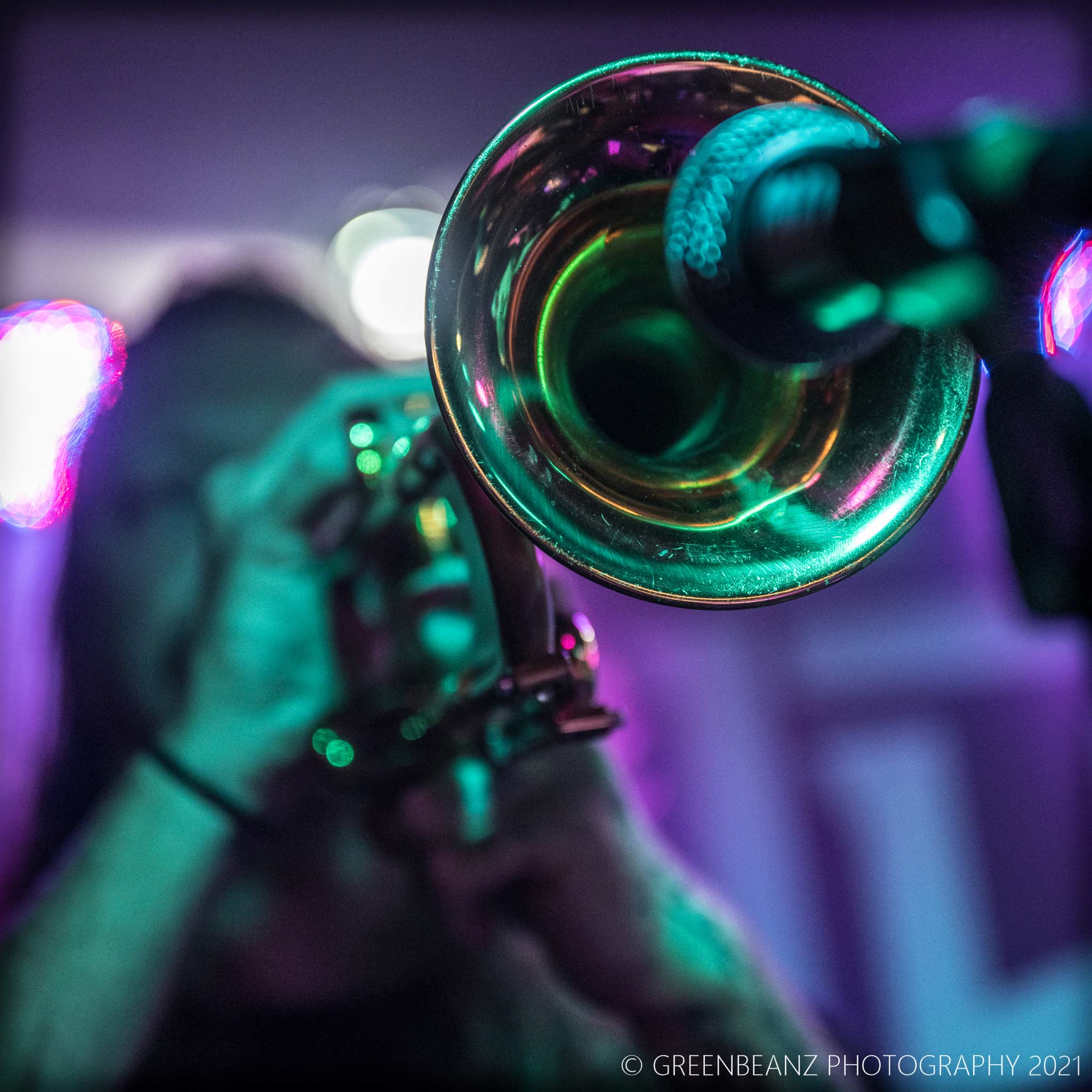 ABOVE : Simon Dobson with Crazy Arm
Dobson returns for 'Blessed and Cursed' with lines that would make Morricone proud, whilst the machine gun drumming and massive guitars tattoo out a bedrock backing that help the new album stay long in one's head. 'The endless carriage' actually does have an end, and ushers in the arrival of 'Tribes' with the Junctions own Crazy Army singing the opening salvo before that adrenaline pumping intro crashes in and sweeps you along on this new adventure. The new album does this whilst not being ashamed to hold your hand as the band take you somewhere new but familiar at the same time.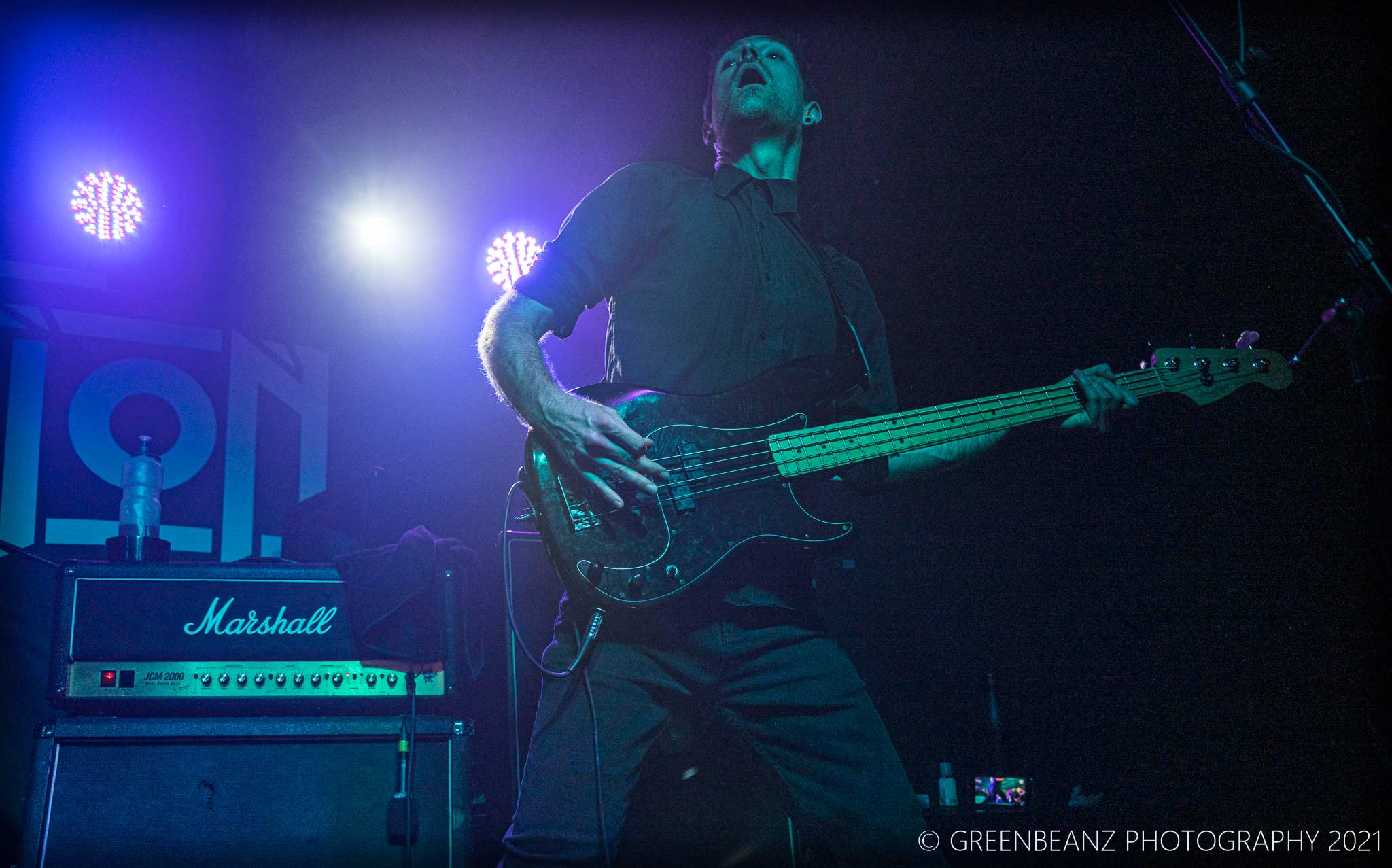 ABOVE : TJ on bass for Crazy Arm
'Song of Choice' shows you past vistas out of new windows and the crowd sing along heartily before 'Christ in Concrete' (in which John Daily goes full on unashamed gunslinger in, and drenches that slide with bourbon tinged regret )'Broken by the Wheel' close the show.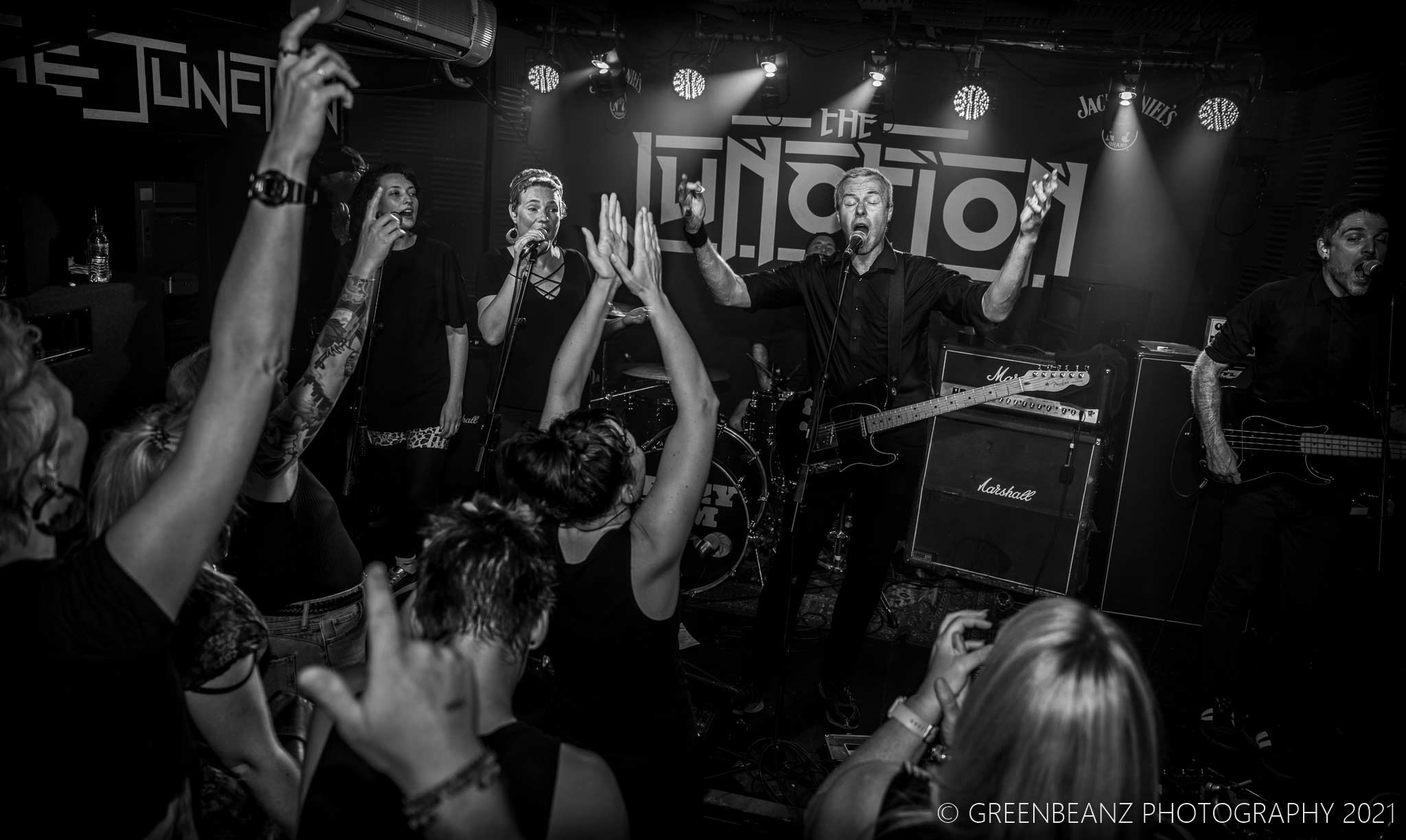 ABOVE : Crazy Arm bring the house down
Go and catch them on tour and expand your soul and mind. It is a book well worth listening to and an epic movie that your heart will thank you for having heard played out.