Trampolene | Himalayas, Sophie and the Giants, The Haze | The Junction | Plymouth | Tuesday 10 April 2018
Greenbeanz Photography
Trampolene | Himalayas, Sophie and the Giants, The Haze | The Junction | Plymouth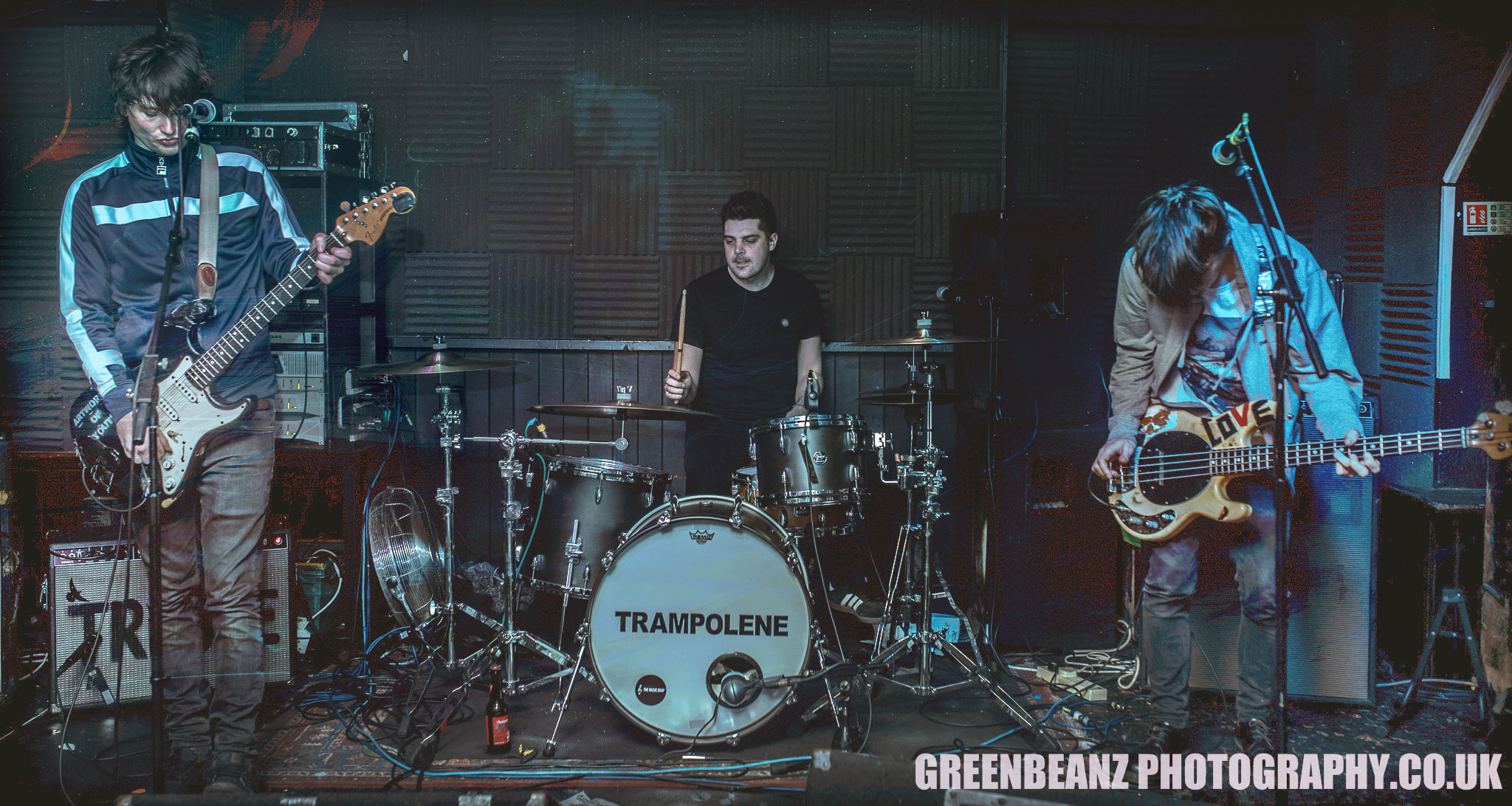 ABOVE : Trampolene at Teh Junction Plymouth 10th April 2018
Trampolene hit Plymouth on a dreary Tuesday night in April and the verbose virtuosos of British Indie unleashed a wickedly spiky set of top drawer painkilling paeans to modern brexitivity, the state of the stateless, in a city which reinvented the British channel as an ocean, and can compete with their hometown city of Swansea in providing referendum size piles of crumbling SEASIDE inspiration...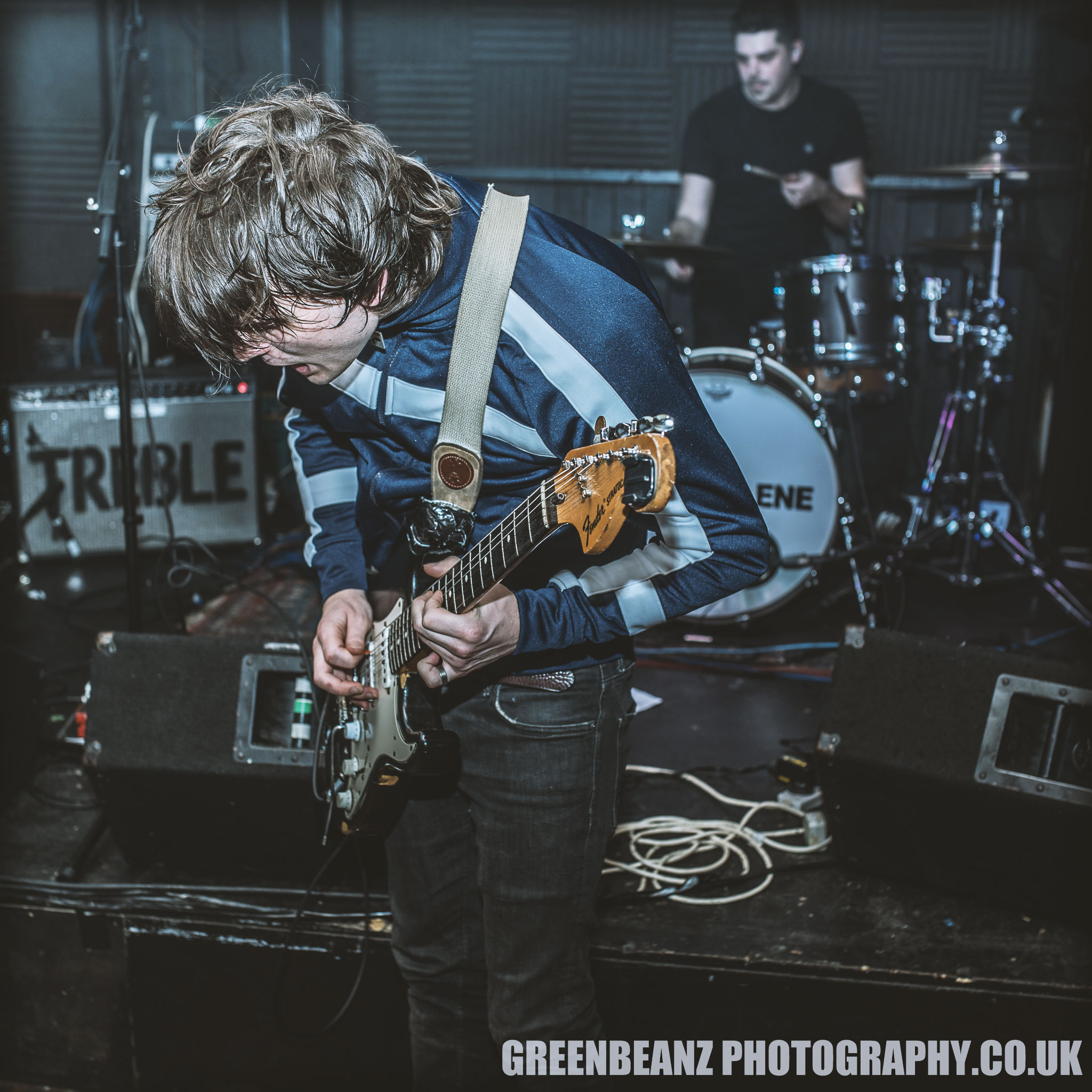 ABOVE : Jack Jones of Trampolene shreds in nice threads at The Junction Plymouth
Much more than the glamorous garrulous gobshite of British Indie, Jack Jones disarms you not just with his passion for language and documentary, but the inordinately clever way in which he posts the lyrics to you, wrapped up in tunes that lesser bands would spy (or at least spike some strawberry chewing gum) for.
The evening started with The Haze, four local lads with a good set of indie rock tunes reminiscent of bands like Franz Ferdinand and Blossoms. They confidently held their own in a venue a bit less full than you would have expected, undoubtedly hit by a lot of fans choosing to stay at home and watch the footy.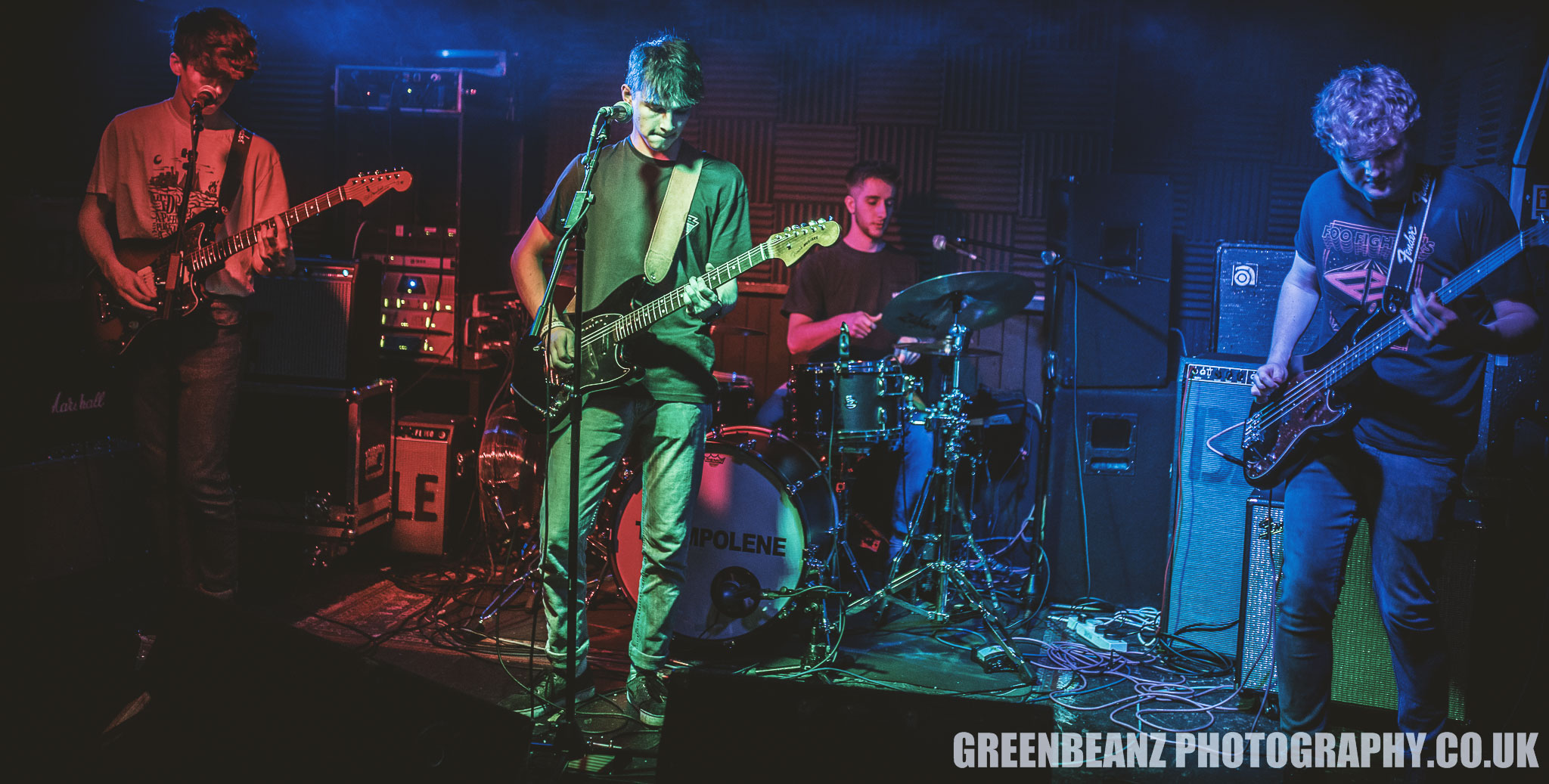 BELOW : Sophie Scott of Sophie and the Giants at The Junction Plymouth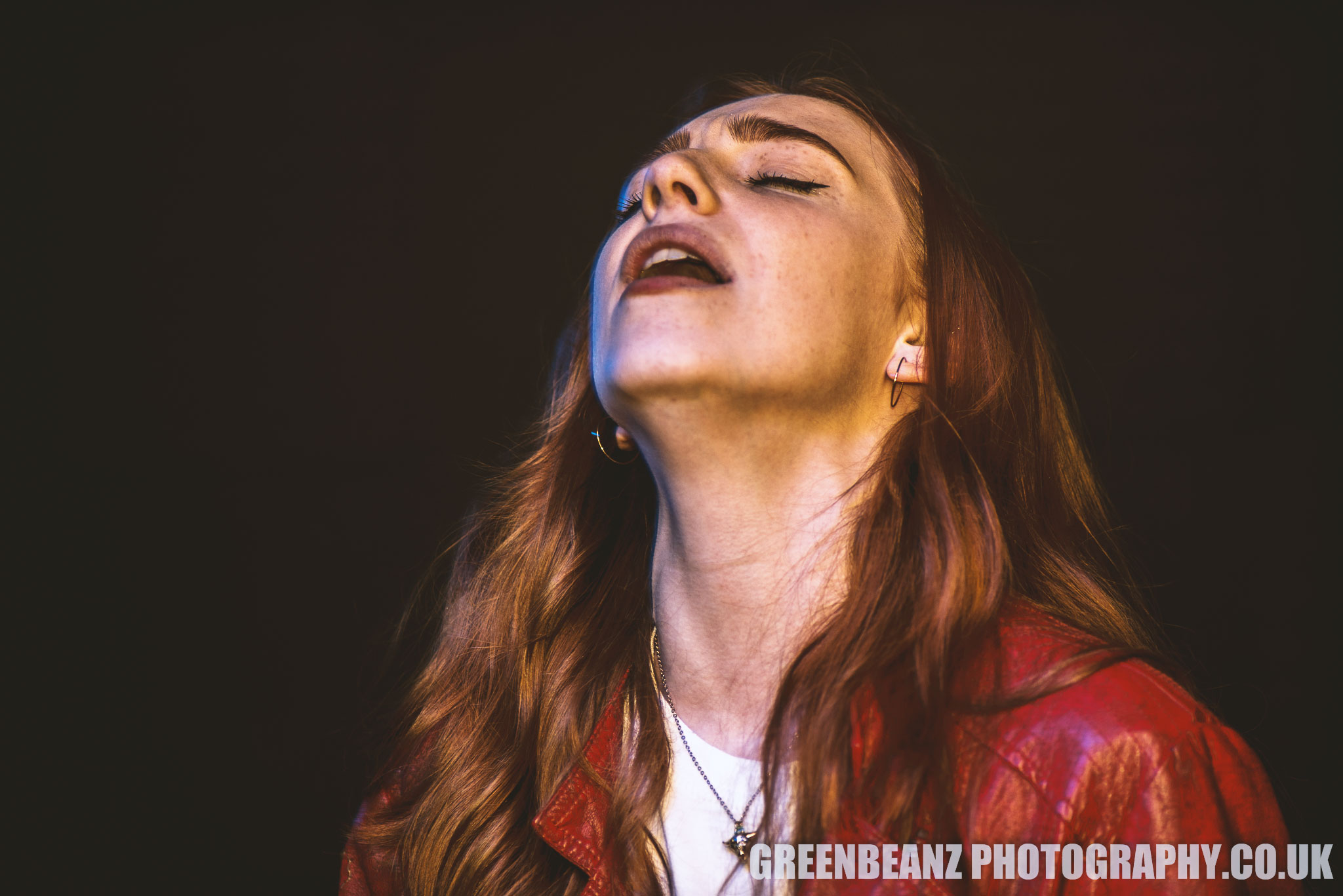 Next up were Sophie and the Giants. It's hard not to cite Florence Welch when trying to describe what not so giant Sophie Scott and her band The Giants bring to mind. Sophie's strident vocals impressed on a night which could have ended up being somewhat underwhelming. The venue had begun to fill a bit and Toby Holmes guitar work meshed nicely with the tight rhythm section of Bailey Stapledon on Bass and Chris Hill on Drums.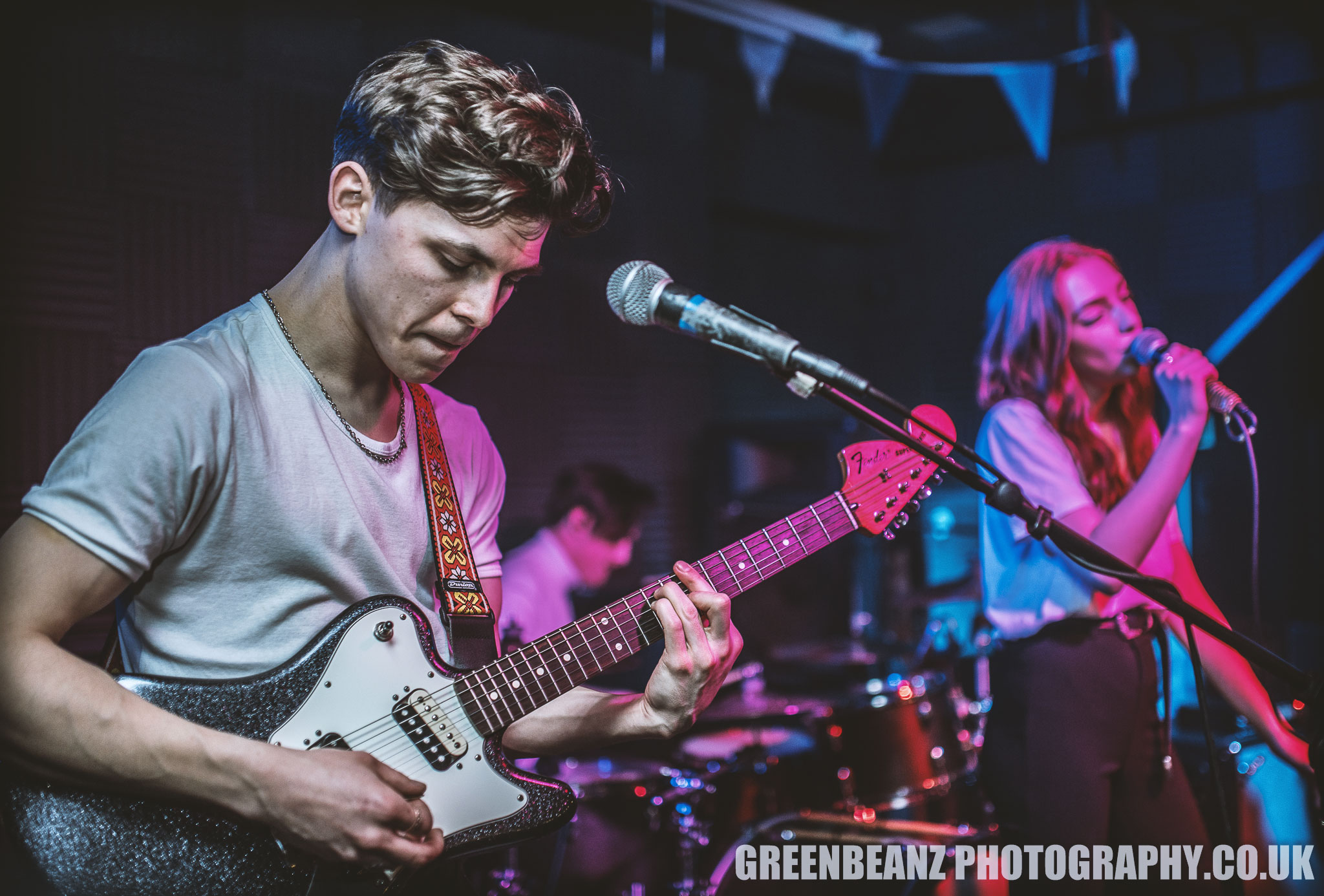 ABOVE : Toby Holmes and Sophie Scott at The Junction Plymouth

Himalayas rocked. A heady mix of influences with a sound not unlike 90's bands Manson ,Hard-Fi, and the Arctic Monkeys. Himalayas are much more than four handsome young men from Cardiff. Their punchy sing a long riff laden songs make them an ideal band for Trampolene to take around the country in support. From the city that gave birth to bands as diverse as Budgie, Catatonia and The Super Furry Animals the coiled Celtic umbilical guitar cord of fuzziness is still there, but not the dominant factor, for a band not afraid to craft a catchy chorus or deploy a memorable riff, made to reverberate in your head long after leaving the venue.
BELOW : Himalayas live at The Junction Plymouth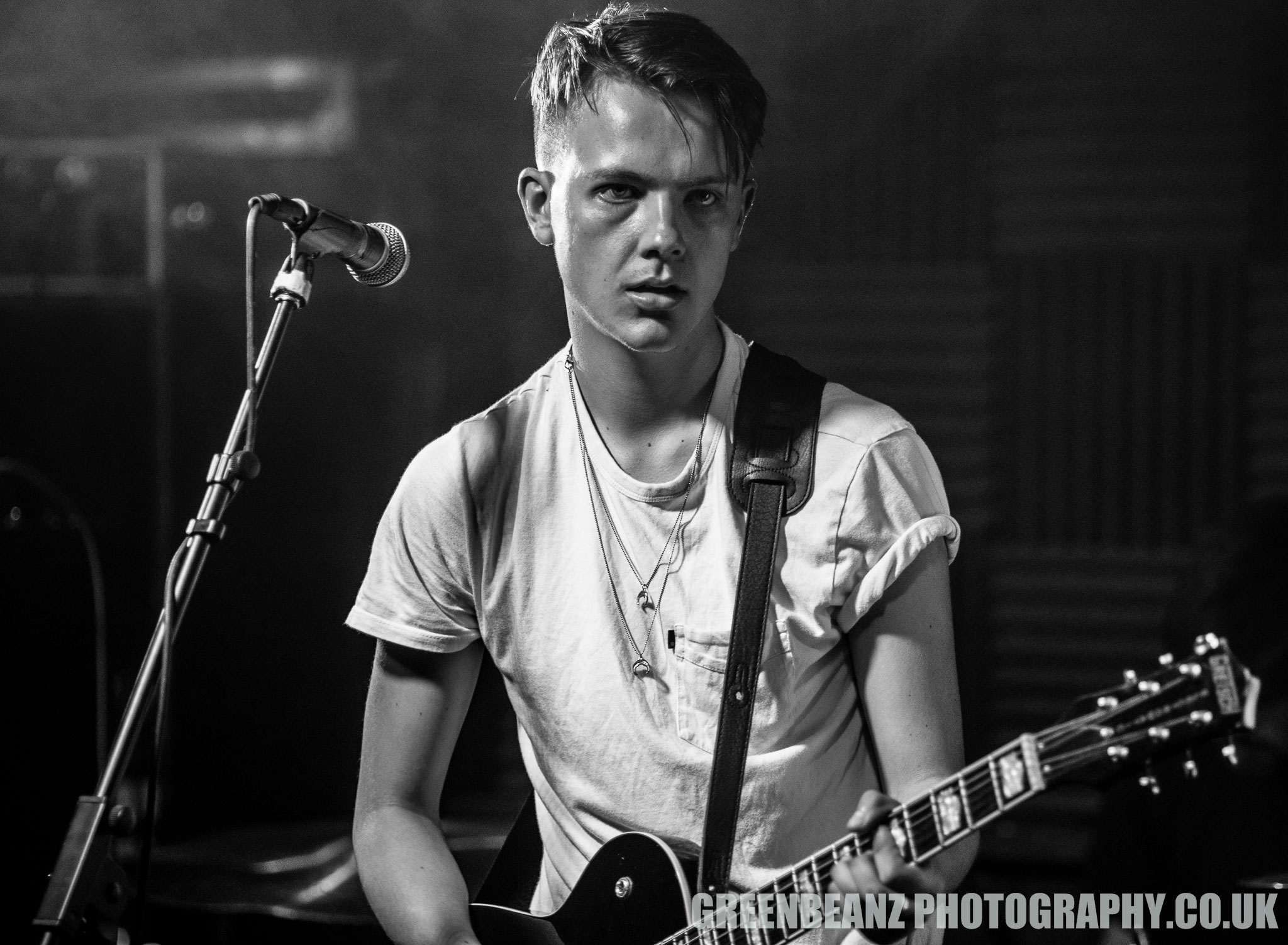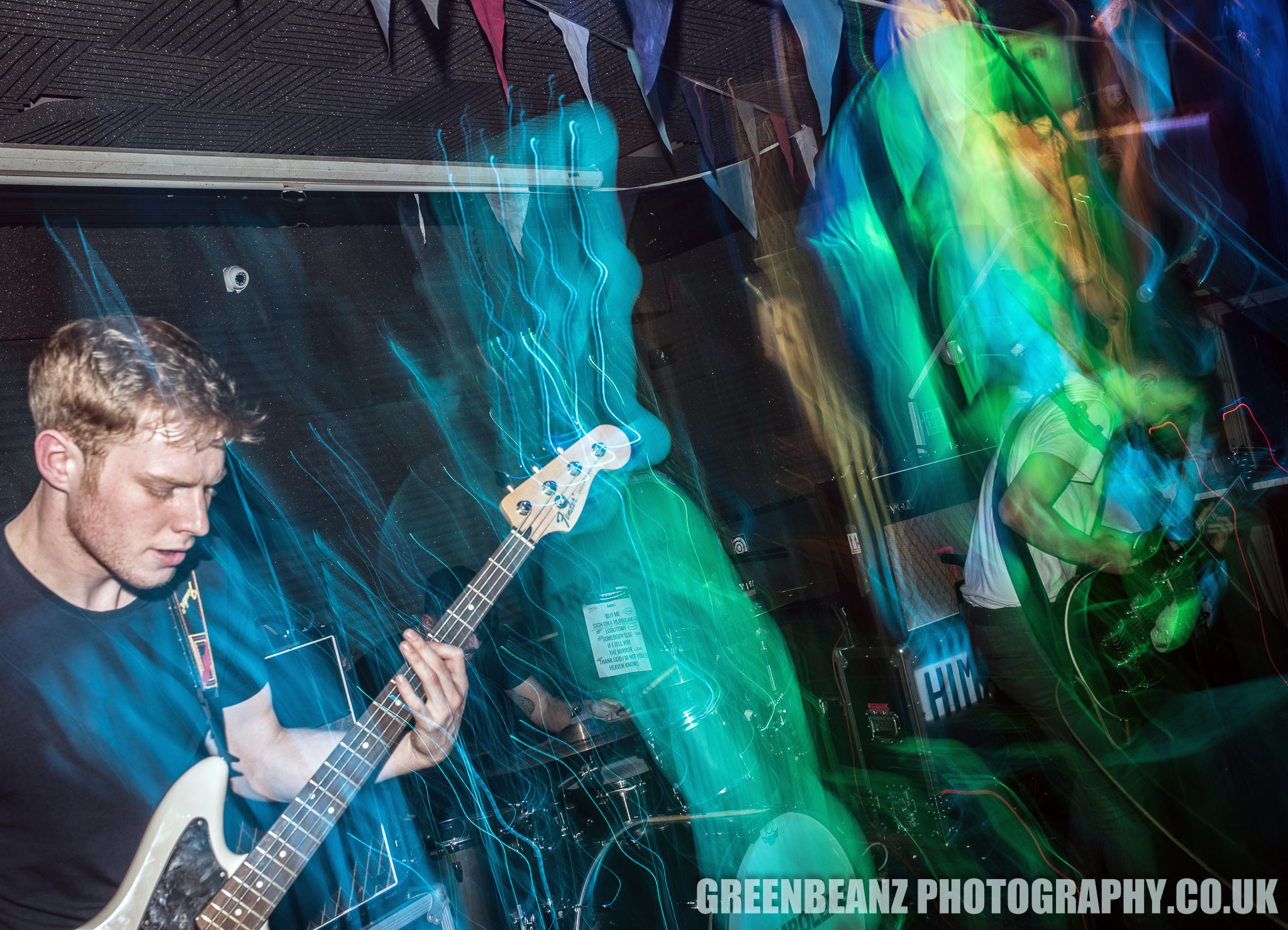 ABOVE : Himalayas at The Junction Plymouth

Much has been written about Trampolene, the Swansea three piece are fronted by Jack Jones a poet in love with the possibilities of dreams, who has played with Pete Doherty and toured as both a poet an frontman, for this dizzyingly shimmering shambolic symphony shredding jewel of a band. I am not going to add to the myth because the reality is much more interesting than that, even with this being my first exposure to them live.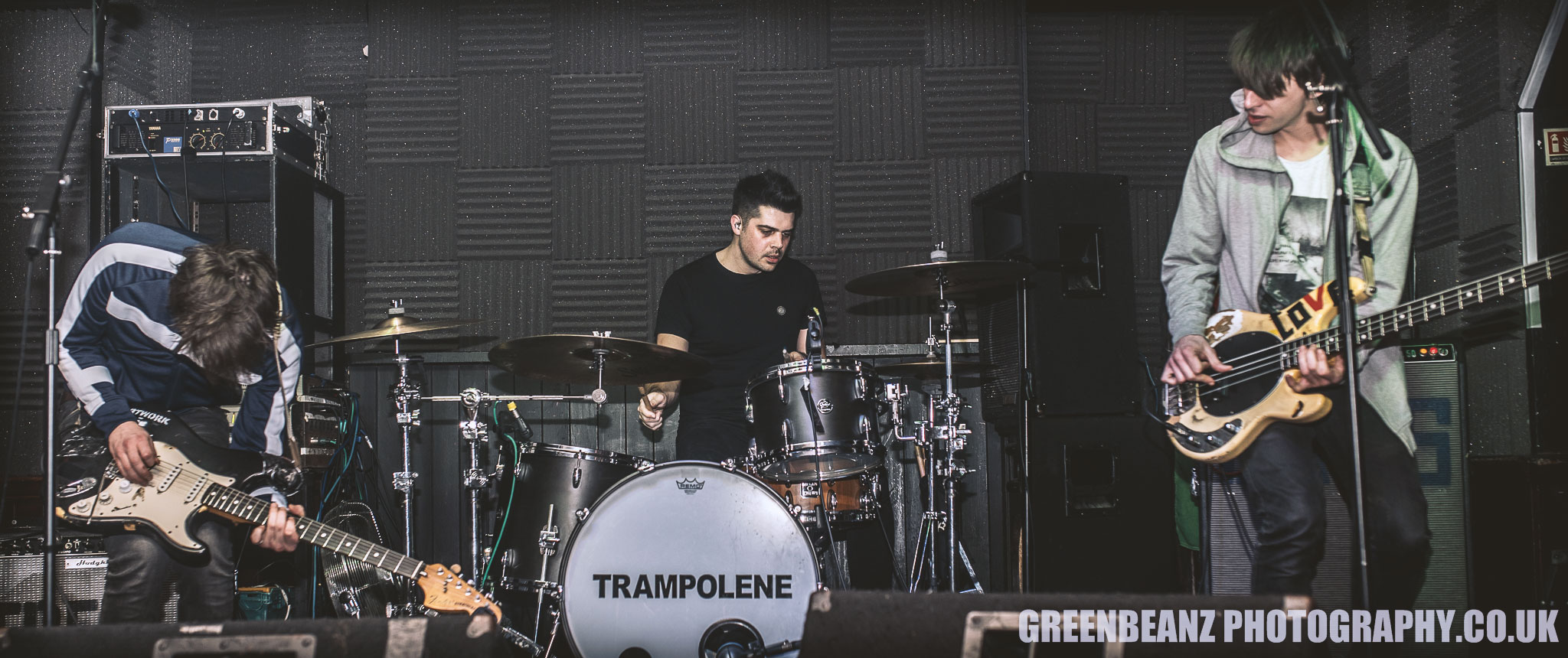 ABOVE : Trampolene grace the Junction in Plymouth.
Opening with a Jones spoken word performance recounting a lived youth the band take to the stage and begin with Hard time for dreamers continuing the nostalgic re-visiting of a youth waiting for the last bus back home. It's a kind of love song for dreaming and the productive harnessing of free time used to tame the wild horse that is Jone's explosive guitar playing, it is time well spent when you can write songs like this. Dreams so Rich. Life so Poor carries on the nocturnal narrative, dimensional downtime given a new outing in shabby chic clothes and a thundering drum performance that could knock your aunties potting shed down.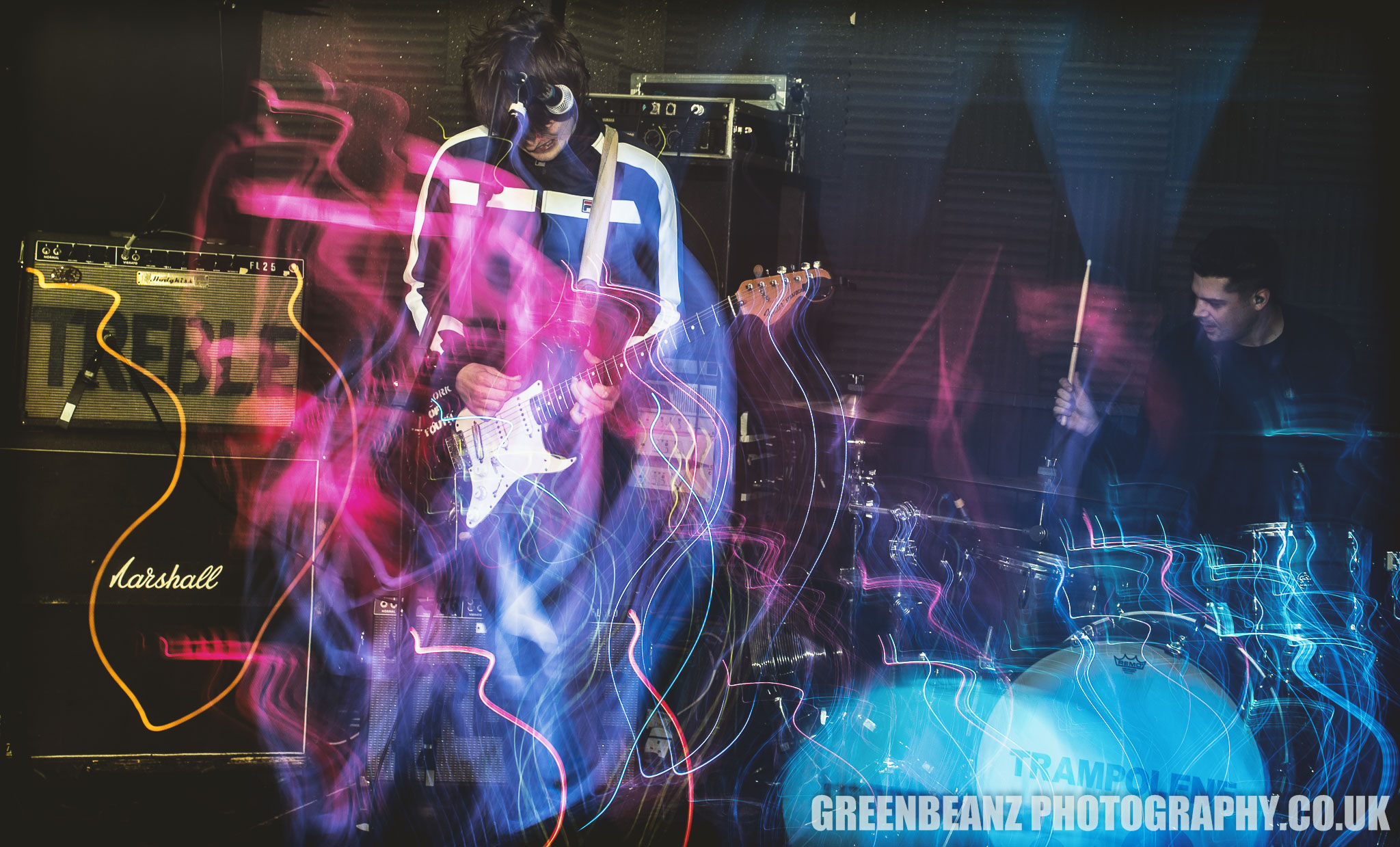 ABOVE : Trampolene at The Junction Plymouth

Alcohol Kiss is dedicated to a pretty maid in the audience who thought the last song "sounded mint". After picking out the opening chords Jones scrapes the strings of his guitar and in stark contrast, drags the claws of a screaming harpy along them. Jones then performs 'Ketamine', his lilting intimate Welsh whisper dragging you along like an Irvine Welsh novel, with what sounds like a pissed theramin backing him.
When they open up with the redolent jangling riff of Imagine Something Yesterday I am reminded of Placebo ( and not the talcum powder substitute mentioned earlier) if Brian Moloko had grown up in Swansea, and swapped Satin and black leather for a Fila top, and an insouciant indifference to quite so much eye liner or Bowie LPs. It's not easy to explain what if feels like to be here without lazy references to other bands but I had to take my other half up the hospital earlier and hang a radiator on the wall, so I will push on.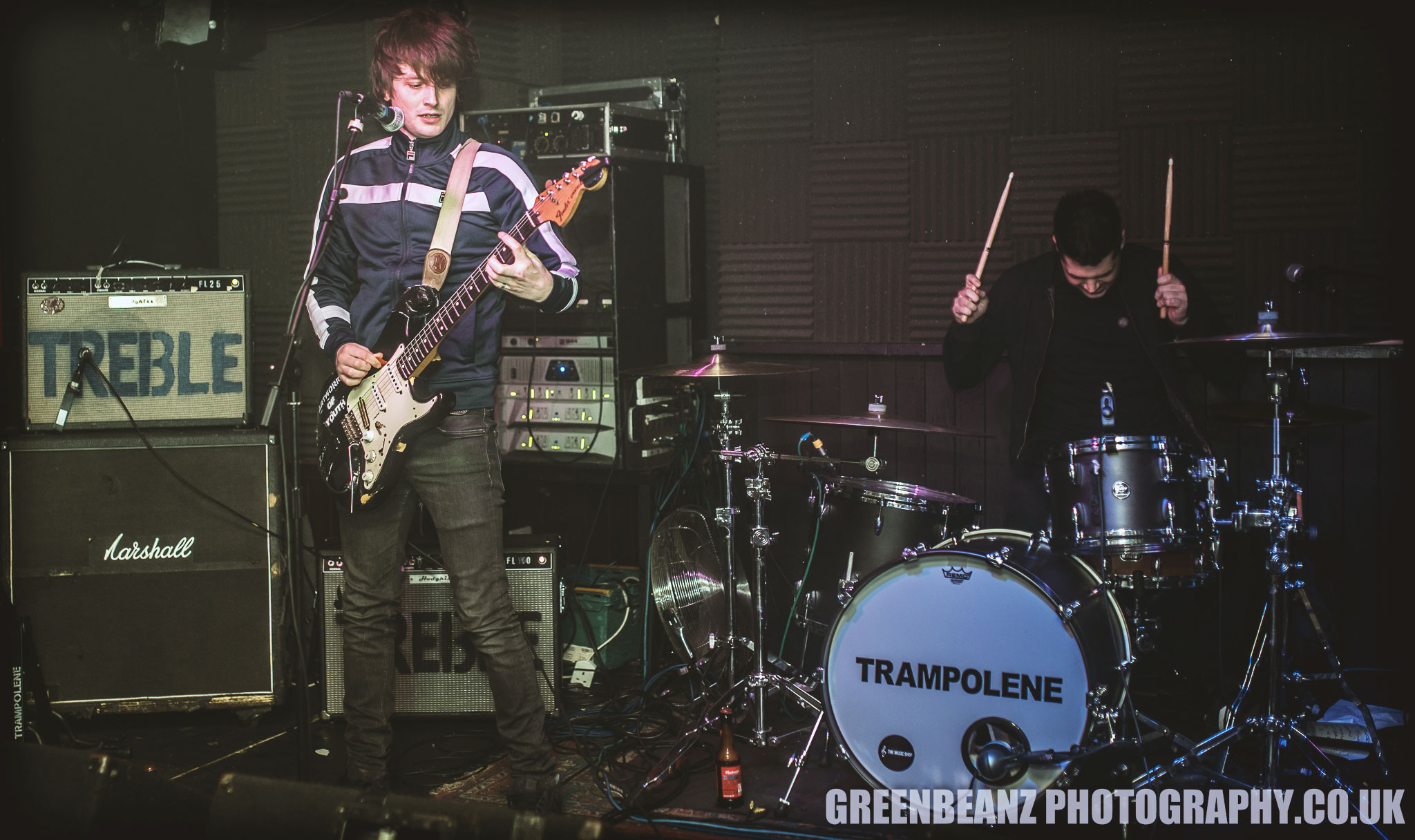 ABOVE : Trampolene at The Junction Plymouth

A storming Primrose Hill 5th September is followed by Blue Balls and a Broken Heart, an exercise in restraint and subtlety, with touches of Gillian Welche's Look at Miss Ohio recast across the Atlantic, with Richard Thompsonesque plaintive picking, or how I would imagine him to play, were he to shut himself into a coal shed on a council estate.
There are times when they are at full tilt, when you could be mistaken for being thrown around the room by Jimmy Page and co, so monolithic and epic are the riffs and the size of the sound, but in a heartbeat they can pull back and present, beautifully made little dioramas, like Beautiful Pain, a song so dreamlike that it makes you pinch yourself as they build and catapult you into crescendos of cascading counterpoint.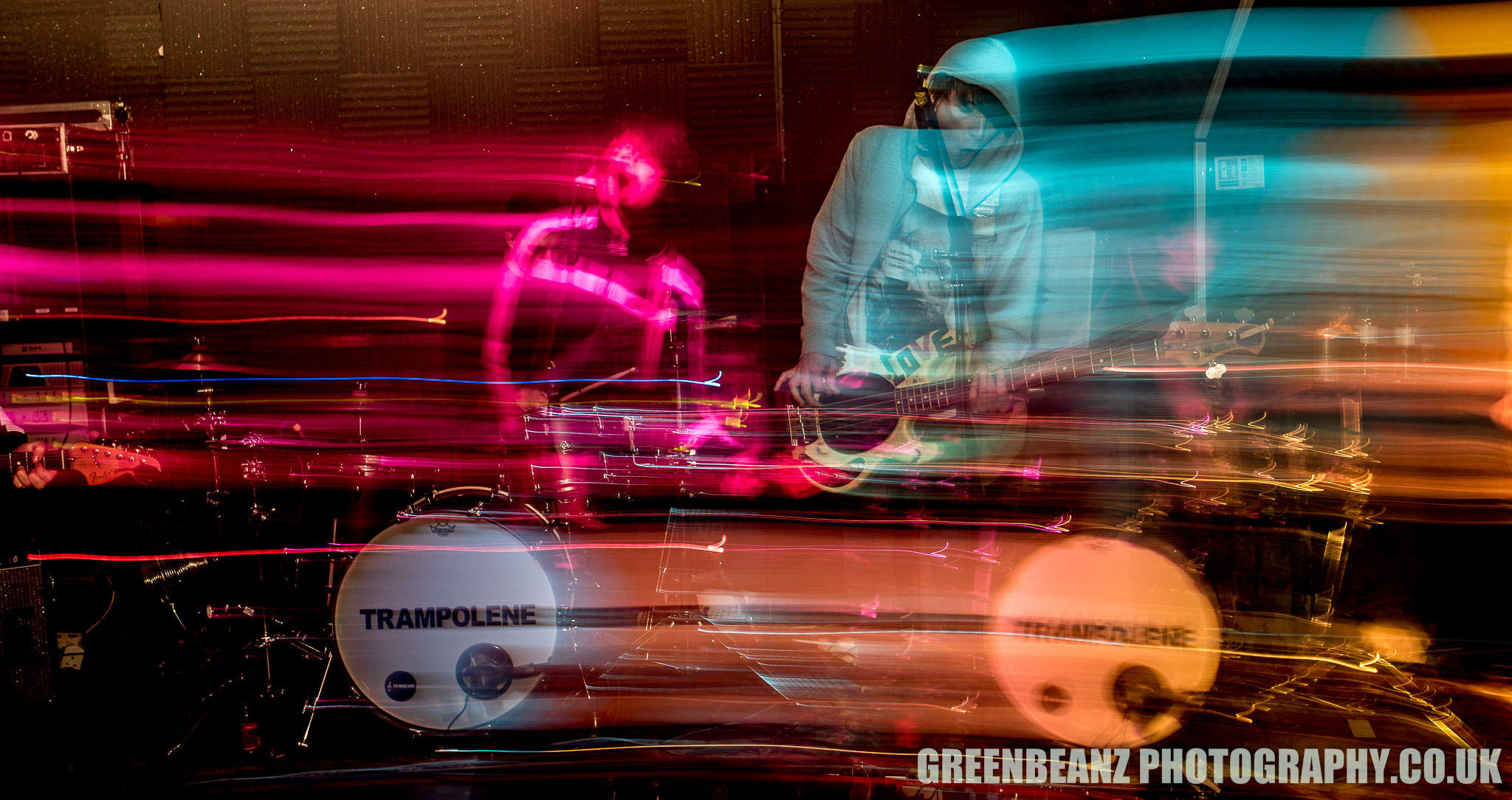 ABOVE : Wayne Thomas on bass and Jack Jones on Guitar/Vox for Trampolene

They finish with a halo crunching Storm Heaven before Jack Jones comes back out for a triumphant Poundland. His gathered disciple joining in with every word, as he takes us inside his head, a sexy Welsh Alan Bennett, a slighter paler Benjamin Zephania, a softer younger John Cooper Clarke, born in another country to another mother, but with all the wit and elegance saved up for his generation, a people displaced by an era in which Britain is still selling myths, but has forgotten to bury the old ones, and so they risk suffocating in the weight of expectation from a generation that stole their future.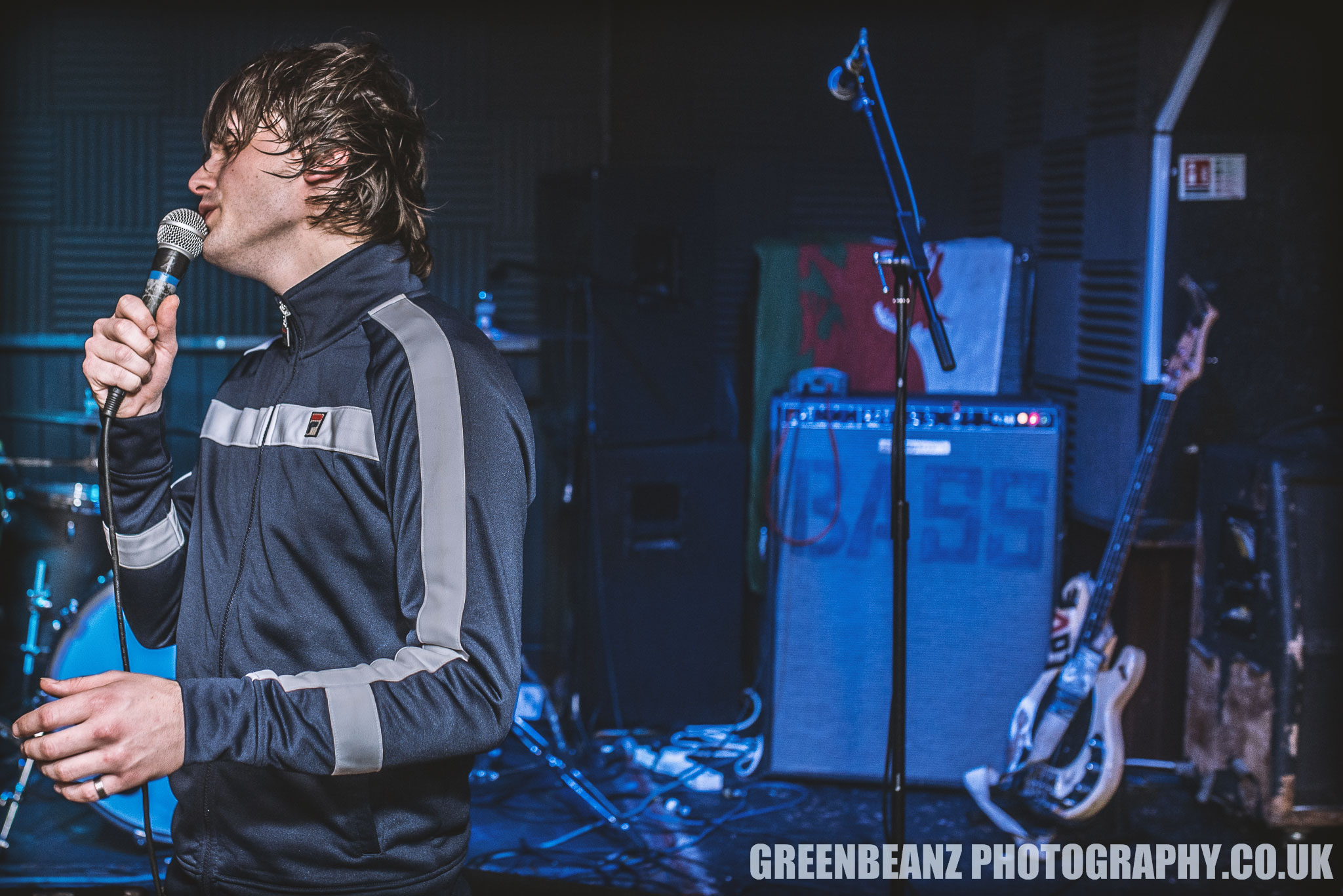 ABOVE : Jack Jones of Trampolene recites Poundland
It's not their burden to carry alone though, and so here's hope-ing thatTrampolene will bounce back highest, at the head of this new wave of British Bands ,and wash over these islands, with a new optimism for re-imagining the future.

Go and check them out, currently on tour across the UK.
</p>
More pictures to come later on facebook here