Haunt The Woods | 'Circle' EP Launch | Carnglaze Caverns | Saturday 24 March 2018
Greenbeanz Photography
Haunt The Woods | Saturday 24 March 2018 | Carnglaze Caverns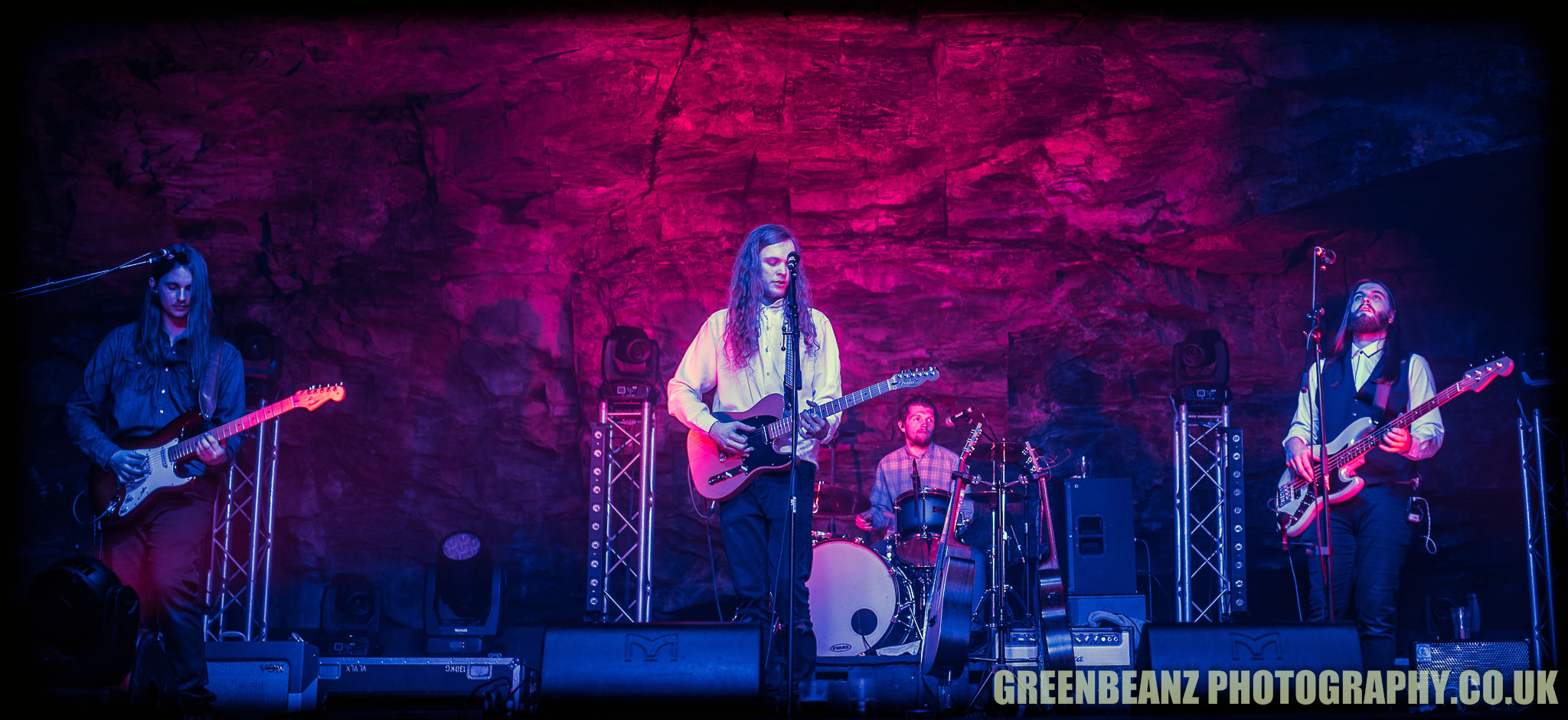 ABOVE : Haunt The Woods performing at Carnglaze Caverns on Saturday 24th March 2018
If you had gone down to the woods last nighT, Near St Neot, and into Carnglaze Caverns, you would have been rewarded with a rich seam of westcountry talenT, when local gems The Trees and Jamie Yost, supported the enigmatic and ethereal, Haunt The Woods.
THE CORNISH FOUR PIECE used the occasion to launch their new EP 'Circle' in the former slate quarry.
The Trees go from strength to strength with their innate gift for harmony, and are now blessed with a good selection of songs to mine, in constructing sets of no small beauty. It is always a pleasure to be there when they weave their magic, and their short but tight programme set the stage for headliners who share their ability to illuminate the seemingly simple, with great subtlety.


ABOVE : 'The Trees' live at Carnglaze Caverns
This was the first time I had heard Jamie Yost, and Jamie and his band did well in holding their own, bookended as they were between two of the regions brightest new talents. The most memorable songs for me were the ones in which the fiddle player accompanied him and harmonised. I look forward to investigating his material.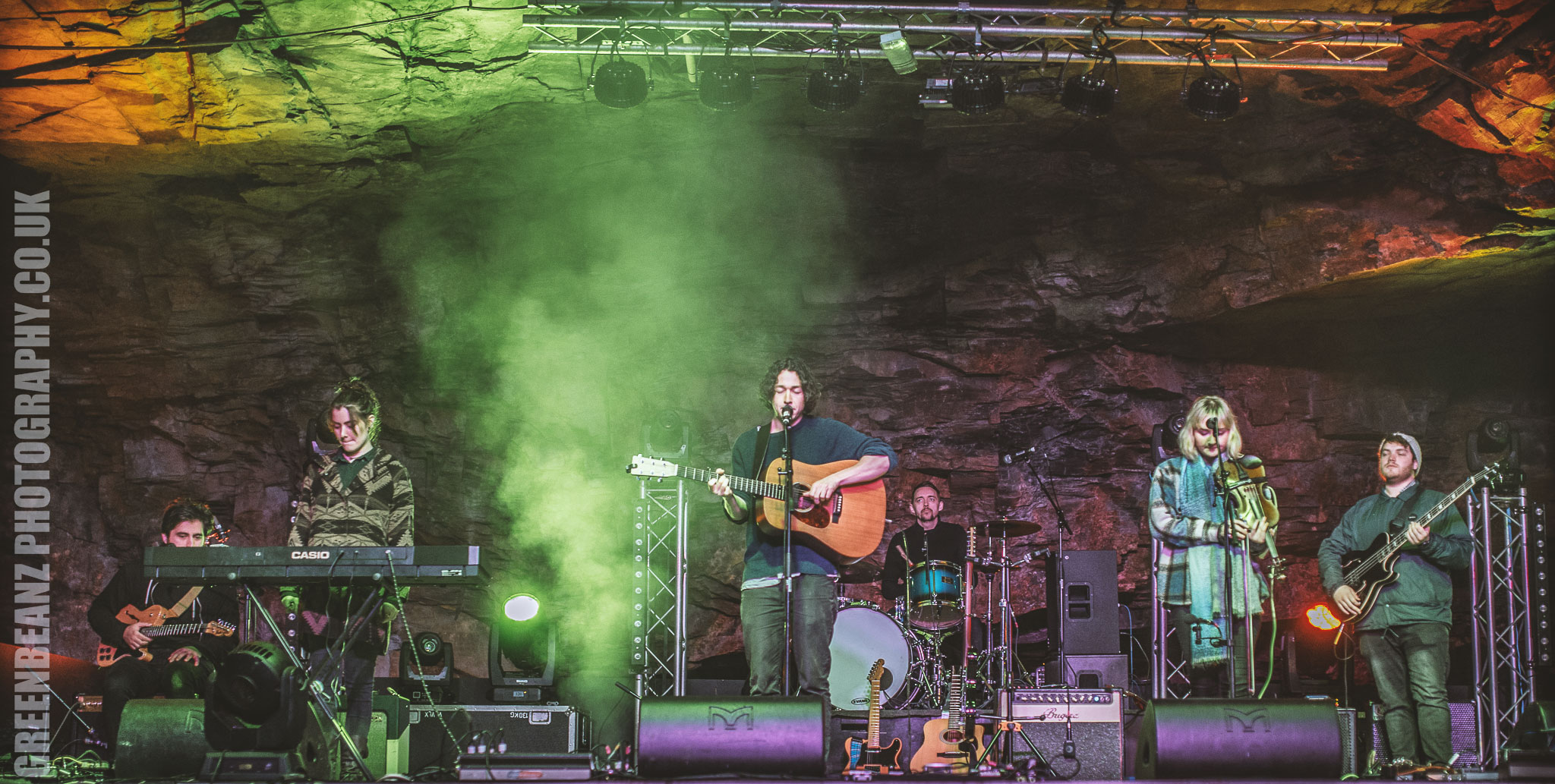 ABOVE : 'Jamie Yost' live at Carnglaze Caverns
Haunt the woods open with Lonely Heart and then play the majestic 'Architecture', a song from their extensive songbook that leads you by the hand over musical bridges built with craftsmanship and love. The tour of exquisitely planned excursions continues throughout, in a remarkable gig that marked the launch of their 'Circle ' E.P.opening a new page of unvisited aural vistas for the band.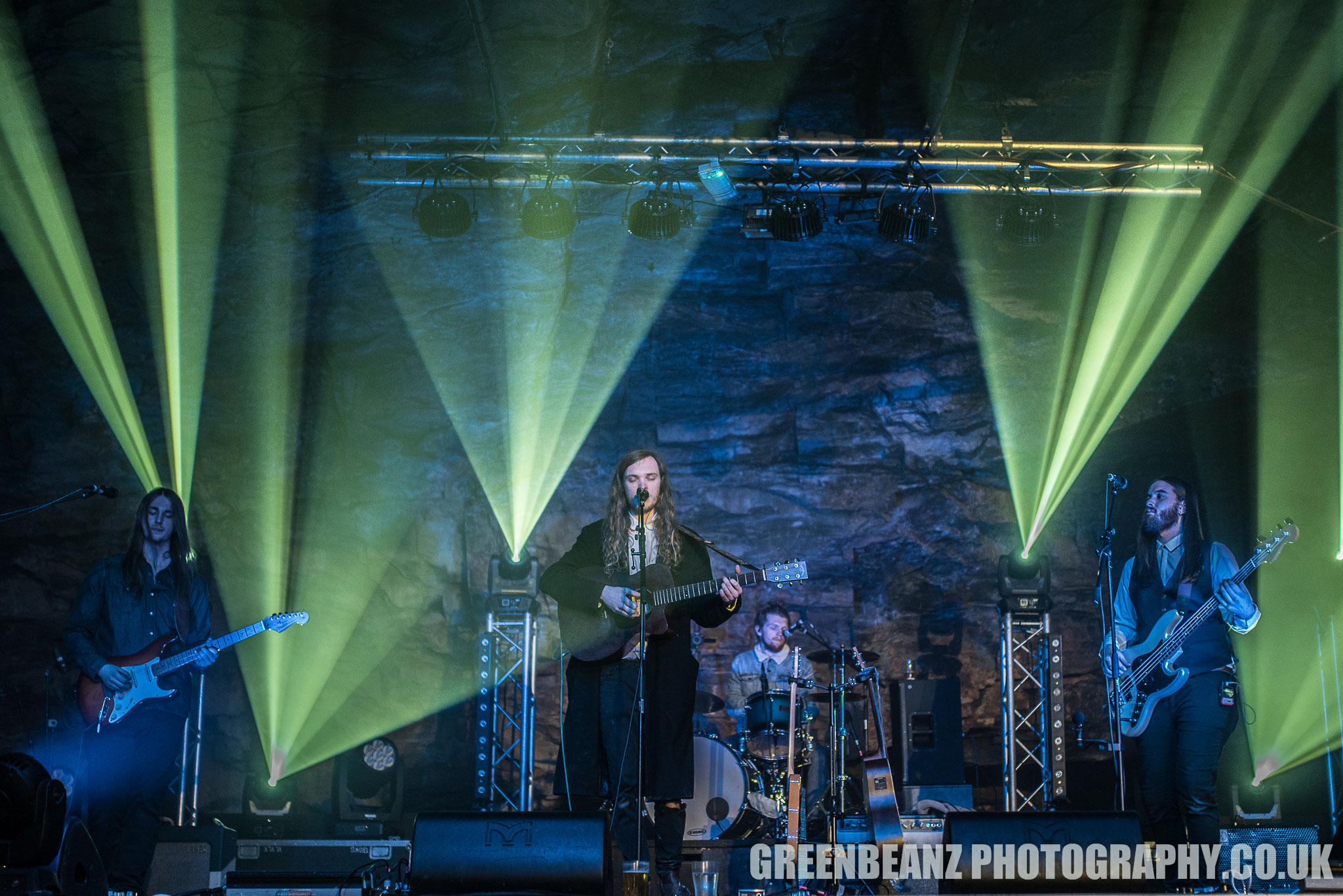 ABOVE : 'Haunt the Woods' launch the E.P 'Circle' With a gig at Carnglaze Caverns
When an audience member shouts out "We love you" , you sense there is something more substantial than a fleeting fixation at work here. I have not been stopped in my tracks by the potential of such a fully recognised idea since being at a gig in 1996, when a then young Muse, played the Cooperage in Plymouth. There is more here though than a prog rock band with great songs and musicians capable of realising them. The vocals are not just soaring mini operettas, there is power, nuance and unmistakable grace.It is not often you hear a voice approaching this level of expressiveness, and I can recall few like it, since Jeff Buckley.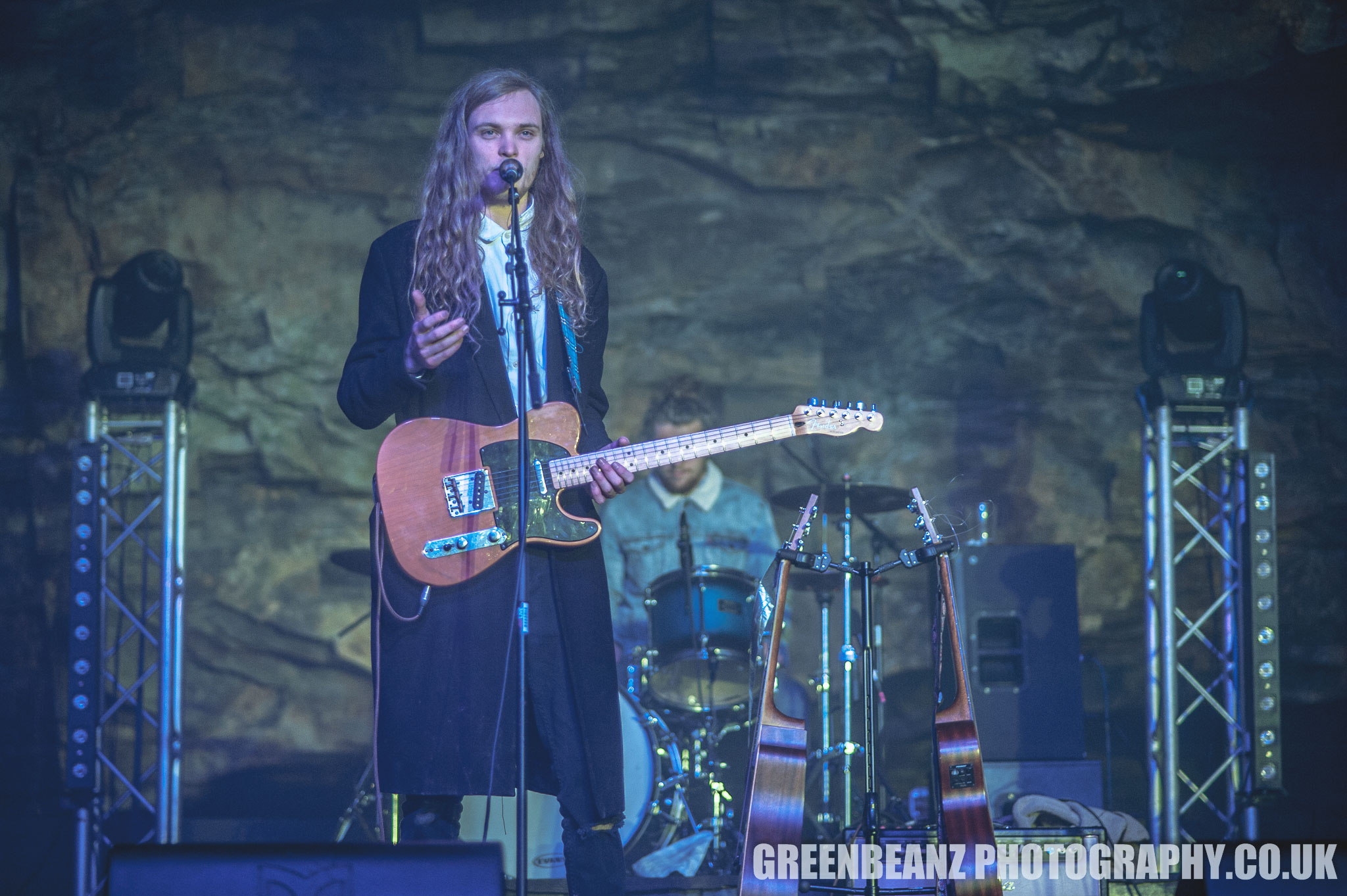 ABOVE : Haunt The Woods Jonathan Stafford at home on stage at Carnglaze
"How Long" the first track from the performance of the EP that made up the middle of the set, is reminiscent of The Temper Trap, the plaintive opening lines and tribal toms drawing you into a melancholy musical embrace that holds your attention as the band marches on, layering drones and guitar lines that weave an hypnotic spell. "Circle" the EP's title track, features Phoenix Elleschild's yearning guitar, cycling between the elongated crying main riff and delicate arpeggios. The next Track opens with Olly Bignell's "Creep" like percussion track laying down a rim shot skeleton over which the band drape their decorous delineations, and then the final track from the EP starts with a twinning of the lead guitar, and Jack Hale's sonorous bass, in a motif that leads into a song with plenty of breathing space, in which the vocals soar.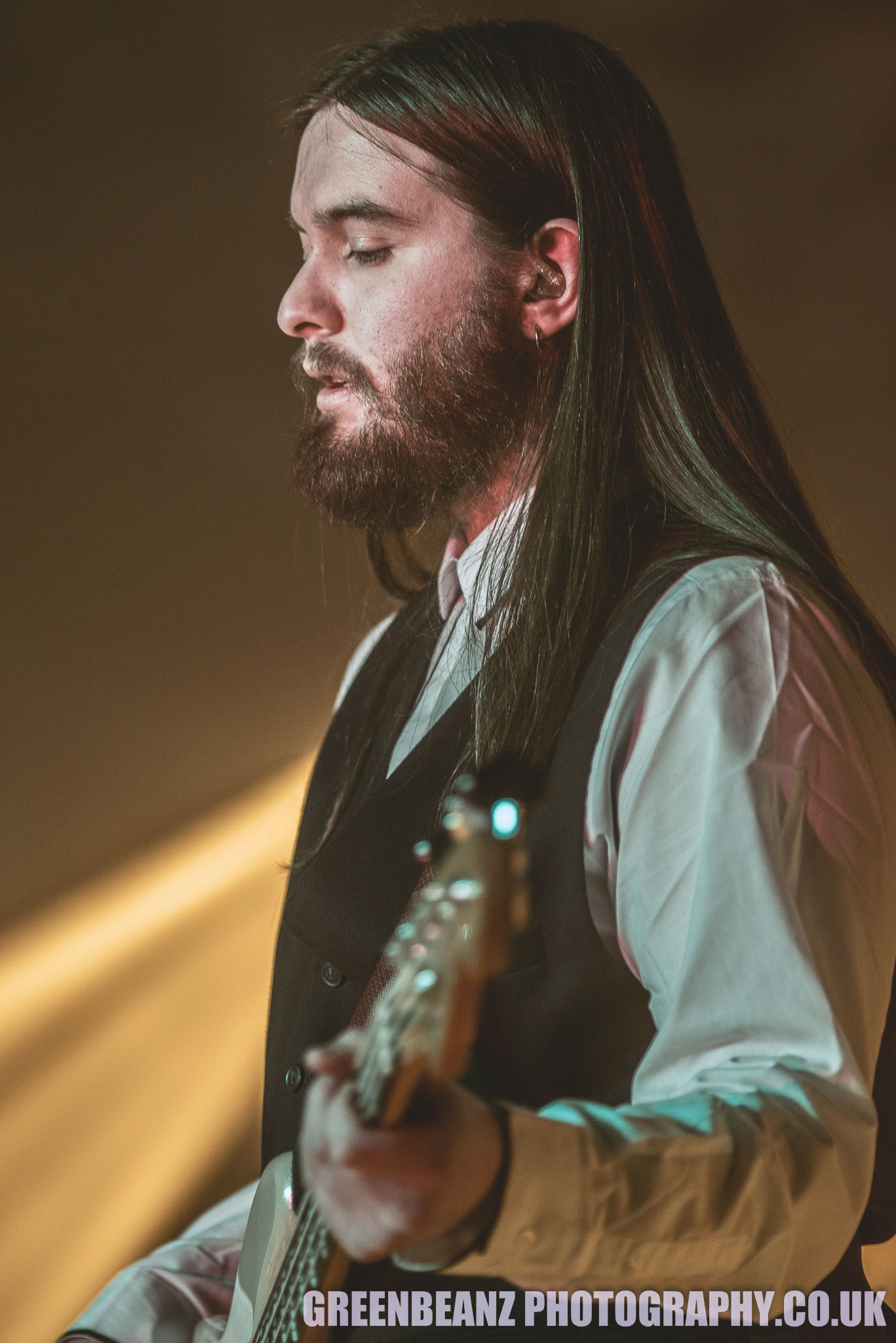 ABOVE : Jack Hale from 'Haunt The Woods'
I am not going to pretend that 'Beautiful Catastrophe' took the roof off, this is a Slate cavern after all, but the song is dynamite and the crowd responded accordingly, when the band played, what I think is their oldest song. If you start your band writing material this strong, then It must be difficult to maintain that quality of songwriting, but they have done just that, with an ever improving set of, sometimes masterful songs. It should have them headlining venues bigger, and even more impressive, than this beauty here in Cornwall.


ABOVE : Haunt the Woods live in Cornwall at Carnglaze Caverns
The supreme confidence of a band on it's game is demonstrated with 'Helter Skelter', again another original song. (Not the Beatles Classic). Even when the mournful is there, and with 'The Line' one is reminded of the much loved and missed Doves, (for me anyway), there is an underlying optimism and coherence that pulls you through and illuminates even the darkest of clouds with beautifully delineated musical linings, and glimmering timbres, that coruscate beneath the surface. This is clever but more importantly emotionally resonant and truthful stuff.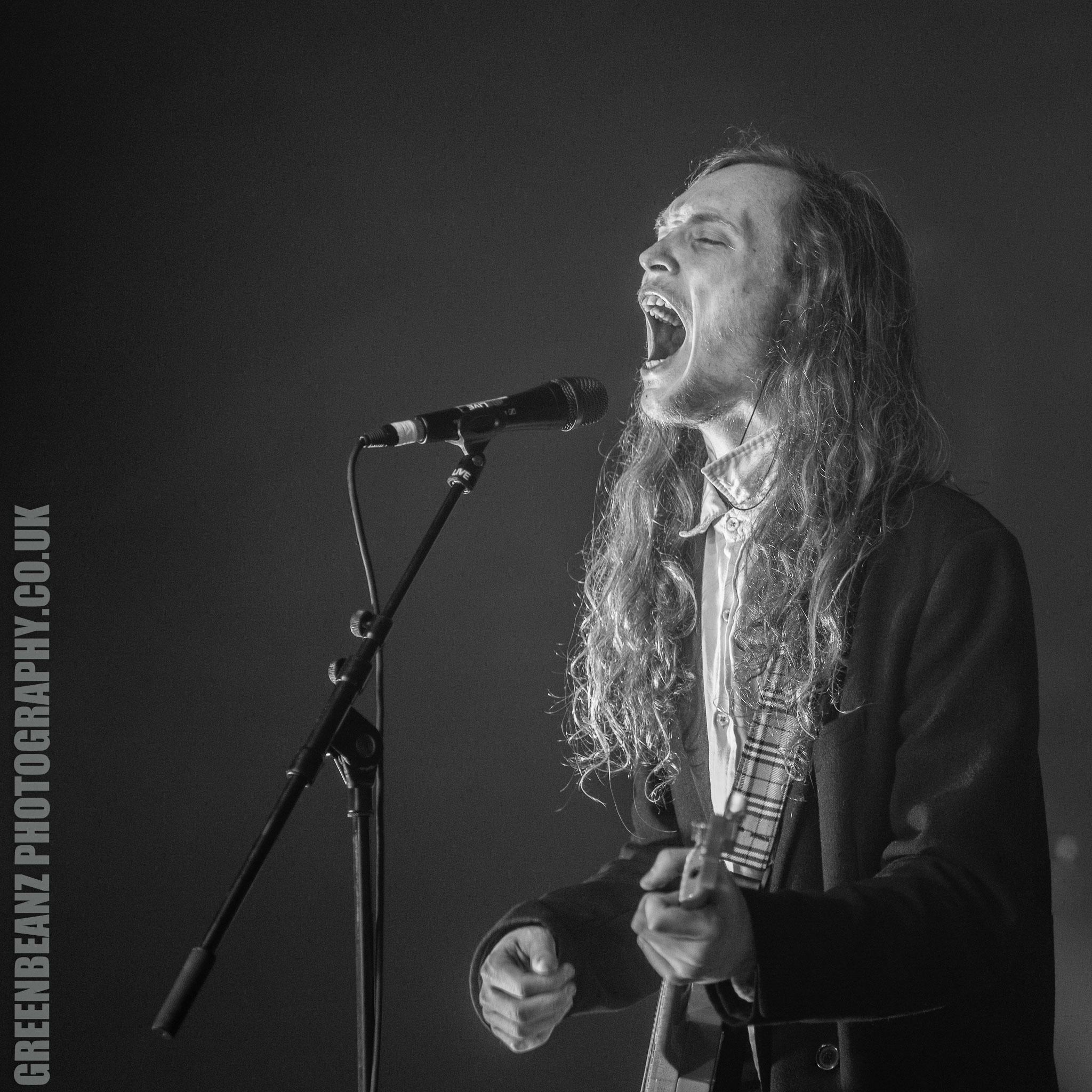 ABOVE : 'Haunt The Woods' Jonathan Stafford belts out an as yet untitled song
They end with a new yet untitled song with a killer hook that stayed with me until this morning. When Jonathan Stafford sings " I just cannot recognise, what it is I see, Staring back at me ", underpinned with a piano line picking out the melody, he imbues the words with equal measures of despair and disdain, his crazed eyes focusing the quiet power of not only the lyrics and the song they so cleverly illustrate, but the whole cohesive yet bombastic reverie of a band engineered for magic backing him up.
BELOW : Haunt The Woods at Carnglave Caverns. A band engineered for magic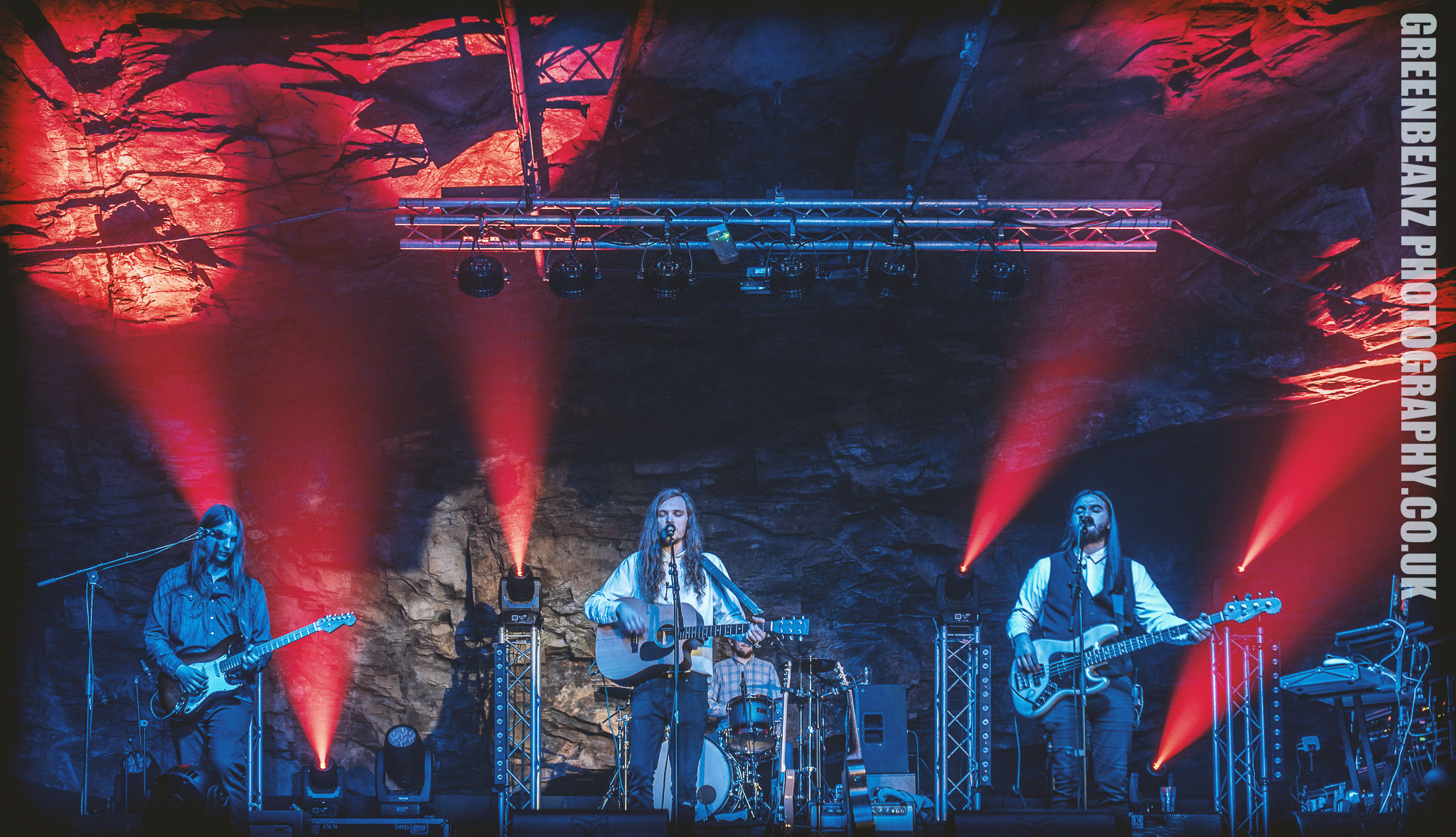 ABOVE : Music fans from Devon and Cornwall at Carnglaze Caverns
Haunt the Woods return for an Encore and not for the first time many in the crowd are up dancing and celebrating a precious find, hewn from this special place. The peninsula can again rejoice in a revival of bright new talent that scintillates and hopefully helps sparks further national and international interest in them and music of the region.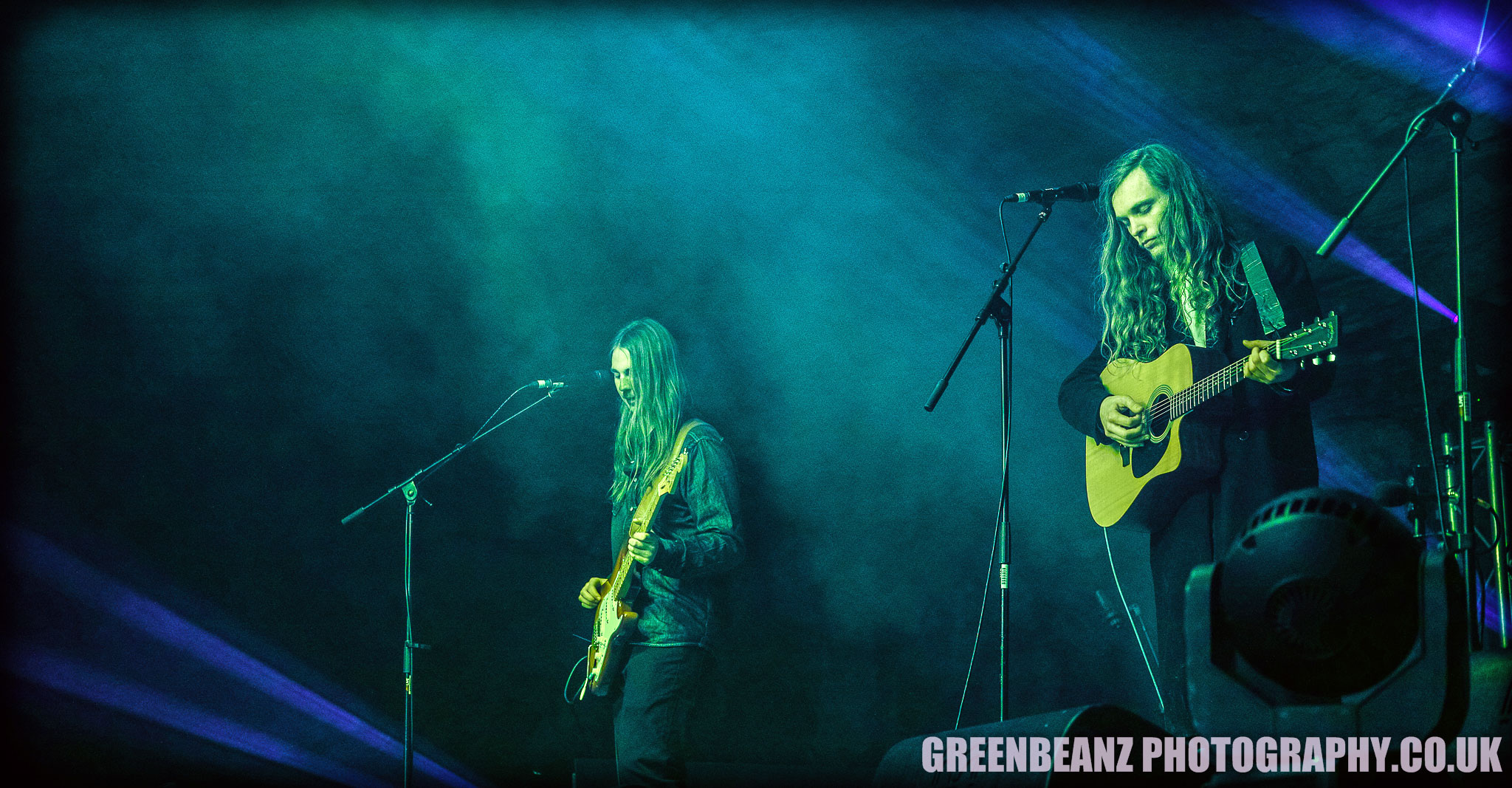 ABOVE : Haunt The Woods 4 piece Cornish Rock Band live at Carnglaze