Greenbeanz Photography
Blinded by the Sound | Plymouth Live Music Photography Exhibition | 23-25/09/16
Blinded by the Sound | 23-25 September 2016 | Multi Venue Exhibition of Live Music Photography | Plymouth Art Weekender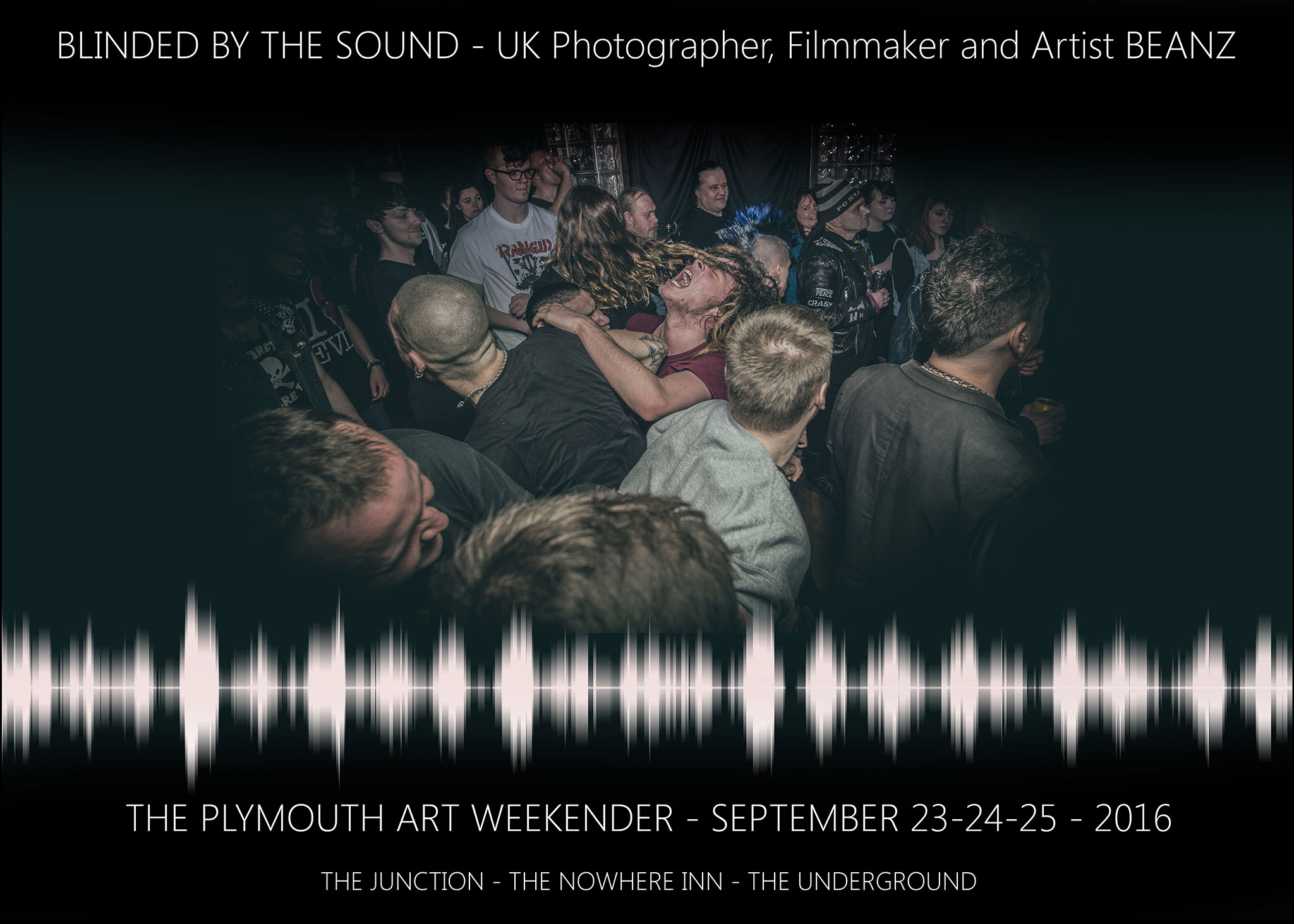 ABOVE : Plymouth Live Music Photography. Blinded by the Sound Exhibition. Plymouth Underground Music venue, The Junction and The Nowhere Inn.
Blinded by the Sound presented the performance photography of UK Photographer, Film-maker and artist Beanz, as a multi venue exhibition across three live music venues in the city. Shot over the last three years in Plymouth and the west country, the project showcased the vibrant energy and disparate nature of live music in the region featuring live and national acts in performance.
The exhibition featured many local musicians in multiple line-ups and documented the fans and faces that make up the various scenes as well as established acts and veterans who have themselves laid down cultural milestones. The Selecter, Ed Tudor Pole, TV SMITH, Evan Greer, UK SUBS, Buzzcocks,The Cadbury Sisters, Subhumans and more rubbed shoulders with local punk stalwarts The Bus Station Loonies, The Cleaners, Monitor, Honey, Zapoppin and The Souls of Misfortune etc.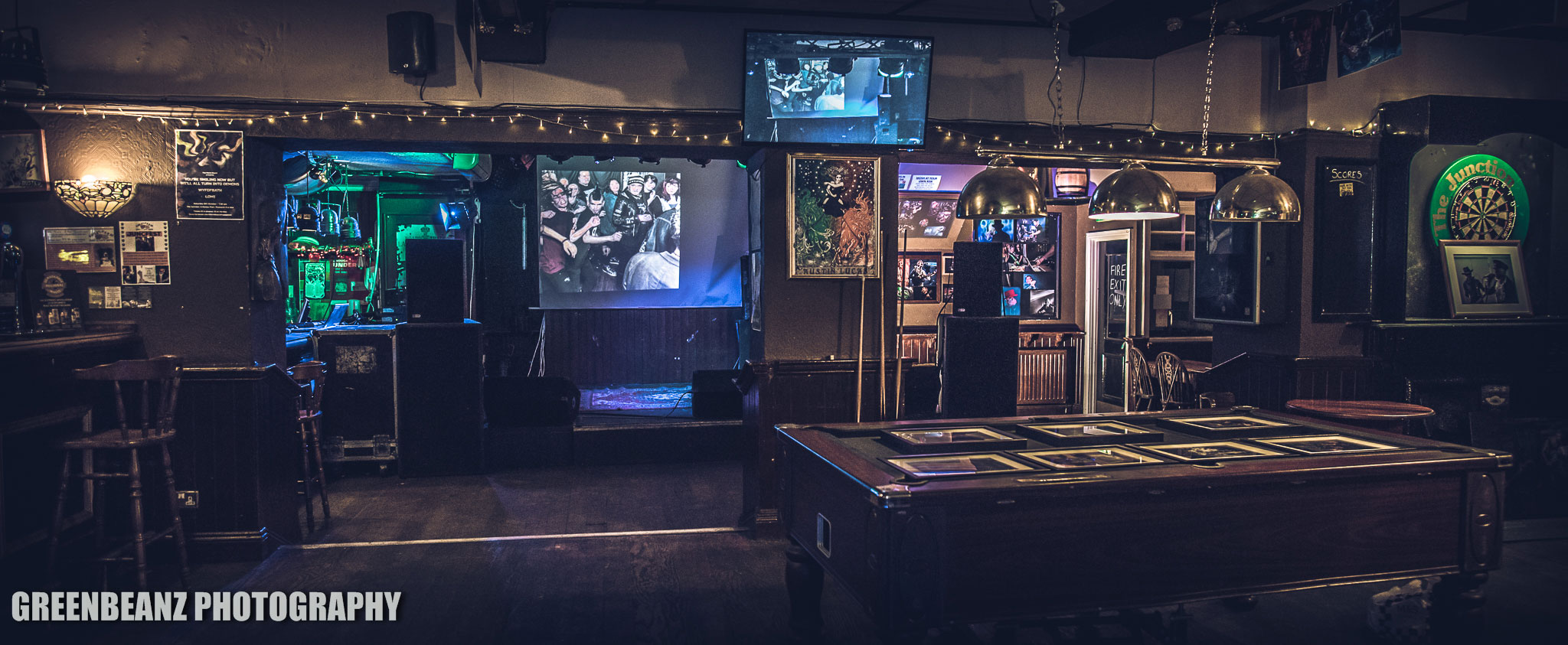 ABOVE : Blinded by the Sound Photographic Exhibition. The Junction Plymouth

Last year for three days across September in 2016, I exhibited photographs from the last three years spent capturing live music across Devon and Cornwall as a multi-venue exhibition. 'Blinded by the Sound' was part of The Plymouth Art Weekender and used live music venues/pubs/clubs The Junction, the Nowhere Inn and Underground as galleries. Whilst traditionally most photography and art exhibitions are held within white galleries, where the art is presented in optimum light with little distraction, so that people can stand, contemplate and enjoy the work on show, the reality is, music is not usually performed in such pristine and sterilised conditions.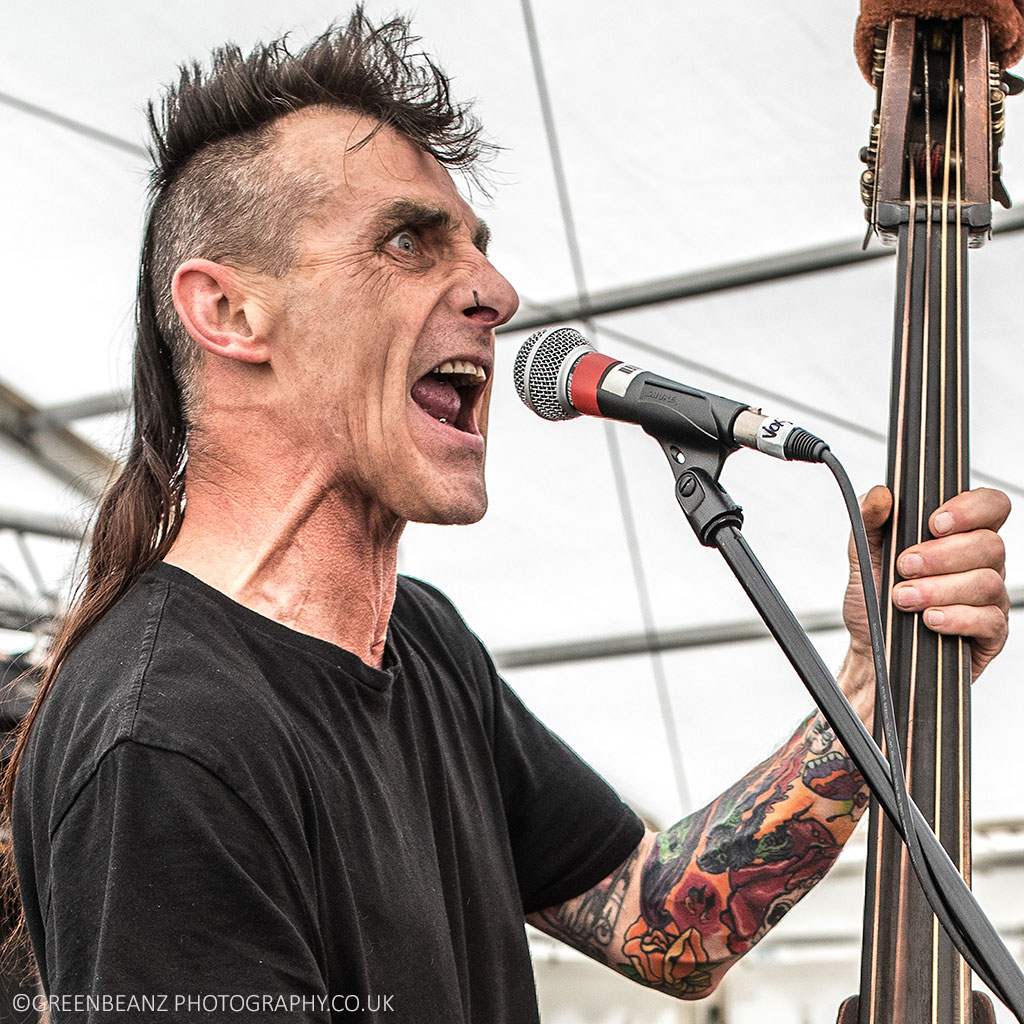 ABOVE : Andy Double Bass player and singer with Plymouth Psychobilly / Punkabilly Band 'Breakout' .

All three of the venues for the exhibition reflected this fact. Not all the photographs shown in each venue were taken at that site,( all though most were) , but the spirit and ambience of each venue provided the jumping off point in selecting what I thought were the right images and right backdrop for each section of this show. Live music photography needs three ingredients to increase the likelihood of capturing anything memorable. The bands, the fans, and the magic that is generated between them. Without this there is no energy, and the whole thing becomes little more than a rather boring exercise. So I tried to reflect that particular vibe with venue choices for the images exhibited.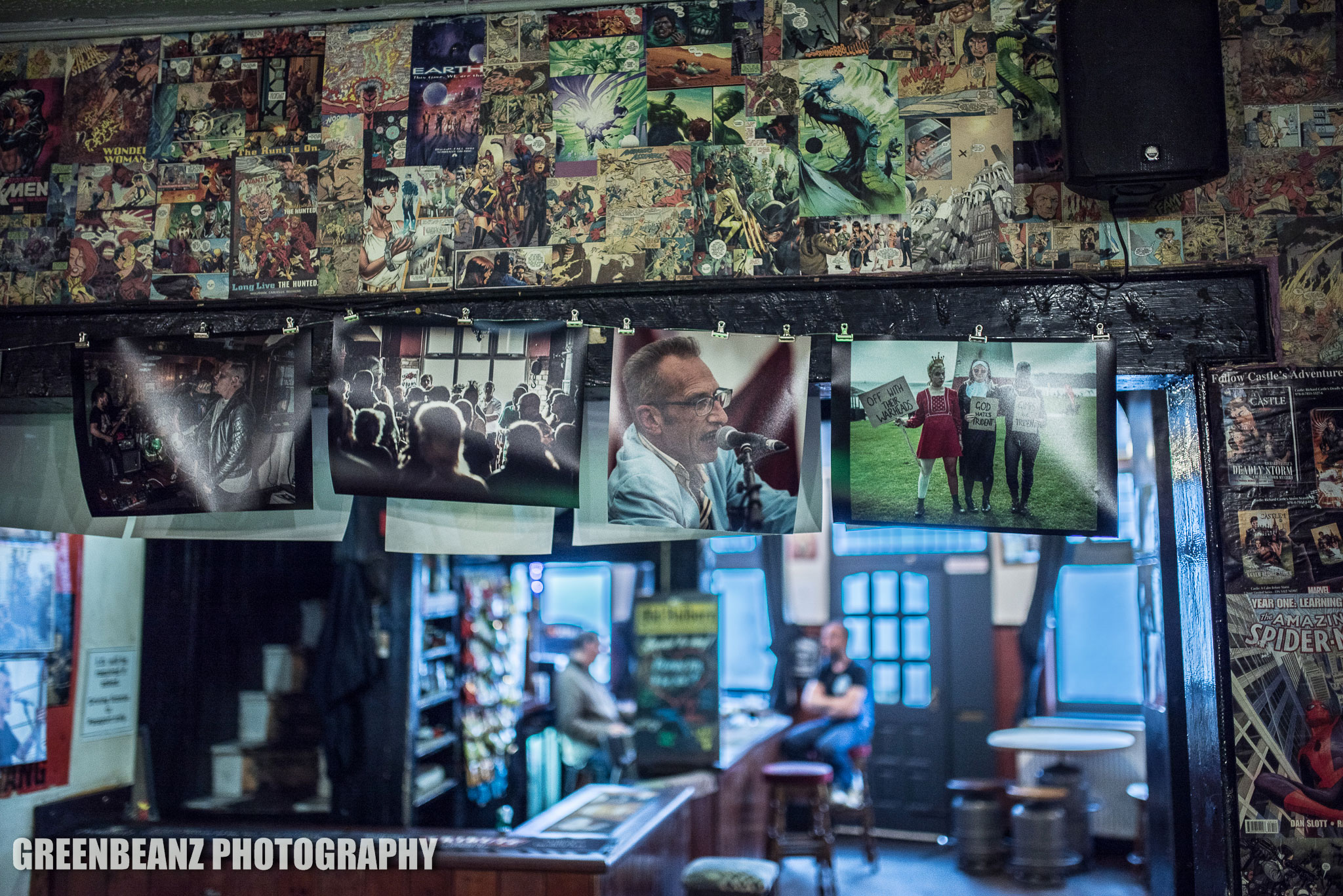 ABOVE : Blinded by the Sound Exhibition at The Nowhere Inn. Plymouth

Music and Sound are as important to me as what is hung on the walls. As a musician and producer as well as a sonic, video and installation artist I am used to evaluating and measuring silence. I don't believe it is a prerequisite for contemplation, meditation or art appreciation, any more than a white wall is the only correct background against which to display a painting. In a visual centric society it is all to easy to get lost in the noise, and photographs, however precious photographers want to be about them are a part of this detritus.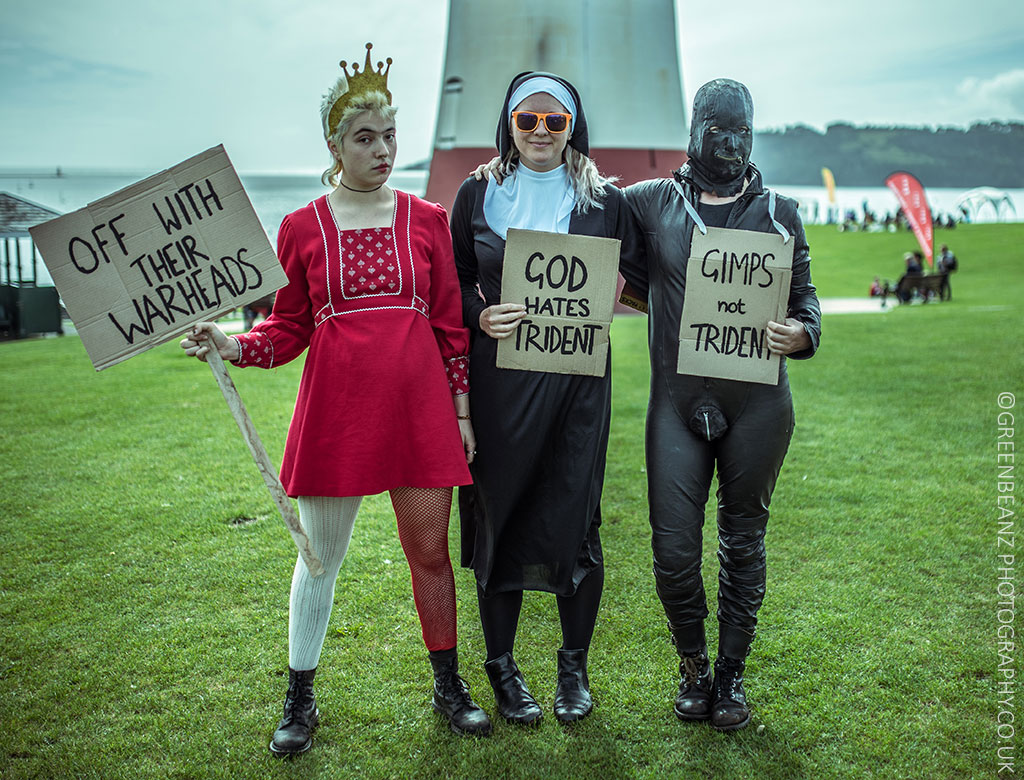 ABOVE : Plymouth Anti-Nuclear demonstrators at The 2016 Plymouth Punk's Picnic
Despite this for years we have all used our ears to navigate a meaningful journey through this world and these three sonic landmarks were chosen specifically because they would be alive with the sound of locals during the day and the bands playing on the same dates during the evening. None of this should stop you being able to appreciate the images presented.

ABOVE : Live Music Photography Exhibition. Private view at The Fortescue Plymouth

I am not too concerned about whether people deem photography to be art ( I am inclined to suggest almost never) but am interested in the value of viewing photographs as signposts, or as a methodology by which people can develop an appreciation,understanding,and empathy for not only the subjects and communities they are documenting, but also the restrictive medium of a frame itself. Just as music has been freed from the restraints of physical formats, photography has also been unleashed at the head of this new digital frontier, where it is now so commonplace it is very easy to lose appreciation of the individual image or piece of music, amongst the millions that surround us.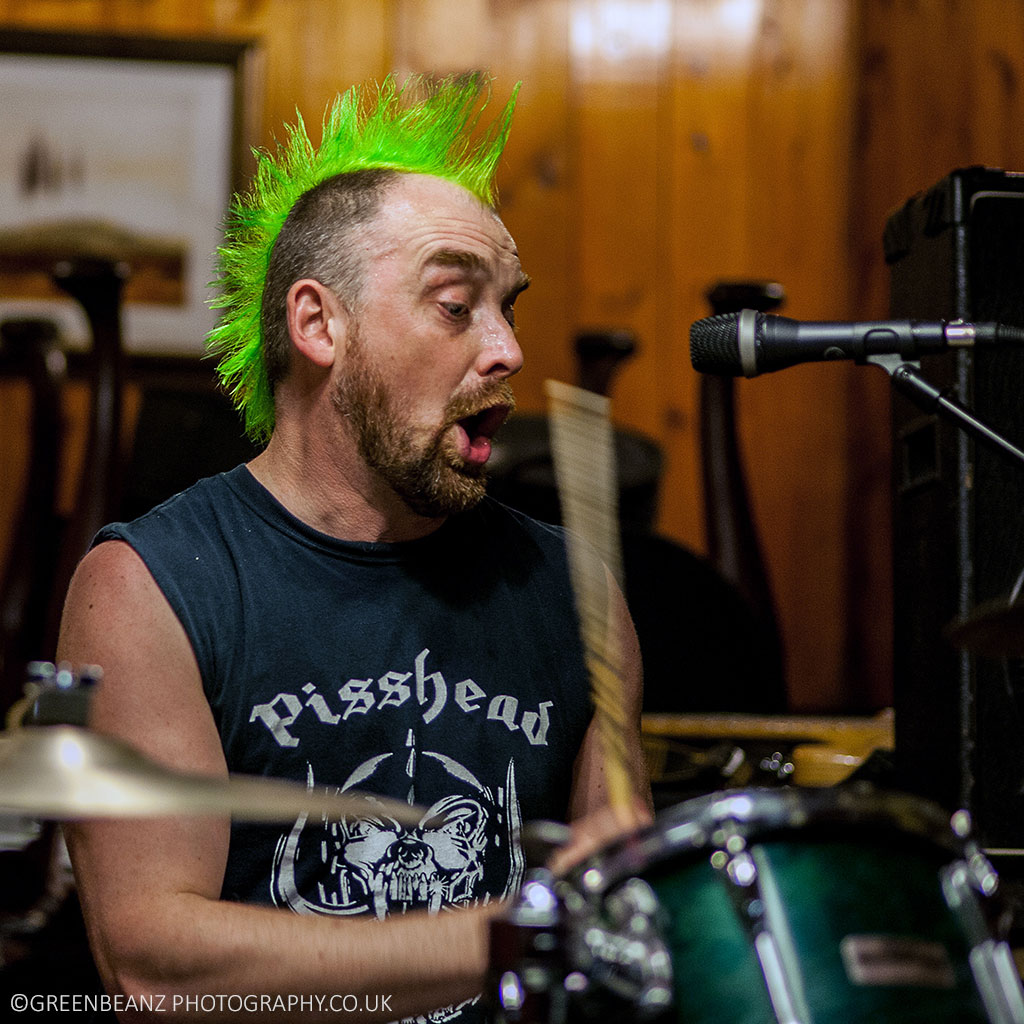 ABOVE : CDS Drummer Chris 'Wheelie' Willshire at Plymouth Punx Picnic 2016

While an authentic voice is often the mark of a successful auteur in something like film-making or art, when taking photographs I strive to change and respond to the material, rather than adopting a style or dogma that precludes clarity of vision, or presents obstacles between subject and viewer. This is because I consider photography to be an art form but not always art and the content of the work should both dictate the style and speak for itself . I also feel that the majority of the music and gig photography that I engage in has as much to do with Hip Hop sampling and Punk D.I.Y culture as any kind of traditional art.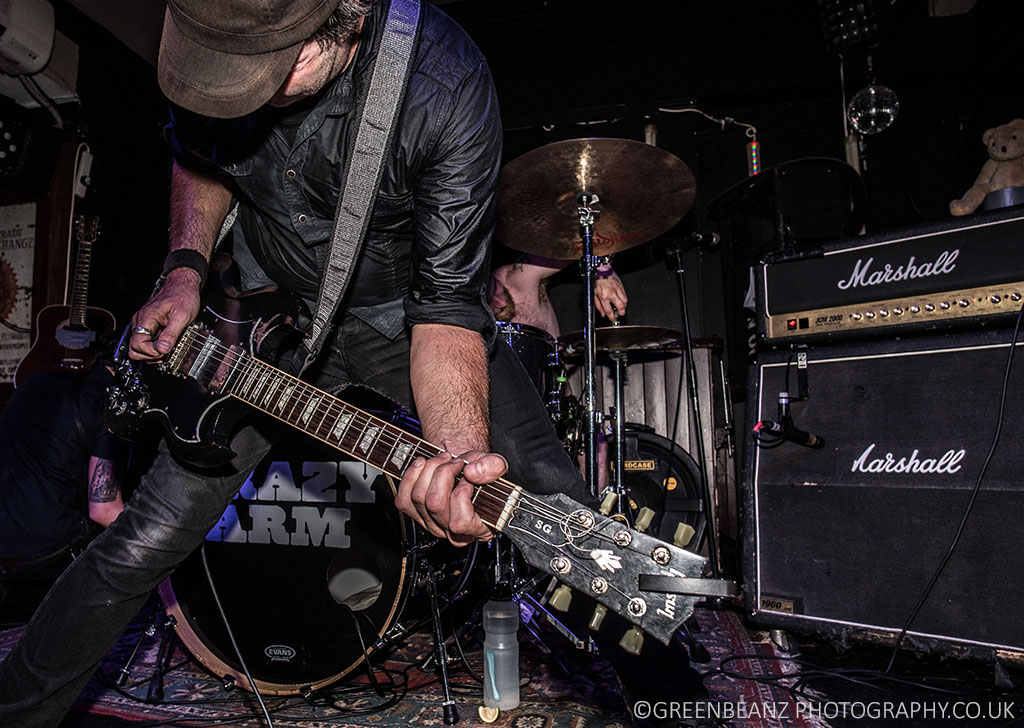 ABOVE : Photograph of UK Rock band Crazy Arm live at The Juncion in Plymouth
It is literally re-presenting what has happened in a very compromised format. Without sound the images have to work harder and are there as echoes and marks to document events like fanzines and t-shirts, posters, reviews, graffiti, tattoos and fashion. As with any craft I find that I am always learning and do not expect to reach a zenith upon this particular journey but I think it is important that the photographs respond to the stimuli, not merely observe and detach themselves from it.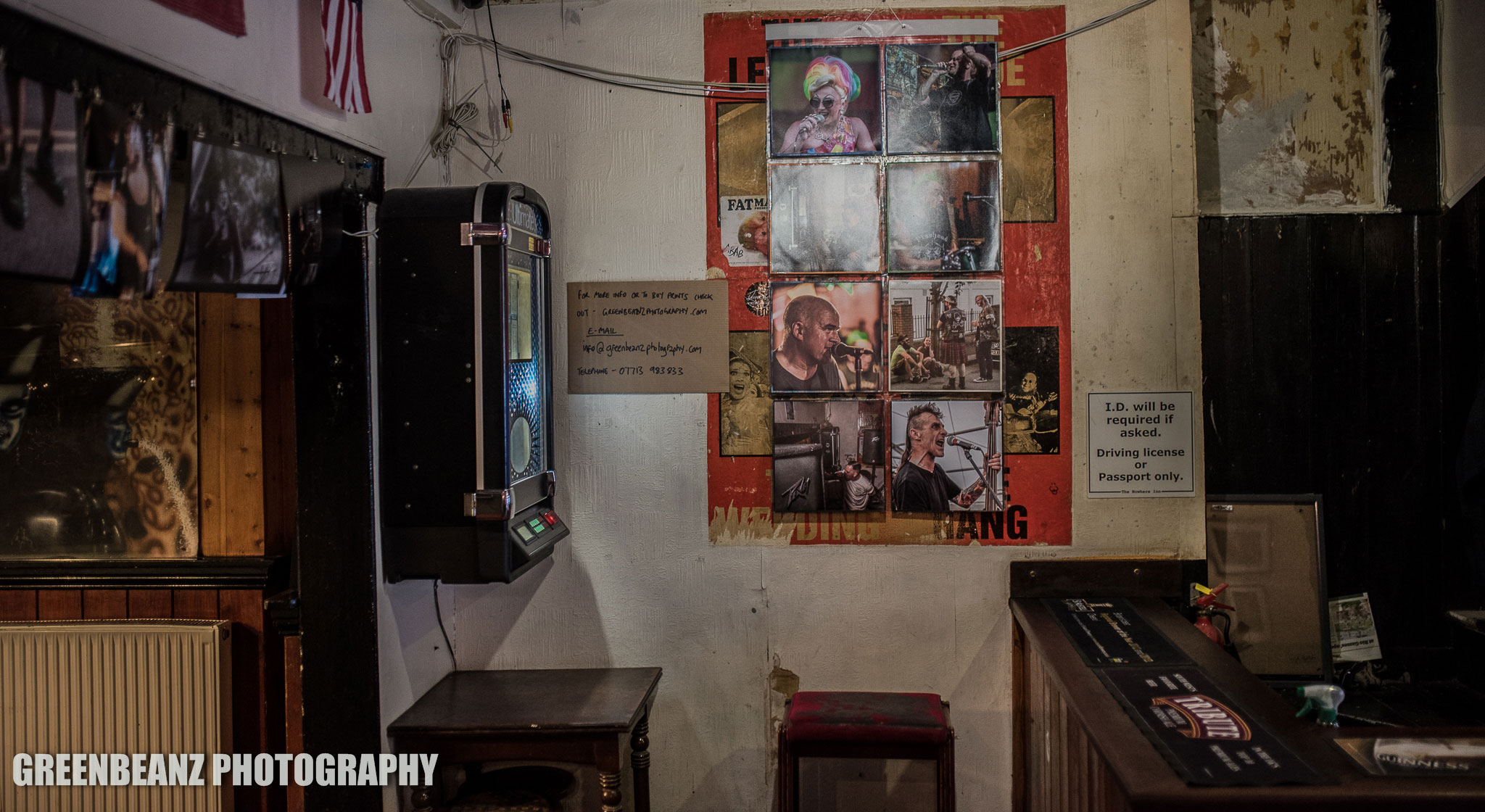 ABOVE : Photography Exhibition Blinded by the Sound at The Nowhere Inn Plymouth

No more heroes anymore? Not quite. While the great Don McCullin , Brian Duffy, Pennie Smith, William Walling JR, Roberta Bayley, Ray Stevenson, Stanley Kubrick etc continue to inspire and make me want to put my camera down in equal measure, I try and find my biggest drive in what is happening around me. Not just immediately in the moment, but around me at this time. There are a lot of young photographers, artists and musicians doing great work right now and I take as much from them and their disciplines as from those who made their art with light and film in the past. While I am aware of how mastery of technique and less obvious methods like the utilisation of traditional painting modes, (Chiaroscuro, Sfumato, Cangianta and Unione) in rendering photographs, can elevate the ordinary, I am also very aware of how often, less, and the ability to just cut to the chase and present what is in front of me, really can mean a lot more.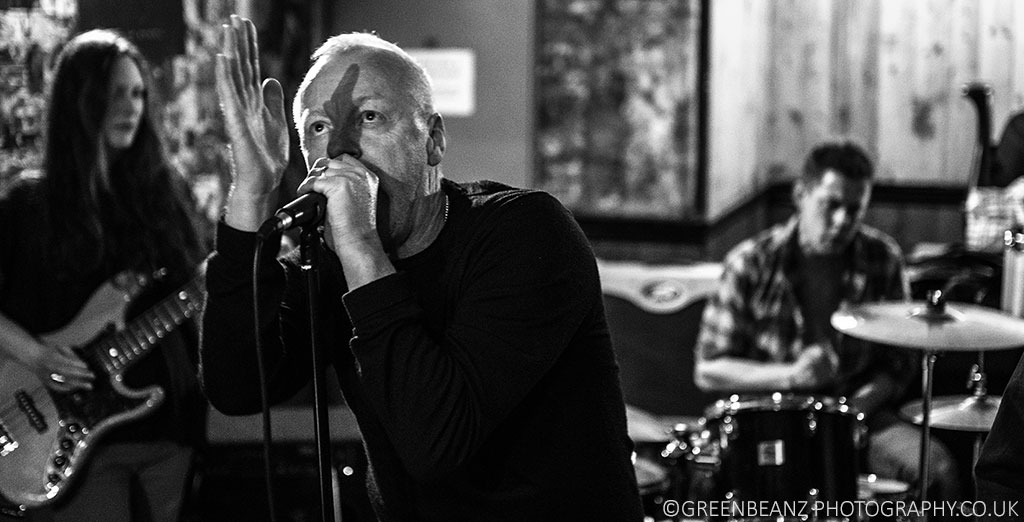 ABOVE : UK Post Punk band Monitor playing live at The Nowhere Inn Plymouth

As a practising artist and mentor I try to remain fully engaged with the process of composition. As well as using photography to engage with the world I continue to make and edit films, create sonic art and design installations that allow the users to interact in unique ways with the world around them. Whether it is composing the middle eight in a piece of music, the framing of a shot through a still camera's viewfinder or the cutting between a series of shots in a video editing suite, composition is not something that you ever stop learning about. I believe that every piece of art we make as a creator, is a story, or at the very least, a conversation between creator and viewer/listener. I aim to bring that open ear and observant eye to every Photograph I capture, every track that I produce and every film that I make.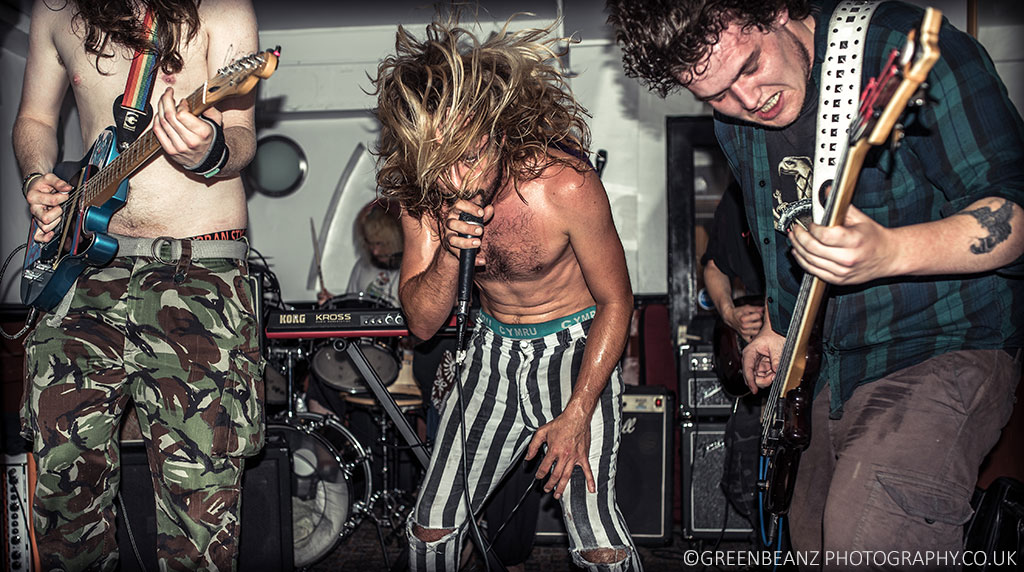 ABOVE : Teddy's Leg The opening night of 2016 Plymouth Punks Picnic at The Fortescue

Music remains a passion and what I spend much of my time as a photographer documenting. When not photographing it I have recorded it as a producer, created it as a musician, reviewed it as a writer or distributed it as the owner of a small independent record label. I have shot everything from tiny intimate acoustic gigs to huge outdoor festivals and all that comes between, album launch shows, cover art work and band and artist promos (stills and video) and will continue to do so as well as documenting live performances with photographs and video.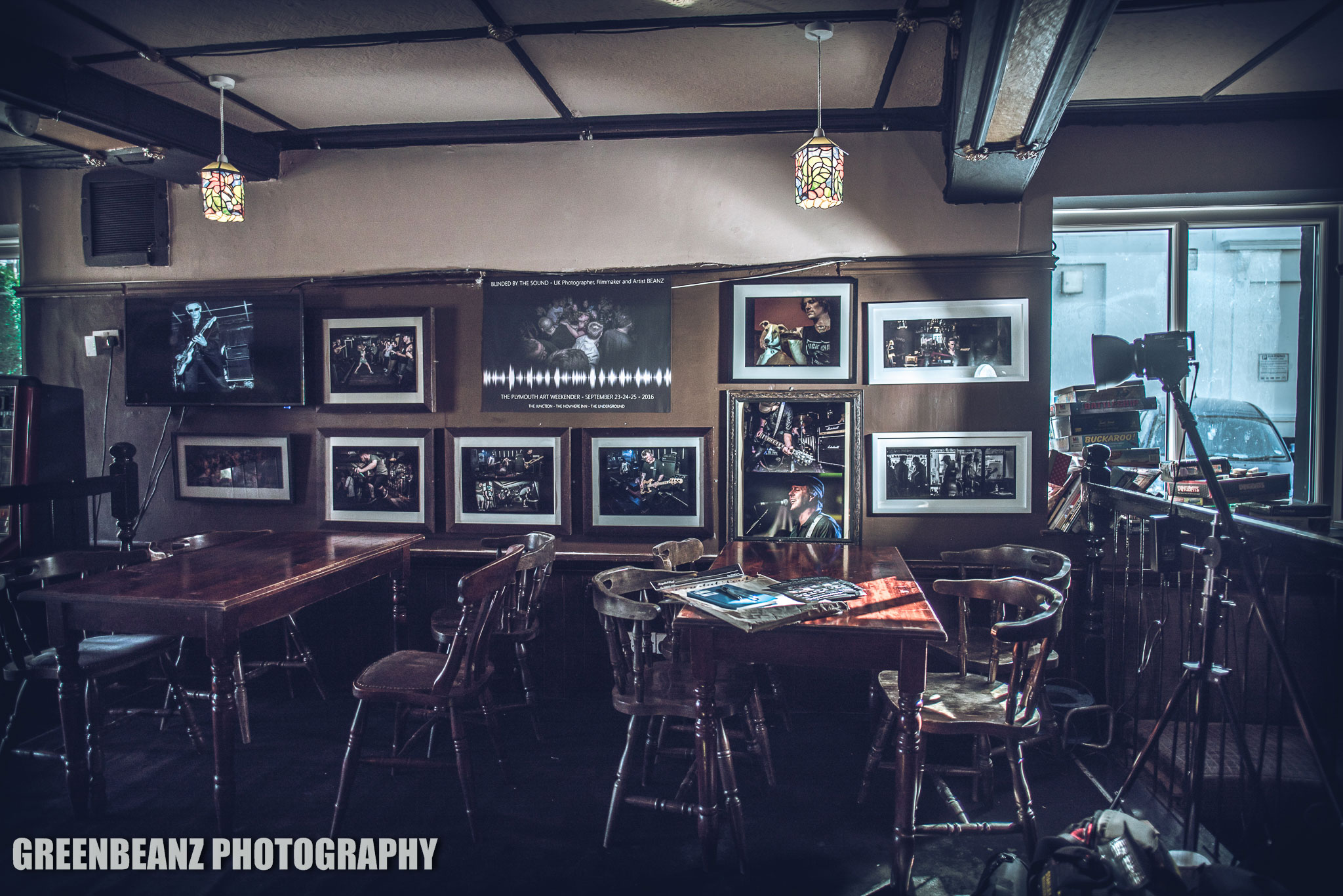 ABOVE : Live Music Photography Exhibition at The Junction Pub on Mutley Plain Plymouth

Exhibiting as a photographer and artist has taught me that even when I am not photographing music performances, I try to remain mindful and capture the energy of an event. From gigs to the opening nights of art exhibitions, live sport or public events, I make a point of framing moments in specific ways that will direct people's attention and help them focus back to that day. Even when shooting landscapes it is important to react and respond to the unfolding story, on Dartmoor that maybe the changing of light and shadow ,whereas with something as visceral as boxing, at ringside in the Guildhall, it may be an upset unravelling during the boxing match in front of me.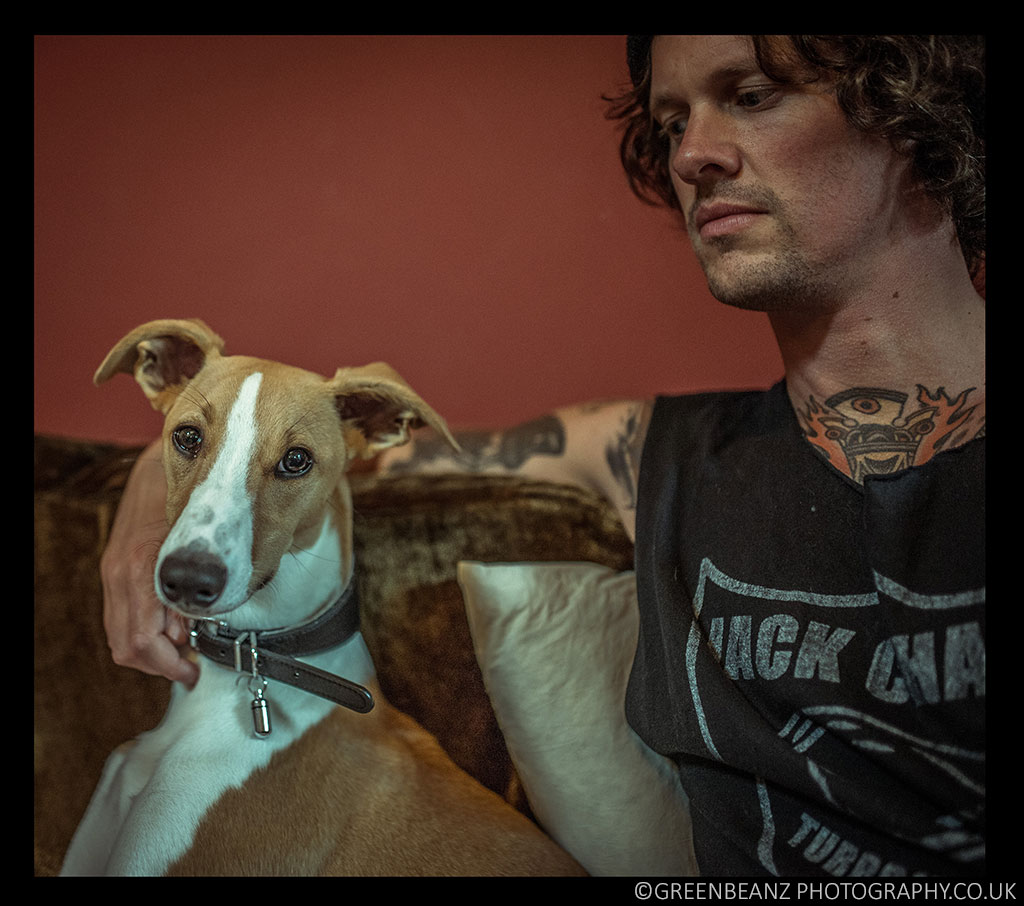 ABOVE : Portrait at recoding studio of Crazy Arm Guitarist Johhny Rad with his dog 'Buddy'

I believe in using each system or discipline as a tool, and not getting too attached to techinques or equipment that can smother ones own work like a comfort blanket. That may mean deploying a mirrorless camera equipped with a silent shutter in the hushed silence of a theatre, hanging a micro camera off the lighting rig above a crowd, (for a wide video shot at a heavy metal gig), or harnessing myself to the inside of a car in order to lean out of the window with a heavy DSLR to capture 'that shot' of a team of charity cyclists coming over the brow of a hill, I will find a way to get that picture and capture events as they unfold.We are surrounded by what can easily become white noise in a random world and for me it has never been more important to not become, blinded by the sound.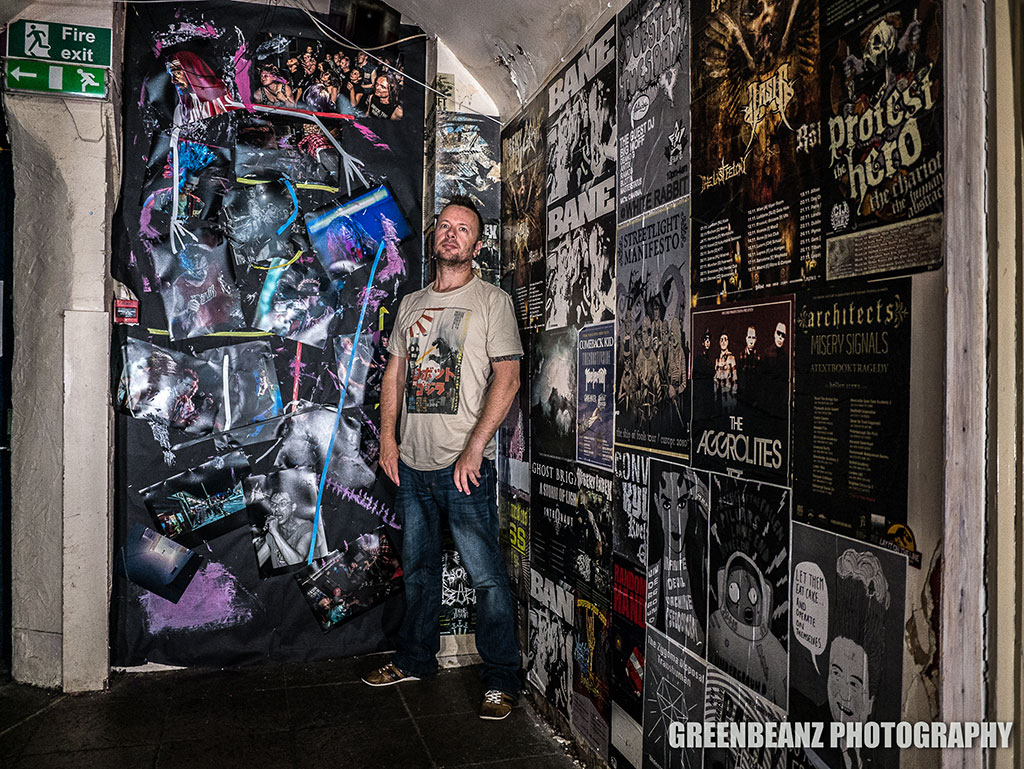 ABOVE : UK artist Beanz with original artwork created at Underground Plymouth music venue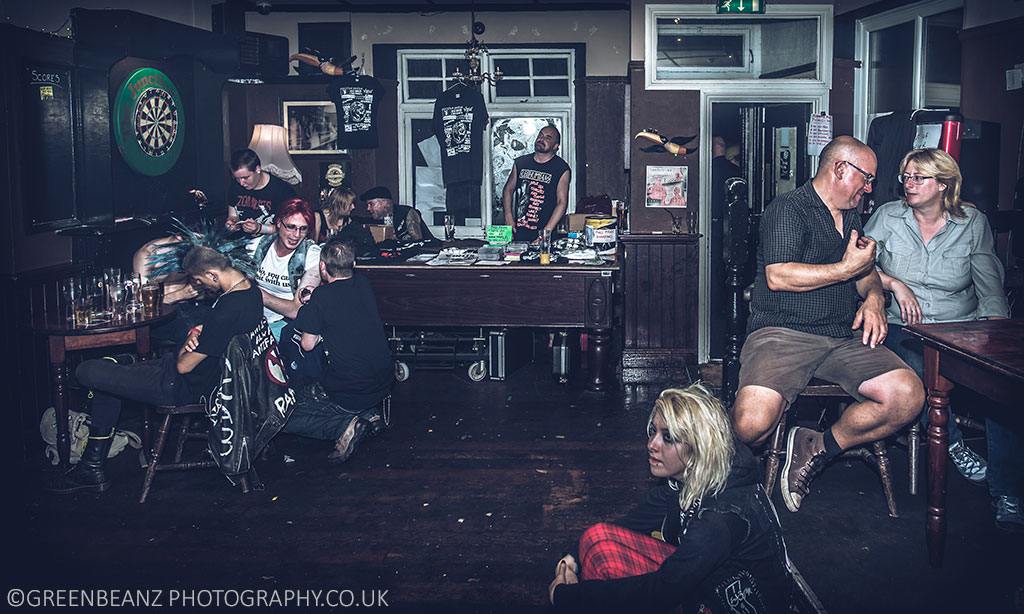 ABOVE : 'Punk's Progress' Original Photographic Print for The Junction Plymouth Venue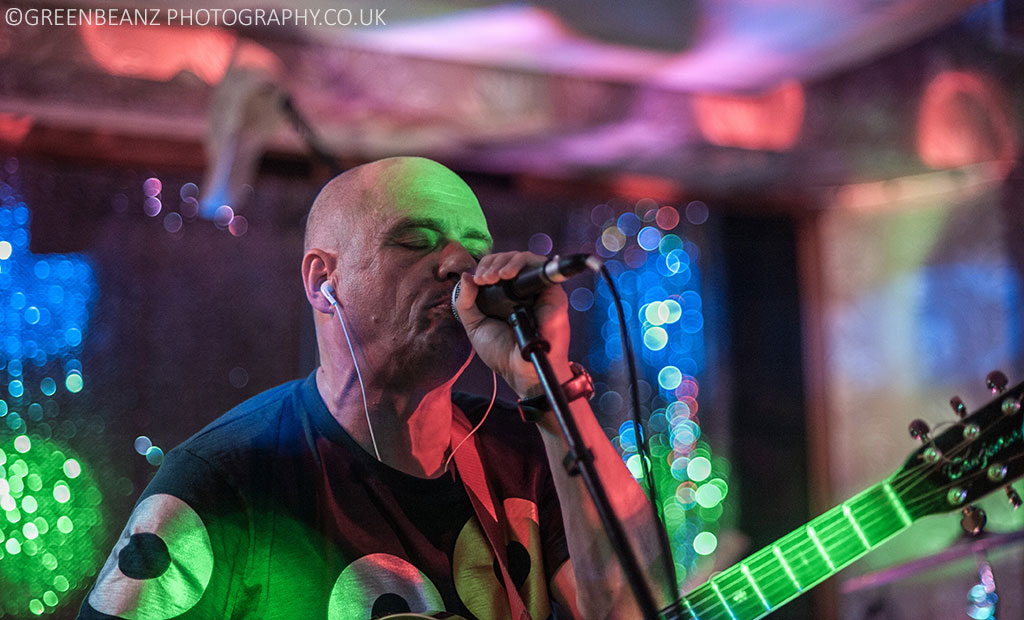 ABOVE : Rob C-Force Jazz-funk-rock-songwriting-musical-maestro playing live in Plymouth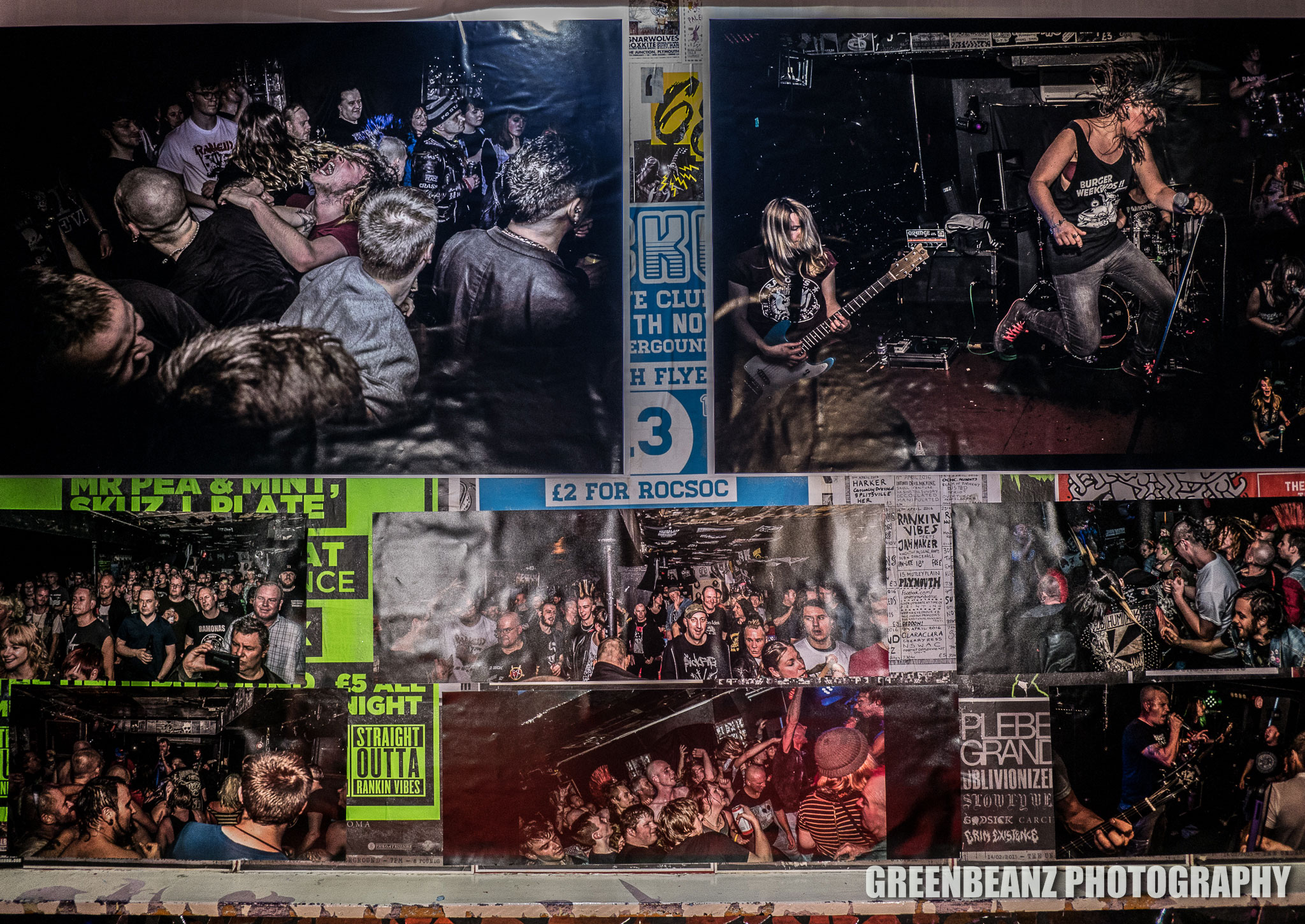 ABOVE : Plymouth Live Music Venue Underground. Blinded by the Sound Exhibition.
The exhibition "Blinded by the Sound" ran for three days from 23 -25 of September 2017 as part of The Plymouth Art Weekender.
You can see all the Devon and Cornwall live music performance photographs from the exhibition here