Steve Strong | 'Turbo Island' LP Launch | Underground | Plymouth | Thursday 17 January 2019
Greenbeanz Photography
Steve Strong | 'Turbo Island' LP Launch | Underground | Plymouth | Thursday 17 January 2018

ABOVE : Steve Strong at the launch of 'Turbo Island' Underground Plymouth 17th January 2019
Like magic, music is often at it's best when you do not see the mechanism with which the illusion is created. Steve Strong breaks this cardinal rule, and weaves his web directly in front of you. There is no sleight of hand , as every incantation is laid down, one on top of another. the web is spun, and each thread wrestles control over the last. His mastery is not exercised over supernatural agencies, rather he utilises the forces of nature, in shaping sound as the consummate artisan craftsman that he is. deploying the skills of a musician, producer and engineer in live sampling his own performance, and than layering those timbres and phrases, to create unique compositions, that will never be repeated....



ABOVE : Steve Strong at Underground Plymouth
The ethereal whittling of sound waves into beautiful iridescent mysterious enchanting objects, conjuring emotional ideas in the pursuit of a new communication, sure sounds like the work of Zoroastrian Magi to me.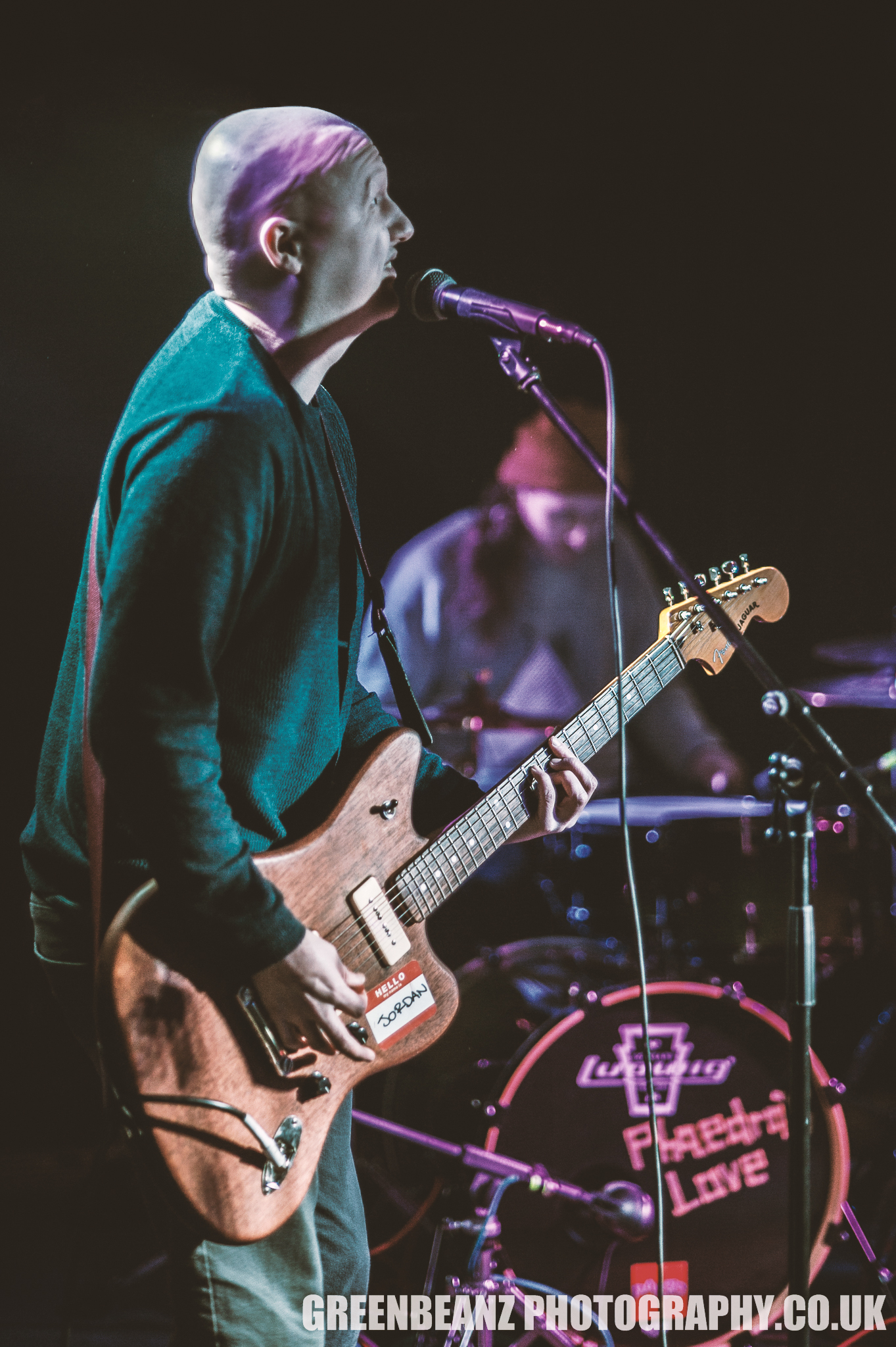 ABOVE : Phaedra's Love at Underground Plymouth in 2019
The album release show is opened up by Exeter/Plymouth based two piece Phaedra's Love, who for some reason remind me of Geddy Lee . The singer doesn't really sound like him or even what he might have sounded like if he had formed an emo band. The Drummer has a very vaguely similar look but the singer doesn't even have hair, let alone a preposterous ponytail, and has more in common with the vocal style of Placebo and Against Me. So what put Rush in my head is anyone's guess but personally I blame the drummer from SeeYellow. I apologise if I have not done the chaps justice, as I was still setting up, but you can check their material out over at bandcamp here -
circlehouserecords.bandcamp.com/album/always-smiling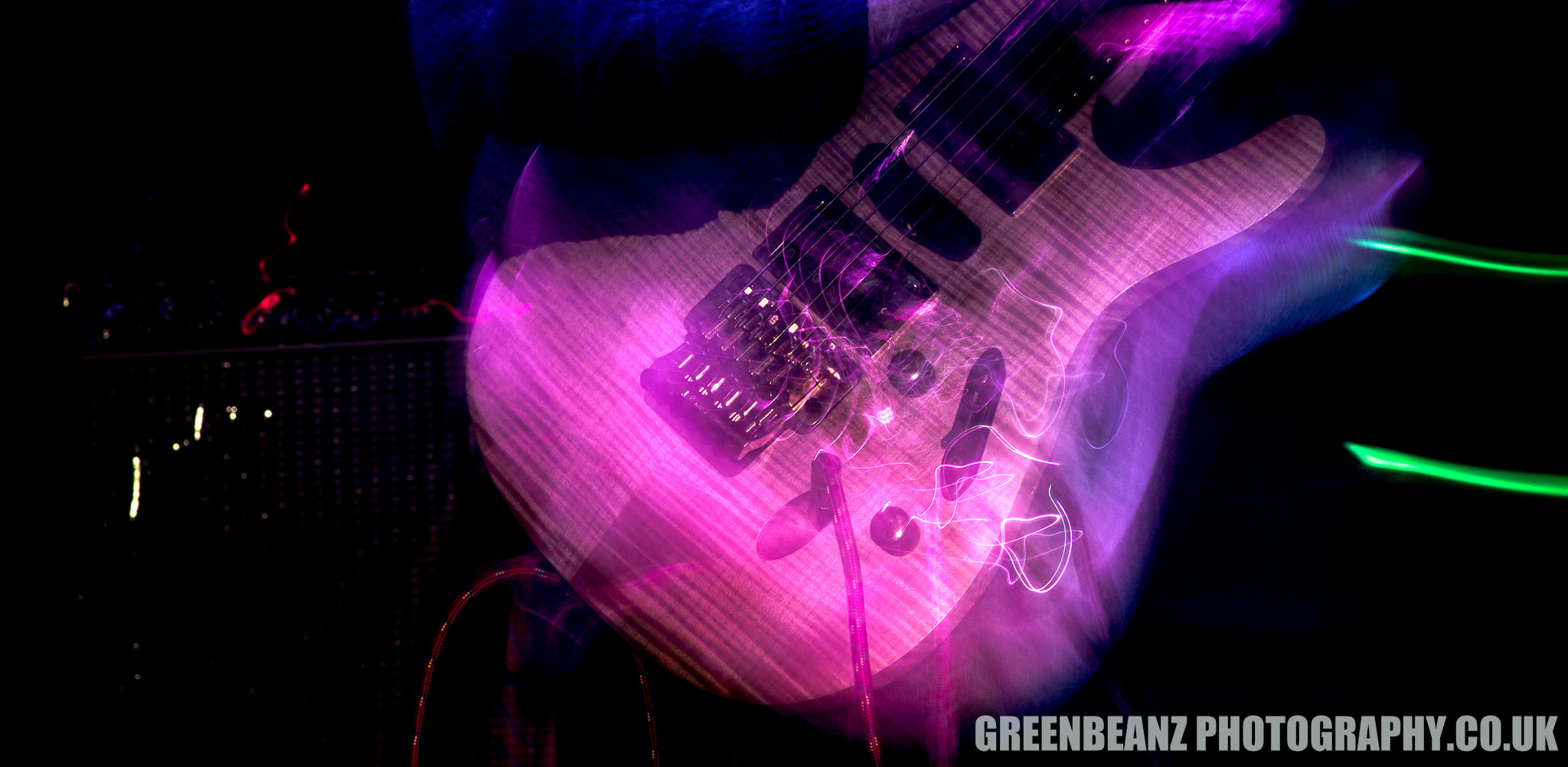 ABOVE : Instrumental Rock Band 'Ray Manta' at Underground Plymouth 2019
Next up are Ray Manta, and maybe I am showing my age, but I now can't get Camel out of my head (yes they who gave us 'The Snow Goose'). This instrumental Rock band from Plymouth would have had solo albums on Roadrunner records recommended to you by the knowledgable and very decent guitarist himself Trev from the basement at Rival records, if this was the late 1980's. They would have been Tucked in-between Yngwie 'Mal not Ramstein' and Tony McAlpine by somebody like myself with severe alphabet issues.
I am not dyslexic, but I have always thought, the A-Z system, whilst a great idea in theory,falls apart when you get to the very popular letters. Then the hierarchy becomes too fiddly and alphabetarchy gets way too full of itself and descends into bullying. Putting things back in the wrong place in record shops was a nice safe way to try out alphabetical anarchy and prepare me for the endless incredulous gasps of exasperation I was set to inspire in editors in the years that followed.
Ray Manta who thankfully seem to have the same problem and thereby arrived at a great name, are very neat and methodical, but in that Zappa way, where you realise just how badly organised the musical filing system in your own brain is. A refreshing change freed from the tyranny of vocals and bossy letters. Great stuff in which each alternately coloured section, is rotated to fit with Tetris like precision into the bars adjoining it.
check them out here - https://soundcloud.com/raymantaband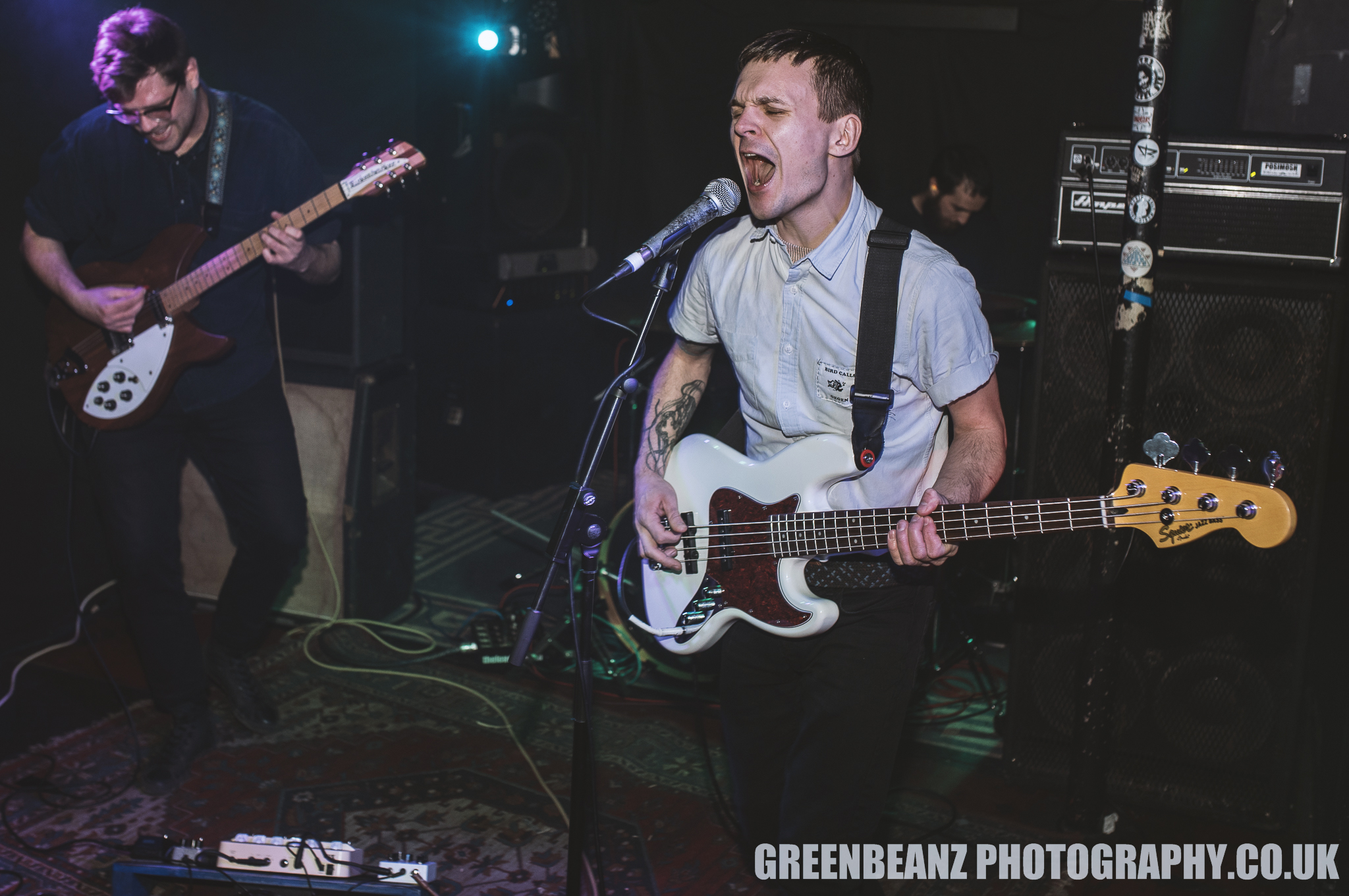 ABOVE : Palores at Plymouth's Underground in 2019
Appropriately behind Ray Manta in the bloody boring Alphabet system, but next up on stage are Cornish post-punks, Palores. Sounding apparently like a combination of Crows-an-Wra and Bangers, neither of whom I have heard, but who all featured members from this line-up, they proceed to tear the place up. Excellent , vital , jangly agit pop, this is a band that make you jump like an electrocuted blancmange in a dyson vacuum cleaner. Imagine a very good indie band after a cattle prod dare and you are getting there.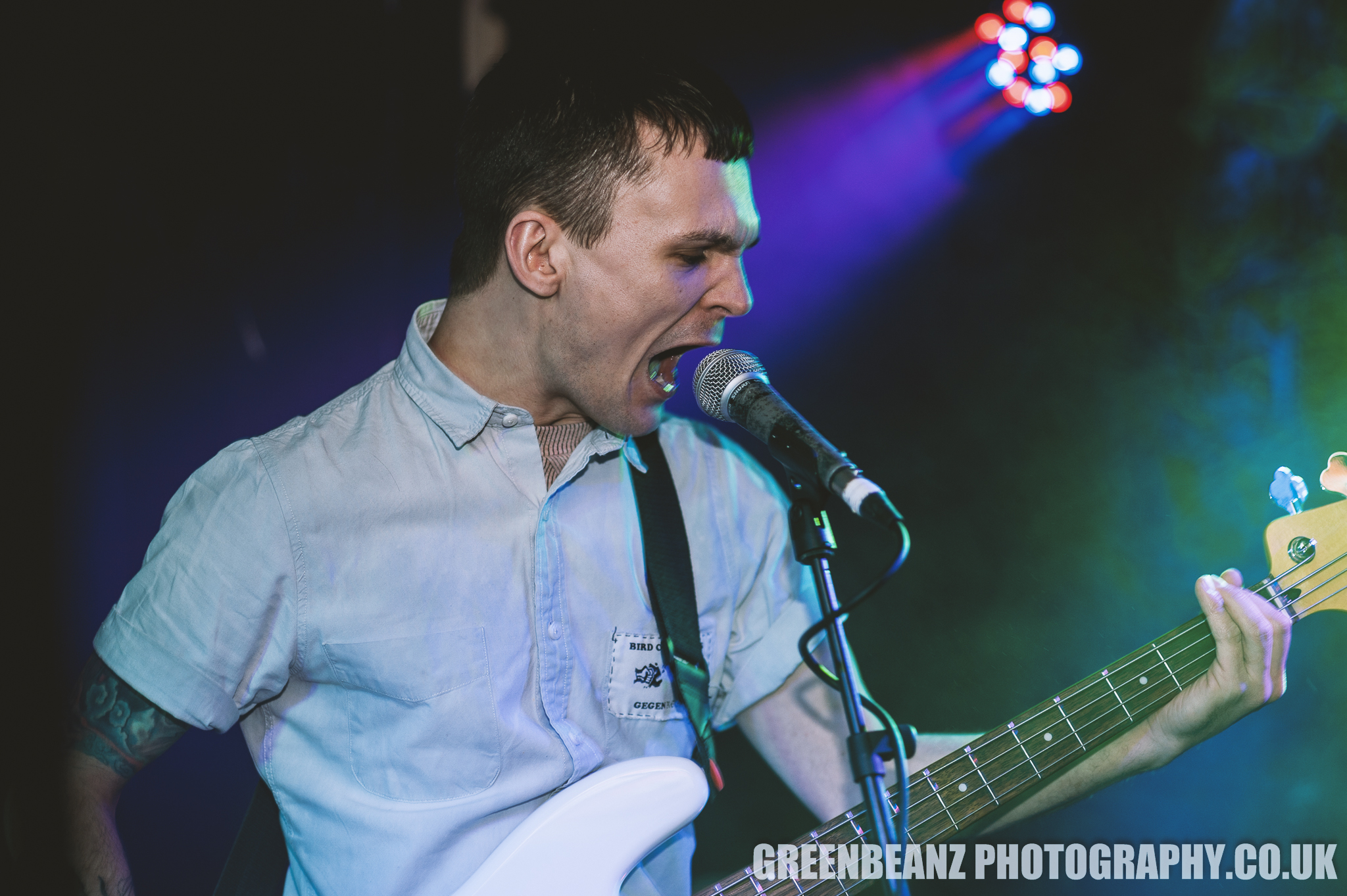 ABOVE : Cornish Indie Rockers 'Palores' at Underground in Plymouth 2018
They should already be being followed around by hordes of eccentric bobble hatted llamas with autograph books, and maybe soon they will, but in the meantime they deserve a support slot with a hugely successful but less interesting band. There are times when the guitarist sounds like he is channelling the Tornadoes thru Joey Santiago's Gibson, despite sporting the most gorgeous of Rickenbackers that he wields like John Wayne on a Vespa. If Pete Townsend were in the Las he could not have phrased his riffs more succinctly, nor with more verve and joy.
Underpin this with a sonorous bass playing singer that has the attitude,style, passion and relevant content to hold your attention and a drummer that makes sure your feet join in, and you have a recipe for something much more than an audio ready meal.
Go and check their material out here - https://paloresmusic.bandcamp.com/

BELOW : Aches at Plymouth's Underground club in 2019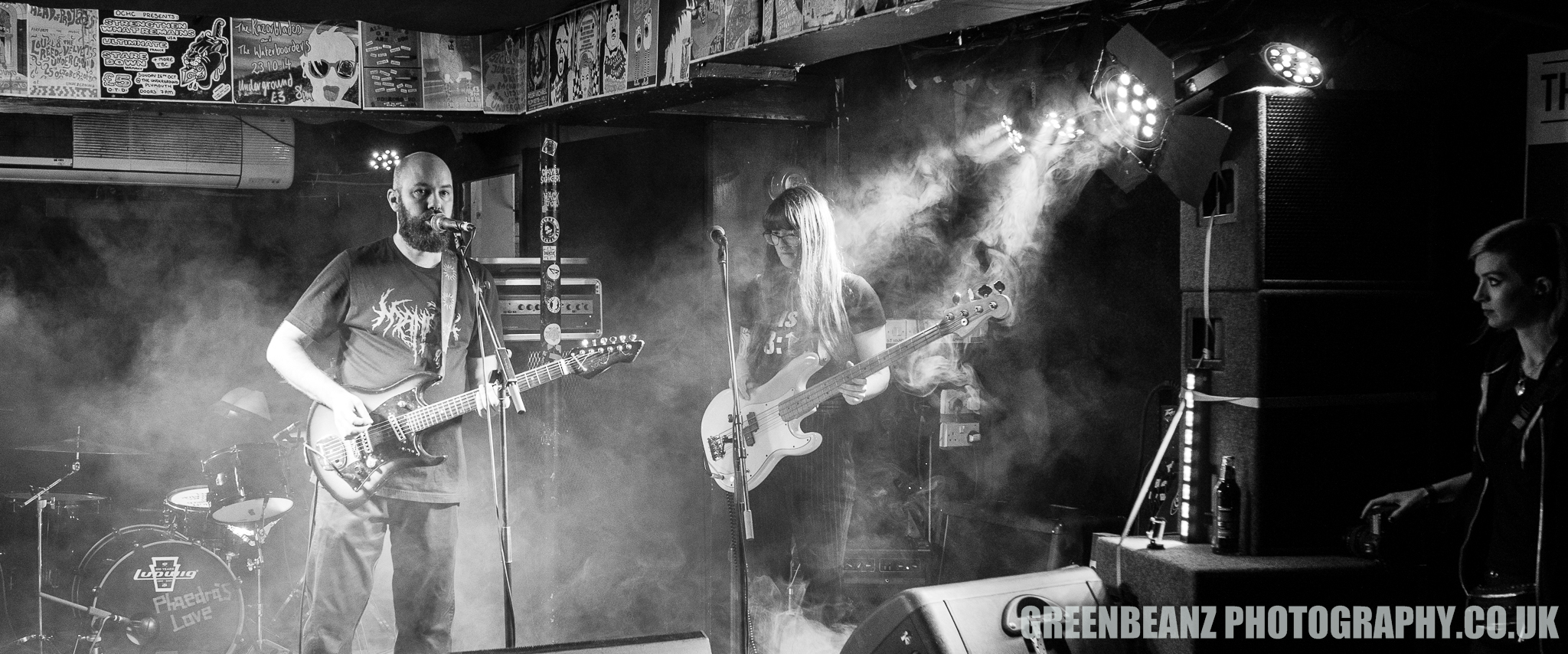 Before the magician himself takes to the stage Plymouth's experimental event rock band 'Aches' step up. Fronted by Chris Muirhead, these dark absurdists remind you of just how dramatic second gigs can get and proceed to scare the bejeebus out of you with their potential. Life is bloody hard, and at times darker than a velvet lined vacuum with no tinsel in the corners ,and Aches are not about to let you pretend otherwise. Curiously life affirming, (in that unless you are the creature in the drawer from Eraserhead, the soundtrack to your life is likely quite a lot more upbeat and rather less intense) It is a bloody great antediluvian roar of existential dread. Aches throw out pre-biblical tomes of rich darkness.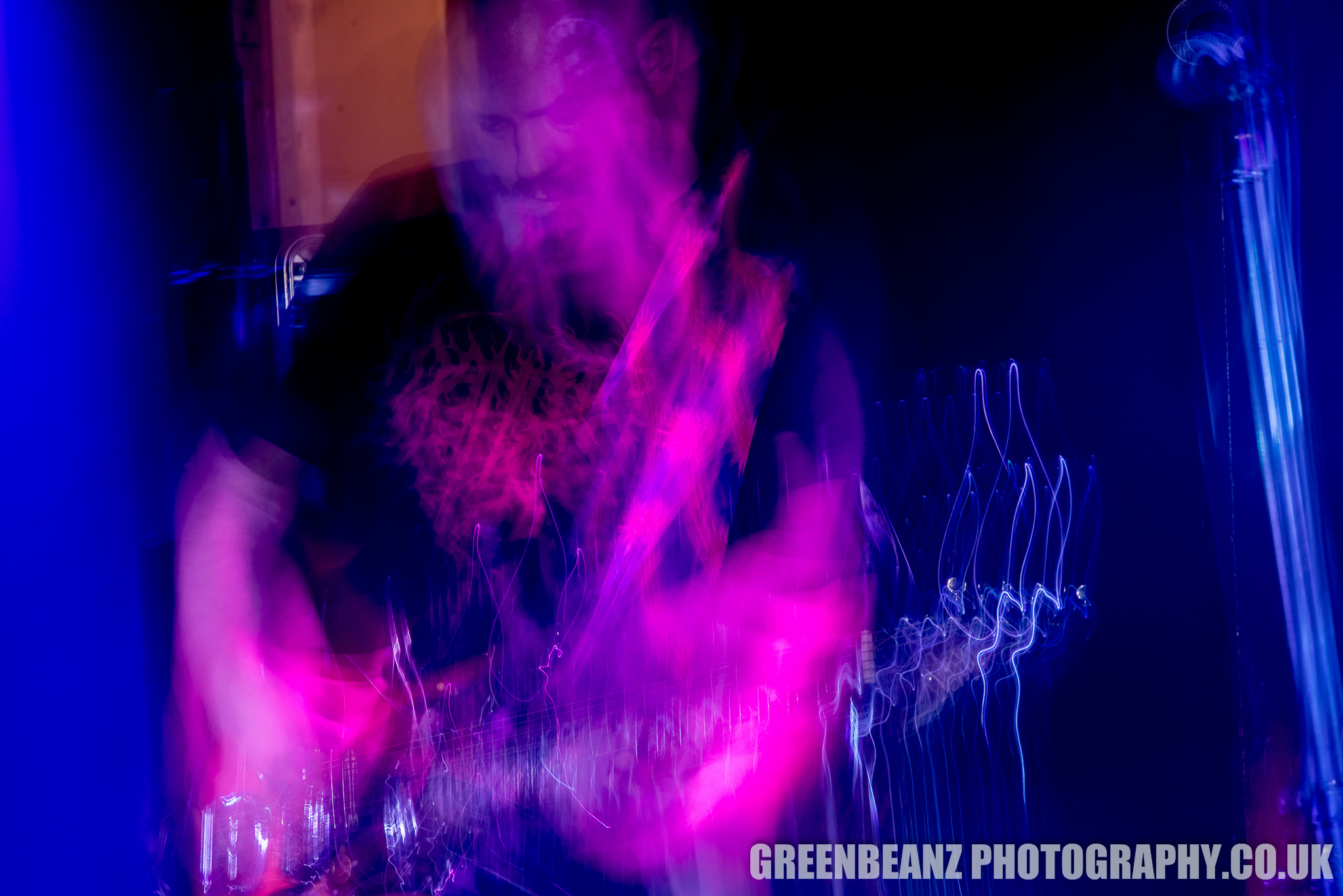 ABOVE : Chris Muirhead with Aches at the Underground in Plymouth 2019
Imagine the met office was based in Hades and turned out forecasters who wore granite sandwich boards, proclaiming mercury hailstorms and did so accompanied by gargantuan slab like riffs. There is nothing incidental about their sound and the waves are at least reassuringly real as they come crashing down on your head like a piece of sewage pipe on an unclean west country breaker. You keep thinking that the black whorl of eternities rush will abate and you will get a breath in after the next wave, but before you know it you are sucked back under and then are on the beach, the set is over and a sea lion is licking your face.
Check out their unholy marvellousness here - https://achesachesaches.bandcamp.com/releases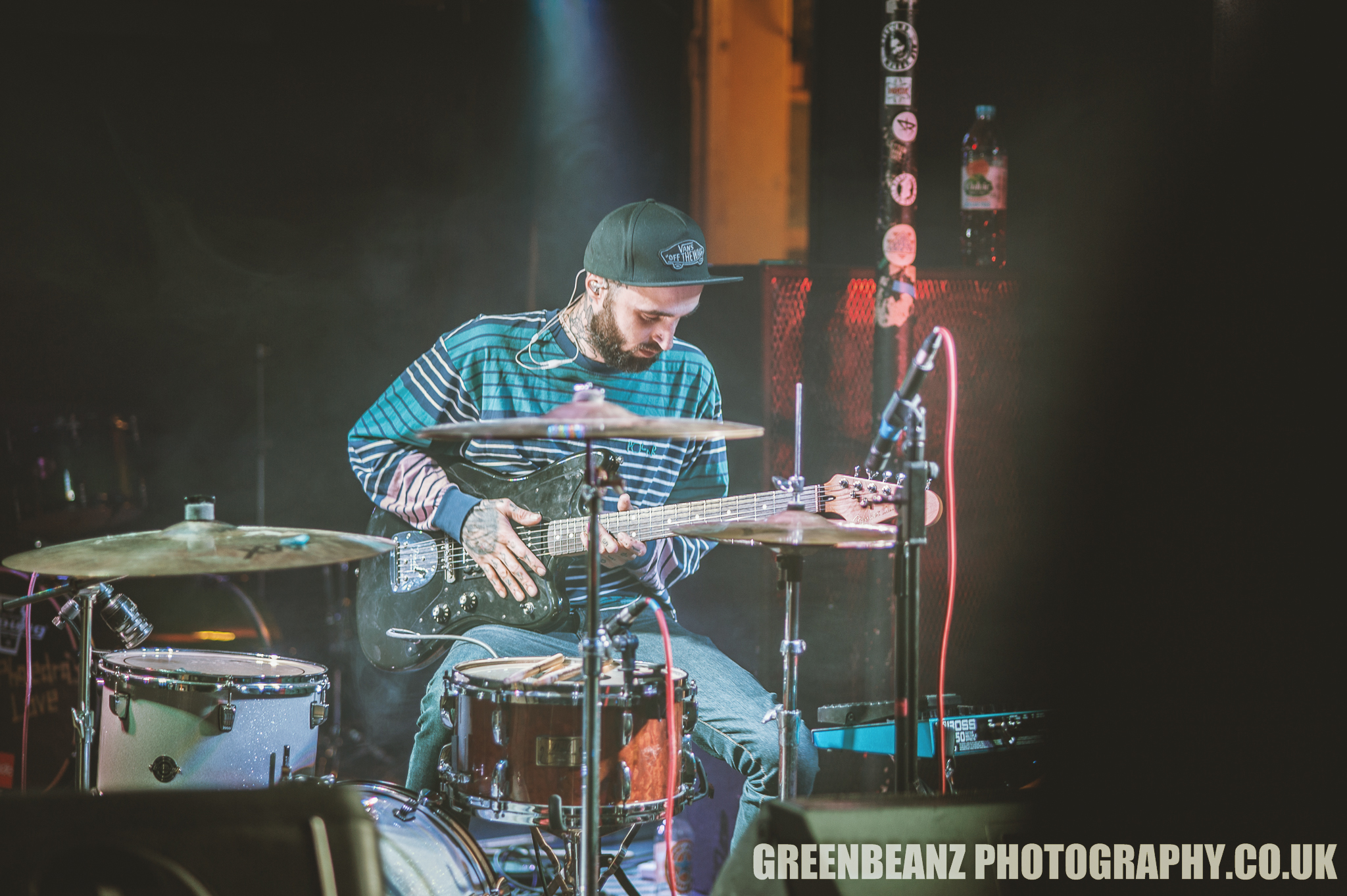 ABOVE : Steve Strong Musical Maelstrom 2019 at Underground in Plymouth
Like a sample pack thrown together by Zaphod Beeblebrox , John Peel and a crate digger from Vogsphere, the disparate but loosely connected rack of support acts, provide an eclectic reminder of how little many other headliners think about those performing before them.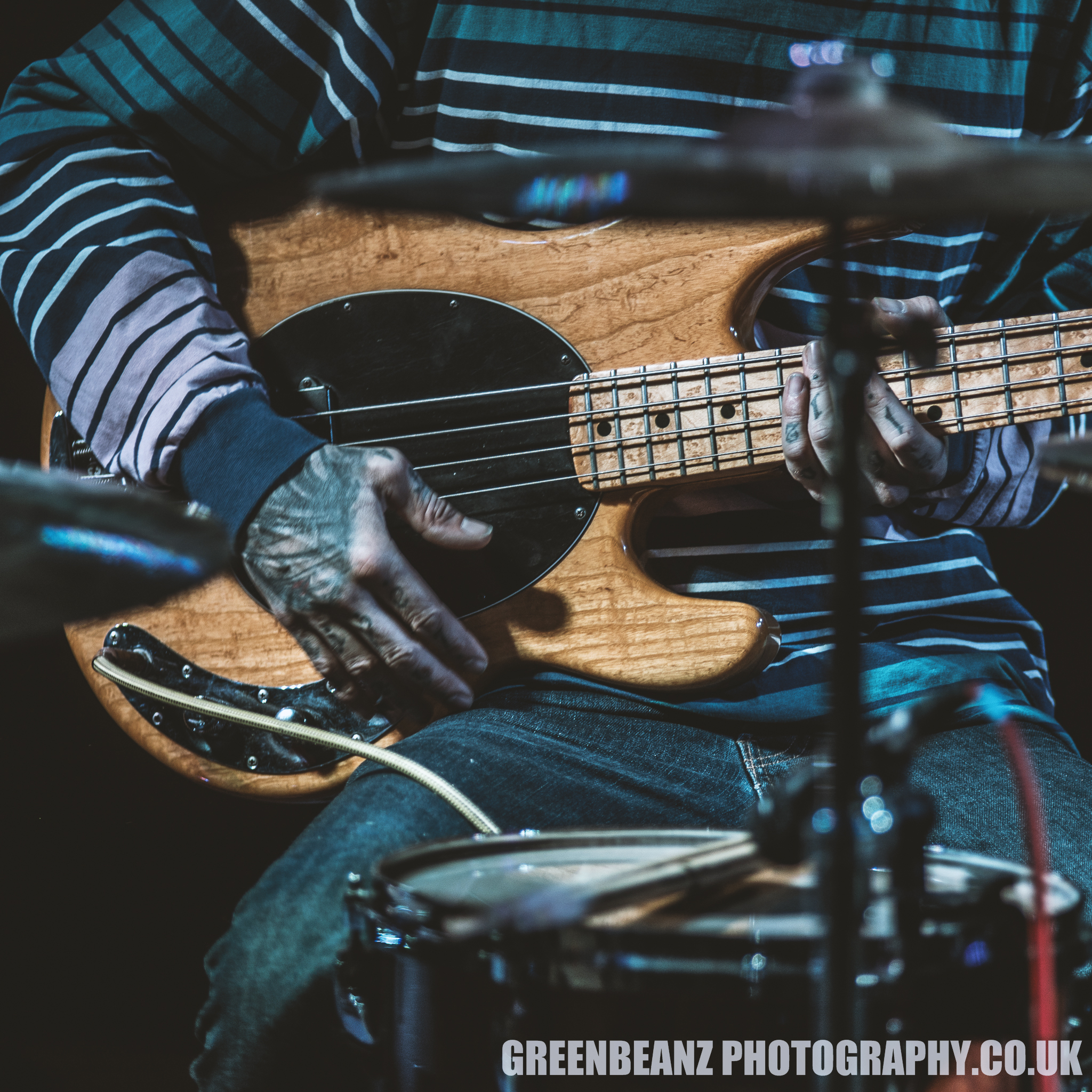 ABOVE : Steve Strong with Bass Guitar at Underground Plymouth in 2019
With Engineer Ben Turner helping to set the stage, and create the physical space and audio platform upon, and from which, Steve can do the work in front of him, the audience move up, eager to hear material from the new album 'Turbo Island' recreated.
Luckily for them, Steve Strong is not afraid of building the box in front of you. Not content with just simply stepping out of it, Steve will willingly incur the wrath of the musicians equivalent of the magic circle, in demonstrating exactly how it is done, live, part by part, on stage.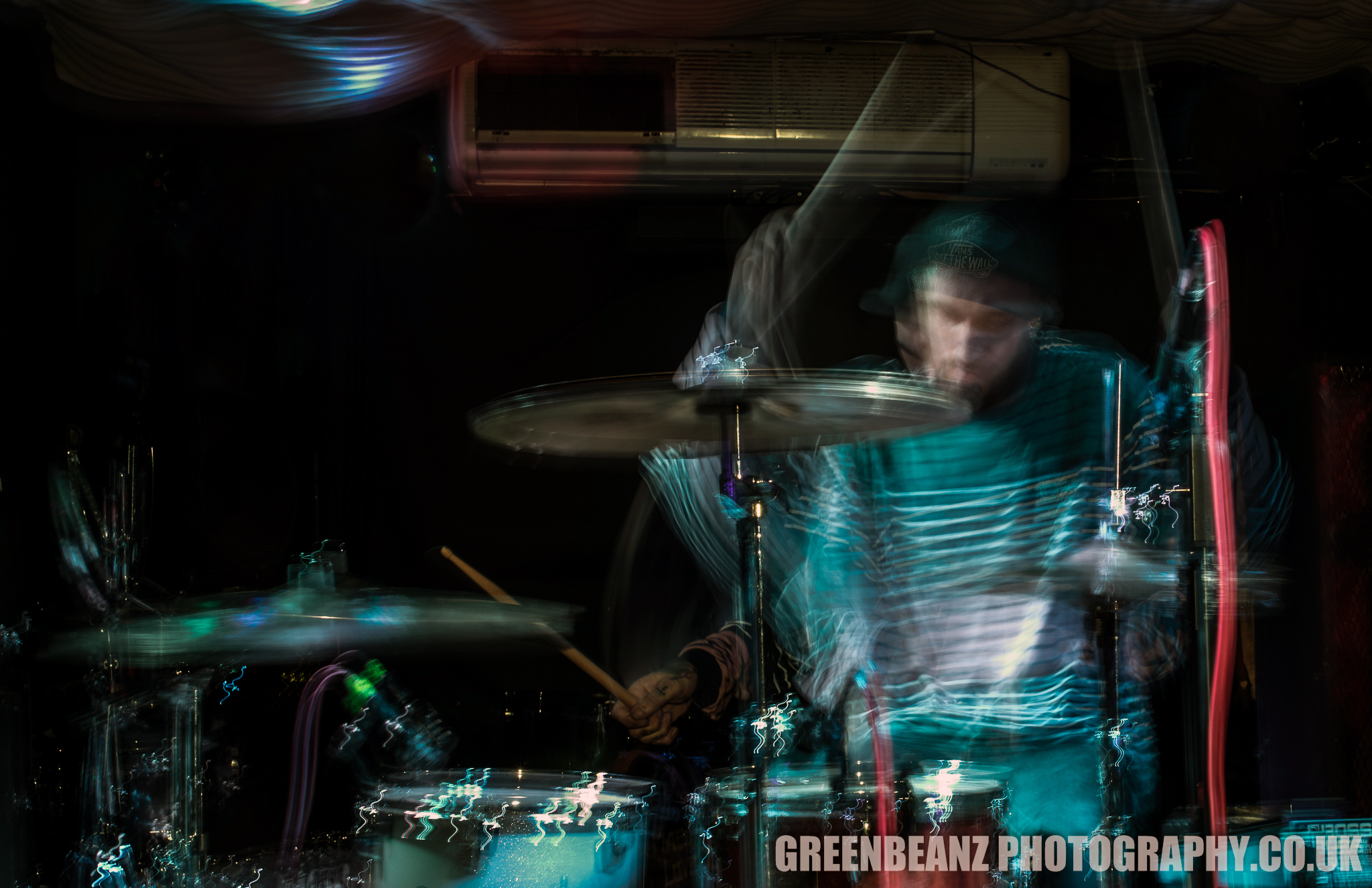 ABOVE : Steve Strong Multi-Instrumentalist live in Plymouth
The magic circle is an appropriate analogy, not just because of the circular nature of laying down loops, but because Steve Strong knows when something has that innate beauty contained within it. The smoothness of his timbres are deceptively simple, but crafting that kind of nuance without relying on other band members and a producers ability to EQ a space for each component, is not easy. The magic lies in making it sound like that.
When someone as exquisitely practised and receptive to honing the tiny crystal elements within the gems of recorded sounds like DJ Shadow, teases those long strands out, like a dew laden length of web, refracting the mornings light, we are rightly impressed and satiated, but when somebody like Steve also has to craft those elements with instrumentation we should be astonished.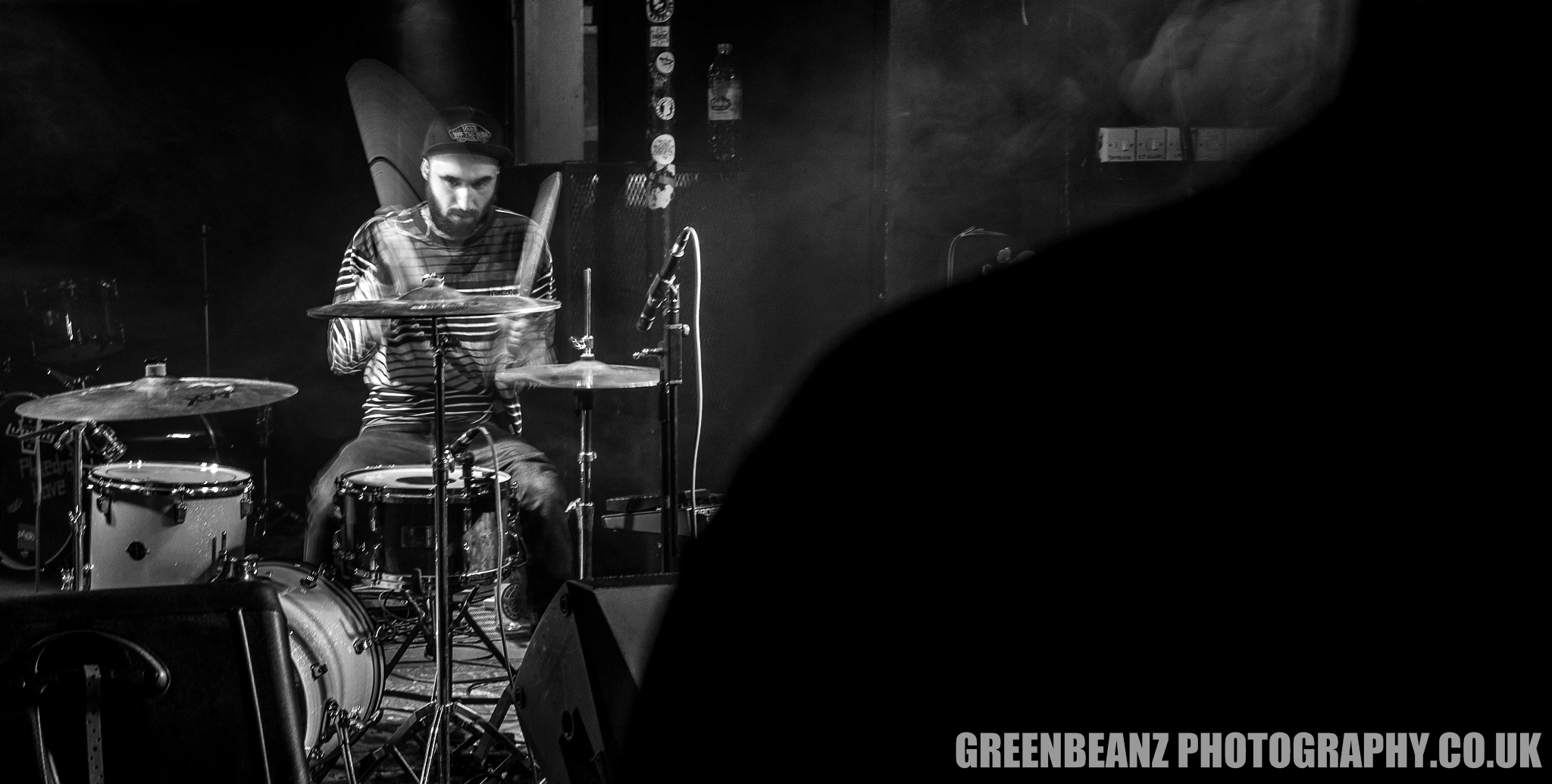 ABOVE : Steve Strong 'Turbo Island' LP Launch night in 2019 at Underground, Plymouth
'Turbo Island' is a beautiful assured master-work that calls to mind Entroducings clever re-contextualising of familiar yet unheard fragments of all our lives, with subtle inflections and often radical representations. Reversing sounds and presenting the attack portion as a decay has been there since the very earliest experiments with recorded sound, the editor as sound artist, wielding the razor and spicing tape in inverted new reversed instruments that predate synthesis and the creation across sound waves of things that until then lived only in the composers head.
Steve does this live with the loops he builds up. Because he uses his drum kit like a palette, and approaches it like a sampler, he is able to weave intricate breaks inside the drones, pads and arpeggios he strings out in front of the audience. Rather than underpinning the track, his drumming wraps itself around the music, like the arms of a searching lover, seeking to reinvent their embrace in new ways with every breath.
It is as much about teaching yourself how to listen, as it is about learning the grammar needed to play and express yourself. There are many musicians and producers who excel in one at the expense of the other, and the balancing act of being able to hear yourself anew, when playing something you have recorded many times, is not a skill to be underestimated.

You can hear this on the title track 'Turbo Island' where the scratchings of the guitar are like seabirds adorning the edges of an island, prophesying the imminent arrival of a post rock future. So that when the track itself 'Life after post rock' washes over you, it shimmers with a liquid viscosity, the circles of reverberant reflection , like melodious ripples on a pond, insufflating and then radiating out. As if tweaking the resonance and cut off to shape bubbles , there is a fluidity here that is achieved by the analogue nature of triggering rows on looms ,weaved with your own played material, and not arrived at by the generic sequencing inside the little boxes, many of us construct compositions inside of today.

Words are never going to explain the world to which Steve Strong can transport you so go and treat yourself and witness him playing live. Buy your ticket and get hold of the unmissable new album here - https://stevestrongmusic.bandcamp.com/album/turbo-island-2
You can see a short film of Steve playing live at the albums launch night here -
More pictures to come later on facebook here