Greenbeanz Photography / Events
Plymouth event photography

live events
With a proven track record of live event photography across Devon and Cornwall and an extensive UK photography portfolio we have photographed everything from gigs and festivals to the opening night of art exhibitions, sporting contests,ceremonies and celebrations. We shoot live theatre performances and stand up comedy and capture photographs of charity auctions and document the opening night of art shows.We also have a well established social and print media presence and can help share your images across Twitter,Facebook,Instagram etc to help add value to your promotion or event.
Our Experience
We have had the privilege of working with groundbreaking dynamic arts companies in Plymouth and the westcountry collaborating with Effervescent,operating at the Ocean Studios Gallery at The Royal William Yard, the Radiant Gallery in Plymouth, and with fellow artists at Comma 5. We have worked in London with The Index on Censorship and Change:How? and are currently supplying the images for Take Back Control. We have a longterm working relationship with Black Country and UKO Boxing, Devonport Boxing Club and the local and national press having been featured many times in Boxing News, The Herald, Western Morning News and the Torbay Express. You can entrust us with covering your event whether that be a small birthday party, a national boxing promotion or an international conference.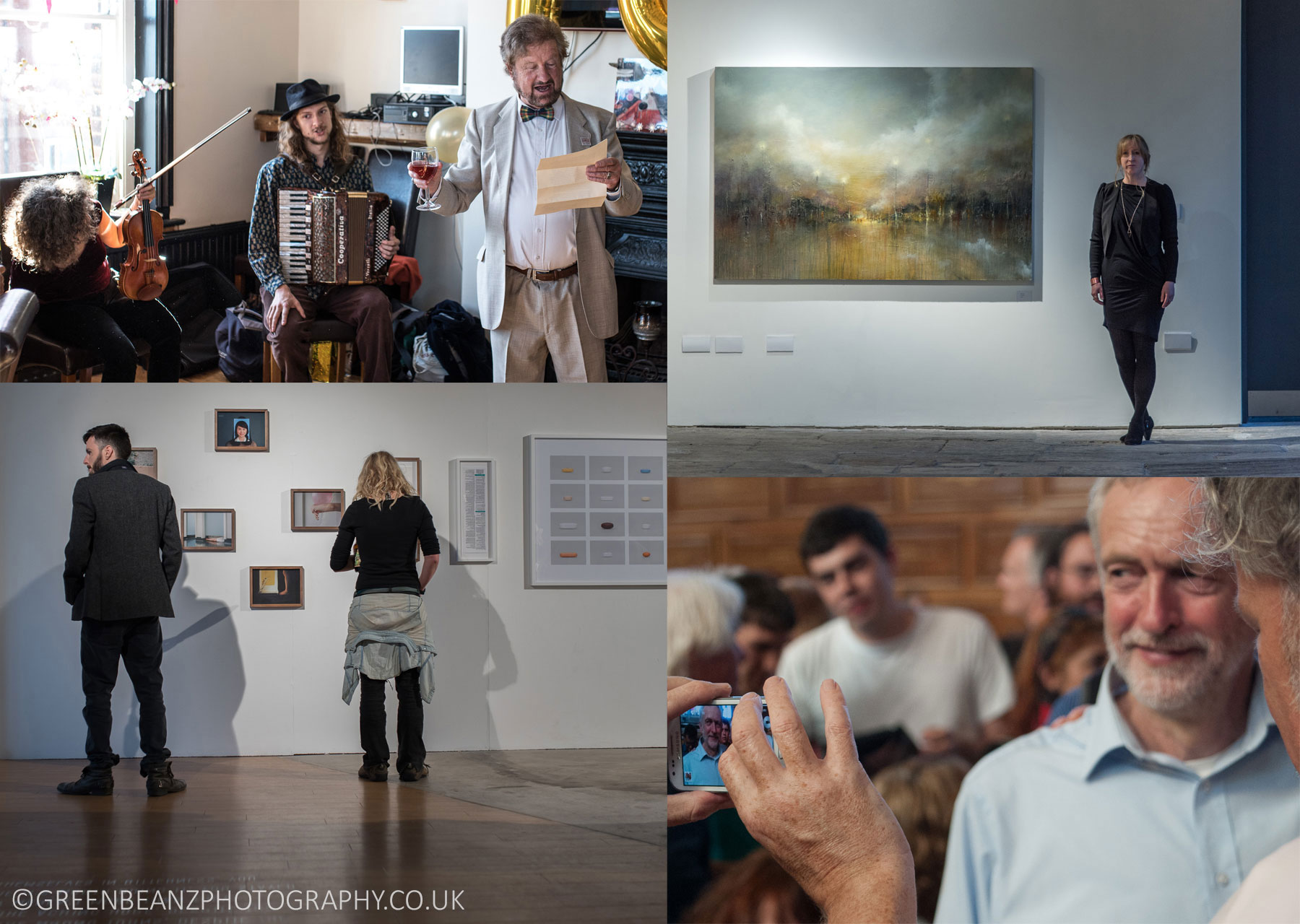 ABOVE Left to Right: 70th Birthday Party / Painter Julie Ellis opening night at Plymouth's Ocean Studios / Exhibition at Radiant Gallery, Plymouth / Jeremy Corbyn at Plymouth Guildhall.
BELOW Professional boxing at Plymouth Guildhall
ART SHOW DOCUMENTATION /OPENING NIGHTS
Documenting art show's is something that we have extensive experience of. From capturing the buzz of an an opening nights preview to cataloging the artworks and exhibits, the importance of having a record can not be overstated . Whether it be used to secure future funding or to provide content for on and offline archives, your work, or the work of artists you commission, deserves to be professionally recorded.
music promos and Gig Photography
Your music deserves a promotional set of images that will help it reach new ears. We are here to help you make that vision a reality. We have a huge proven track record in capturing live musical performances of all kinds and creating original material to promote your sound.We have shot many pivotal acts within the British Punk and Ska Scene including - The Selecter, The English Beat, Bad Manners, Buzzcocks, Uk Subs,Subhumans, Oi Polloi,Virus,2 Sick Monkeys etc and many other acts from other genres including DJ's like Craig Charles Funk and Soul Club and 4 X DMC World Champion Mr Switch.We have covered alt country and celtic Rock bands like Ferocious dog, Black Friday and Crazy Arm and new acts like Wonk Unit,UK Feds and Slaves. So you can rest assured that your band will have a great set of images to share with your fans. Check out out work here
SPORT
Join us ringside, pitchside or courtside as we share our privileged positon with you. In sport things can happen very quickly so anticipation is crucial. Often the combination of low light and fast action (something that sport at a grassroots level can share with music) can make capturing that decisive moment, artistically and technically challenging. This also makes it the perfect arena (like music) to keep one's skills sharp but also a field that can be immensely rewarding. Whilst Portfolio shots can be organised thru our studio style or candid people portrait service, event shots can also be arranged for individual athletes and teams, at or before, dinners and award ceremonies.We have had several back pages in newspapers and work published in Boxing News.
PARTIES
We all like to let our hair down and mark special occasions with a celebration. Birthdays, Bar and Bat Mitzvah's, Christenings, Retirements, Proms they are all unique and deserving of commemorating with a tailor made set of images to remind you and your friends and loved ones of that special event. Like all the events listed here you can order prints directly from the site and have them made into beautiful hand made books, canvases, calendars, mugs, posters, framed art prints and a wide range of other gifts for yourself, guests or family who could not make it with our special Client gallery service.
CHARITY, COMMUNITY OR CORPORATE
We make a point of covering at least a few charity events free each year and volunteering to help cover worthwhile community endeavours when we can, as a volunteers or at a reduced rate. We understand the value and importance of good publicity material whether you are a charity, small business or large corporation and will apply the same attention to quality and detail whatever the commission. Time is precious and finite and we make it a priority to focus, be mindful and use it well. Head shots, candid shots of speakers and/or delegates, everything from motorcyclists, mime artists or marathon runners can increase the effectiveness of campaigns and events far beyond one individual date.
THEATRE and Stand Up Comedy
We have shot all kinds of live performance from stand up comedy to performance poetry. We are acutely aware of how important it is to be able to disappear in such situations when the last thing those who are enjoying that special night out want is any distraction from the drama or performance unfolding before them.
More than Just a photograph
A promise that we will make photographs that not only document your event, but also offer emotional, social and artistic insights that present new ways of seeing the world. Our experience will ensure the images that capture your event reward visitors with added value each time they are revisited.
Just a handful of sets from previous events to demonstrate what we do
Dog Show Radiant Gallery July 2016