HENGE | The Junction | Plymouth | 25 October 2019
Greenbeanz Photography
HENGE | The Junction | Plymouth | 25 October 2019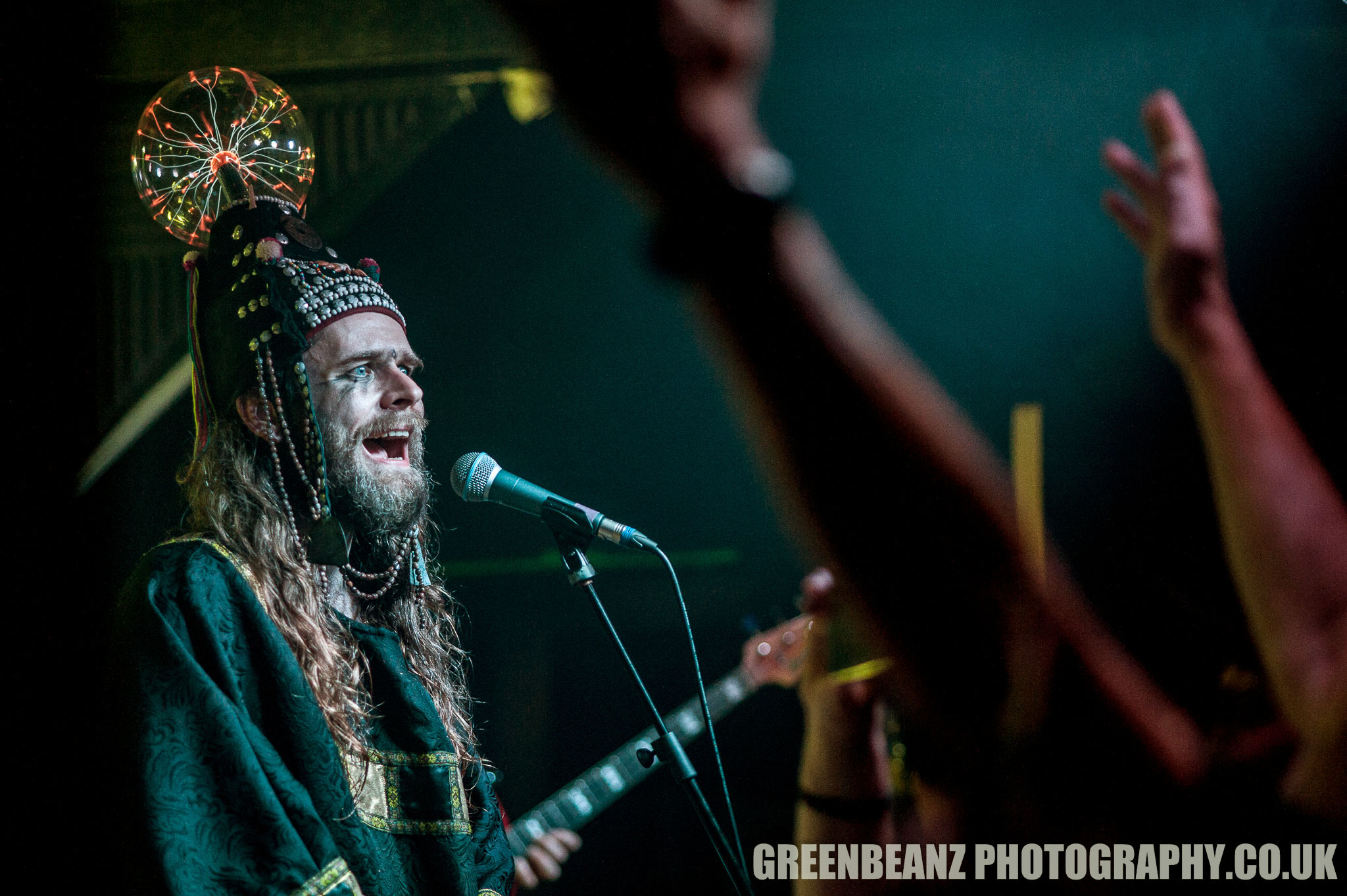 ABOVE : Zpor of HENGE electrifies the fans (not literally) at The Junction in Plymouth
HENGE are not a gimmick, they are not a novelty act, they are not zany, this band are the real deal. To think they are 'fun', is to miss the point, yes they are at times the best fun, but they are also joy and exaltation, a foot stomping hands in the air enDorphin fuelled orgy of all embracing love and celebration. Imagine Ozric Tentacles , LFO, Syd Barret era Floyd, Rush, Orbital, the best acid house techno DJ in the second room, all sharing musical stem cells and growing four bipedal musicians led by an amiable leader with a two foot smile on his face, and a message of love, and you are nearly there...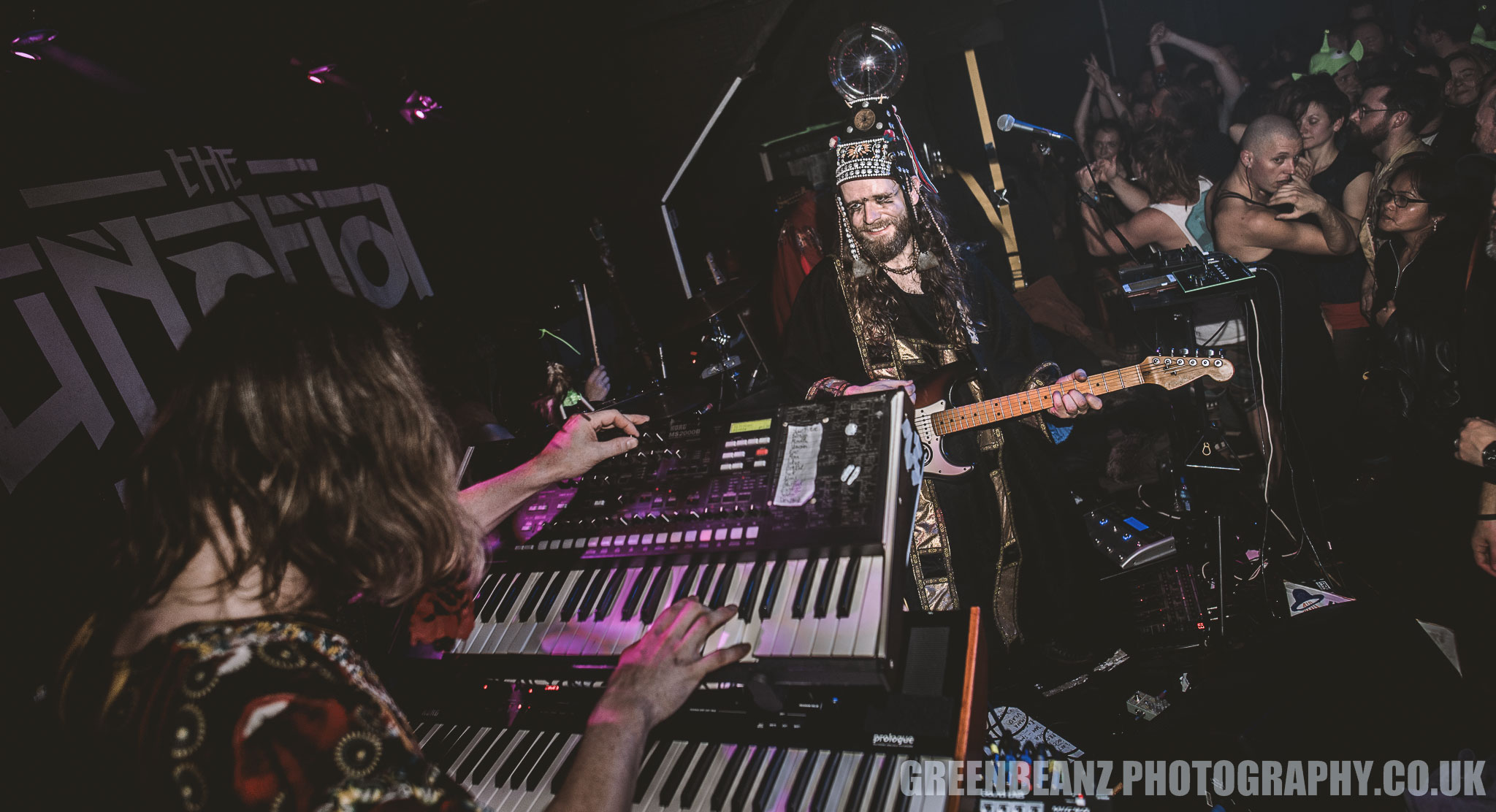 ABOVE : HENGE at The Junction in Plymouth 2019
Zpor, Nom, Goo, and Grok shared their own hyper-drive technology with an audience dancing on the same holo-deck tonight, but it would be a mistake to attribute that shared boundless ecstatic energy, as a trip of it's own, rather than an experience through the musical constellations the band whiz effortlessly through. The interstellar landscape itself might by built with familiar musical constellations, but it was the music that provided the primary fuel for the journey.
And what a journey it was.
HENGE a band that describe themselves as visitors to this planet, with a message to mankind telling us we should unite, demilitarise and and colonise space before we face extinction, landed at The Junction ( I nearly said The Cooperage) on 25 October 2019, and took the assembled throng of mostly earthlings, on an infectious journey from primal drones and ancient vocal incantations, to a warm bubbly acid house infused, space rock future.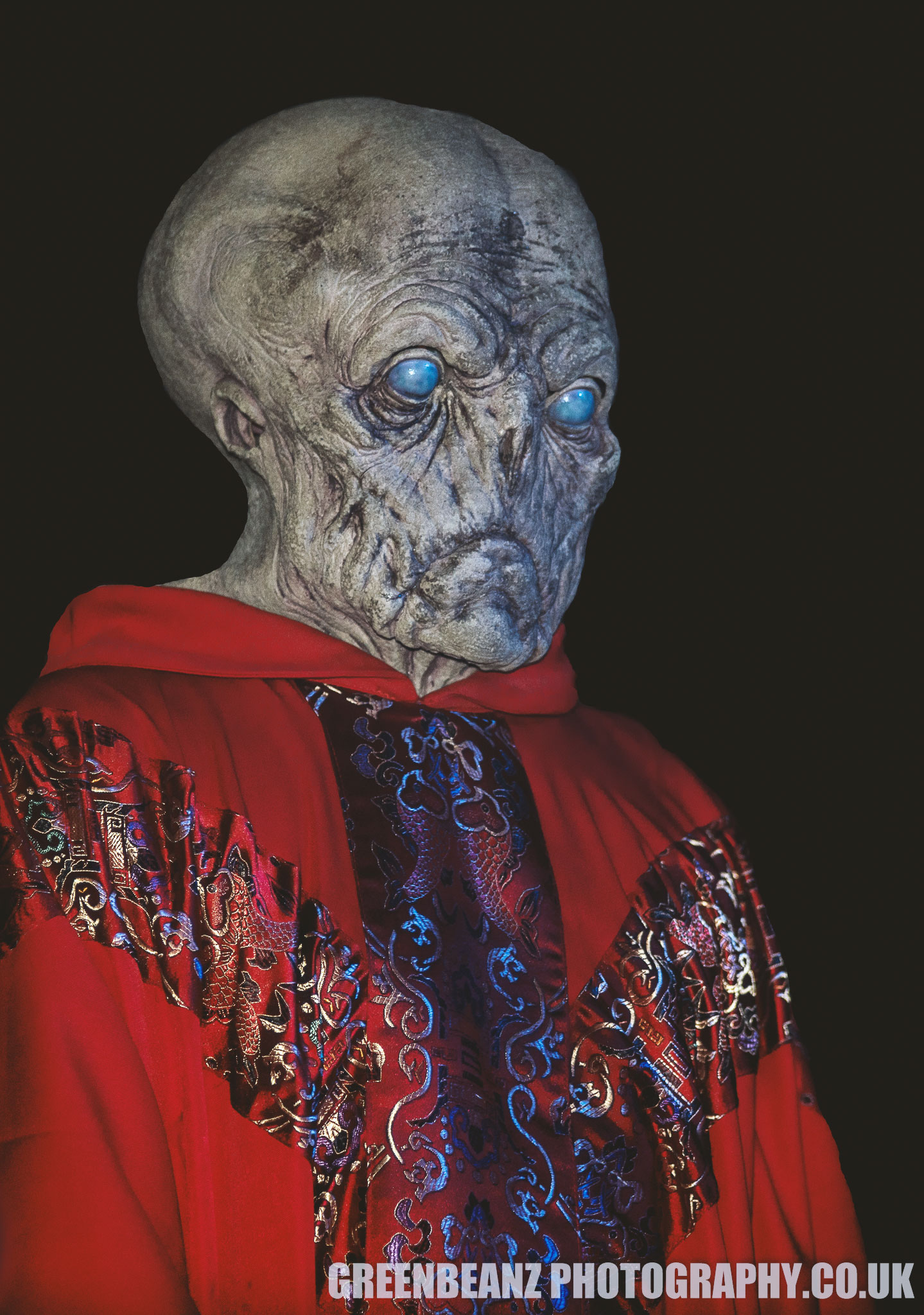 ABOVE : GOO great Bass and sub bass Synth Player for the mighty HENGE in Plymouth 2019
Henge are not the first beings to bring alien music to this planet. There is a long history of intergalactic inspired instrumentation and invention in music that can be traced back to the afro futurism and P-Funk of Parliament, and before that the space gospel as told by Sun Ra. The same gauntlet was again picked up by hip hop and break dancing pioneers, like Afrika Bambaataa and Soulsonic Force, and then carried further by people like the Belleville Three, (Juan Atkins, Derrick May and Kevin Saunderson) , the Detroit godfathers of Techno.
Those three fellas were themselves inspired by the European electronica and the audio time travel experiments of everyone from Kraftwerk and Can, to the Radiophonic Workshop. The search for music from another planet, seems also to be there in the work of American psychedelic band Silver Apples. A band so far ahead of their time if they were not time travellers, they were surely in possession of the most accurate of crystal balls, if not a complete and working flux capacitor.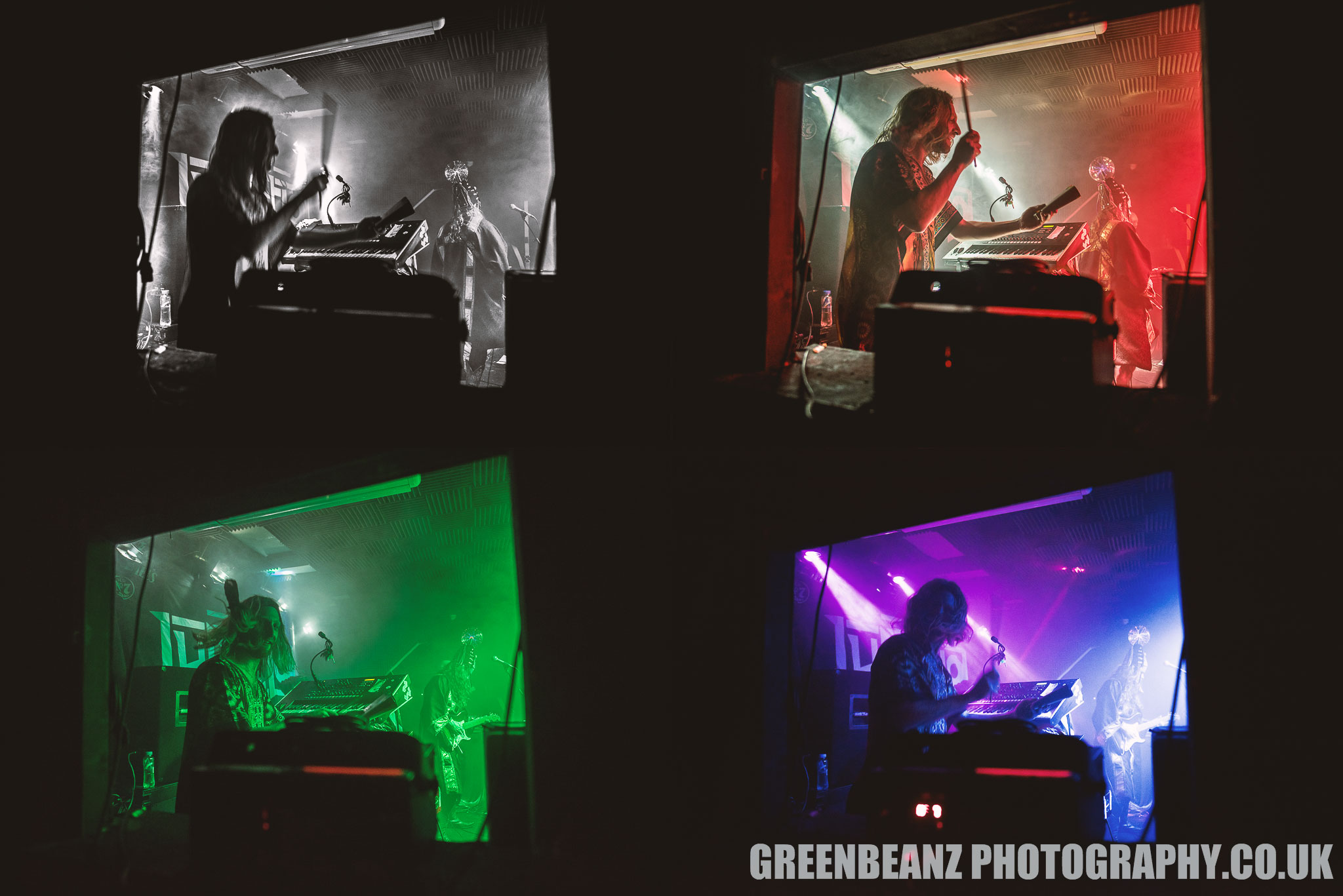 ABOVE : The many colours of HENGE who brought their cosmic dross to The Junction
After the opening two tracks, the band play Monolith. It sounds like Tetris inspired 8 bit Surf Rock from a Cantina at a Soviet base on Mars. Over this funky tune, it sounds like ( i have no idea of the lyrics) Marvin the Robot from Hitch Hikers Guide, procedes to get jiggy with a very curvaceous and ample American refrigerator. Horny stuff. It ends with what sounds like a herd of mechanical camels. From that they launch into The Great Venusian Apocalypse, (minus the usual two alien dancers), a happy accident with a replicator, into which has been fed a jumbled request for a musical hybrid of Focus, Devo and The Beastie Boys.
Henge can throw angular jazz shapes with Zpor's often specular guitar playing, reflecting back a host of Prog, Funk and Rock influences , painting a spirograph of fractal goodness that reaches out and unites an unearthly rhythm section, whose grooves are tight and bouncy, in the most perfect of ratios. I tried my best but stuggled to get any decent images of the Drummer but the keeper of the pyschadelic plasma can really play. Deft and nuanced there were some sublime breaks in amongst the kick, fours, accents and time signature changes.
The Fibonacci sequence, the master code, the warp core that is at the heart of this band though, is the synth playing. Although many bands think they do it, the truth is, it is still quite rare for the work engines of producers the world over to be dragged out on stage and used to power a performance.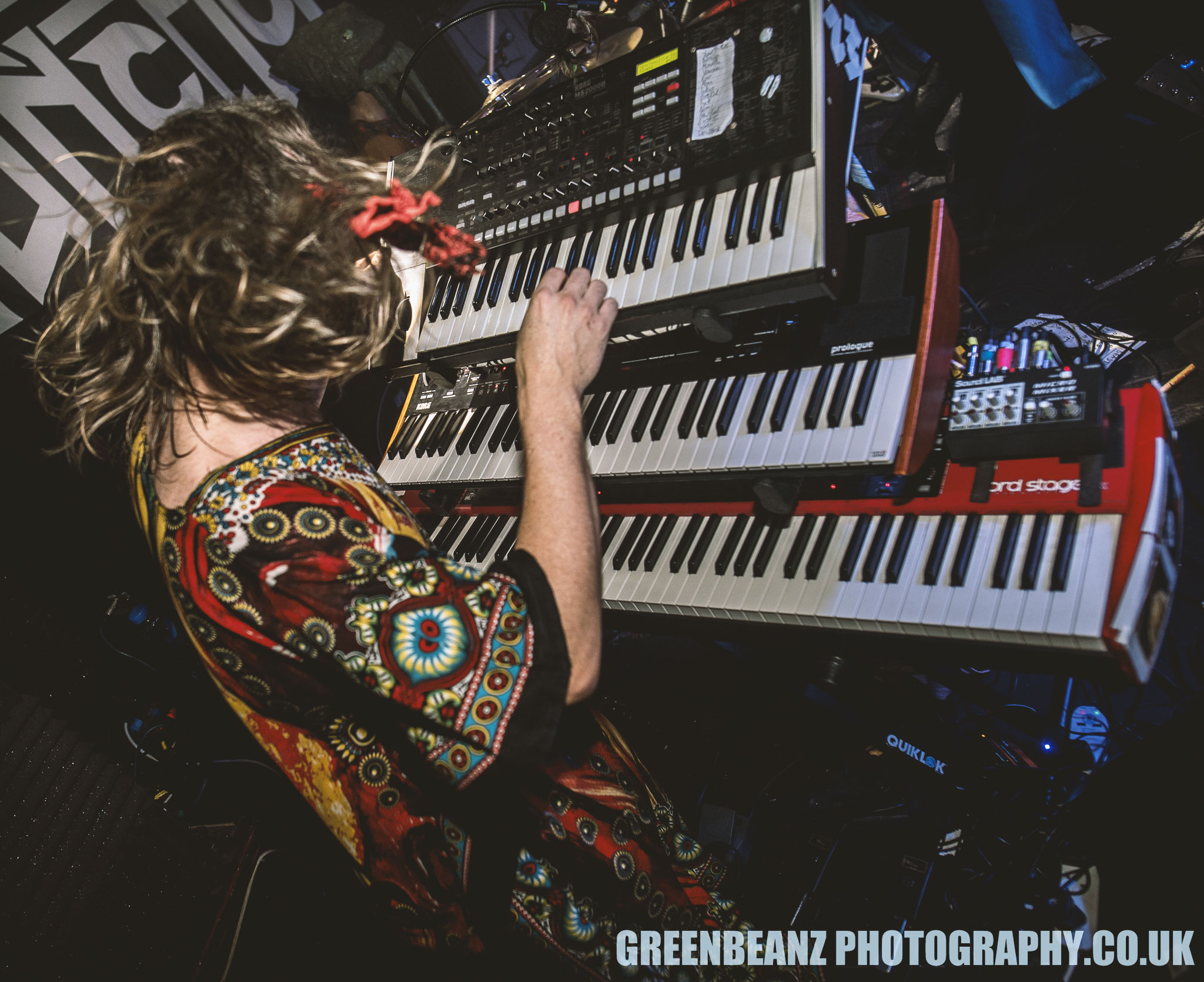 ABOVE : One of two up front synth Players Grok of Henge wows the crows with his magic
I might be biased after falling in love in 1981 with a Casio VL tone ( the musical calculator) and then a CZ 101, the TB-303, the Yamaha SY Series, A Jen SX 100, even the Korg MS2000 played so ebulliently on stage tonight. I think not though.
There is a freedom afforded to a band when the instruments behind so many great dance tunes, is taking over more than just the bridge at times. Warm, bubbly and fizzing with potential, the squelchy organic waves of gurgling arpeggios, and the fluid arcs of simple swept hooks, takes the whole musical experience into a dimension more earthbound instruments would struggle to launch these songs into.
Grok, the Shaman and synth player was Herbie Hancockesque at times,with a great improv lead noodle when Zpor broke his guitar string, and when not keeping the tunes in that same orbit of groove with his bass guitar, Goo balanced things out with some monster sub bass throughout the evening.
Not only that, synthesisers also present the ability to slingshot the whole tune around a dark star, and fire off at a tangent into a new wider orbit, taking, and this is the most important bit, the dancing audience along with them.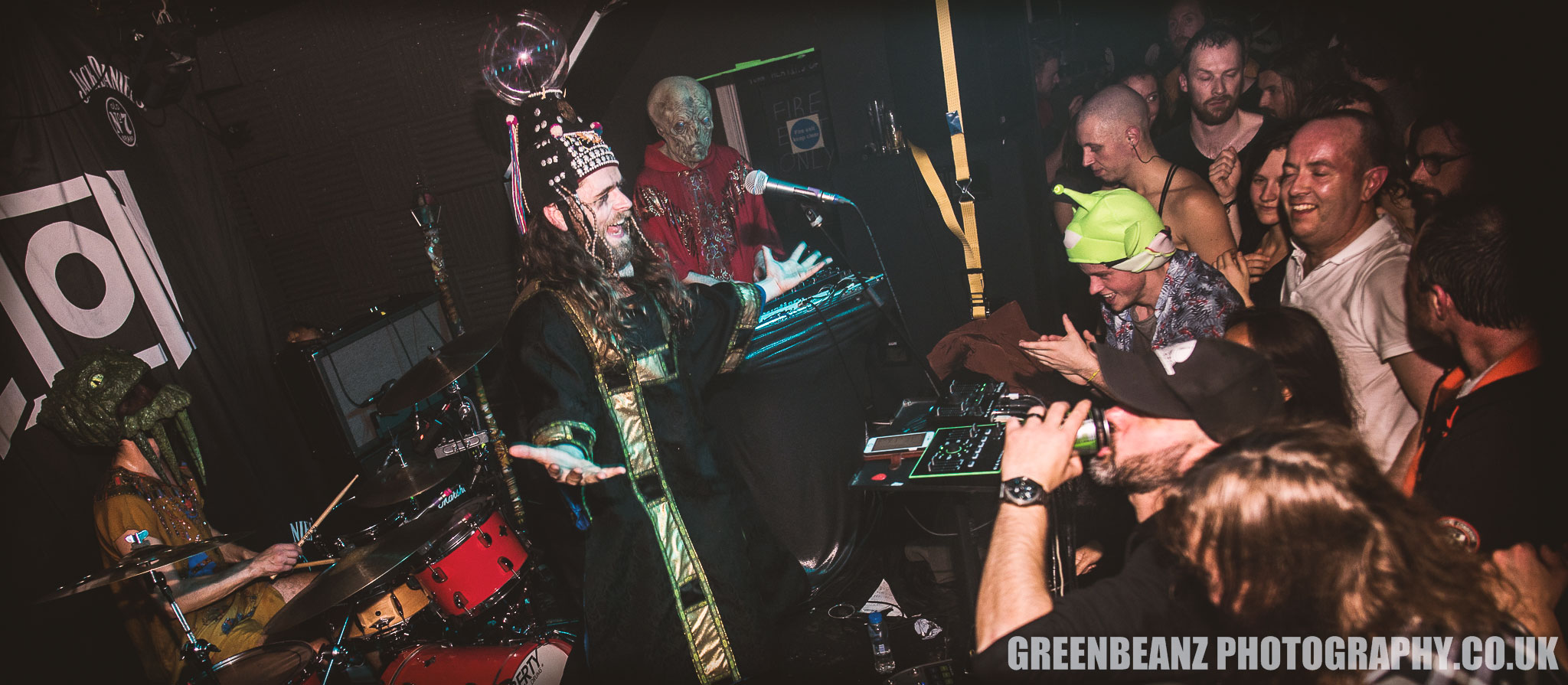 ABOVE : HENGE played the Junction on the 2019 'Attention Earth!' Tour
Get outta my house reminded us all of the great loss felt when Speedy Gonzalez declined the offer to join Cypress Hill. A loss more keenly felt because he then (until tonight) never got to join LFO , Autechre and Delia Derbyshire for the the mothership of all mash-ups. In contrast the song Indigo Dust, wraps you up in cosy blankets, and even makes you a cup of tea while you watch old Randall and Hopkirk Deceased episodes. It is a pop gem and allows you to dream in bliss, of hitching a lift, towel in hand, across the universe.
There was a moment in Rave Culture in which we felt like we were witnessing the start of a new order. The tearing up of old rules, the over turning of the established ways of doing things, a new summer of love. We were in effect, on our way to a new planet, whilst still here on earth. It was about more than music, although music was the vessel that was taking us all to that shiny new destination. The key and fuel that made that dream voyage accessible though, was a call to reach within yourself and make yourself anew in order to begin embracing everyone around you. That key is called dancing. (Sometimes spelt wiht an optional E)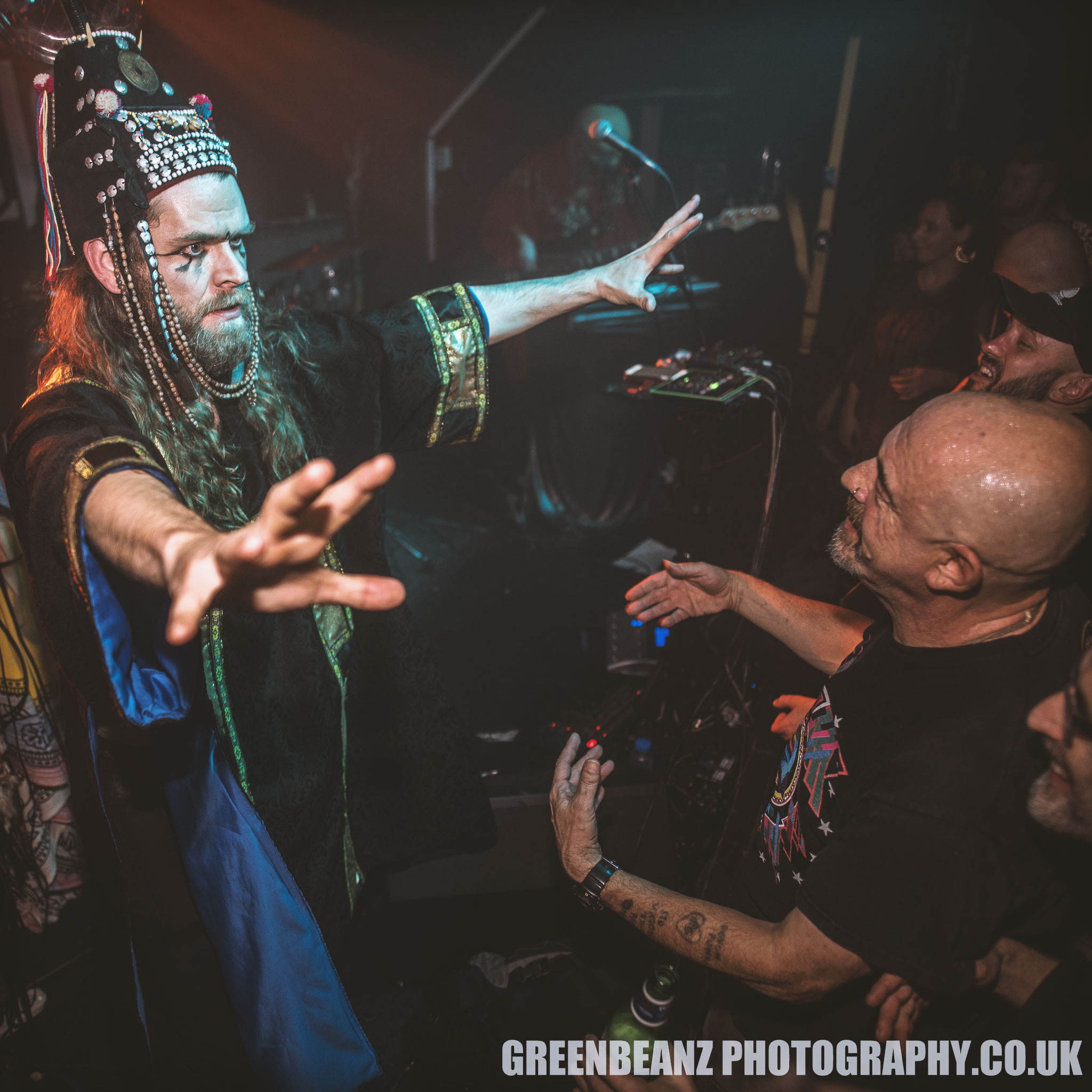 ABOVE : The Mystic power of Alines. Henge at The Junction in Plymouth 2019
It is an ancient and much repeated philosophy and call to non-arms, that many religions have stretched so far, it often ends up, inside out and standing on it's head, a cruel materialistic, unrecognisable inversion of the original message. That dancing be banned, or at best frowned upon by many, tells you all you need to know about the inaccuracy of Babel Fish.
Space may be cold but nothing fills a vacuum like the bottom end of a throbbing synth and sub bass is a universal call to the past. A volcanic invocation to encourage the tribe to let their feet make contact with the earth, and dance while you can.
And this band make you dance and then some.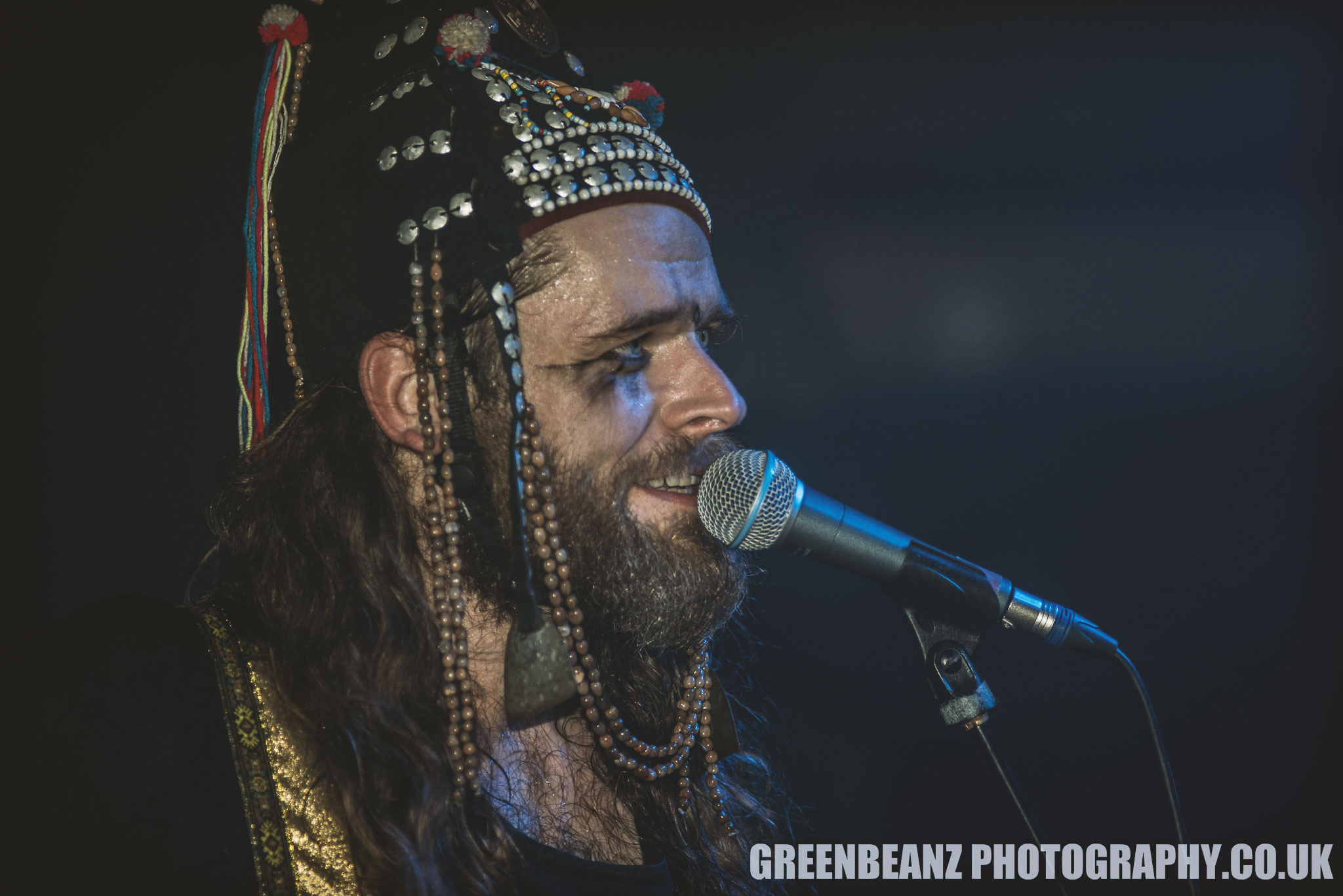 ABOVE : Zpor of Henge at the Junction in 2019
Vocoders and filters and insistent hooks that bypass your brain and go directly to your feet. Music and dancing lay at the heart of the human experience, and like meditation HENGE grab hold of you and drop you into the present. THIS moment. There is only now, territory.
They remind us that Everything that's Happening is Happening to You and by this point you could have swum through the dopamine in this audience. If you have ever wondered what Mr Tumble's set in the Gabba Room at a rave would sound like, here is your opportunity to find out.
When they played 'In Praise of Water' it needed Zpor to remind us of the constant downpour that must have beset many a journey here, to remind us there even was an outside world.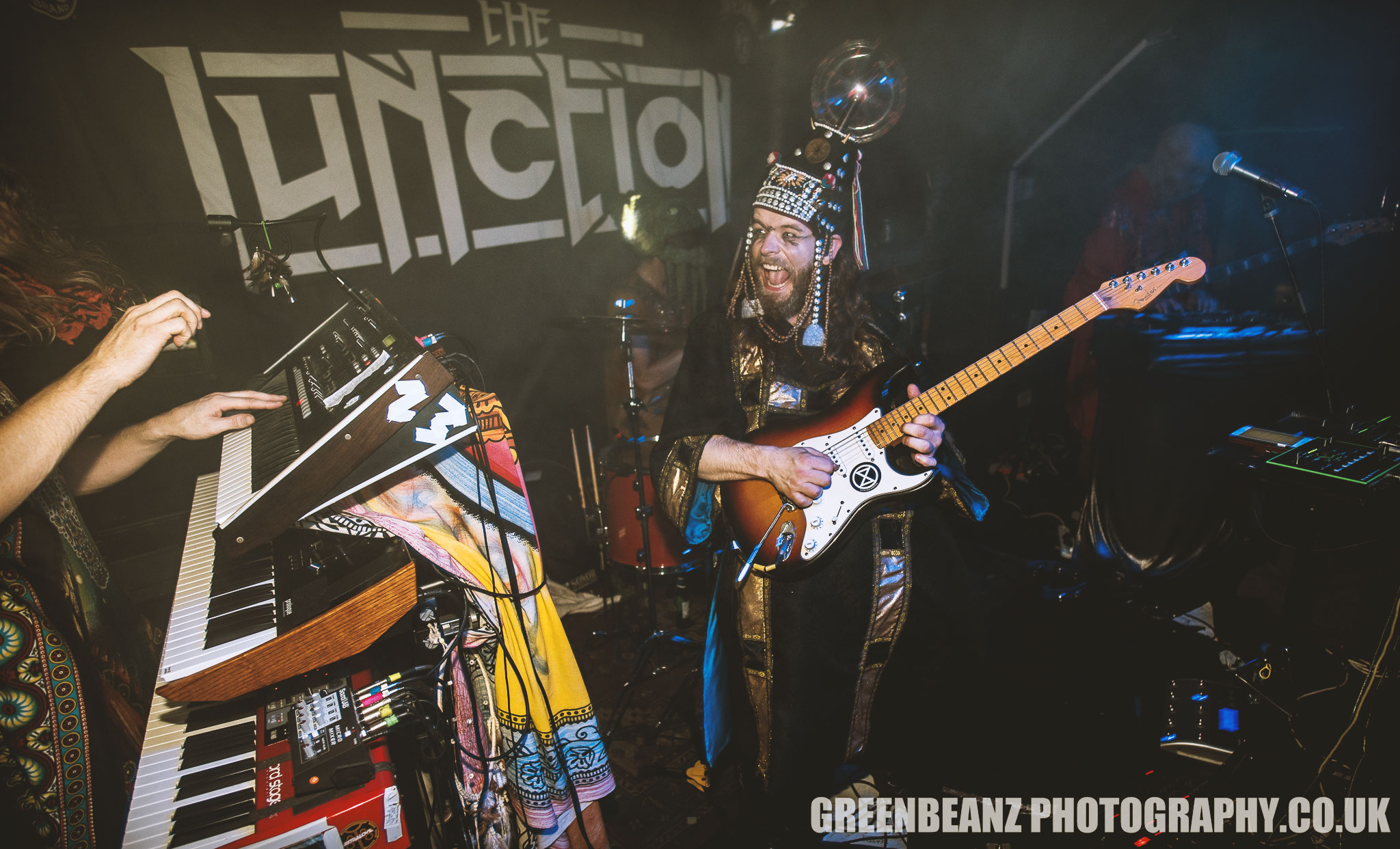 ABOVE : Henge spread their special brand of interstellar joy at The Junction in 2019
The German philosopher Schopenhauer once remarked that
"The inexpressible depth of music, so easy to understand and yet so inexplicable, is due to the fact that it reproduces all the emotions of our innermost being, but entirely without reality and remote from its pain."
and HENGE are a testament to that fact.
In Praise of Water's genius is that it in harnessing the 8 bit game soundtracks simple melody aesthetic, it reflects its subject matters purity so elegantly. Technosound Turbo and the Commodore never sounded so good when underpinning a Byzantine scale, and while we all run about in the 'real' world gobbling up resources like a pill free Pacman, the Ghost of our own demise is already responsible for a lot more than indigestion.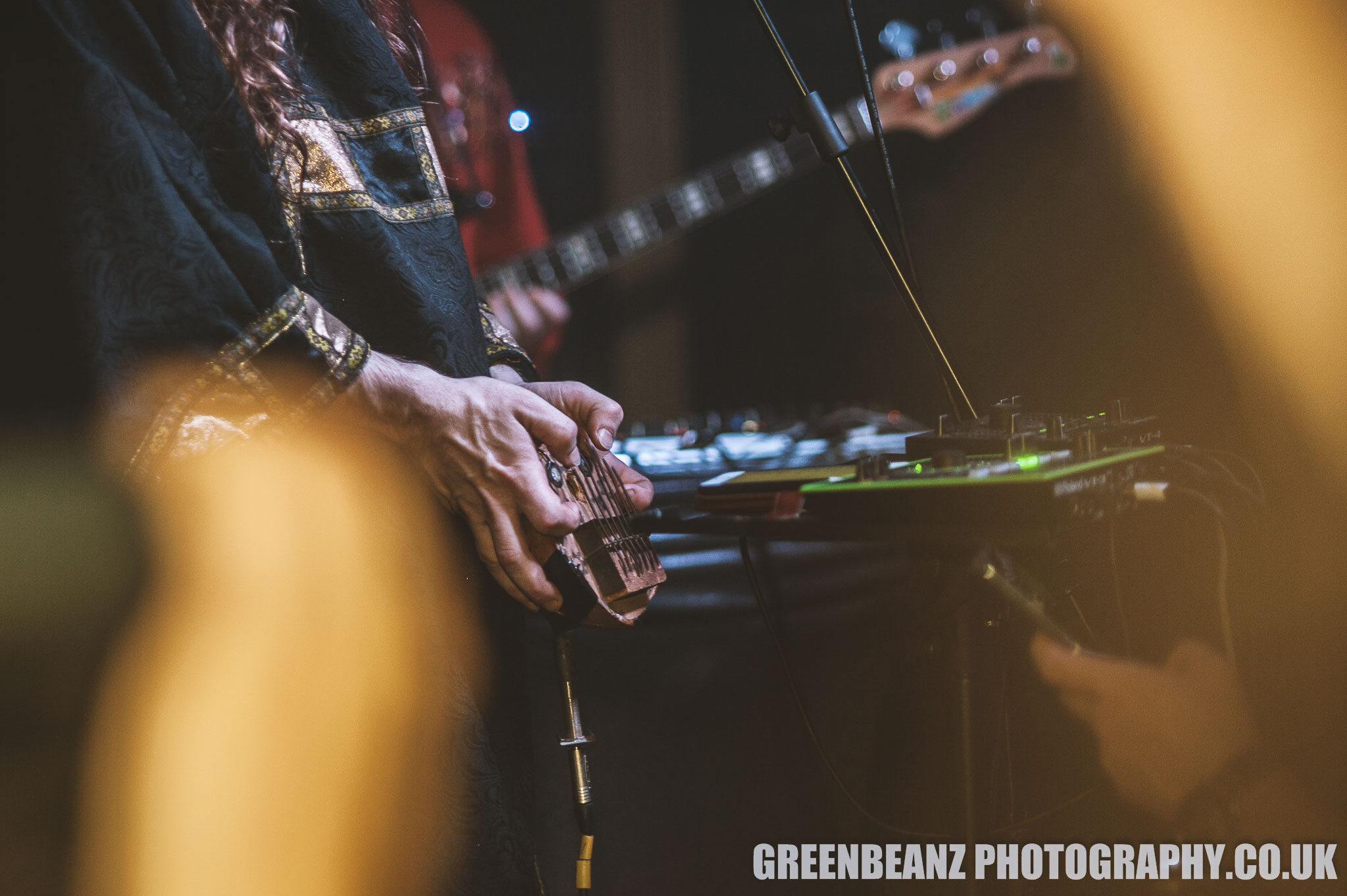 ABOVE : Zpor plays thumb piano to introduce 'Demilitarise'
Ending with Demilitarise, Zpor plays a thumb piano and sings Ian Brown like over what has become their anthem. A rejection of war and a call to interstellar futures, the bearded Agriculan frontman, steps off the stage and stands out among the audience, leading the singing. sceptre in hand. It was a joyous and rare moment.
Having a Junction full of ecstatic people sing, unaccompanied by the end,
"WE DEMAND
THAT THE WEAPONS OF WAR
ARE MANUFACTURED NO MORE
DEMILITARISE
WE DEMAND
THAT WE HAVE IN ITS PLACE
THE MEANS TO UNITE
AND COLONISE SPACE"
is not something you forget in a hurry.
It was a most stupendous, unexpectedly moving and exhilarating journey, and I urge you to buy a ticket the next time the HENGE pilot their mother-ship to your corner of planet Earth.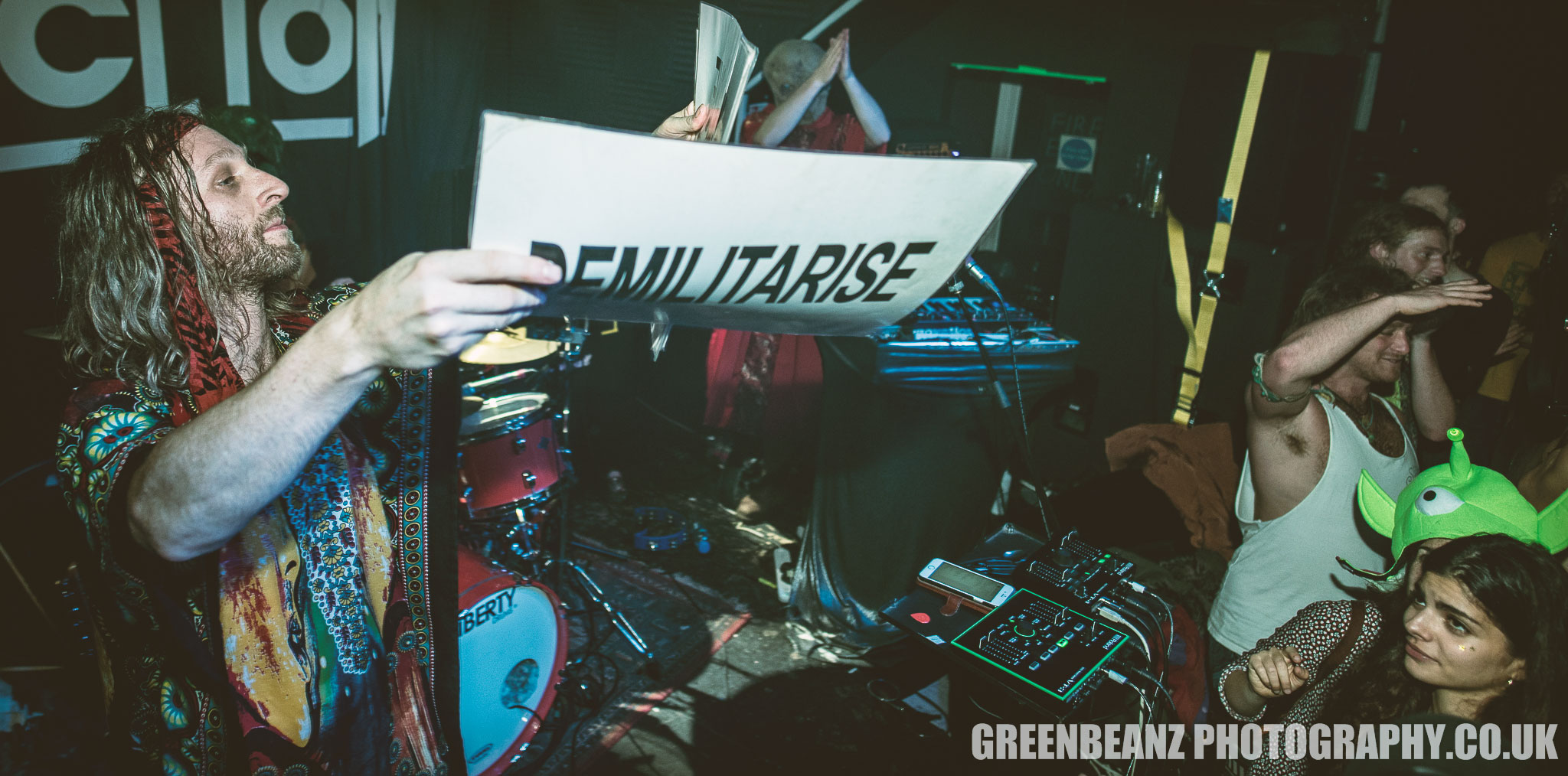 ABOVE : HENGE Synthesis Shaman Grok urges everyone to Demilitarise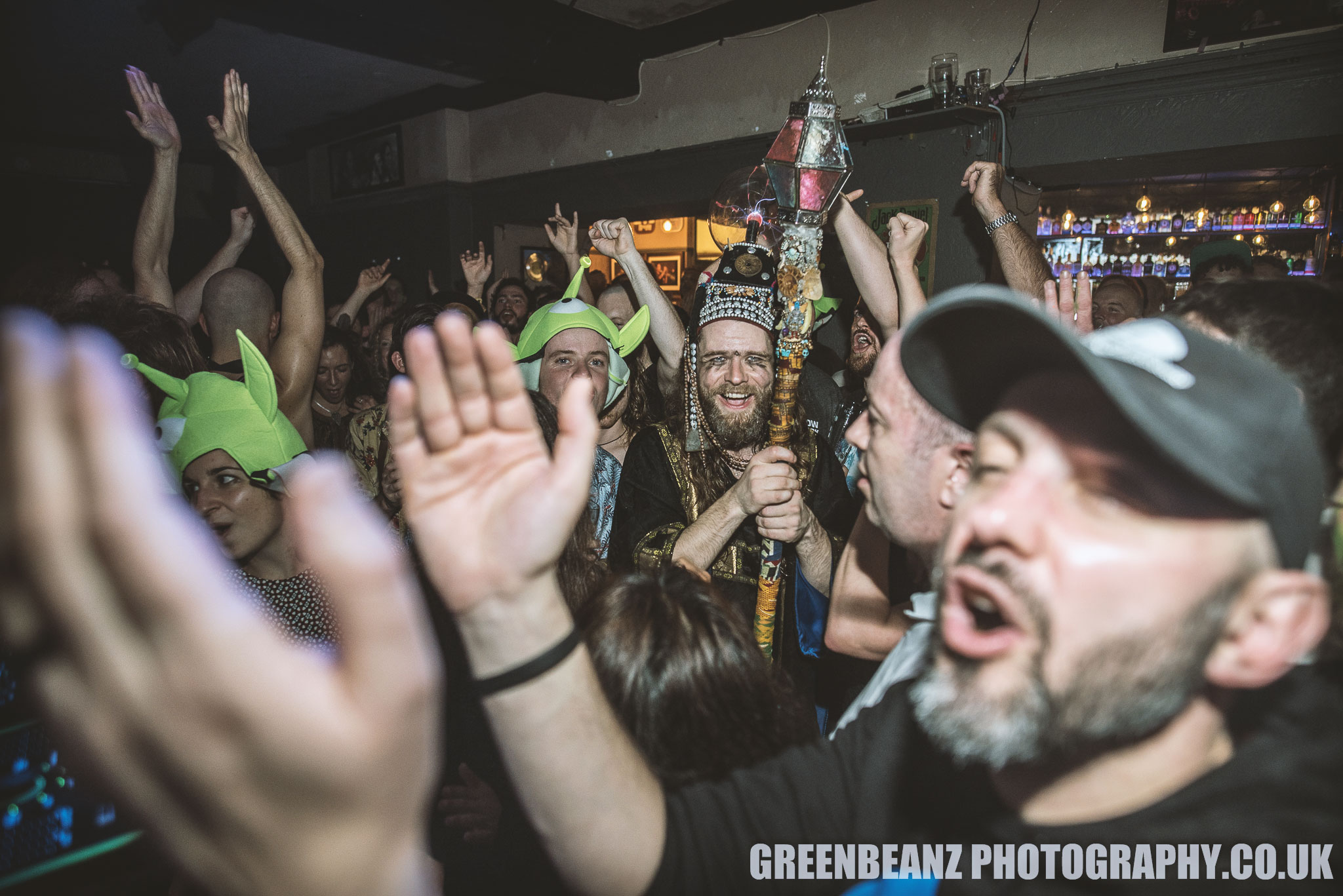 ABOVE : HENGE's 'Explorer/Jester' Zpor with the fans at The Junction in Plymouth
You can find more photographs from this gig and others here - Greenbeanz Photography on Facebook