Greenbeanz Photography
Souls of Misfortune Live at Voodoo Lounge Plymouth | 12/09/15 | Plymouth Live Music Photography
Souls of Misfortune at The Voodoo Lounge | 12/09/15 | Music Photography in Plymouth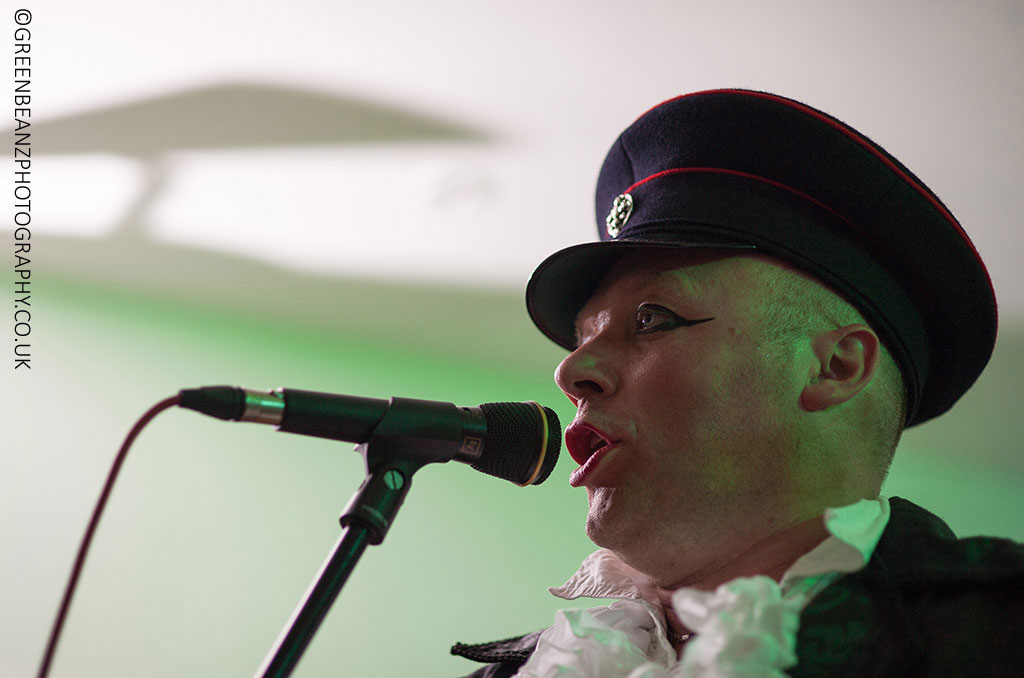 ABOVE : Souls of Misfortune shot at Looe Music Festival by Plymouth Photographer.
If you had inadvertently walked into Plymouth's Voodoo Lounge on Saturday night, you could be forgiven for thinking that you had just stepped out of a DeLorean and travelled back in time 30 years.
A time when Robert Zemeckis' Back to the Future was showing in the ABC, and the alternative clubs in the city were playing the relatively new sounds of Gothic rock.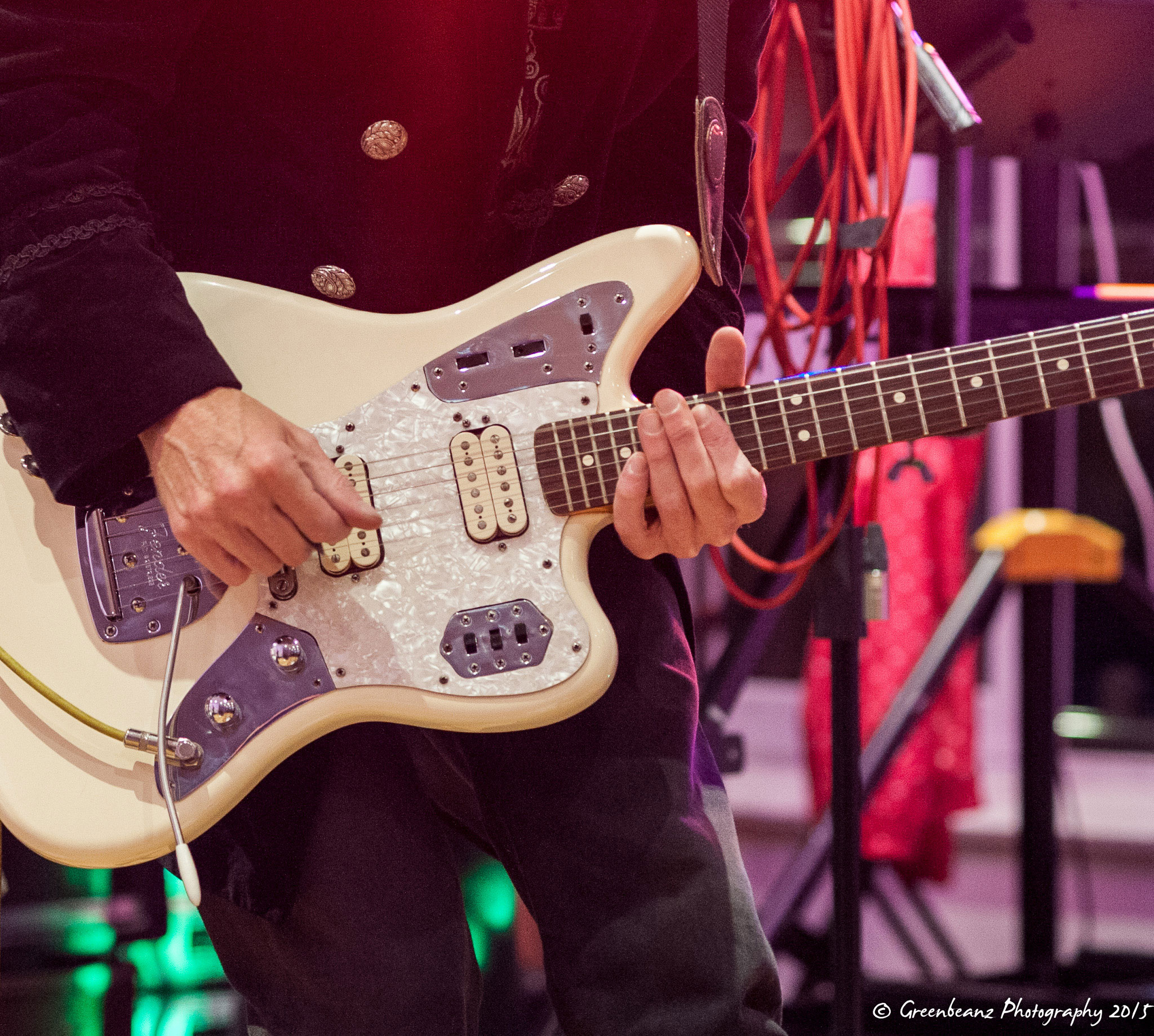 ABOVE : Souls of Misfortune Guitarist in action
Some of the members of Souls of Misfortune, a south-west five piece covering songs by The Cure, The Mission, Sisters of Mercy, Fields of the Nephilim, Siouxsie and the Banshees, Killing Joke and The Damned, were there in Monroes, Speakeasy etc in 1985, just as they had been, sitting on the wall outside of Virgin Records, during the first wave of Punk, a few years earlier. In fact many of the audience on Saturday were also there, and they were joined by younger fans, to whom the veteran musicians making up the band, may not have been so familiar.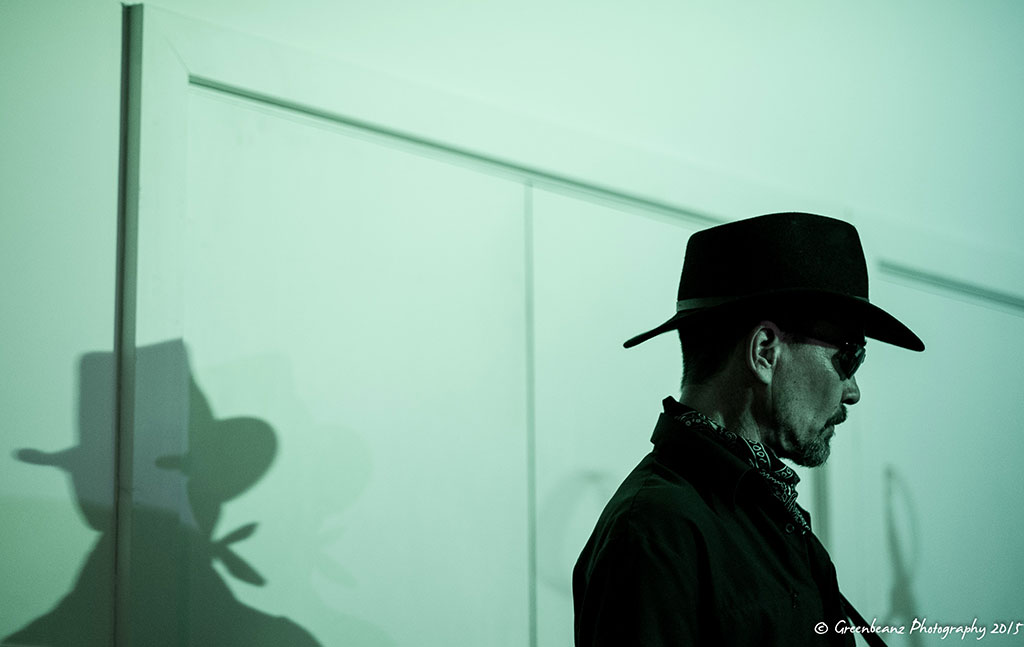 ABOVE : Souls of Misfortune bass player Jon and both of his shadows
Their musical experience and expertise was quite evident though, as soon as the band launched into the first number,the Fields of the Nephilim's "Shroud" .It didn't seem like their first Gig as Souls of Misfortune. The club was transformed into a cathedral of darkness, as the atmospheric synthesiser pads of keyboard player Chris, introduced a sense of edgy anticipation before the bass, drums and guitar kicked in. Over a huge and dramatic wall of sound, singer Andy brought a great sense of theatricality and gravitas with his stage get up (a mix of Steve Strange and Victorian Gothic), and strong delivery. His tongue always lightly in cheek, but never descending into cabaret.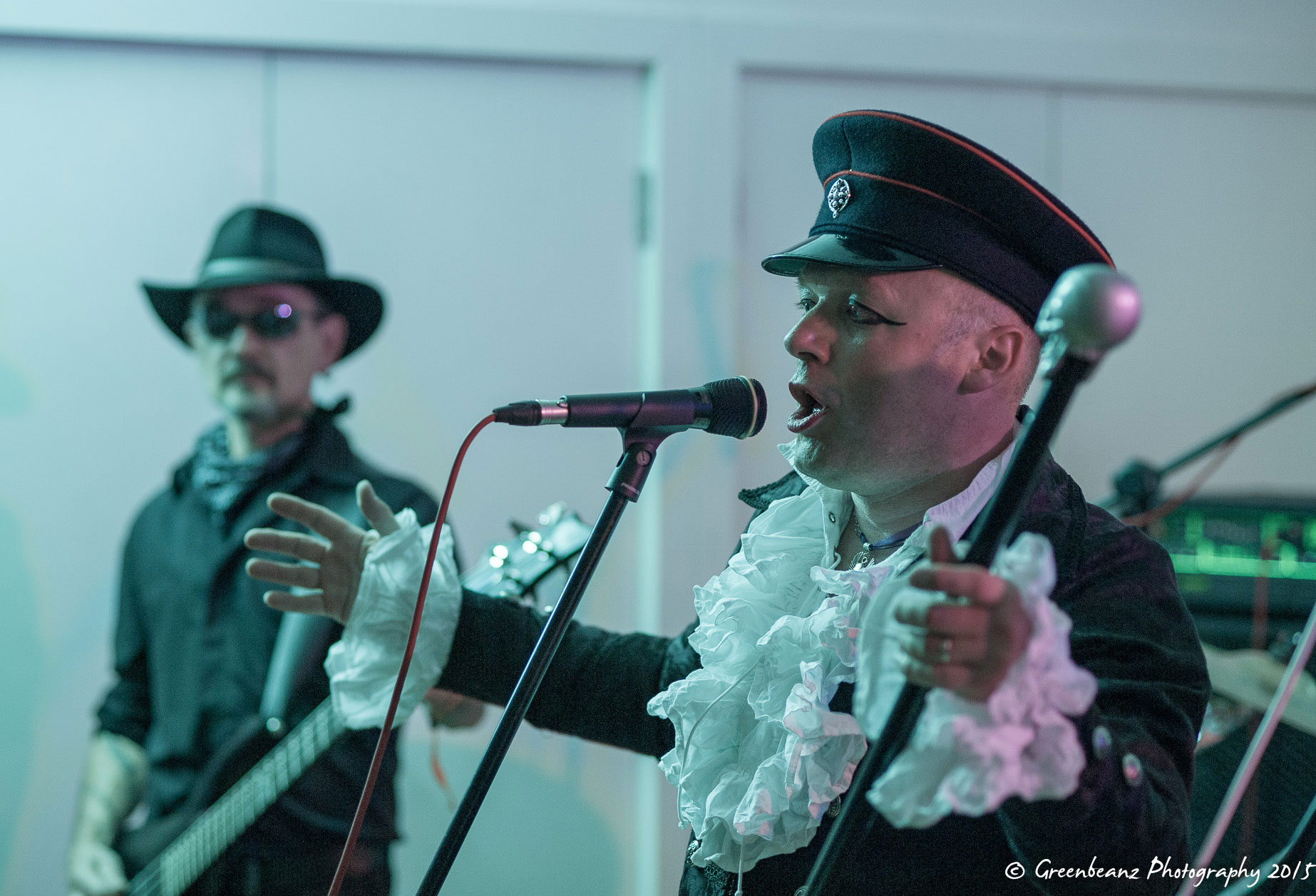 ABOVE : UK Music Photograph of Plymouth Goth Band Souls of Misfortune entertaining the crowd

It is easy to buy into the mistaken idea that those following this scene are all very dour and miserable, but one look around the club and stage on Saturday would soon have dispelled that myth, as you were met everywhere by big smiles. You don't need to travel on a pilgrimage to Whitby every year, or reserve your book shelves for works by Edgar Allen Poe, Bram Stoker and Mary Shelley to enjoy the escapism of Gothic Rock. In essence it seems an exercise in imagination, that rebelled in it's own way against the idea that Punk Rock should be short, simple and everything other, than that which went before it.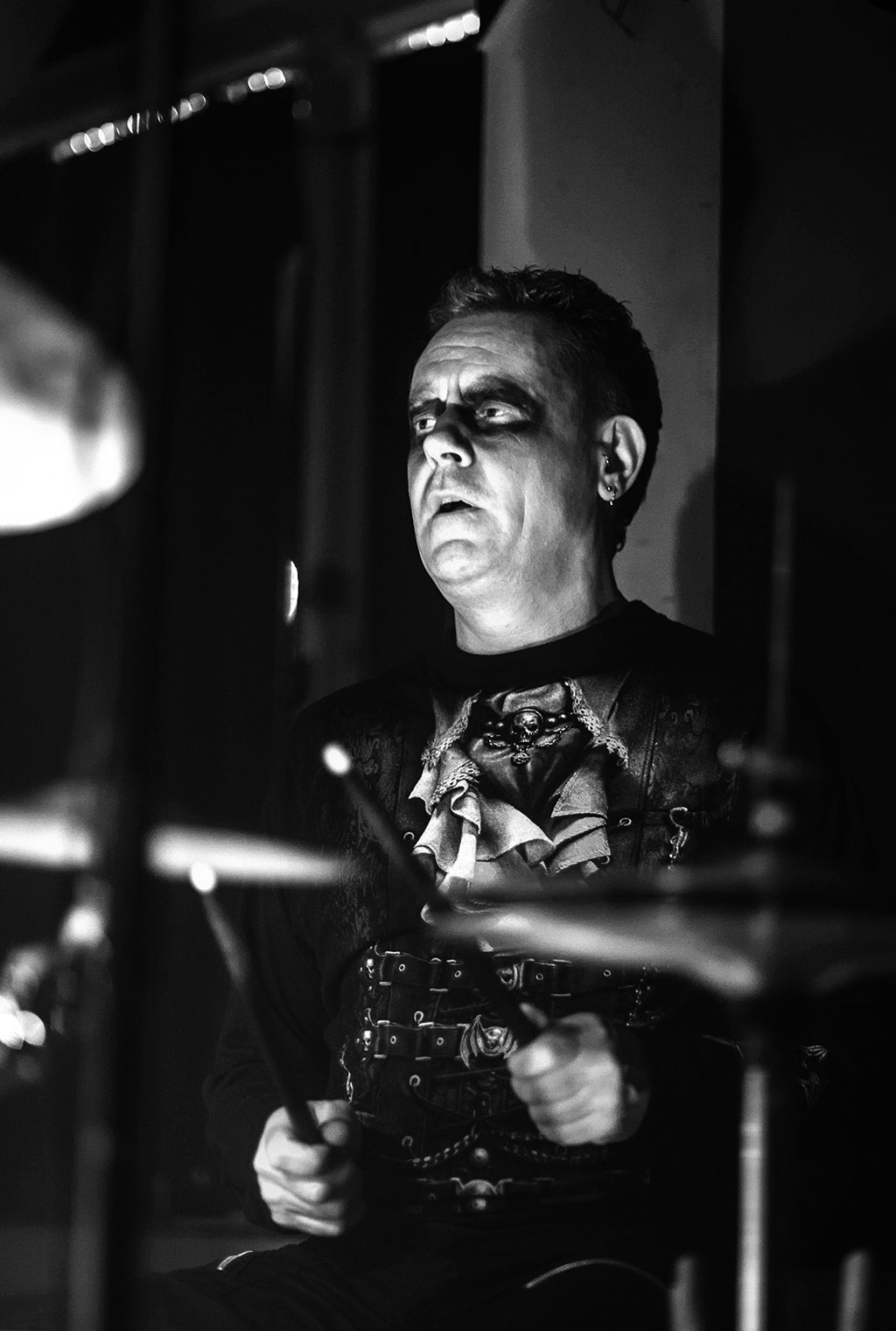 ABOVE : Souls of Misfortune Drummer Gary

As the band progressed through the set it was quite apparent that there really is no simple formula or generic sound that makes something Gothic. You can hear the traces of psychedelia, rock music and what was then in the early 1980's the fairly new, cold dystopian sound of machine driven electronica, as utilised by bands like Joy Division, Bauhaus and The Cure experimenting with synthesisers and drum machines.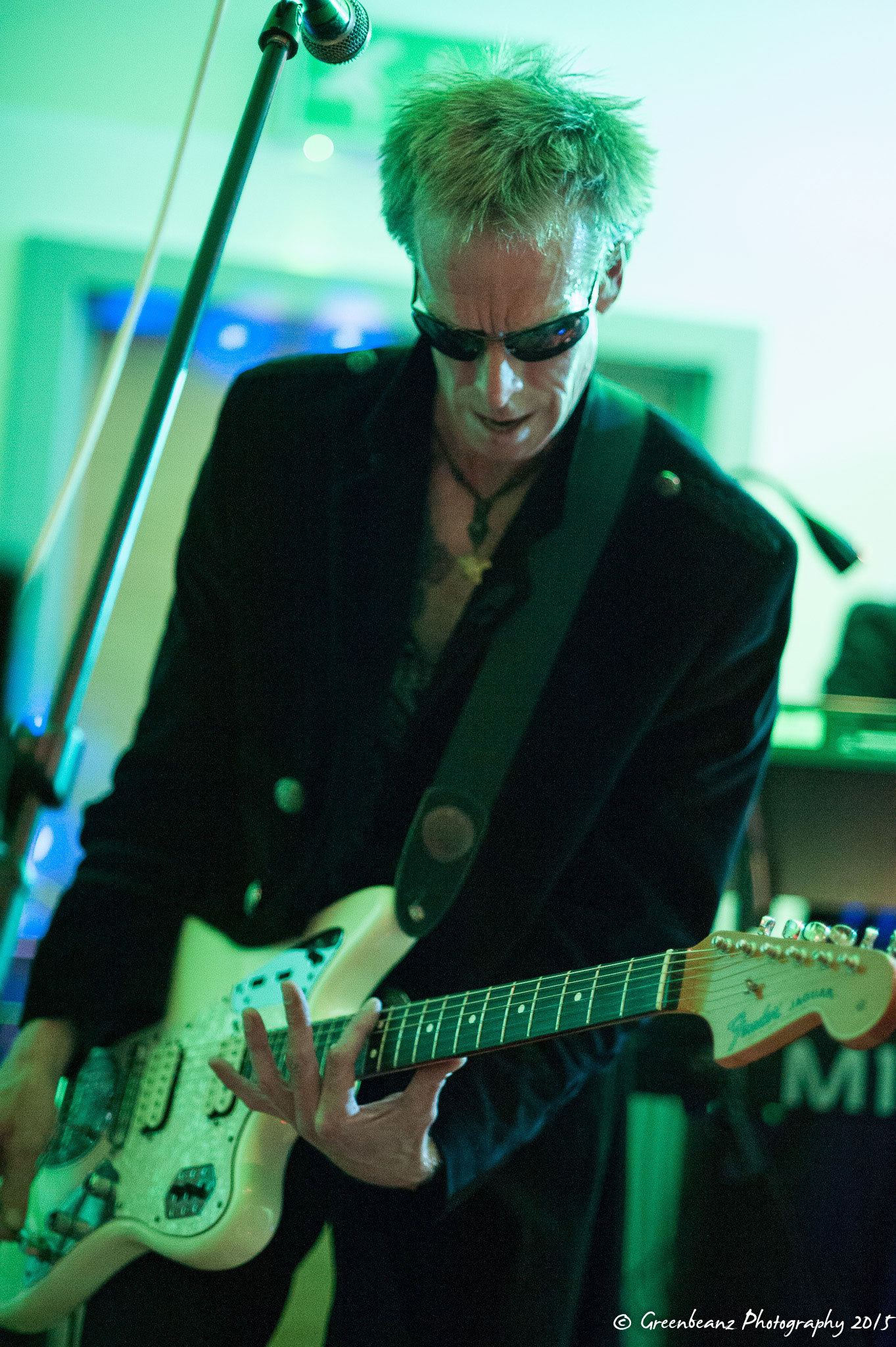 ABOVE : Souls of Misfortune guitar player Ian

Guitarist Ian Cooke deserves a special mention for the incredible array of sounds that he manages to coax from six strings, managing to interpret what are often complex songs with his own unique, passionate but nuanced style and pull together the tribal engine room that is Drummer Gary and Bass player Jon. While it is easy to smirk and think that sonically those Goth bands were just invoking H.P Lovecraft, and were the 80's version of hipster steam punks, there was actually a forward looking aesthetic at the heart of much of the material. In a decade in which both Ridley Scott,Geiger and J.G Ballard reminded us all of the powerful fear in something as simple as darkness, silence and the mechanised urban landscape of our own consciousness, in some ways it could be said that Goth's rejection of the yuppie consumerism of the 80's helped laid the foundation for the industrial and techno scenes that followed.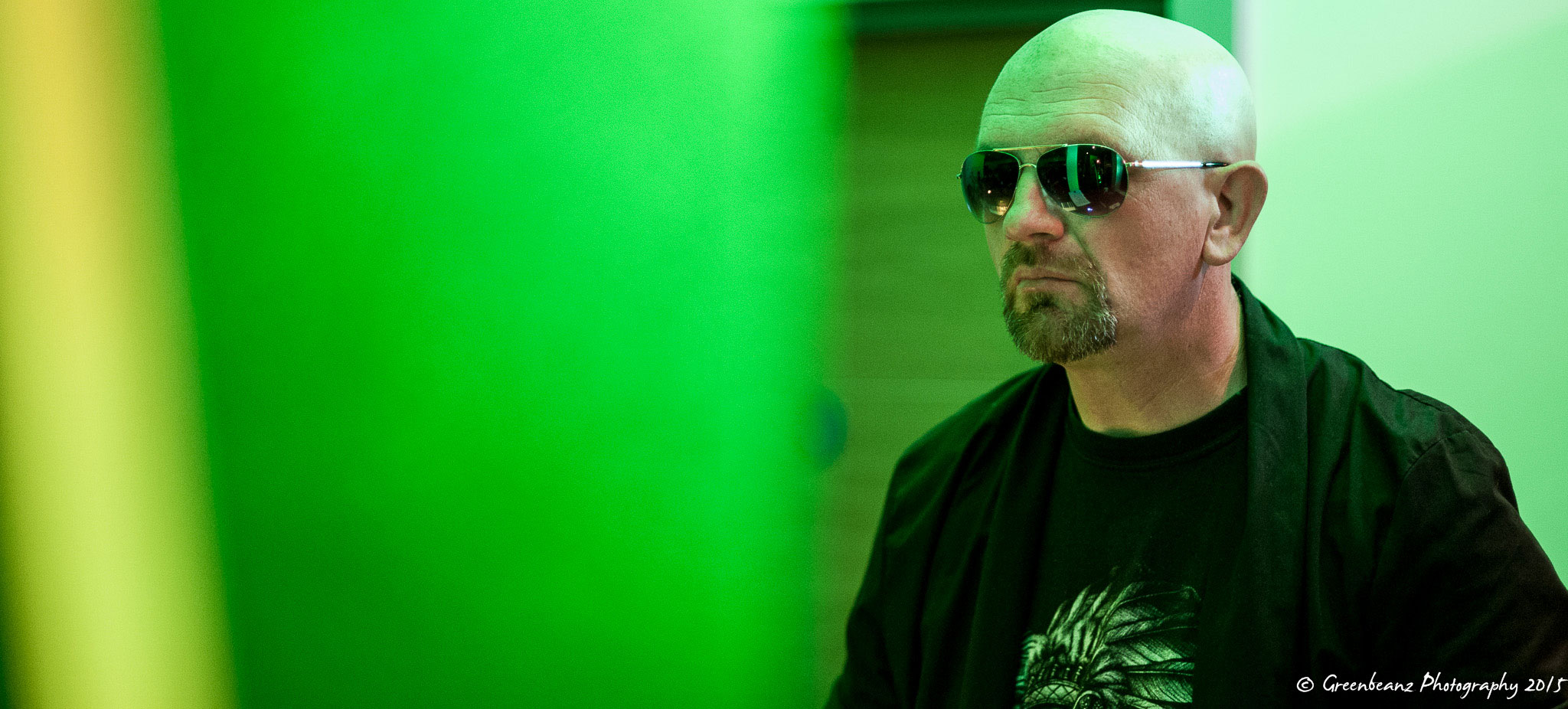 ABOVE : Souls of Misfortune Keyboard player

The dance floor upstairs in the Voodoo Lounge was busy and every song was met with cheers of appreciation, as if the audience were reacquainting themselves with old friends, and yet this was no nostalgia fest, the tunes themselves sounding remarkably new and fresh, rather than dated in an age when originality in music can be rare. There is something here for those curious wanting to hear something a bit off the beaten track, and plenty for the fan and aficionado. For a first gig it was pretty spectacular.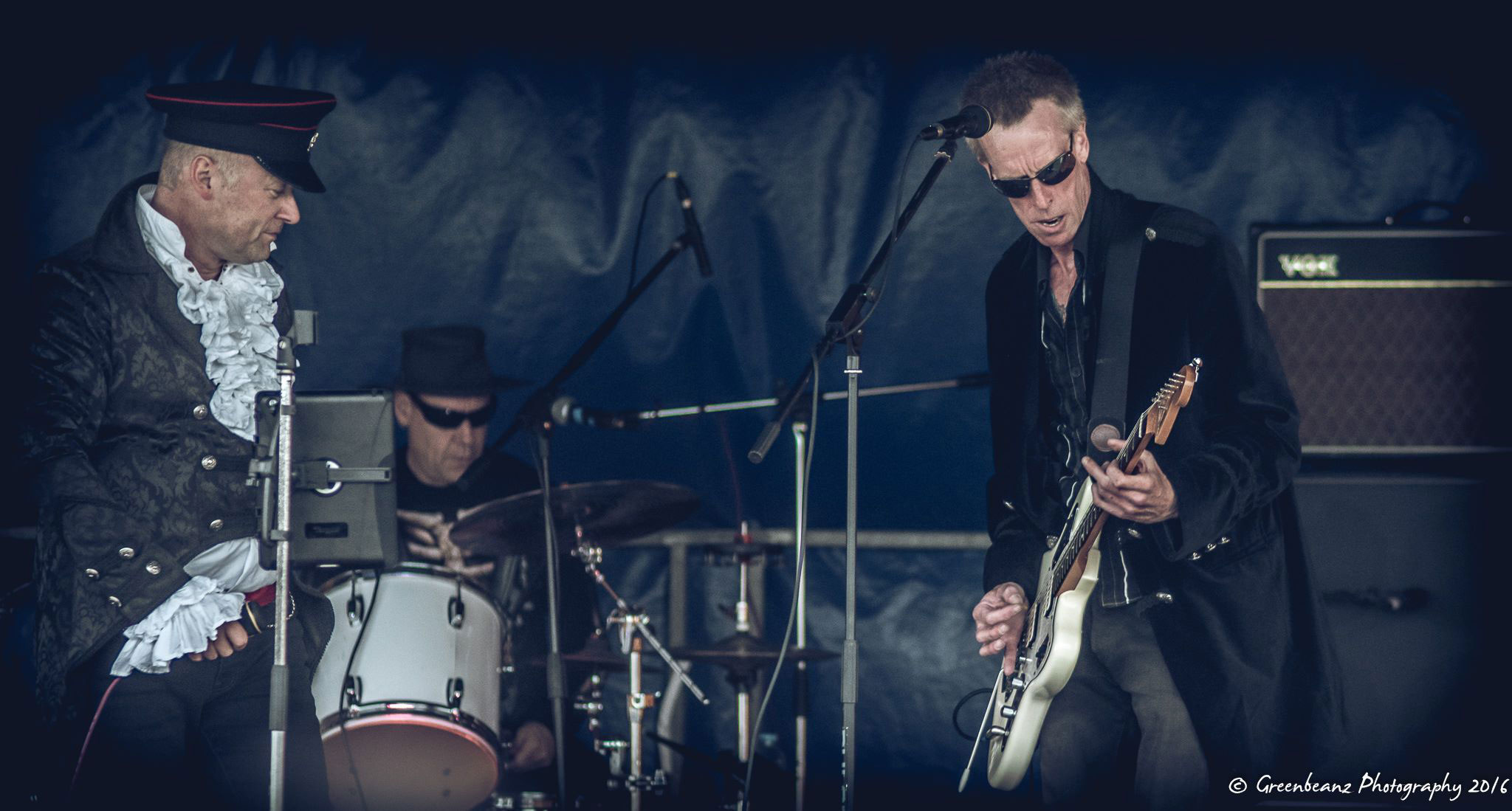 ABOVE : Souls of Misfortune live on Plymouth Hoe for Plymouth Bike Night

You don't need a knee length leather jacket, white foundation, heaps of mascara or huge pair of boots to enjoy them. Just an open mind and an appreciation of live music played by people who love what they are doing.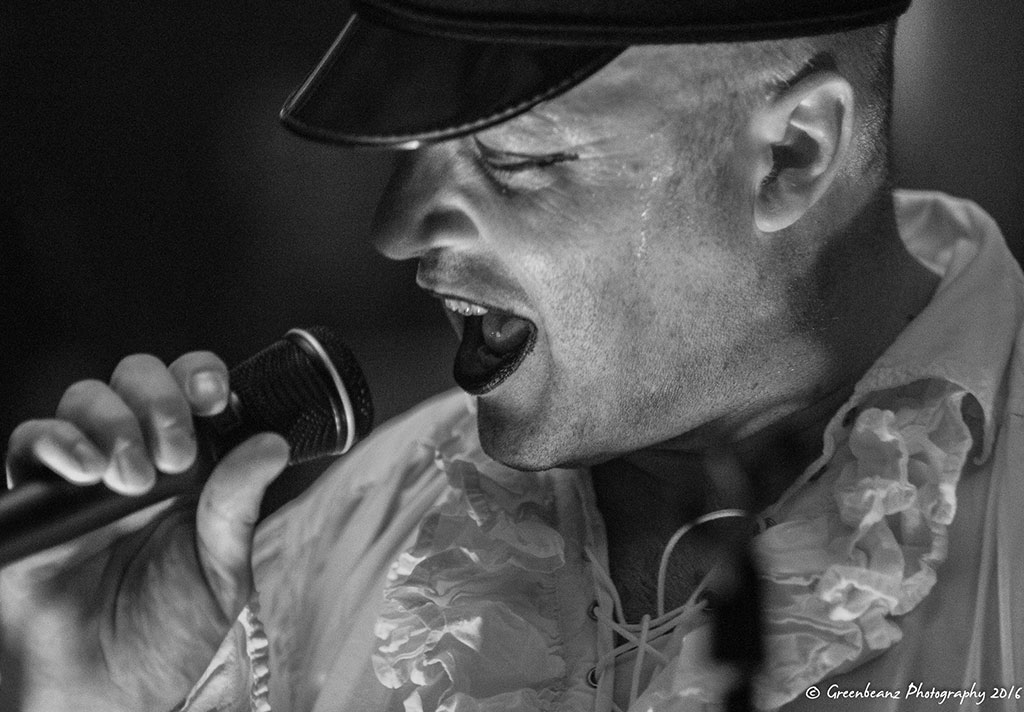 ABOVE : Souls of Misfortune singer Andy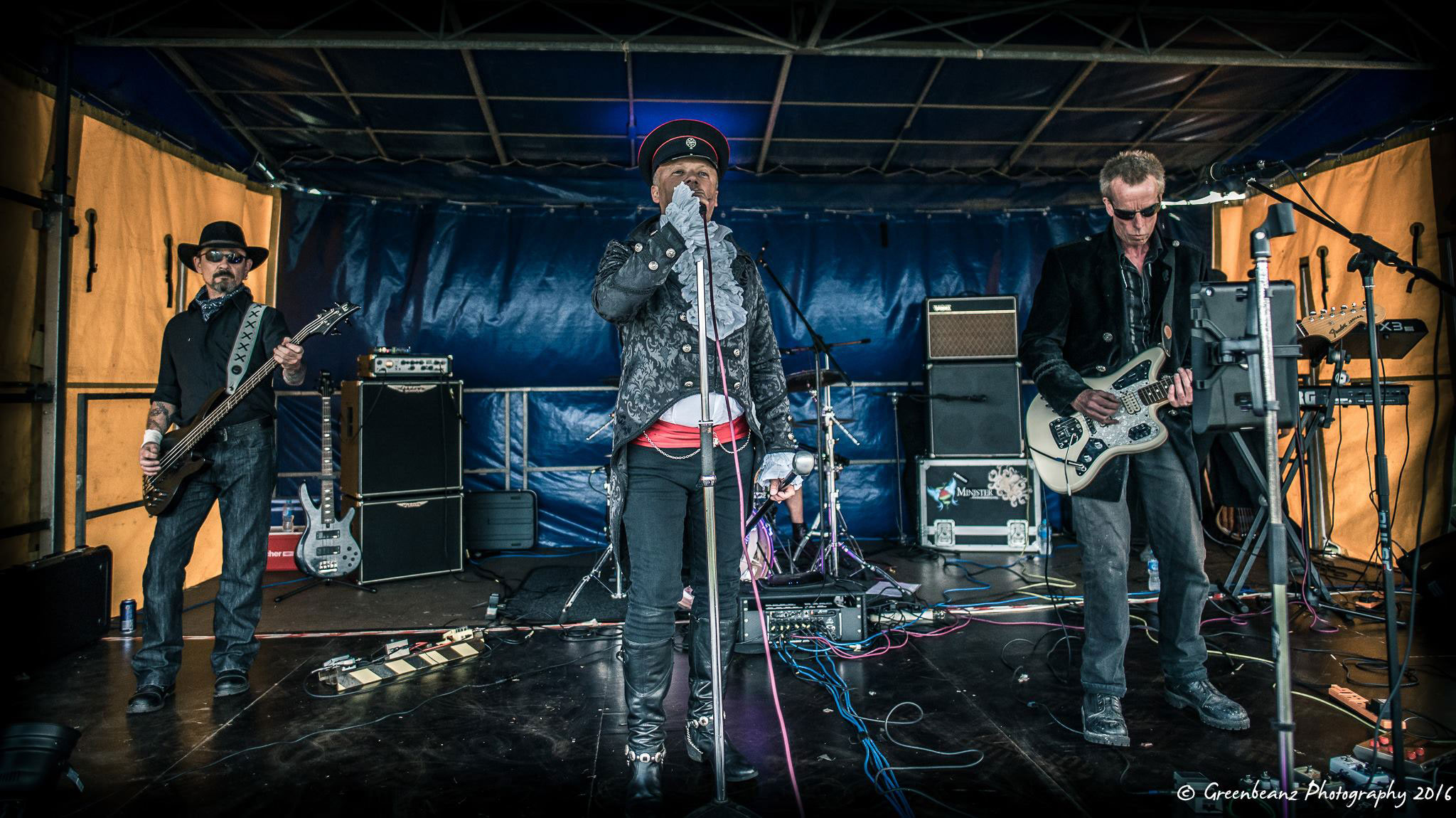 ABOVE : Souls of Misfortune on stage during Plymouth Bike Night

Souls of Misfortune are due to play this coming Saturday at the Looe Music Festival.