Jack Cookson | 'Chamfer' EP Launch | Underground | Plymouth | Thursday 05 April 2018
Greenbeanz Photography
Jack Cookson | 'Chamfer' EP Launch | Underground | Plymouth | Thursday 05 April 2018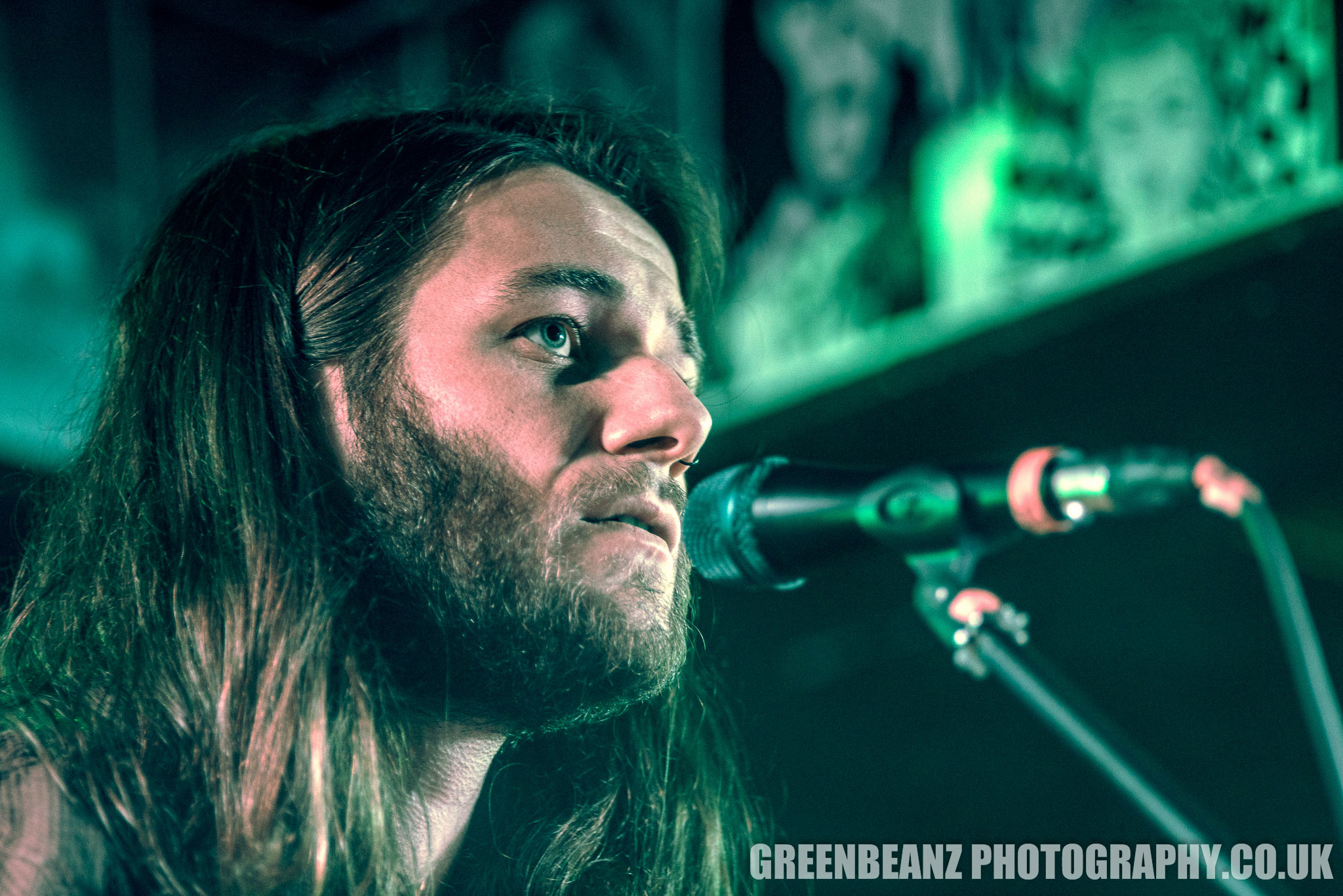 ABOVE : Jack Cookson at the launch of 'Chamfer ' Underground Plymouth 5th April 2018
South West Roots music has a long history along the peninsula, but there is a new generation ploughing their own furrow here, and although the seeds they have tended were grown on land prepared by the previous generation, it is a new harvest they are sharing...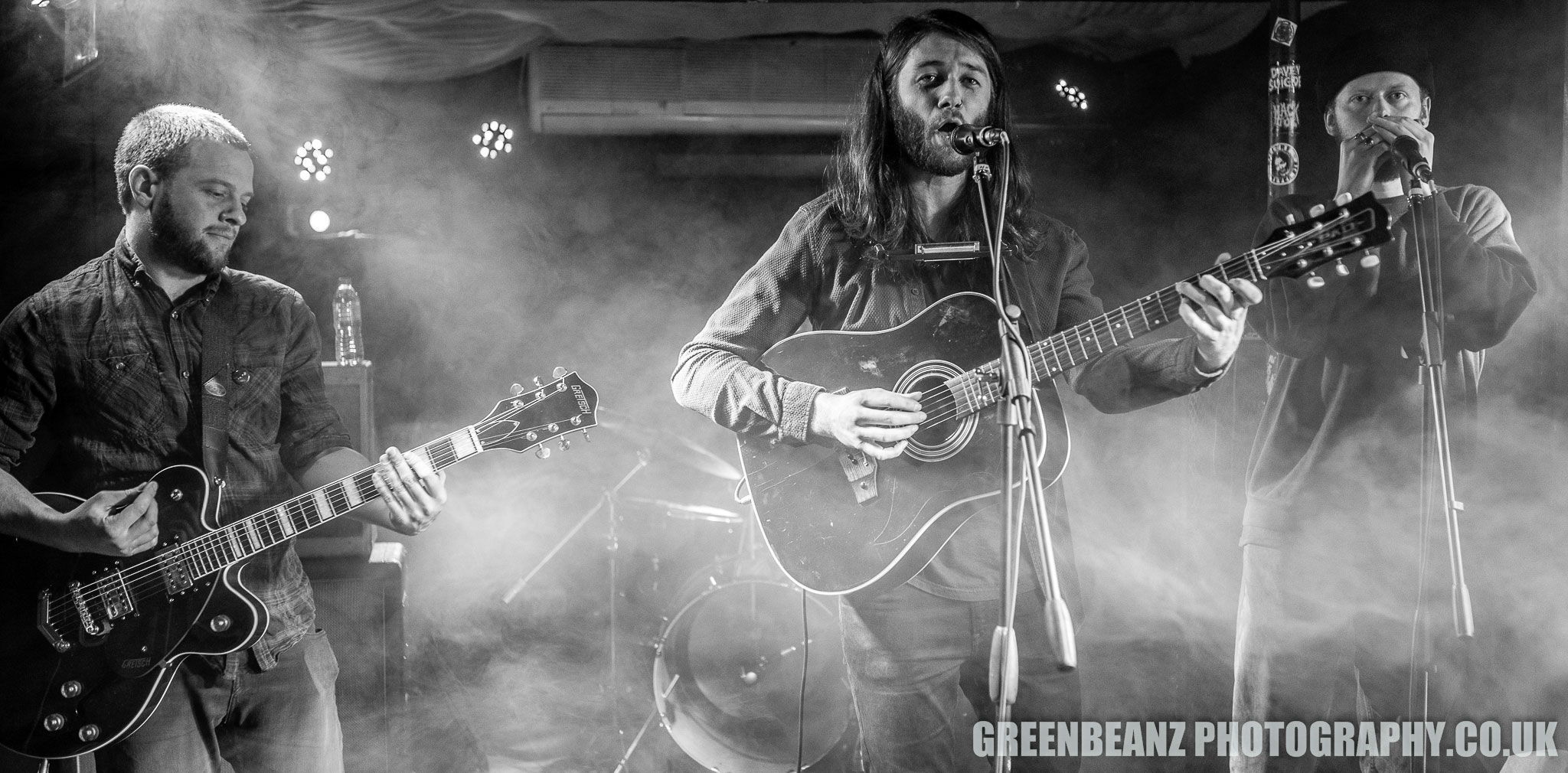 ABOVE : Left to right Chris Webb, Jack Cookson ,Calvin Thomas at Underground Plymouth
Jack Cookson, Eliza Acty, Paul Armer, Calvin Thomas, The Trees, Kate Ferguson all share a love of the understated, a belief that the song trumps all and the clarity of vision to not be afraid of the power of space and silence. It is not surprising that Dartmoor seems to feature in many of their lives. The National Park's dramatic vistas are broken up not only by meandering roads that cut across it like wild untamed stave lines, but also the contour intervals of tours mirroring musical differences in pitch and reflecting the subtle timbre of these artists in its textural prudence.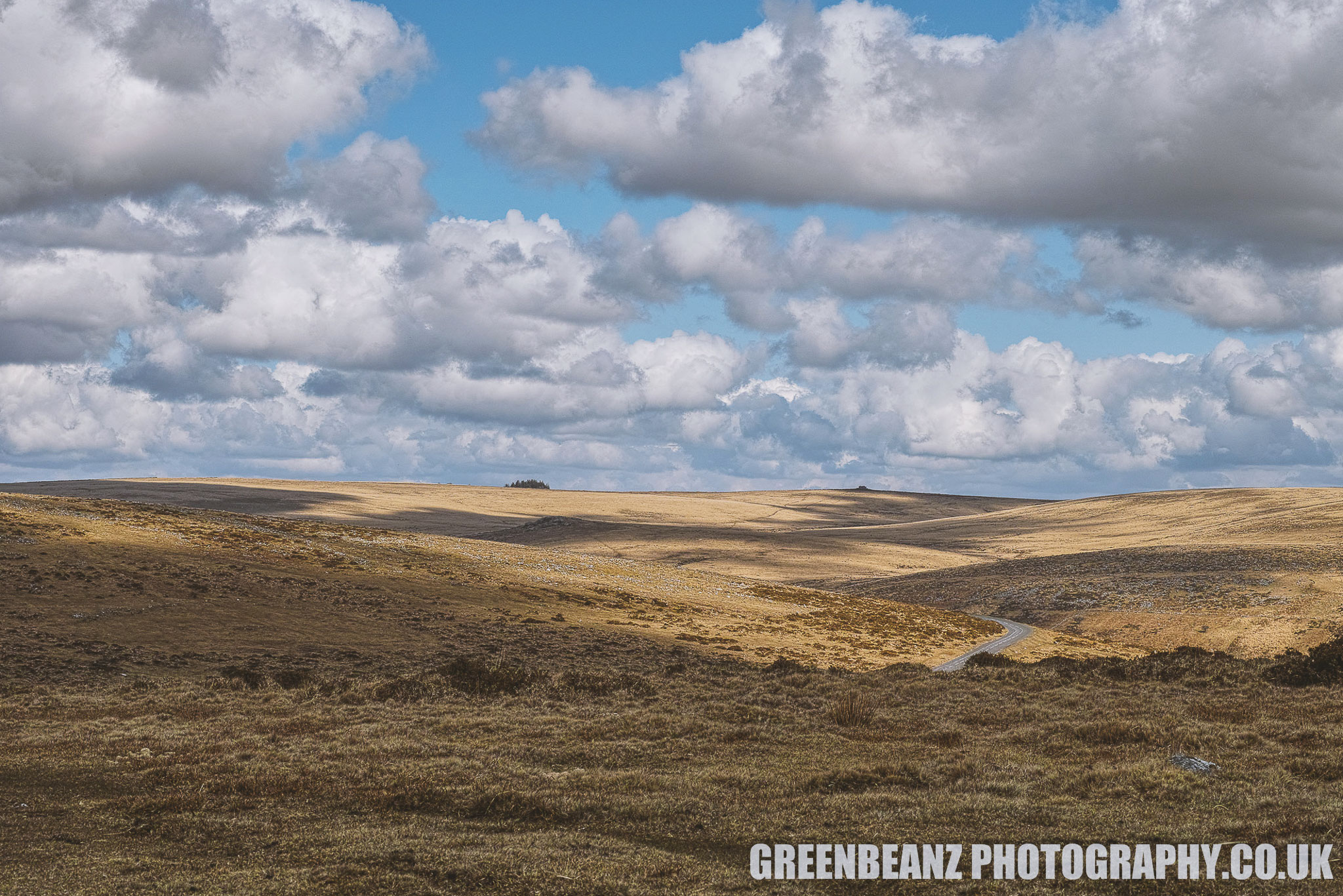 ABOVE : Dartmoor National Park
It is not so much that they do not sweep and soar like all good dreams, it is that they are not afraid to do so at a more measured and rambling pace, eager not to miss and reflect the minutiae of their lives like sheeps wool caught on thistles, it unpicks the threads of uniformity that we clothe ourselves with in banality, and replaces them with dappled colour and the changing hues of the moving light, that illuminates this landscape through which we travel.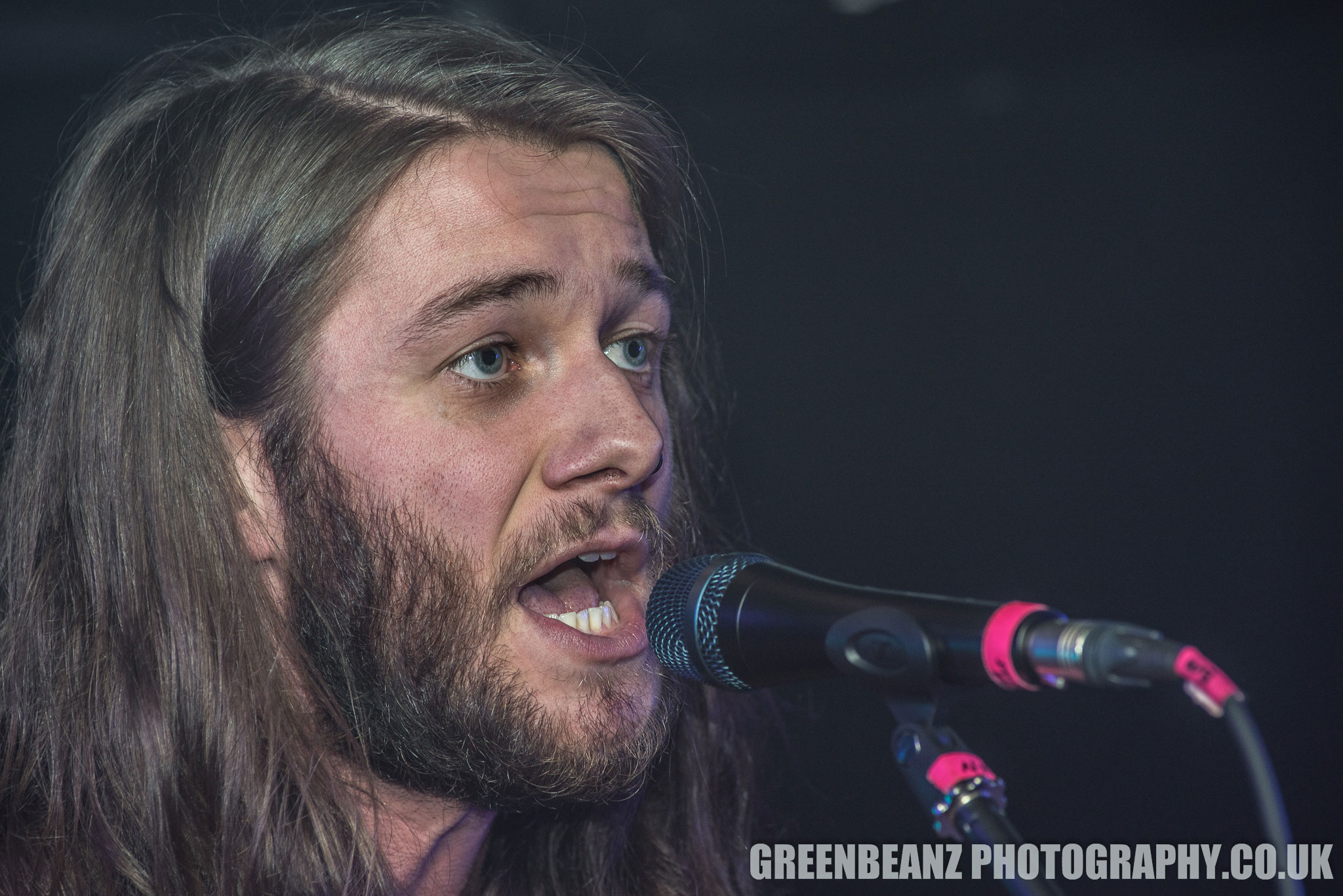 ABOVE : Folk /Roots musician Jack Cookson at Underground Plymouth 5th April 2018
Craft is still very much alive here, and Jack Cookson the Radio 2 Young Folk award nominee, cuts a smooth edge along the grooves of the Indiegogo crowd funded EP 'Chamfer', (available on CD or heavyweight vinyl) launched on Thursday April 5th 2018 at Underground in Plymouth.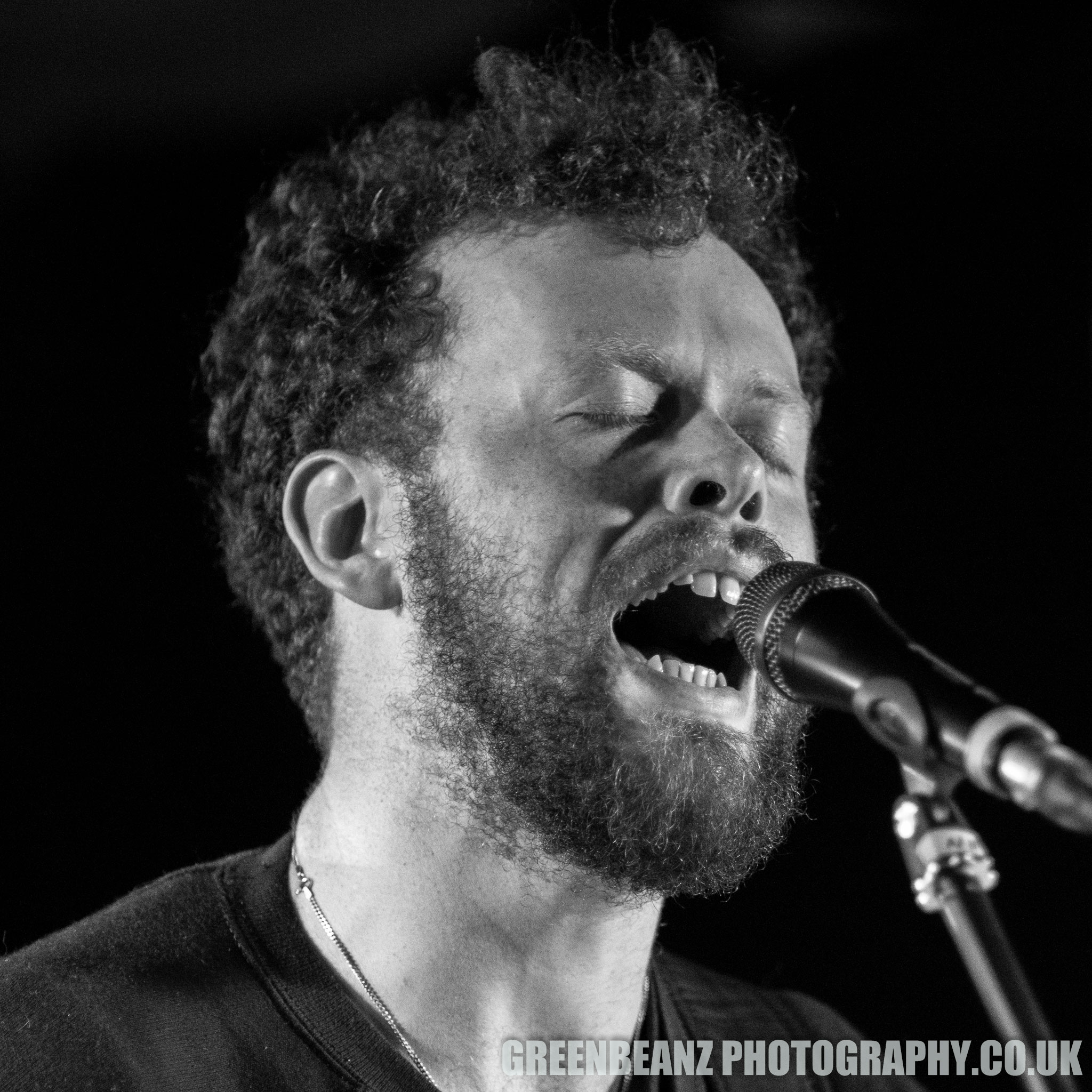 ABOVE : Calvin Thomas Singer-Songwriter at Underground Plymouth 05April 2018
The multi-instrumentalist, producer and singer-songwriter opened the set alone on stage with one of his older songs 'Nebraska' before being joined by his band. Earlier in the evening fellow troubadour Calvin Thomas, the hard gigging janner folk/roots songsmith, had led us all through an intimate set, his honey drenched guitar picking setting up the warm rich buzz of a voice that passed over some fine songs, the standout for me being 'Between Mountains' dedicated to his Nan. Jack Cookson in his other role as Producer and musician has produced and played on a couple of Calvin's EP's, and the russet bearded balladeer joined Jack for backing vocals on a few songs in his set.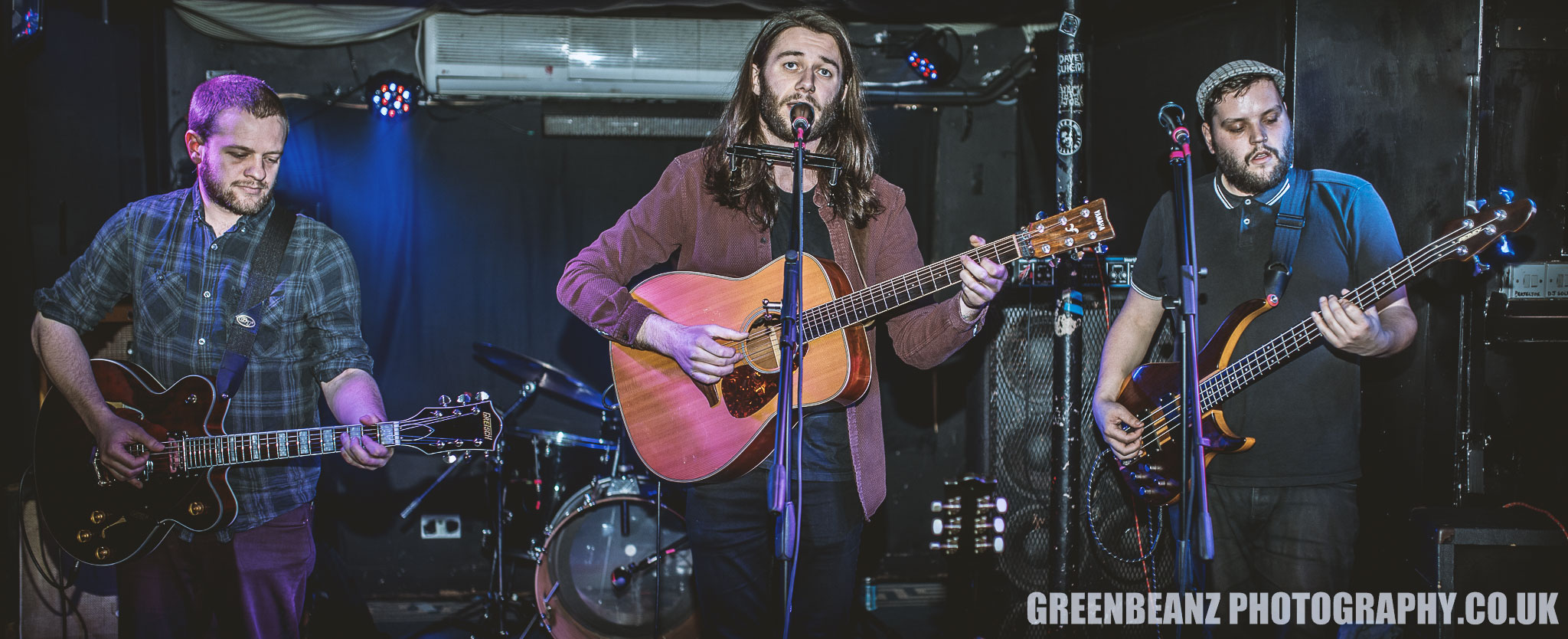 ABOVE : Chris Webb, Jack Cookson and Bubba Erikson performing in Plymouth
Also joining Jack on stage were Nic Burn of The Man and the Lake on drums, Chris Webb on lead guitar and Bubba Erikson of Harry and The Gondolas on bass. They started with 'Thistles' the opener from Jack's six track EP.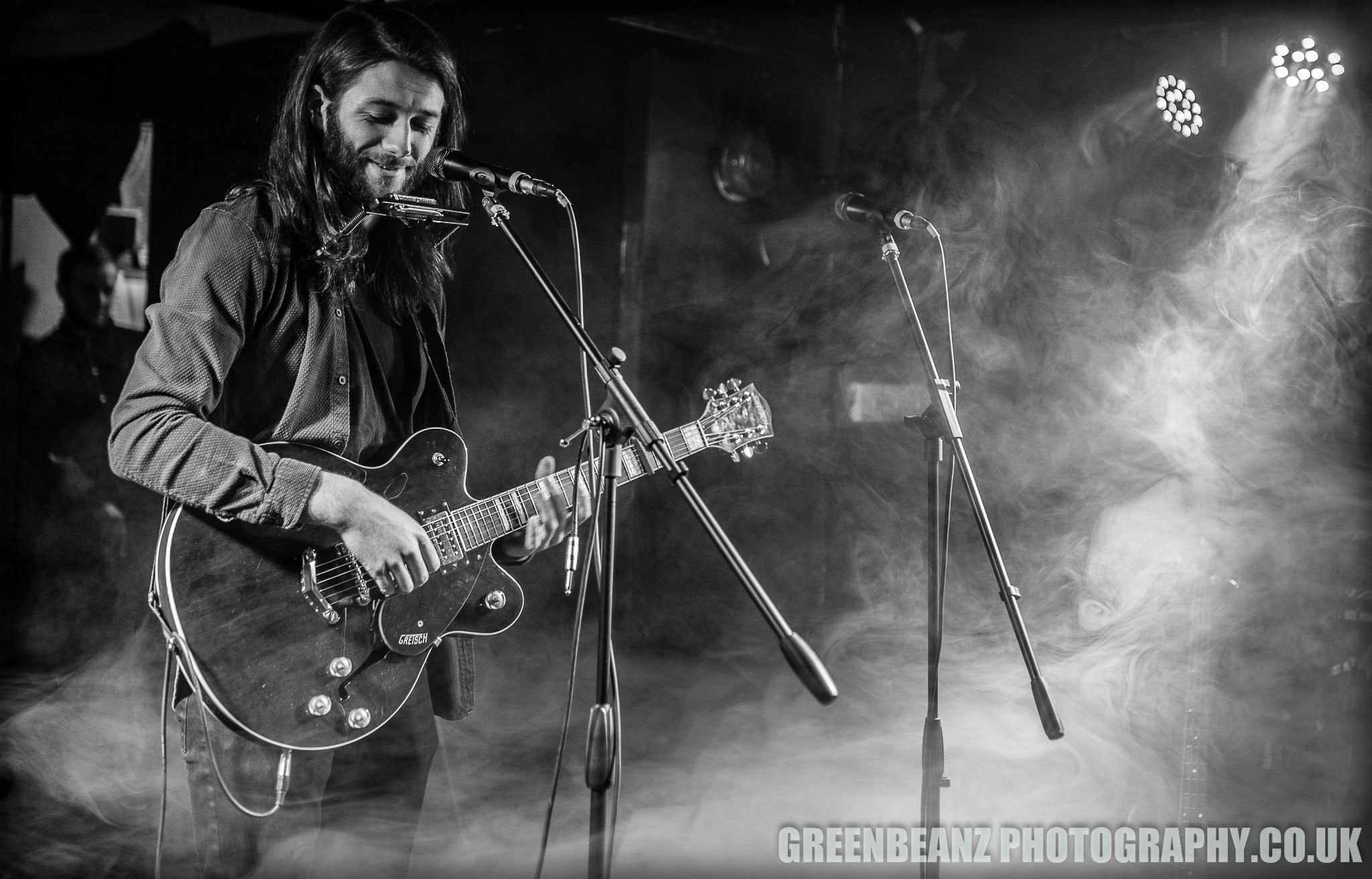 ABOVE : Jack Cookson at Plymouth's Underground in 2018
Harmonica is a big part of both acts sound and on 'Old Chapels O' Stone' Jack's mournful harp intro reminds one of just how many parallels the wild west has on both sides of the Atlantic. Bluegrass and Appalachian music has its roots as deeply entwined in the folk music of these islands, and the Celtic heritage of this whole corner of Britain can be traced right across to Breton, and even further with the Basques.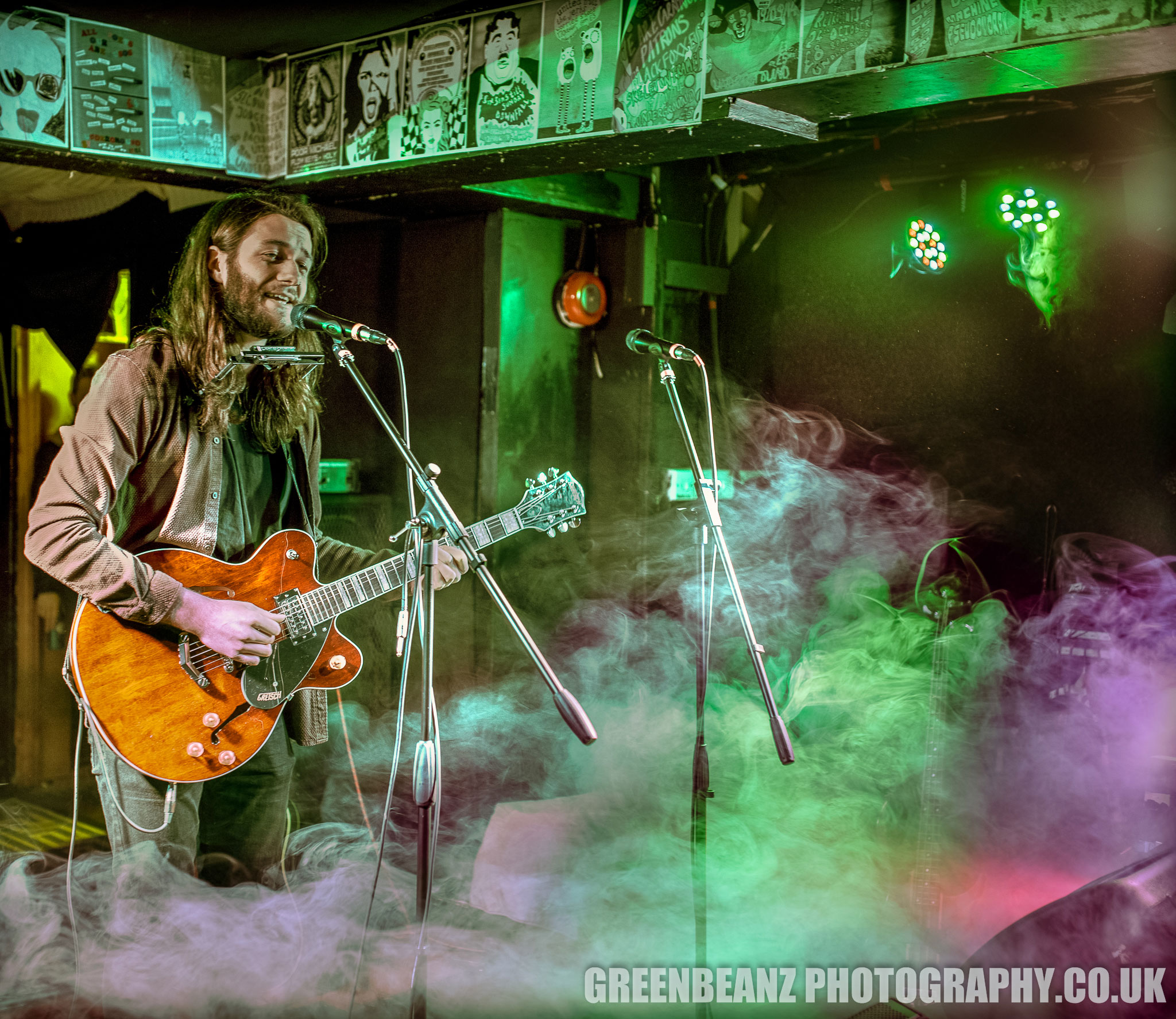 ABOVE : Jack Cookson launches the 'Chamfer' EP at Underground in Plymouth 2018
Jack Cookson has a lot of influences everything from Balkan ditties that urge you to dance, to the stripped down Punk DIY ethos that informs his clever song writing approach, never shying away from elevating the seemingly banal with brilliant insights.
BELOW : Jack Cookson and his band in Plymouth's Underground club in 2018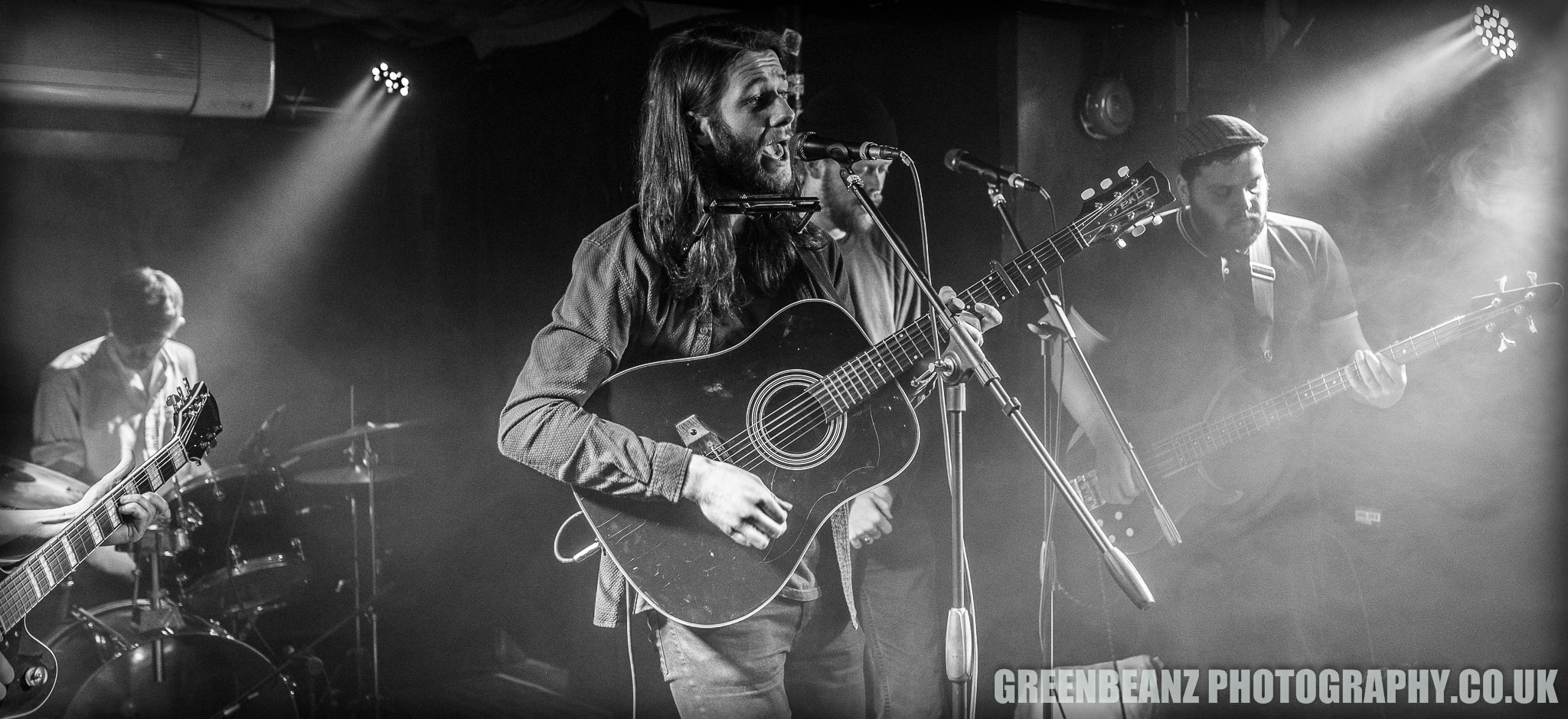 'Patchouli' for such a dark tale is oddly reminiscent of Cat Stevens in it's straight forward approach. Nic Burn's drums carry it along beautifully and then Jack plays 'Circus' without the band, a cautionary tale warning of the pitfalls of easy answers with just the clear pure tone of his voice,his guitar and a harmonica.

ABOVE : Bubba Erikson on Bass for Jack Cookson at the 'Chamfer' EP launch in 2018
The band come back on stage and join in a raucous foot stomping rendition of 'Demons'. Chris Webb's lone gun slinger of a guitar line setting the rockabilly tone before Bubba Erikson's drops in magnificently with some brilliant bass work, somehow coaxing an upright bass timbre and feel, from his conventional electric bass guitar.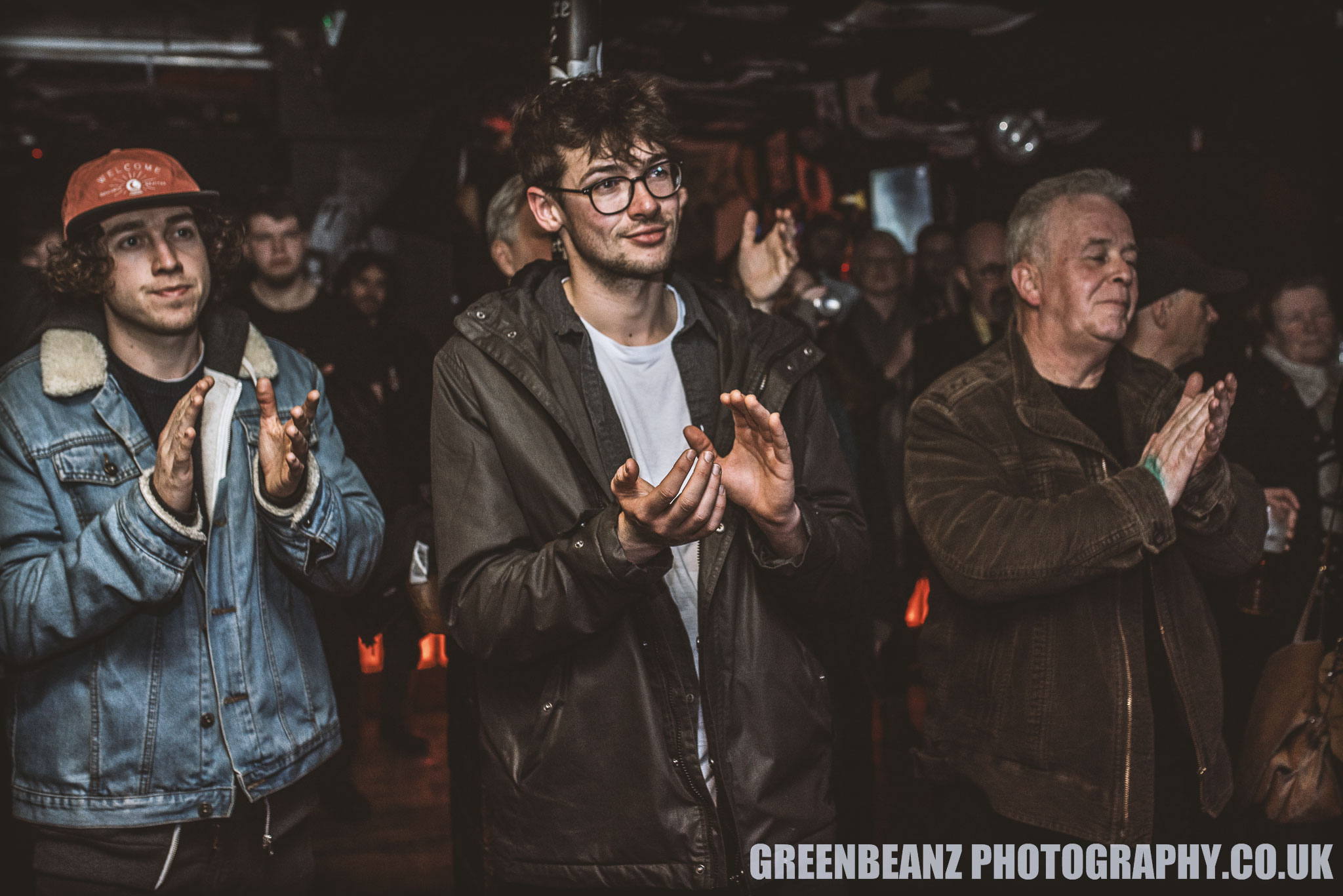 ABOVE : Plymouth Roots/Folk Fans in 2018 at Underground in Plymouth
Then the irresistible gypsy folk surrealism of 'My Imp of a Mind' , a song that drags you along like a fish on a bicycle, scaring the living daylights out of the hungry tourists at a French seafood festival. It is like the aural equivalent of an animated short, very evocative, even here on stage without the delicious Ian Anderson like flute of Ella Kenny.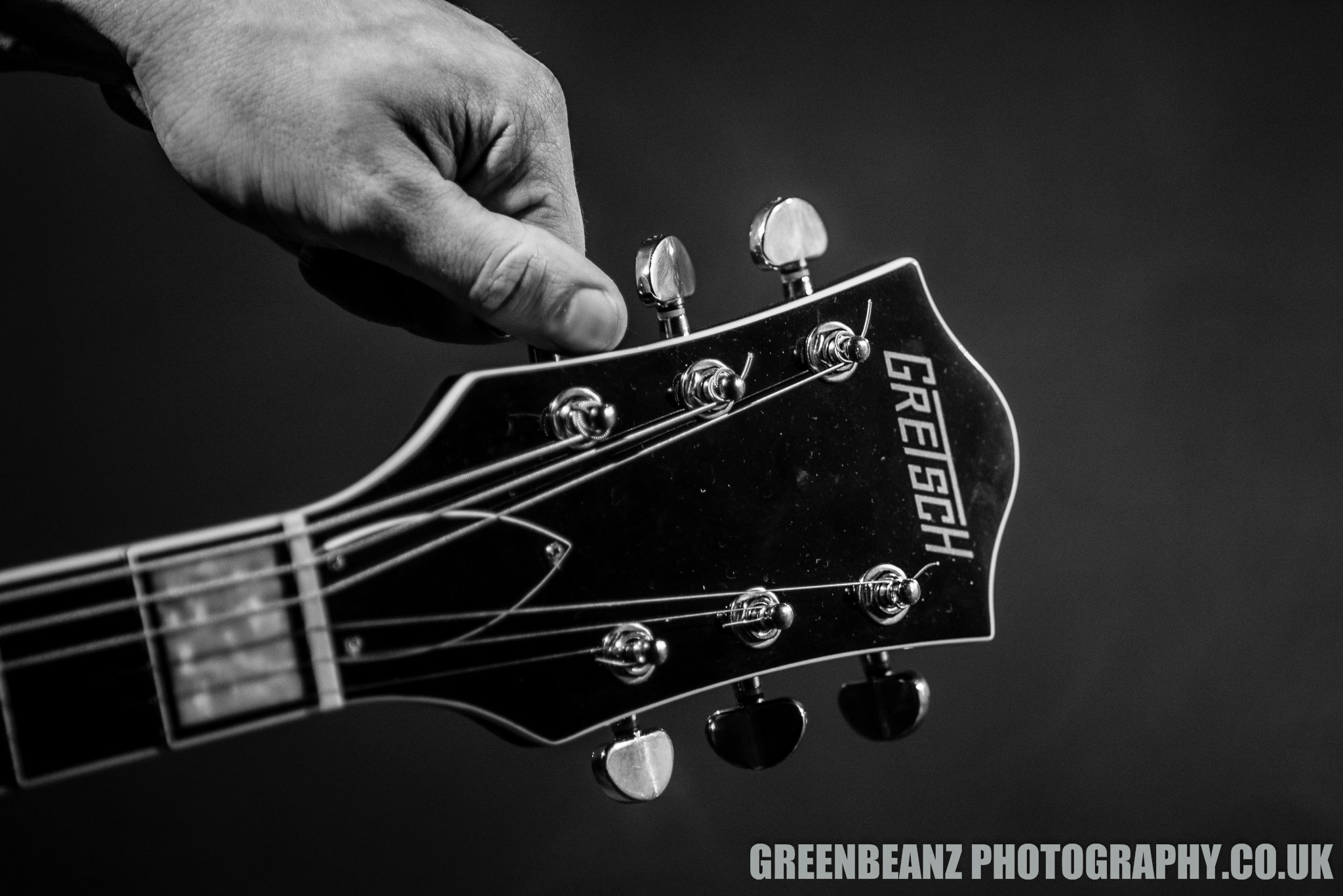 ABOVE : Chris Webb tunes his Gretsch Guitar at Underground Plymouth in 2018
Singing to a sustained drone (mirroring the organ note of the recording) Jack starts the title track 'Chamfer' with the amazing lines "I was born hand raised in the passenger seat, Of an LDV pilot van, Heart squashed in the crumple zone of a white Renault Megan,
And shame is my sixth sense, A church ruin, I grazed my knees against, A wall to tall to climb back over, And too short to hide my exposure"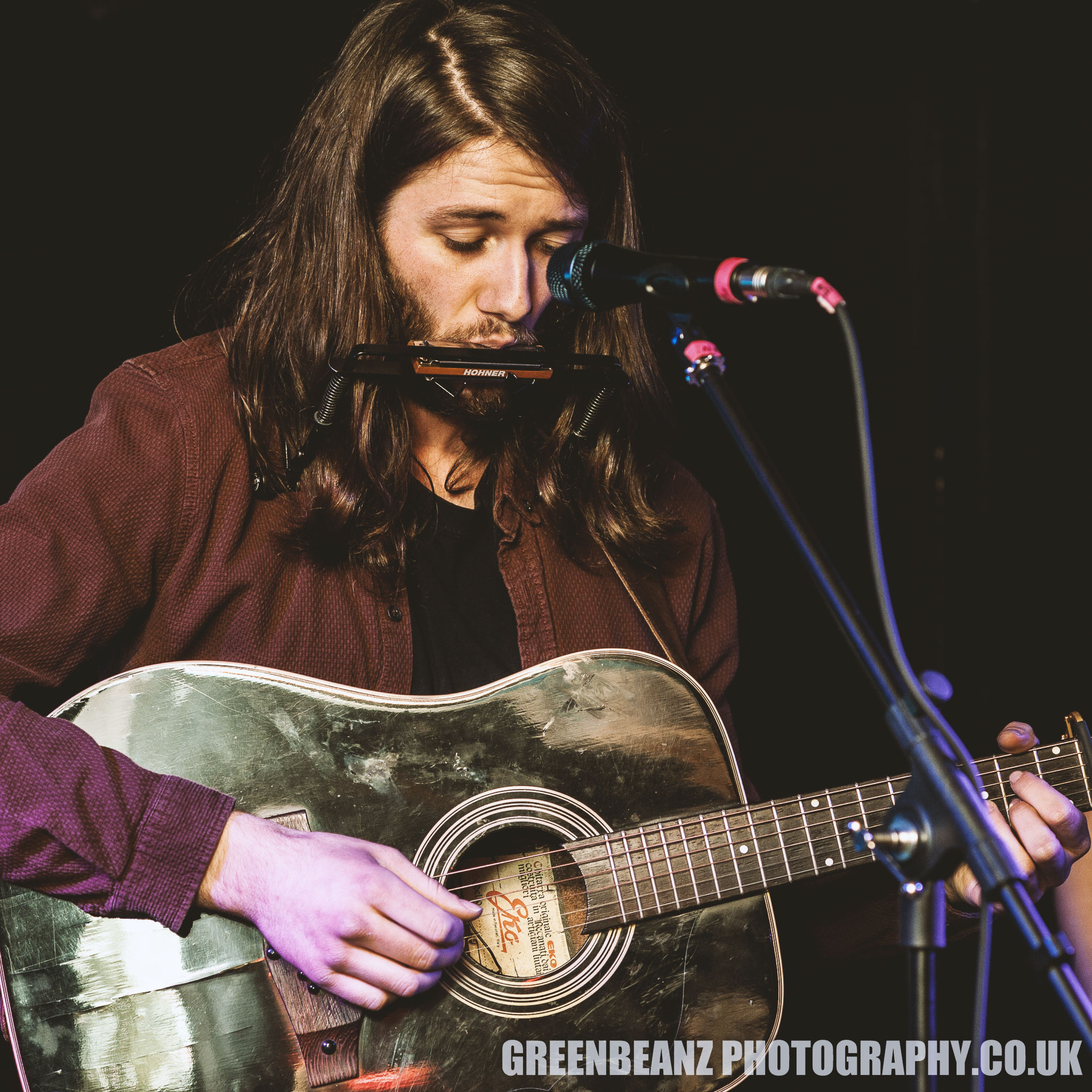 ABOVE : Jack Cookson Singer-Songwriter Multi-Instrumentalist live in Plymouth
It is lines like this that mark Cookson out as a voice to hang onto, a poet and songwriter of no small restraint, who can hang onto gossamer threads of meaning, and wring out silver from dew. It is a great title track and it goes down very well her live in front of an audience with a full band.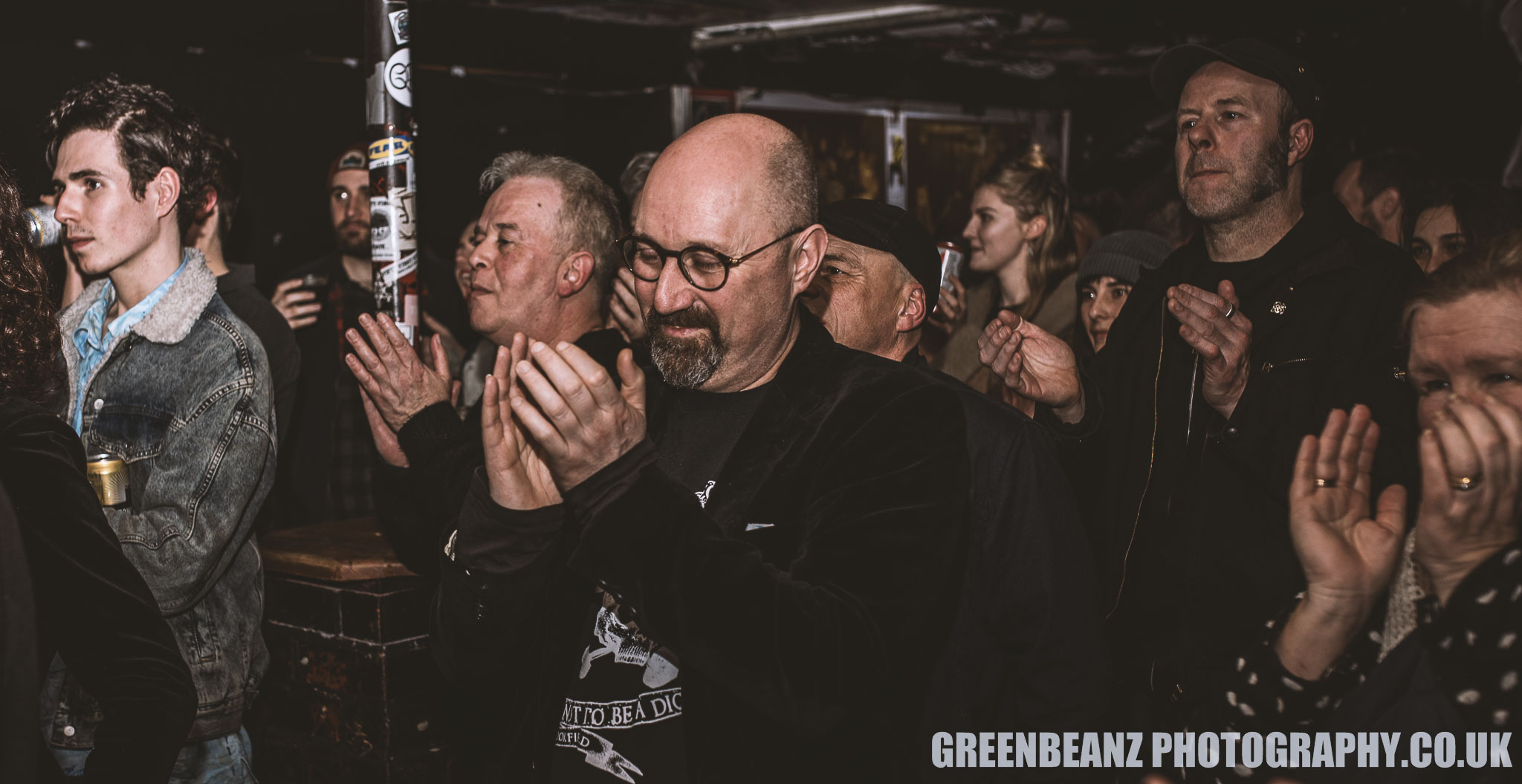 ABOVE : Plymouth Roots Fans Applaud Jack Cookson in 2018 at Underground
'Ocean Song' swings , rises and falls like the channel's waters that lap against this cities coast. It is the last song frrom the 'Chamfer' E.P but a song that has been around since his debut 'Five Times'. Again trawling his back catalogue the familiar bluesy 'What you sow, You reap' wraps up a great night of local folk and roots music and I urge you to check out the E.P and Jack and Calvin's work here -
More pictures to come later on facebook here