Windjammer at Calstock Arts | The Old Chapel | Live Folk Trio | Friday 14 June 2019
Greenbeanz Photography
Windjammer at Calstock Arts | The Old Chapel | Friday 14 June 2019 | Folk Music Cornwall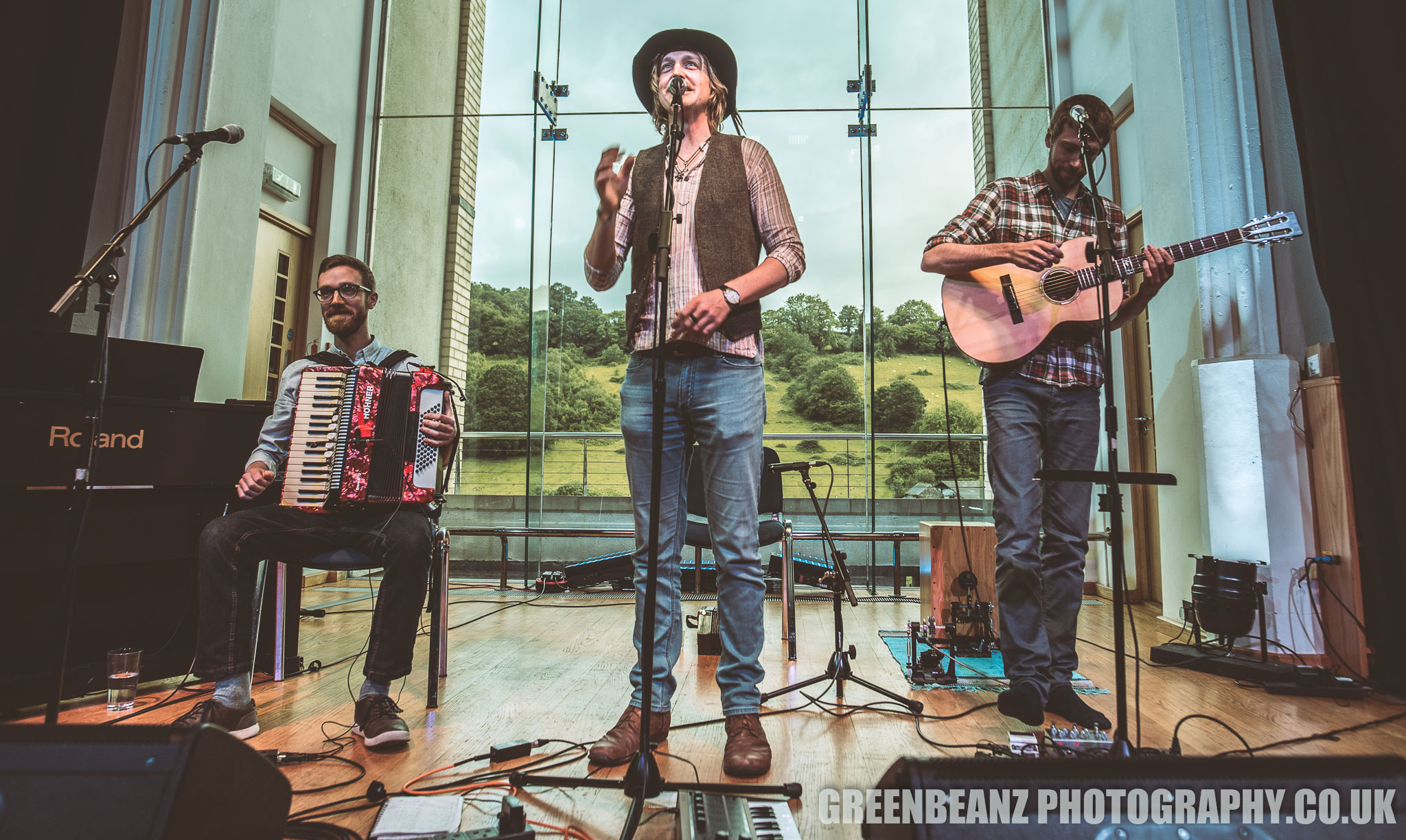 ABOVE : Windjammer performing at Calstock Arts on Friday 14th June 2019
The old chapel in Calstock, a former Methodist church and now a beautiful arts venue, with fantastic natural acoustic properties, looks over the river Tamar, a once busy waterway used to transport mined minerals and later tourists on Victorian steamers. Still a hub for the community the not-for-profit arts venue plays host to a variety of performers, young and old and for this evening in June was filled with the canorous ,meandering, undulating sounds of Windjammer. From it's magnificent picture window you can look out across the divide to Devon ,where Windjammer, a folk three piece based in Plymouth have travelled for tonight's gig.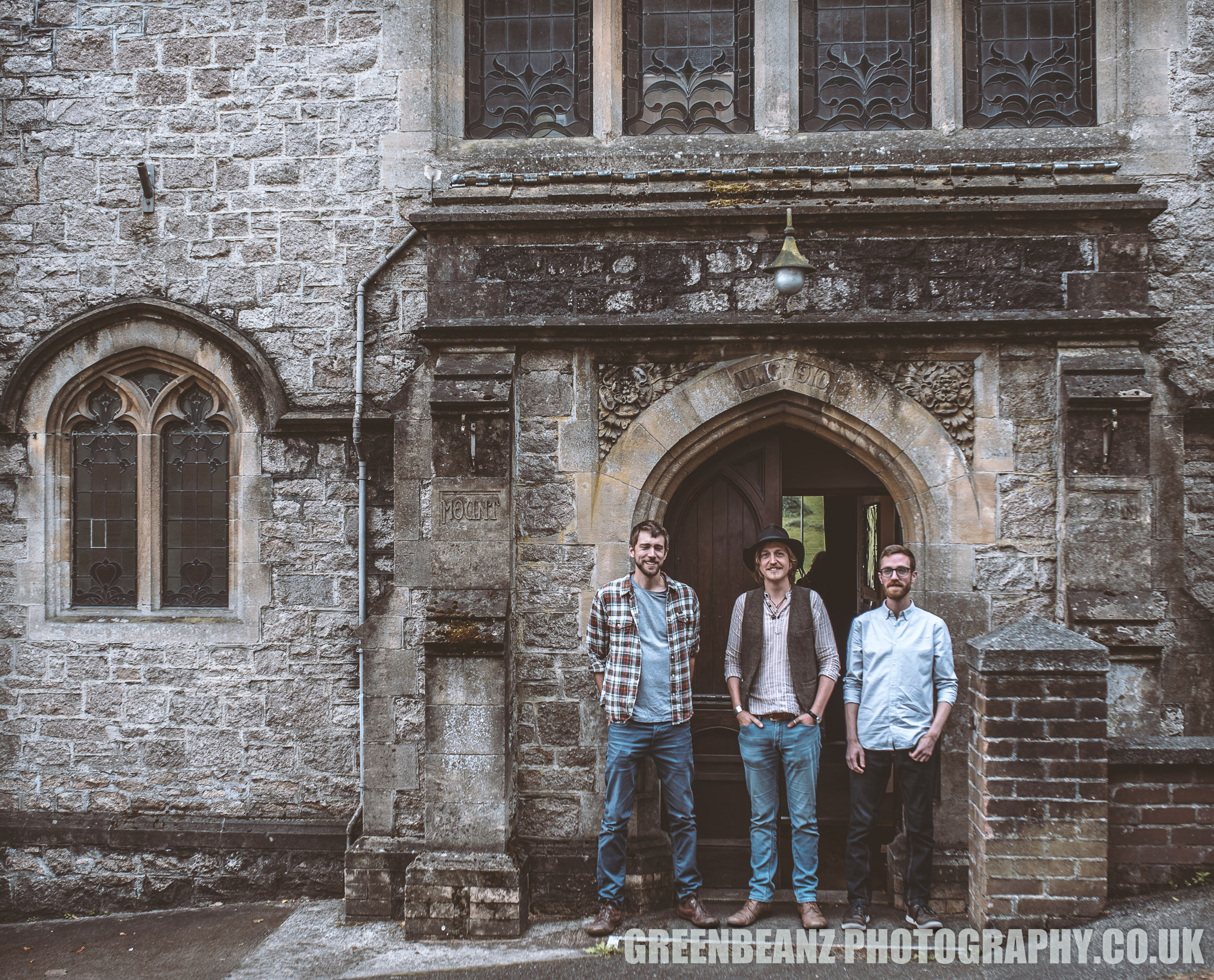 ABOVE : Windjammer at what was The Old Chapel and now is Calstock Arts in 2019
Methodism has a long history in Cornwall with chapels in virtually every parish by the 1850s, more than half of those attending church services in the country would have been doing so in a Methodist hall, Church or Chapel. Popular among working men and women , especially miners, when Charles and John Wesley came to the county over 10 000 people were said to have gathered at Gwennap Pit near Redruth to listen to them preach. Calstock itself has a rich history of mining silver, arsenic, copper and tin. Though they spoke against the popular Cornish past times of drinking , smuggling, wrecking, wrestling and gambling they had a lot more tolerant attitude towards music. In fact it was often John Wesley's singing that would draw the crowd.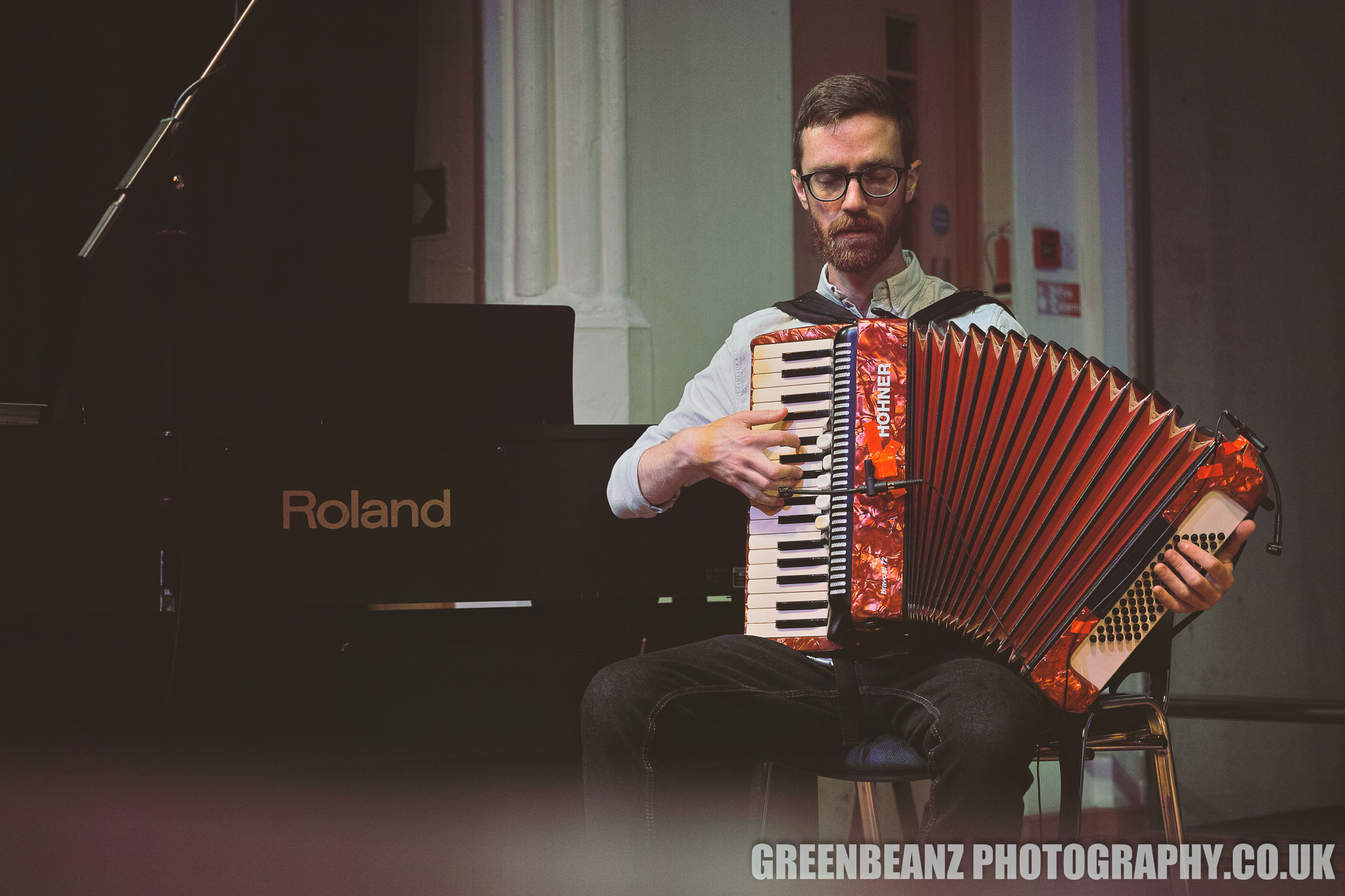 ABOVE : Fran Rowney playing at Piano Accordion at Calstock Arts in June 2019
Though Cornish Male voice choirs , Brass and Silver bands all have their roots in Methodism, the great tradition of Methodist singing is unaccompanied and still performed in the same way today. When Windjammer sing songs, some even older than the hymns of the Methodist , and perform them in three piece harmony acapella style, you can feel that same spiritual element moving those in attendance.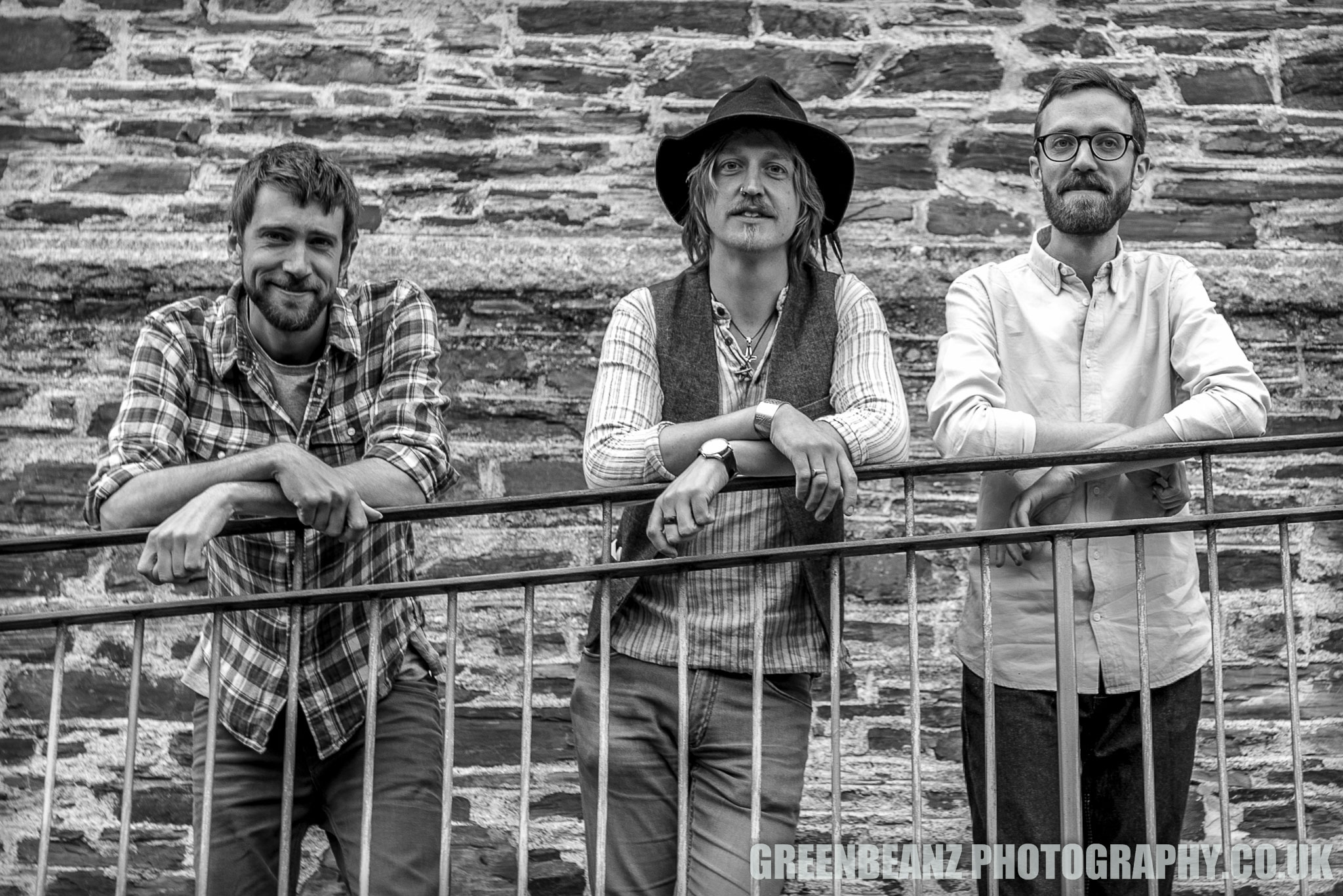 ABOVE : L to R - Jeremy Bunting, Jake Sonny Rowlinson and Fran Rowney June 2019
Performing original material of their own interspersed with unique modern arrangements of traditional material Jake Sonny Rowlinson (vocals,synth,concertina), Jeremy Bunting (finger style guitar,percussion, vocals) and Fran Rowney (piano accordion,low whistle,vocals) were making their Cornish debut at a venue, they like many others, had on their bucket list. Such is the magic and pull of this Calstock gem.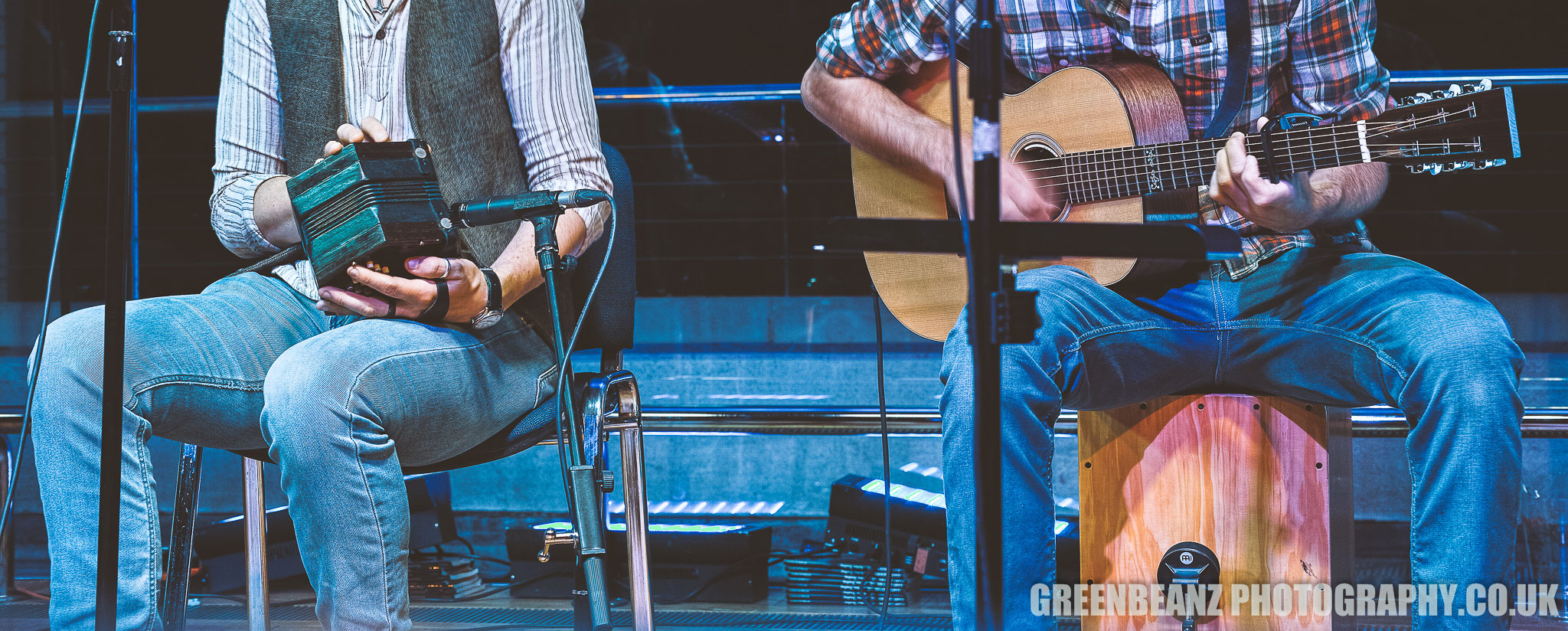 ABOVE : Jake on concertina and Jeremy on guitar at their Calstock arts gig in June 2019
Opening appropriately with Ewan Mcoll's 'North Sea Holes' a tribute to the bravery of fisherman, who along with the miners and farmers ploughing their own holes for reward, surely define what it means to be Cornish. Surrounded on both sides by breathtaking coastline and clawed thru with rivers and ponds for the fresh water caster, the jumping sliver crop is another jewel that feeds the tradition Windjammer are part of.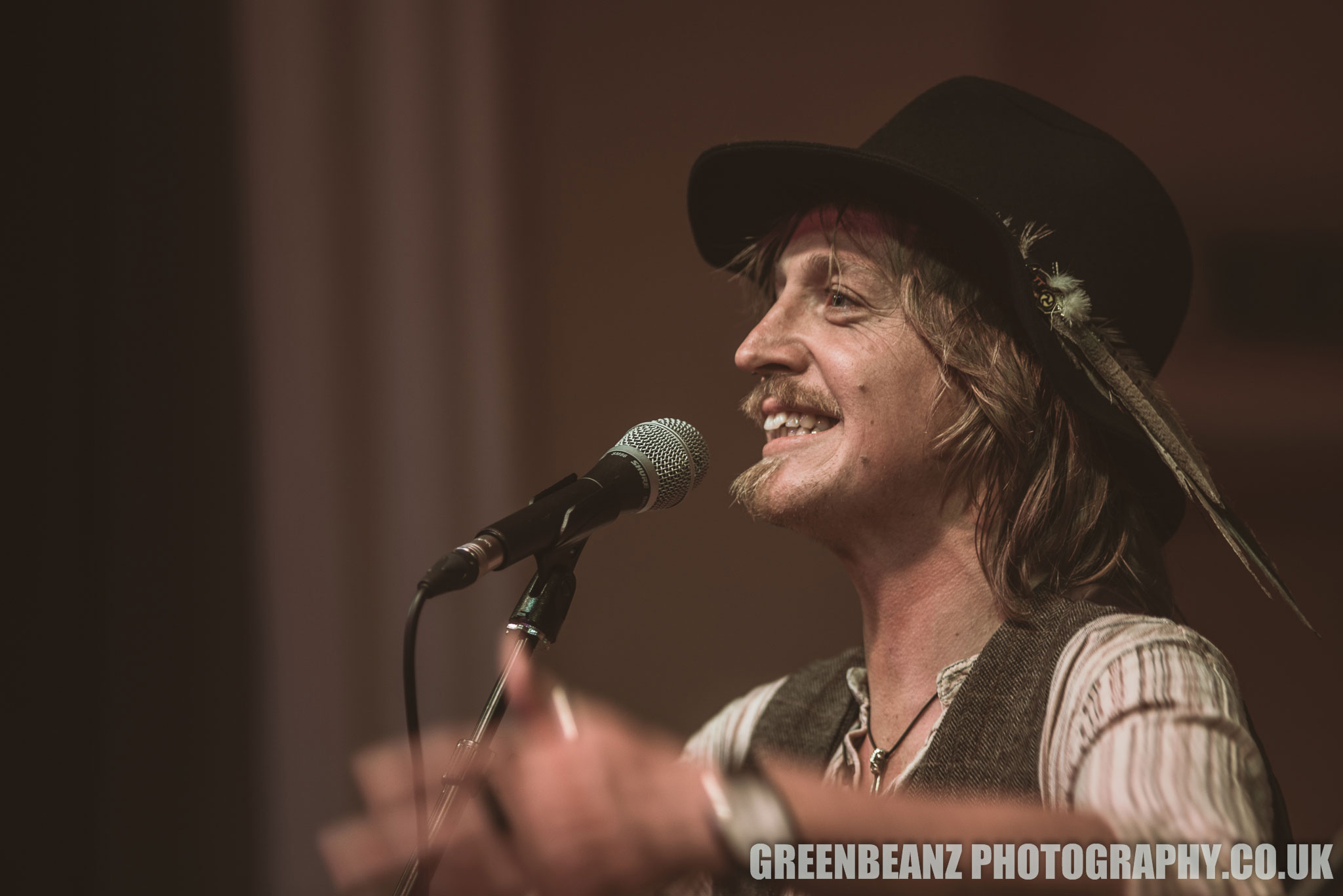 ABOVE : Jake Sonny Rowlinson from Windjammer singing live in Cornwall in 2019
Working songs, sea shanties, folk and morris music are shot through with the pull of history. The repeated importance attributed to remembrance and the retelling of stories is demonstrated as the band launch into the broadside ballad 'Lord Franklins Lament' . Also known as 'The Sailors Dream' and 'Lady Franklins Lament' you do not have to be a John Renbourne or Pentangle fan to feel the familiar pull on your heartstrings in this story of the failed attempts to find a lost loved one.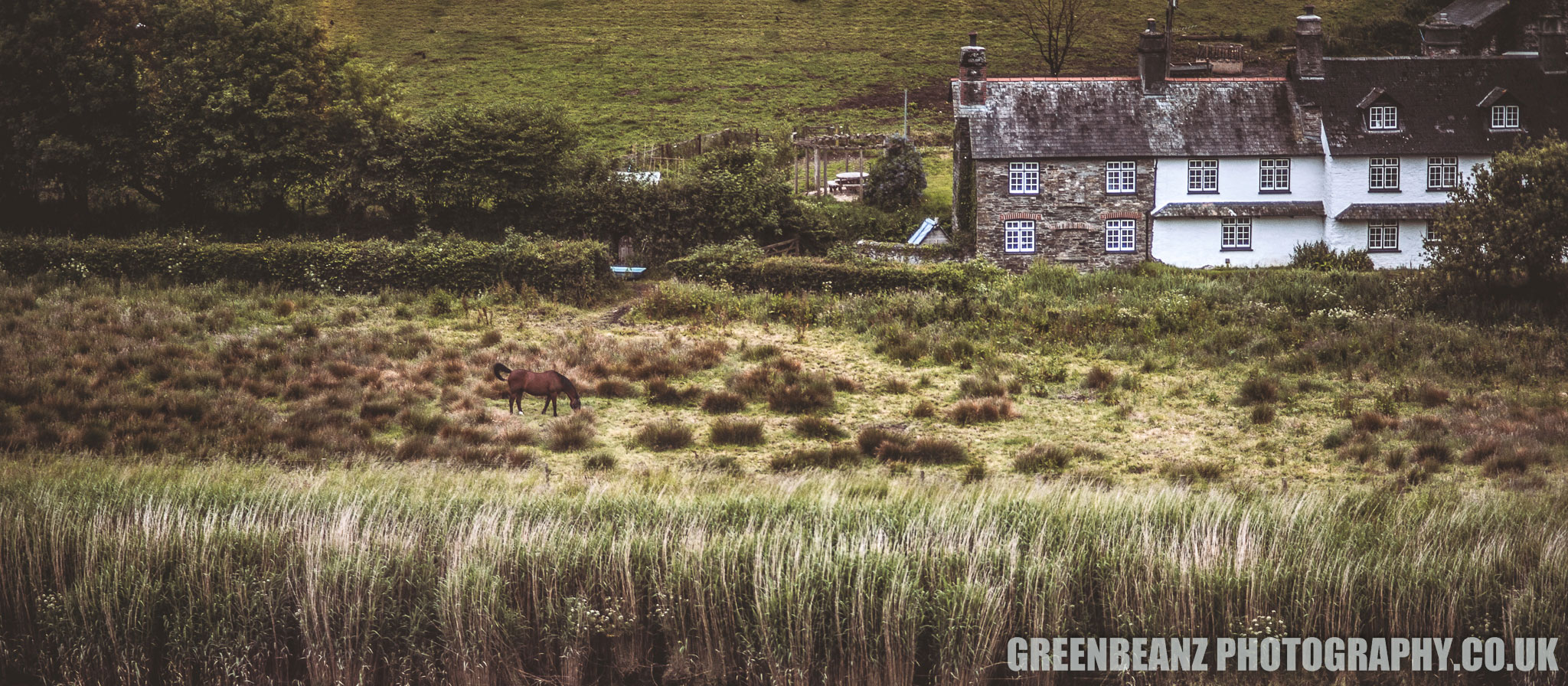 ABOVE : View of a horse and cottages thru the picture window at Calstock Arts Venue
As a murder of crows unfurl into the air from the long grass behind them, and a horse slowly moves across the lush carpeted landscape, the band play 'Hills and Valleys'. A self penned instrumental in which Buntings guitar sketches out the details as Rowney's accordion stretches out the verdant wash over which they play, before joining in to mirror the melody.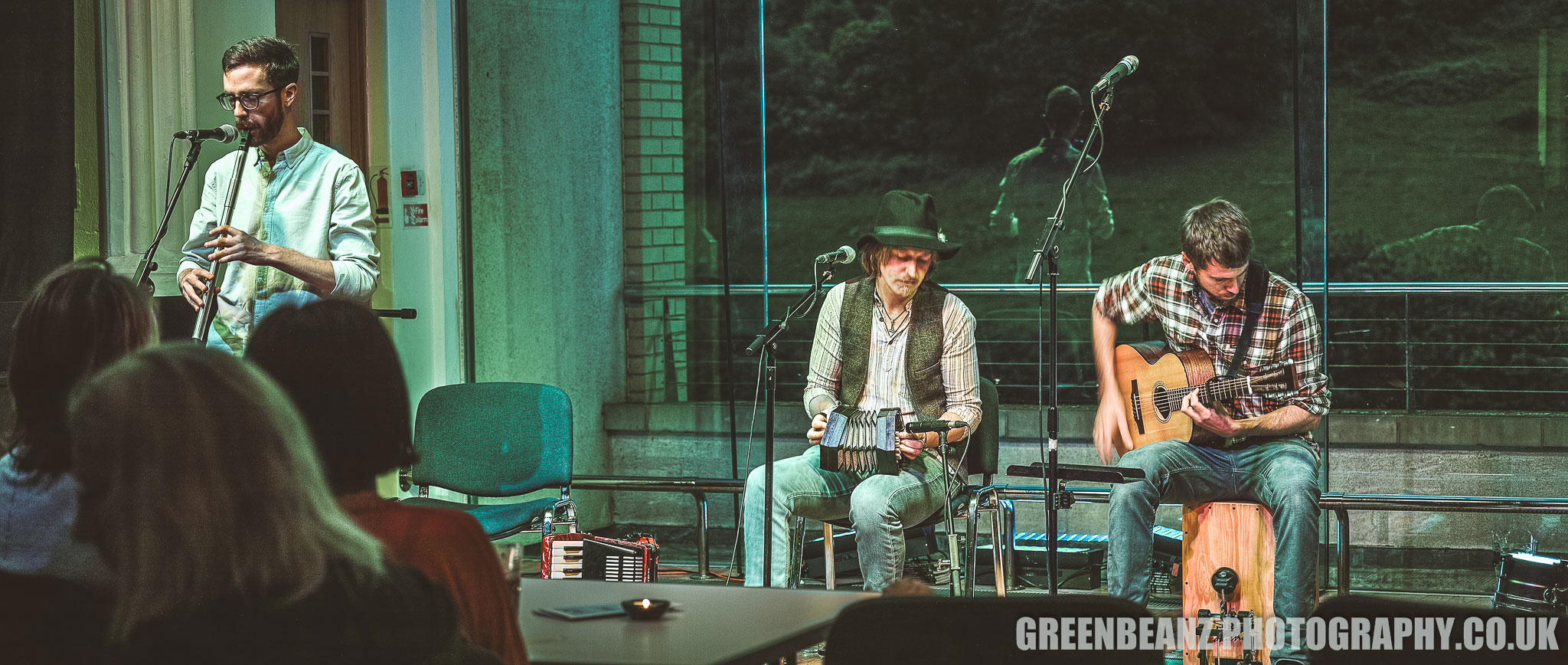 ABOVE : Folk Band Windjammer reflected in the picture window at Calstock Arts 2019
Rowlinson then steps forward to sing alone and without musical accompaniment the English folk song 'The Golden Glove'. It is clear again how much the wonderful acoustics of this space aid in making every lilting word clear from gallery bar to the floor space below. The tale of a daughter of a noble man, promised to a squire, falling in love with the farmer who was to give her away, reveals the northern roots in Jake's voice and reveals how misunderstood folk music often is. Based on a Nic Jones arrangement , the song itself appears and is sung all over England long before the 18th century and it's first publication. The hero with her dog and gun could have come from the 21st century. In her taking hold of her own destiny and presenting the farmer with a golden glove, with which he could claim her hand in marriage, a much more pro-active and feminist friendly re-telling of the Cinderella tale unfolds and it's history is proudly honoured here in this rendition.
BELOW : Fran Rowney's plays the Roland Electric Piano with Windjammer in 2019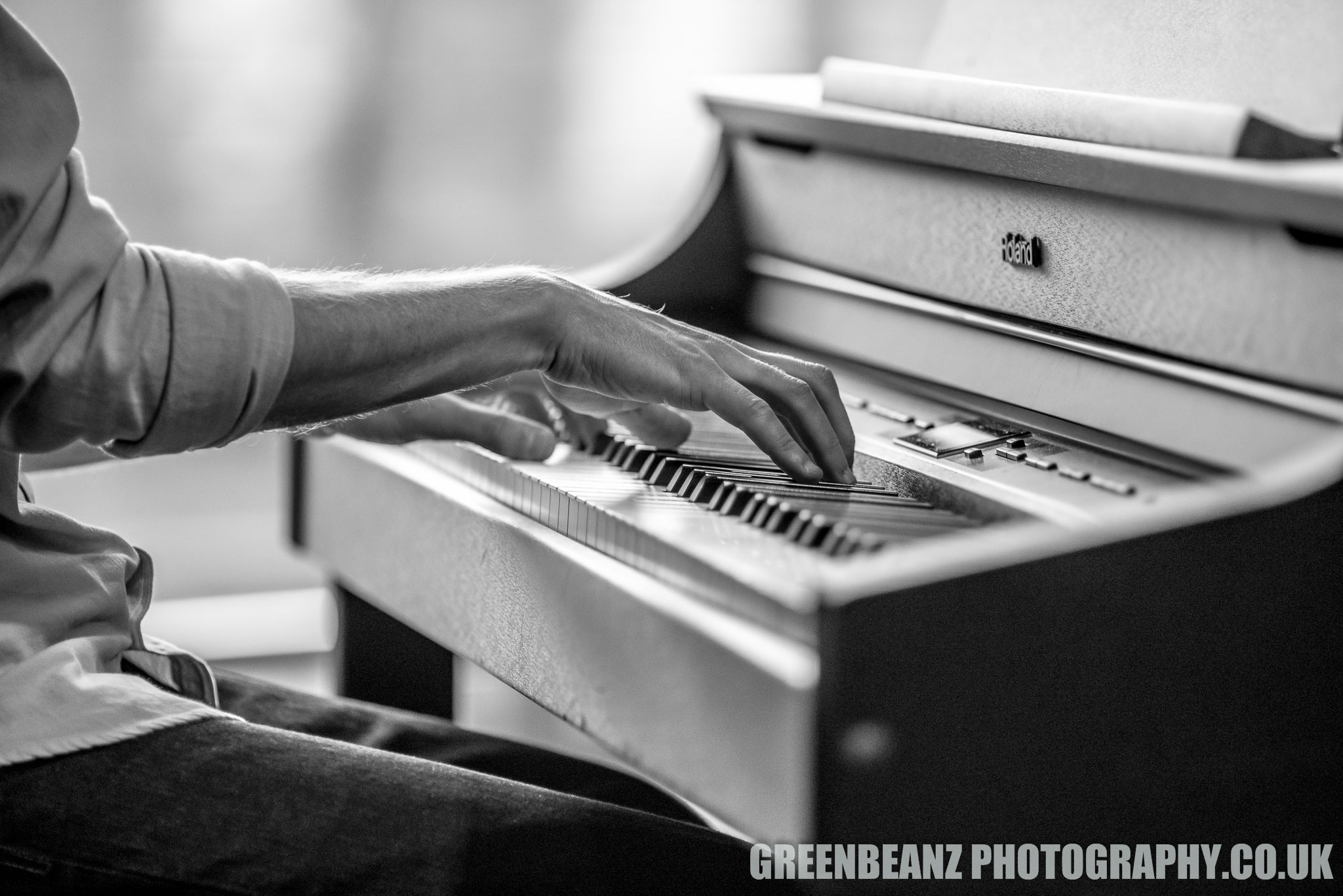 The band then present their version of another old English folk song from Steve Roud and Julia Bishop's New Penguin Book of English Folk Songs. Jeremy Buntings music is wonderfully set off and gilded by Fran Rowney's piano playing which gives what is quite a long and epic song a softer almost soundtrack like series of flourishes and cascading arpeggios that help tie the episodes together.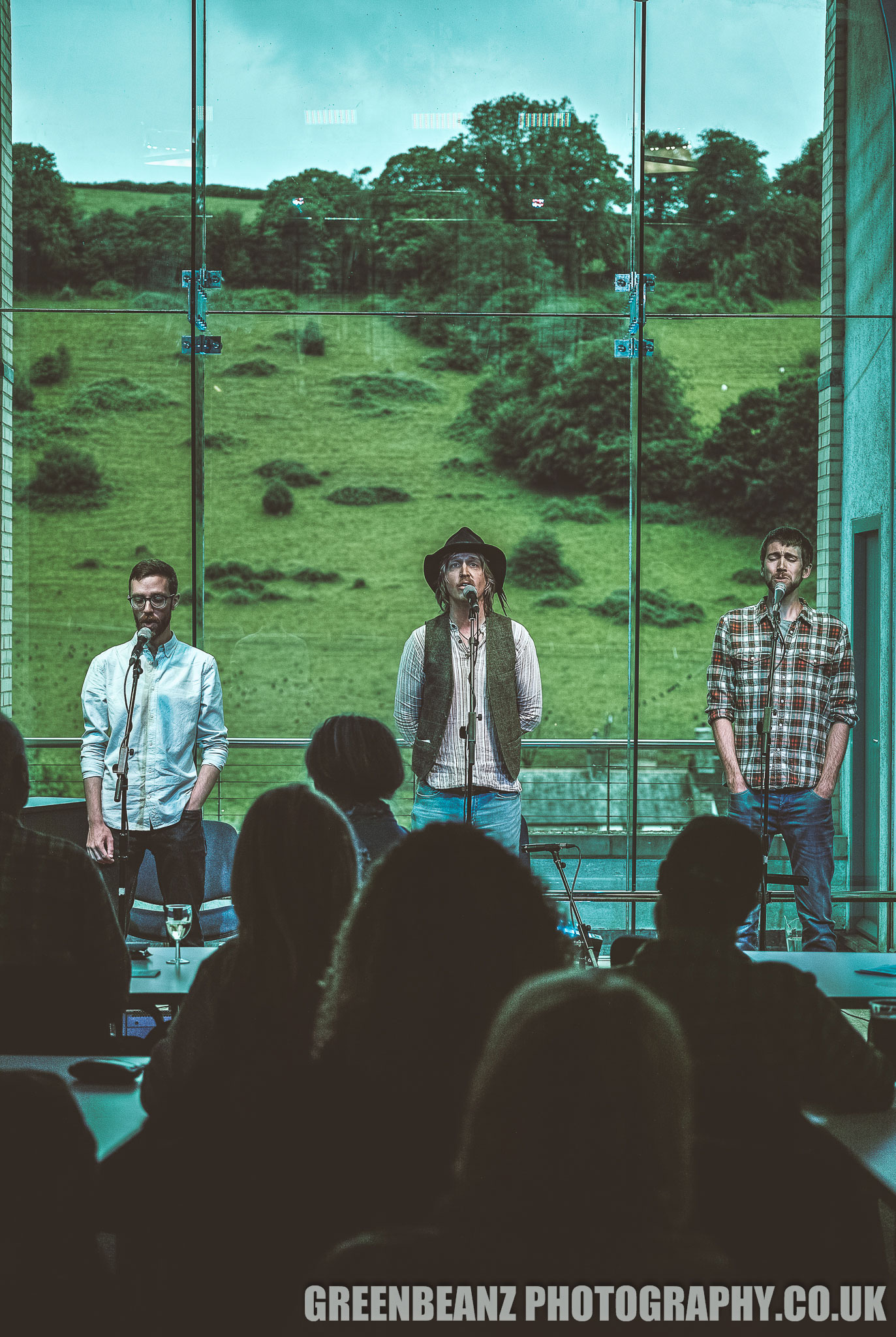 ABOVE : Windjammer in front of the huge picture window in The Old Chapel Calstock
Folk music and protest music have a long history and Windjammers version of Gerrard Winstanley's 17th Century Diggers Song , which they rather fittingly all stand up for, goes down well in a county well versed in the use of spades, plows and hoes.
Fran stays standing and plays on a low whistle the instrumental Mangersta Beach by Scottish composer and fiddle player Aidan O' Rourke. In this Celtic setting where the sun is beginning to fade the breathy notes do not have to work hard to awaken thoughts of the sea or the wheeling of seabirds over the ocean. I am carried over the sea to Ireland and thoughts of recording Louis 'Apple' Phillips for a Black Friday session a few years ago now. There is little that can match the plaintiff timbre of the instrument and it's ability to nail the wistful spirit of the wind along this county and these islands coasts.
Windjammer finish the first set with a true story found in the smuggling museum in Polperro. With Jake on Synth...yes synth.. and Fran back on Piano accordion,Jeremy takes the lead vocal. Yes you heard correctly. If serving alcohol in a former methodist chapel was not heretical enough, here was a folk band with a synthesiser.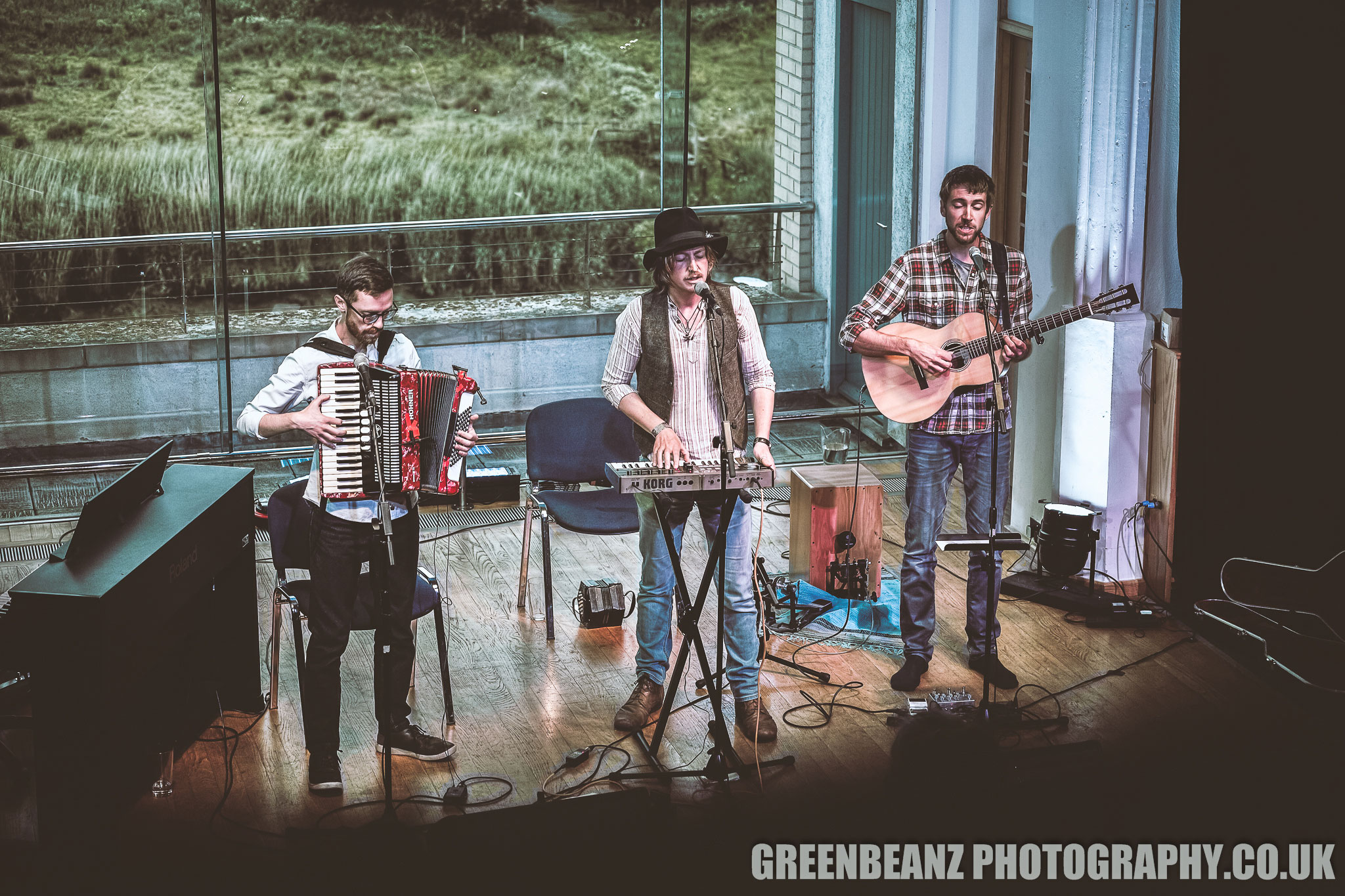 ABOVE : If serving alcohol in a former Methodist Chapel was not heretical enough here is a folk band with a synthesiser (:
The second set begins with the Windjammer original The Pirate King . Based on the story of Henry Avery the notorious 17th century privateer born in Newton Ferrers just six miles outside of Plymouth. Avery had been the subject of the first international manhunt after raiding the 25 ship strong of Grand Mughal who were making their pilgrimage to Mecca. It made him not only the richest Pirate in the world but also responsible for the biggest single heist in history in relative terms.
It's a great track and it's percussive underpinnings drive it nicely along. You could imagine it as a full on rock track with electric guitar and drum kit, such is it's potential. There is also something of the Plant and Page magic at work here with the eastern influences. (A touch of Ian Anderson there too from the way Fran phrases those riffs.)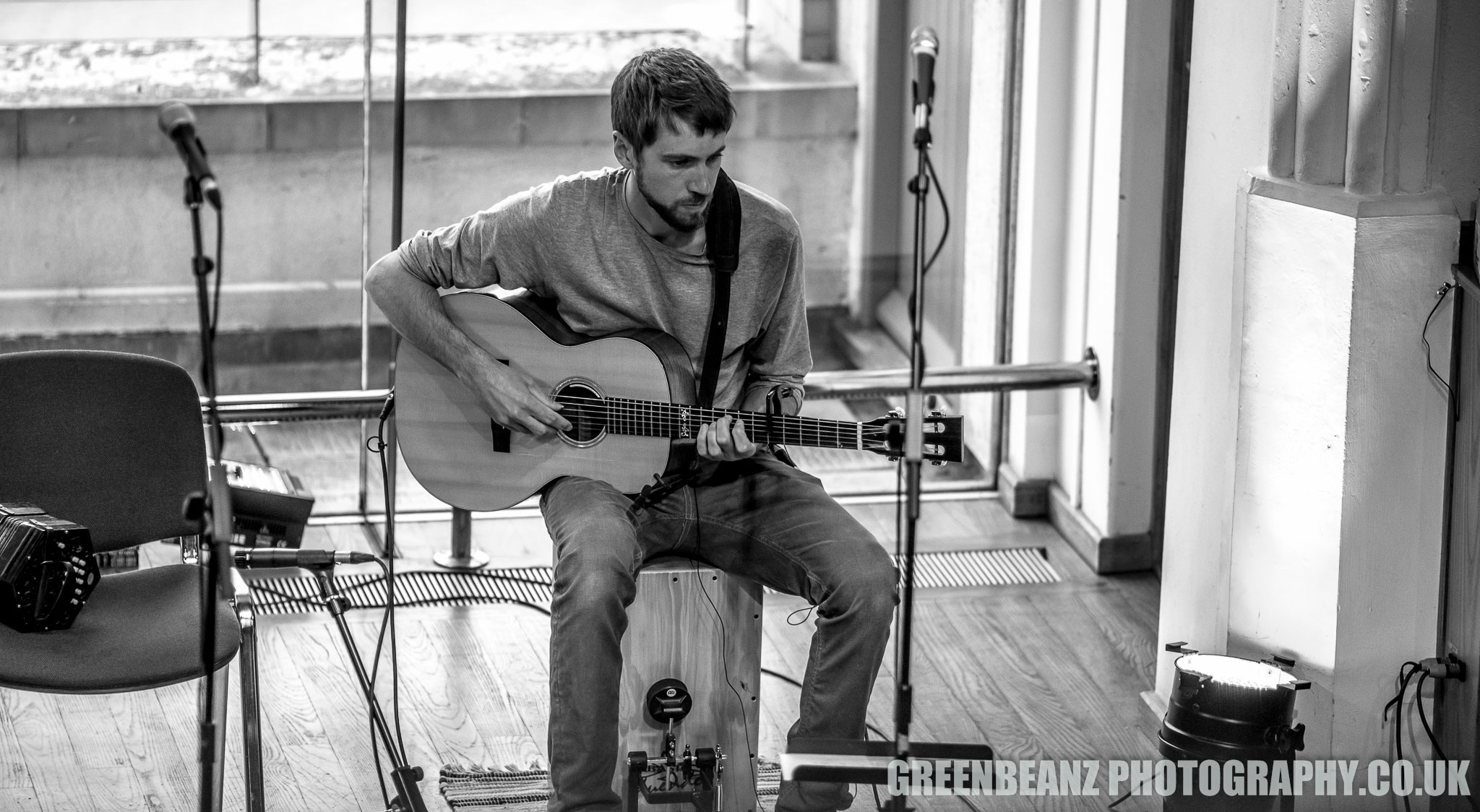 ABOVE : Jeremy Bunting a fine guitarist and singer with his own style in Cornwall
The Windjammer original Awaken from the eponymously titled EP follows. A song drenched in the rural and the pagan, connecting the band with the landscape that seems to be a constant theme from which they draw inspiration.
Another cover next, Randy Newmans 'Louisiana 1927' sung by Jeremy accompanied with his guitar, it is clear that this bands strength lies in the members willingness to embrace their strengths, and take a back seat or sit out when called for. No strangers to rain on this peninsula and with the river behind the band , it is actually the songs reminder of how politicians can politicize environmental disasters, while hoping to wash people and traditions away, that rings most true here in a county proud but often forgotten outside of its border.
'Windjammer' the title track from the EP rattles along like the steel hulled vessel it is named after sweeping you up in it's wake before it effortlessly segues into 'The Tern' also from the EP. Staying along the coast, but moving up country, the band move up to North Wales for inspiration with Black Rock Sands. Here Fran is happy to sit and wait as Jake and Jeremy take us thru the tale.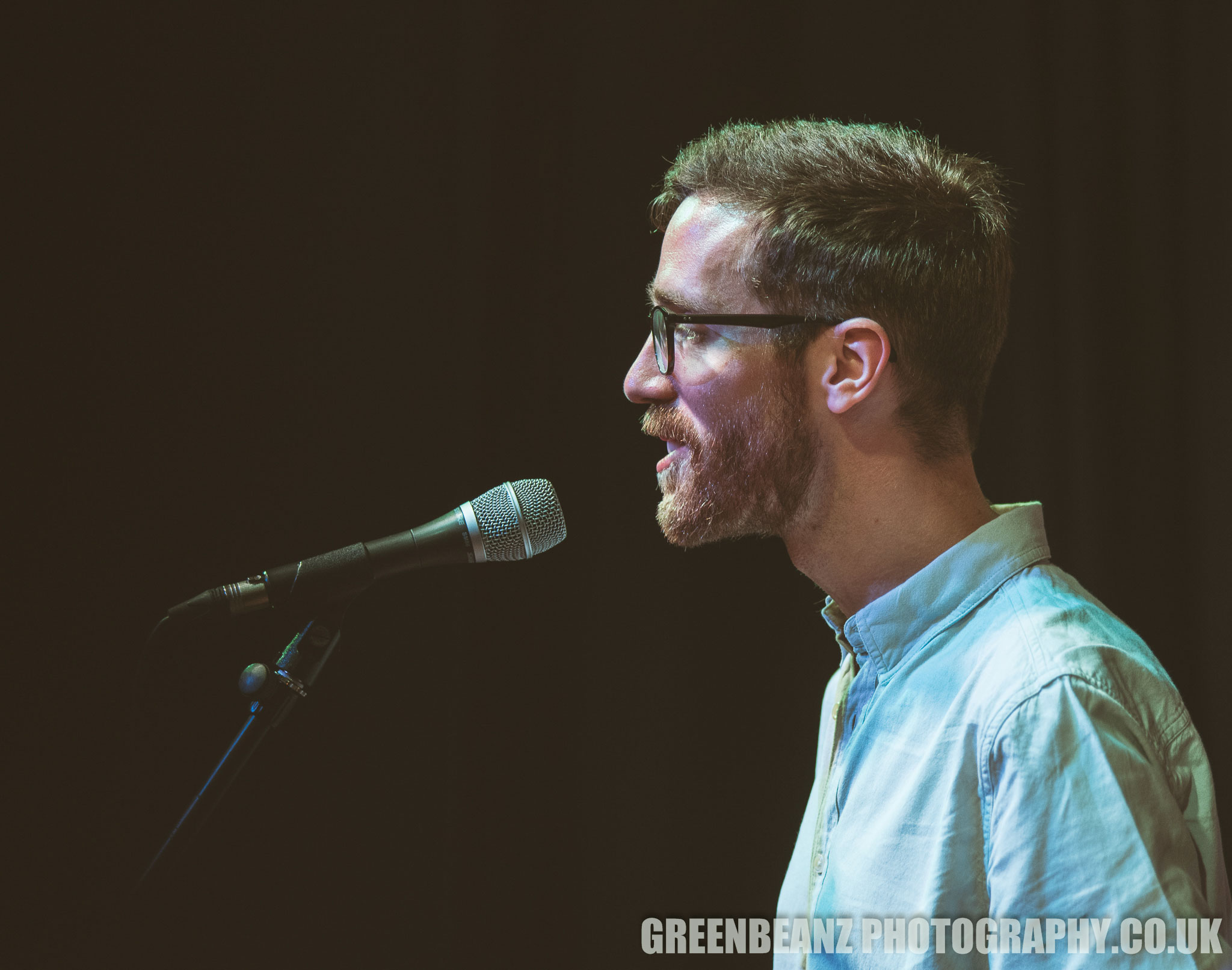 ABOVE : Fran Rowney from Teesside introduces The Chemical Song at Calstock Arts
All three unite for the instrumental 'Pura Vida' a joyful jig of euphonious exaltation, in which the guitar playing takes in everything from Knopfler to Richard Thompson in its mission to convey the pure life of the title, and the concertina and accordion ably open up a path in which you can imagine a Costa Rican sun shining, even on this dark Cornish night.
From lightness to darkness and Fran, who is originally from Teeside, introduces Teesside fettler and shanty-man Ron Angel's 'The Chemical Song', with it's enigmatic line 'There's Thunder all around me and thunder in the air'. It is now an inky black sky behind them, maybe not as pitch as a mine, but dark and foreboding and the thick acrid fumes of the song hang symbolically in the air as the band work through the verses.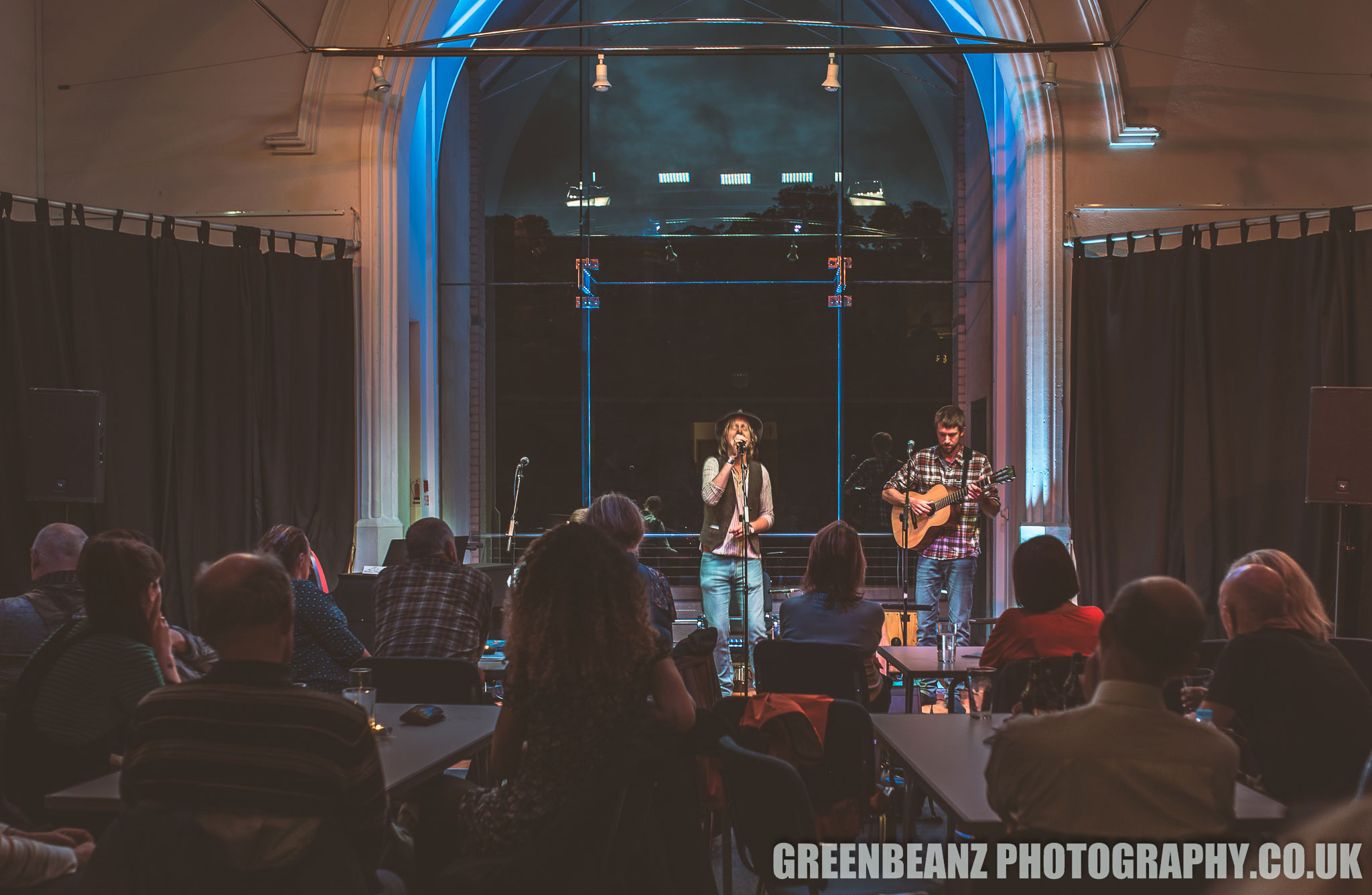 ABOVE : Windjammer wind up their gig at Calstock Arts with the Wicker Man inspired song 'Summerisle'
The windjammer song Summerisle taking it's name from the cult British horror film The Wicker Man is as enigmatic as the film and it star the policeman, played brilliantly by Edward Woodward, who as a tenor with twelve albums under his belt could also sing a bit, and lived out the last of his days here in the westcountry. Like that film with it's themes of remote communities and the clash between the Christian tradition and the ancient rituals of workers , Windjammer here, are similarly juxtaposed in a converted Methodist chapel with the landscape that underpins so many of their songs providing the backdrop throughout, as they play songs, many of which predate the tradition that inspired the building.
It is a fabulous and unique venue, and a credit to those who maintain it with such a rich variety of music, performance, film and cultural events, that it can be among the must play list of so many inspiring musicians and bands.
Windjammer did themselves and the venue proud, and though I too live across the moor in Devon, it will not I hope, be the last time I get to visit such an inspirational venue.
More photographs can be found here later in the week
and some film of some songs from the performance will be able to be found here very soon