Plymouth Punx Picnic 2019 | 05 -08 September 2019
Greenbeanz Photography
Plymouth Punx Picnic 2019 | 05 -08 SEPTEMBER 2019 | Live Music Photography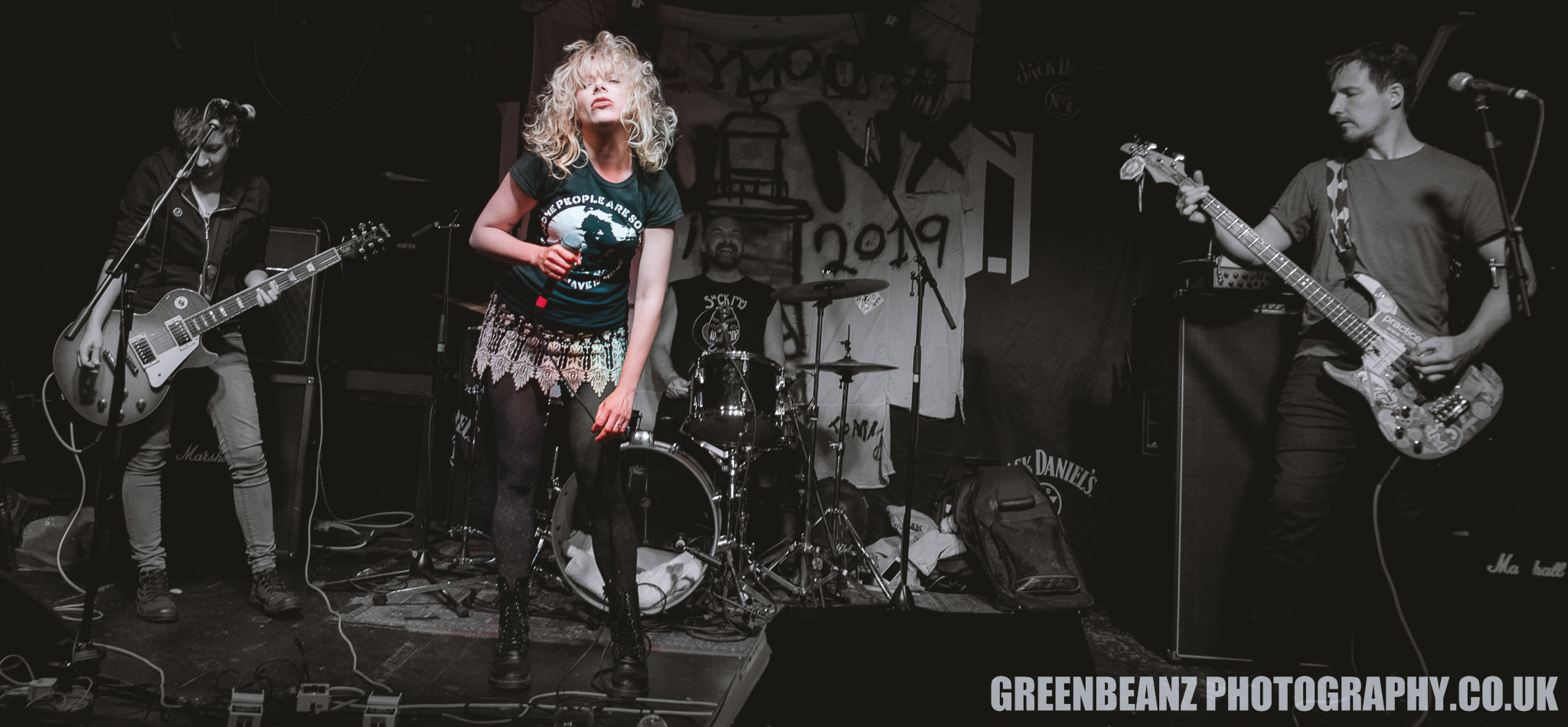 ABOVE : Husbands 'N Knives at Plymouth Punx Picnic 2019 at The Junction 08/09/19
Nobody knows when the first Punx Picnic happened in Plymouth. It has been rumoured that the inaugural event immediately followed ELP's first ever gig held at Plymouth Guildhall on 23 August 1970. Disgusted at how well received a band playing Bartok and Mussorgsky In a concert that lasted two months without a toilet break was, four time travelling Punks and a dog on a bit of string are said to be the pioneers of the anarchic al fresco eat out excursion. The near terminally bored foursome marched forlornly up to the Hoe and ate Jam sandwiches , drowning their sorrows with a drink that gets you fluxed fast,( as in the f**ked Capacitor) made to a French recipe and brewed by history monks. The brass impression of their fidgety bottoms can still be seen on the grassy arse end of the promenade.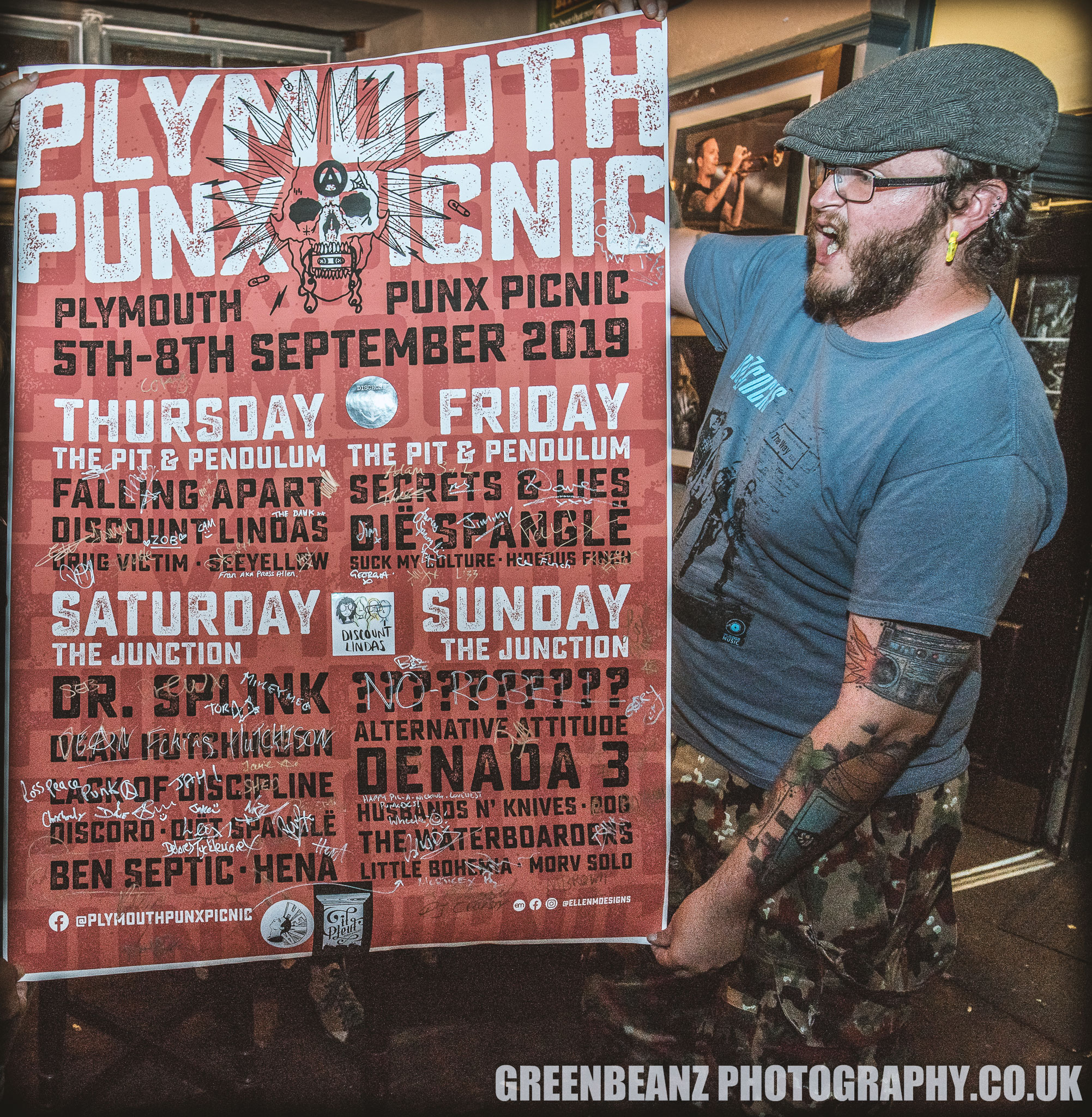 ABOVE : Jack Hopkins Event Organiser of 2019 's Plymouth Punx Picnic with the signed line up poster at The Junction
This years Plymouth's Punx Picnic , the annual four day celebration of all things short, toot sweet and made with spanners, kicked off on Thursday 05th September 2019 at The Pit and Pendulum in Ebrington street. More of that later. Let us start in the middle of day four where the time travelling properties of Coatbridge table wine has plonked us.


ABOVE : The Denada 3 were glorious on the final day of The Plymouth Punx Picnic
The Denada 3 today were every bit as monolithic and intense as Dinosaur Snr, Sonic Youth etc were at their age obsessed height. Dan has always had an impeccable ear for a catchy melody but with Denada he seems to have found the sonic arsenal to match his ambition. The sound, which was great all day, really helped hammer home the massiveness of these new songs. Chris's springy bass worked really well as a buffer between Dave's thunderous drumming and the caustic spiky loveliness of Dan's jangling guitar. These guys really should be supporting The Pixies at the Pavilions later in the year with a set of songs as strong as this and the sonic know-how to slap you across the chops with a glacier and still make you grateful.

ABOVE : The Discount Lindas even more smile inducing than a veggie toad in the hole
Sassy is one of those stupid words that undermines the very people who are supposed to be complimented by it's usage. So I wil not use it.In Lou Hotchkiss-Knives there is behind the glass of white wine, spells and attitude a welcome dose of classy joy, a sensual dimension rivalled only by James Wall's raffle won leopard print Rod Stewart jacket ,and the sleazy guitar sound and groove that Julie from Husbands 'N Knives could have torn up any 80's la metal club with. Punk, like any form of 'Rock' music, is still pretty blokey, and the welcome change of tone is as refreshing here as it was in an entirely different way with the Lemonheadesque queer pop of The Discount Lindas at The Pit and Pendulum on Thursday, day one of this years musical smorgasbord.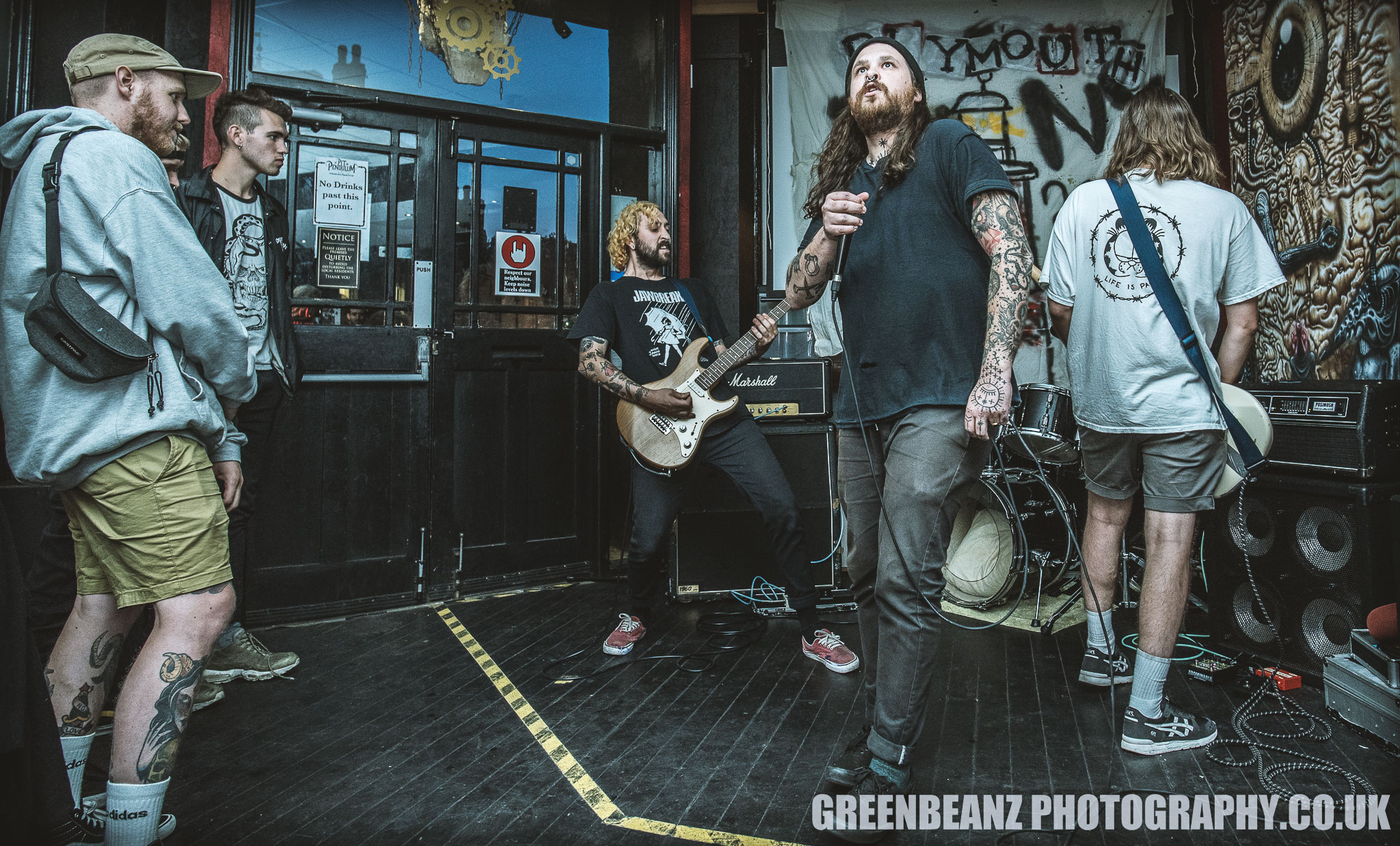 ABOVE : Drug Victim at The Pit and Pendulum for The Plymouth Punx Picnic 2019
Drug Victim delivered a blinding set of a very different kind of bangers on that opening evening before the McCartney vegan sausage fans regaled us with melody. Like being double throat punched by an orang-utan that had heard one too many Ed Sheeran jokes for today, the hardcore four piece delivered their succinct staccato sonnets quicker than a deliveroo worker with a Marty McFLy hoverboard.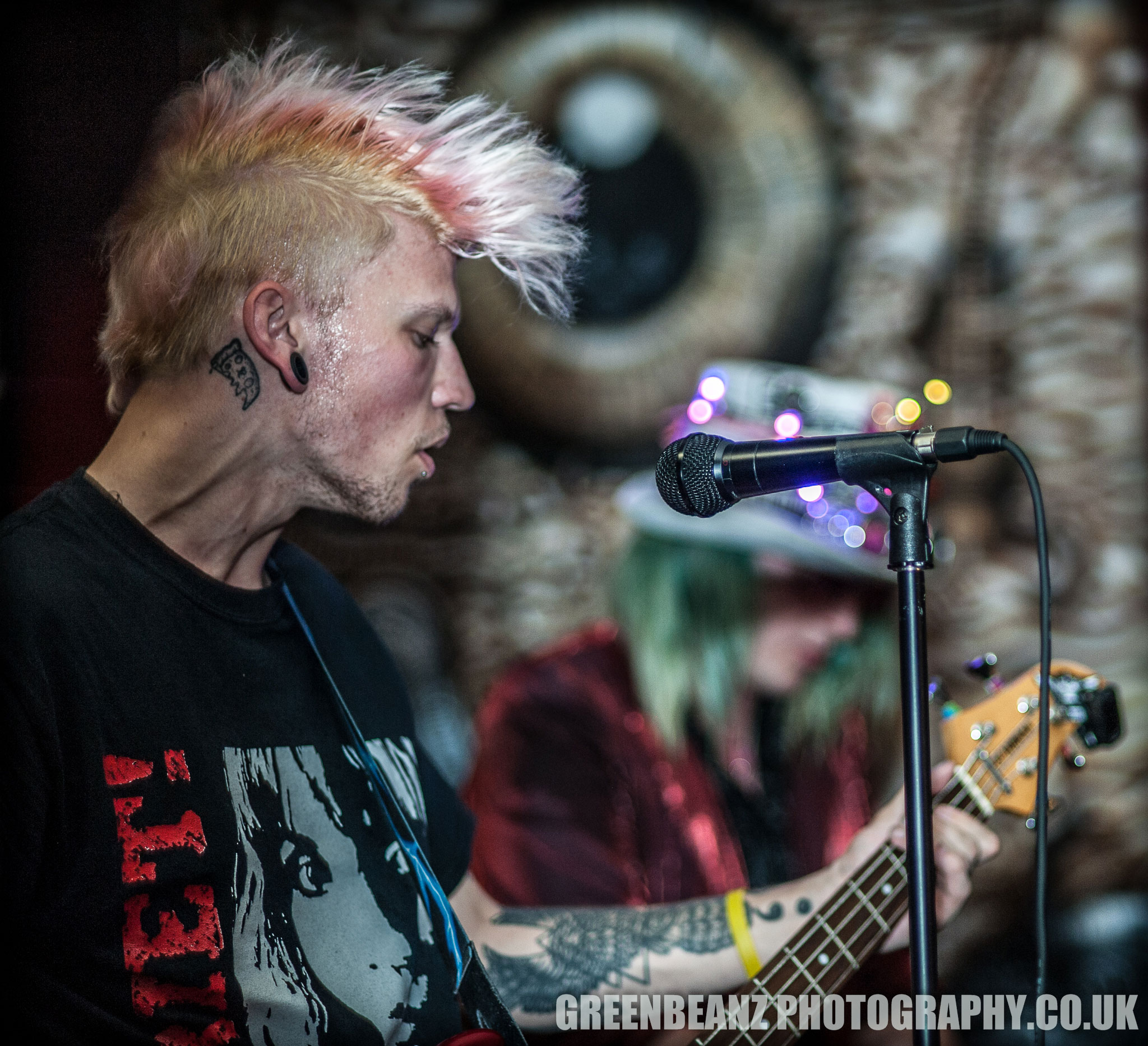 ABOVE : Jacob Terry 'The Bishop of Bedlam' Bass and Vocals for 'Falling Apart'
Falling Apart were great fun and despite the name very much held together tightly. Fantastic to have a keyboard player in Noel Grummitt, who more than wants to be there front and centre, and even makes you begrudgingly admit that Geldof once spent more time with his head outside of his own fragrant a*** when he hammers out the intro to 'Don't like Mondays'. The Apart ivory rattler could have given Keith a run for his money back in 1970 and it was refreshing to see a time travelling Billy Idol from Generation X on bass for this multi generational marvel.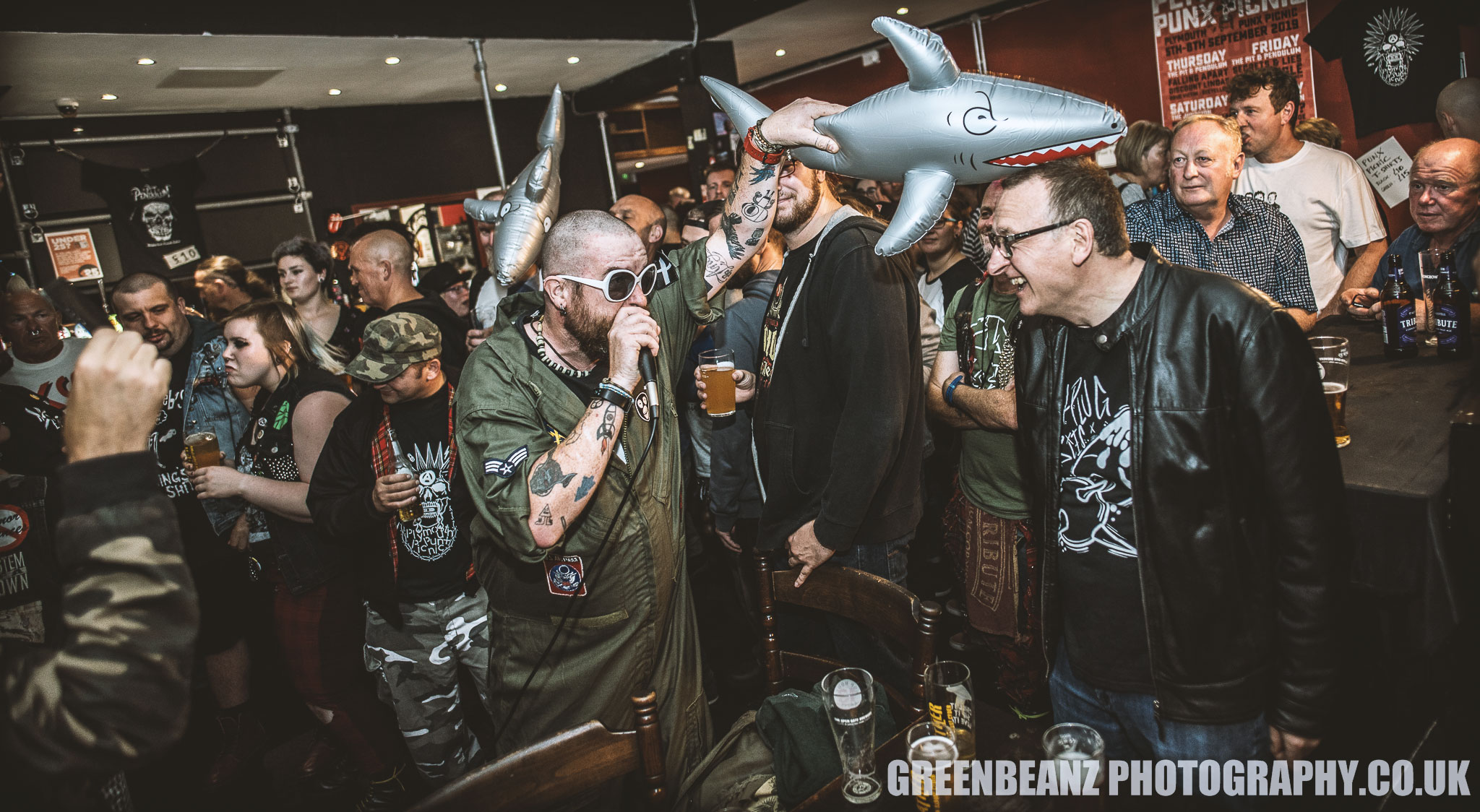 ABOVE : Die Spangle are a joyous musical experience. Check them out live and be attacked by sharks for free as a bonus
Die Spangle made a packed Pit, already heaving with the sweaty bodies of a myriad punk fans bouncing like Tigger under a sprung rubber ceiling, swing like a pendulum. Even more sing along than 'Baby Shark' ( all the parents and grandparents will know) the Spangles know how to jangle (or should that be Djhango) with the best of them, and still keep mispronouncing 'Pastie' as 'Pie'. Like the audio equivalent of Robert Rankin's 'Sex and Drugs and Sausage Rolls' the Spangles would indeed be prime candidates for Gandhi's Hair Dryer with plenty of beards to go around but only one hirsute head to blow upon.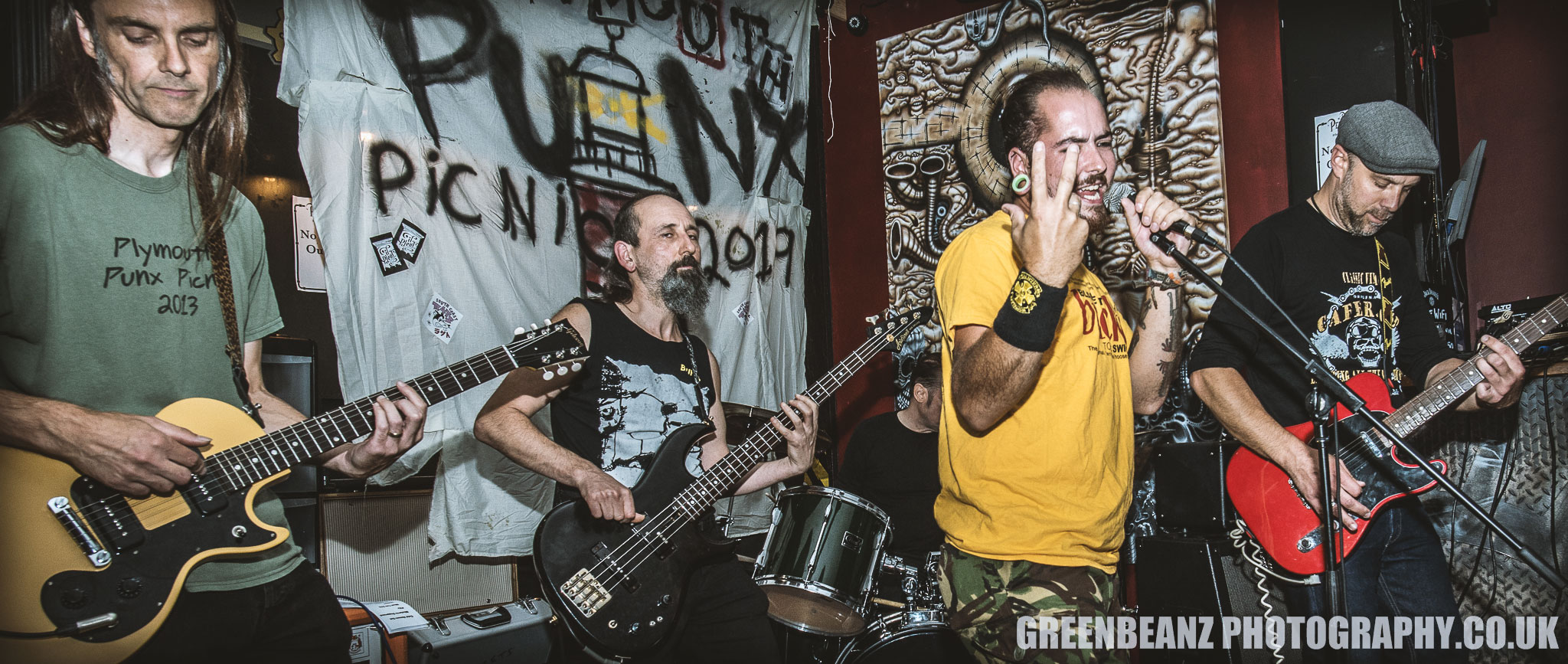 ABOVE : Secrets and Lies display the exact amoutn of F***s they give in Plymouth 2019
Secrets and Lies have rather more hair to go around and more of that swing thing to go with an entirely different kind of roll, now sharing equal stage time as the rock. Dave the bass player also still found time to rock up to The Junction on Sunday and play with Gob Dylan on day four. The hastily assembled trio stepped up and filled the Pog slot with a bulldozer of a set, that constructed and demolished expectations in equal measure, for their allotted time. The last song, a suprise encore, was a belter.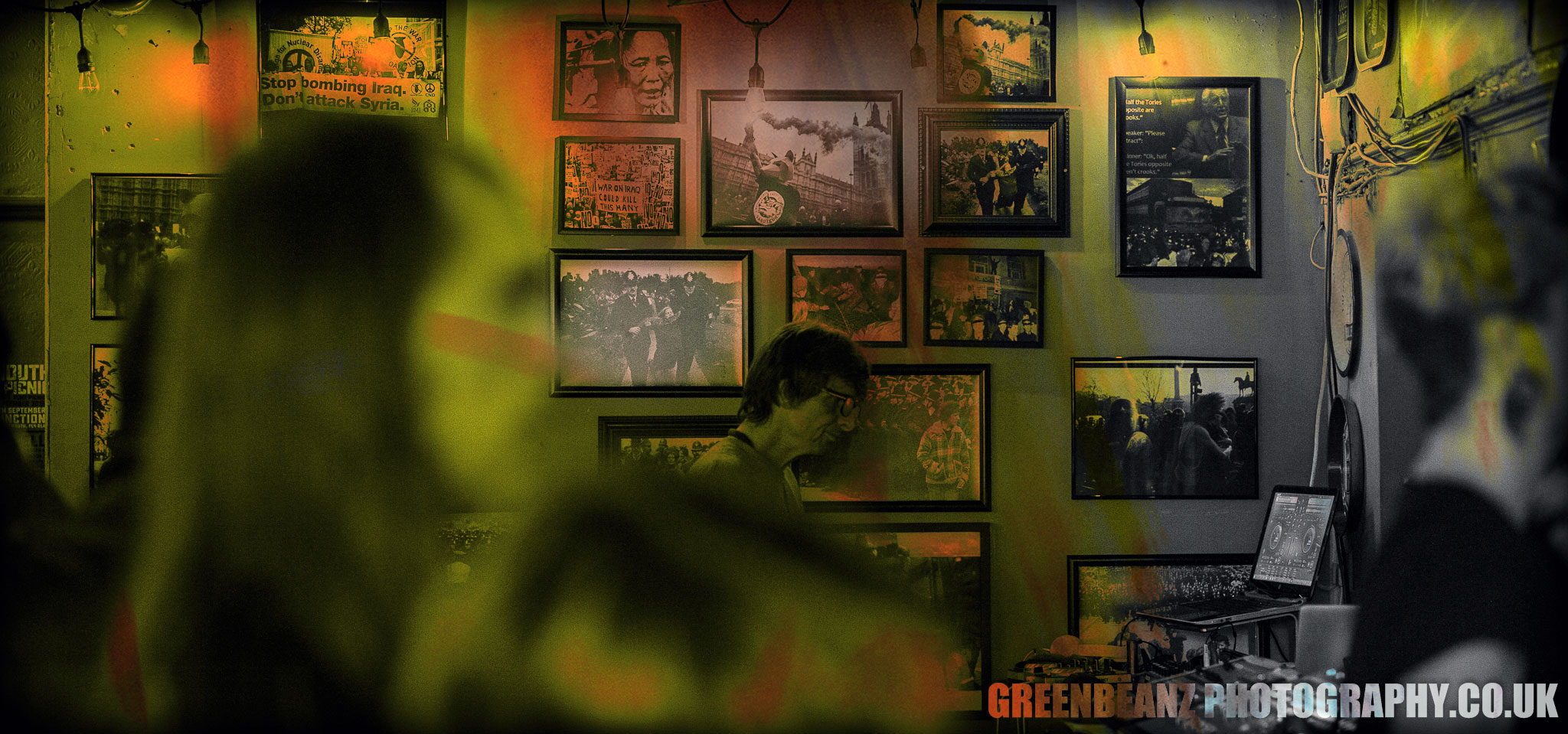 ABOVE : Veteran DJ Crusty (Kev) brought the dub reggae to the 2019 Plymouth Picnic
Earlier in the day on Sunday, Little Bohemia delivered a great polemic on the back of some solid songs. Duncan, Nick and Co, no longer available as bite sized chunks or as the topping on a Hawaiin pizza , are still managing to divide opinion even amongst non pizza aficionados, with Kev declaring them his favourite band of the day. It was a joy too, to once again hear dub and reggae back where it belongs at the heart of the scene, punctuating the bands sets courtesy of the aforsaid Kev, in his other role as the incomparable DJ Crusty.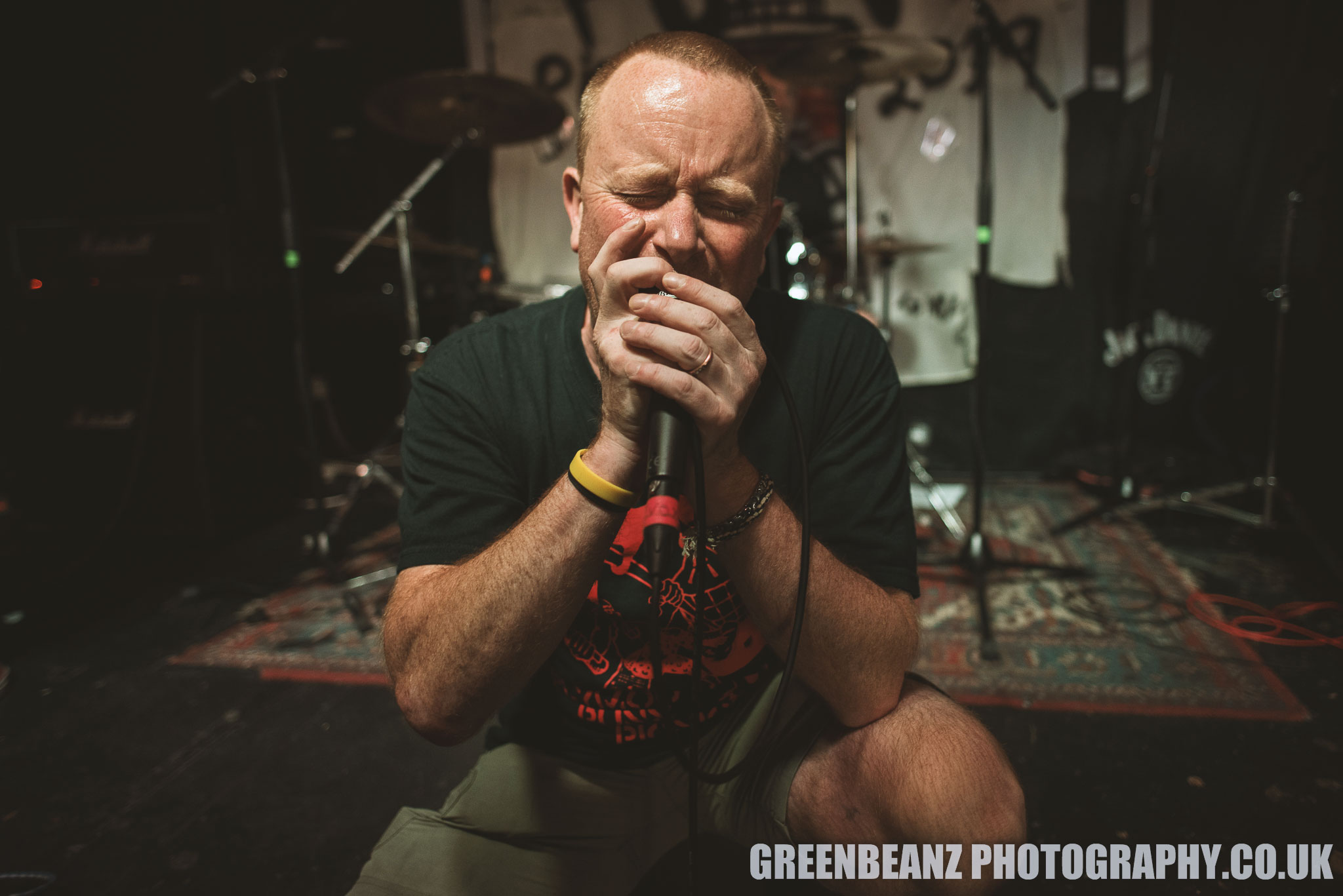 ABOVE : Duncan Pope frontman for Little Bohemia at the 2019 Plymouth Punx Picnic
Alternative Attitude have a great set of the less than obvious covers with which to entertain the educated, nearly masses, and do so with aplomb and no small amount of ability. It is great to see the Jurrasik Punk Frontman out from behind the kit, and a great treat to finally catch them live.
I wrote a paragraph that pretentiously said

"The Waterboarders benefited greatly from the tight but gut wrenching bottom end of the venues PA, lending Tony Popkids floor tom a touch of the grand Canyon that channelled out a cavernous tube through which Darren Miles could ride on top of Adam Ren's aqua seafoam bass."
but it just did not scan right and so I left it out. They were bloody good though.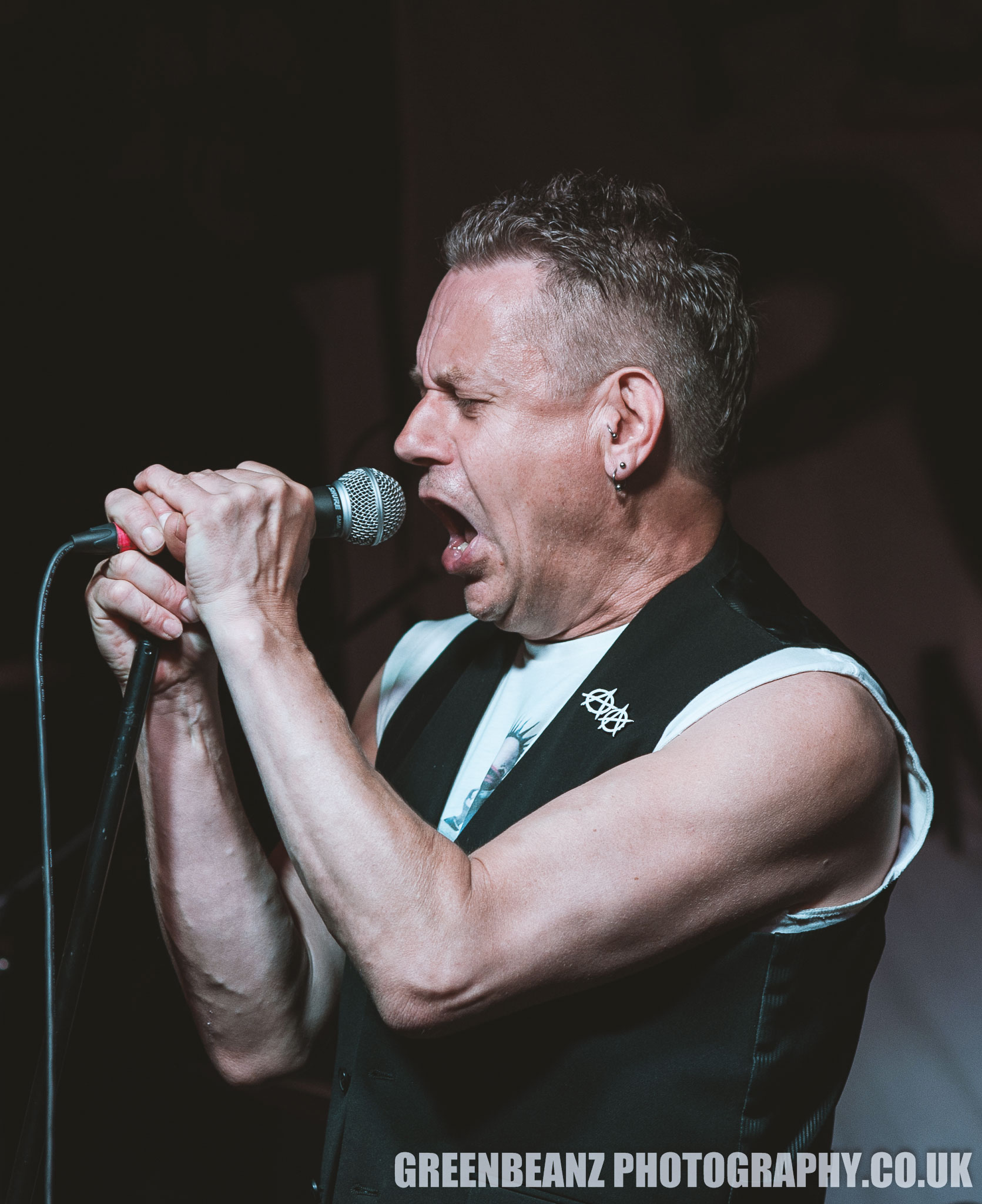 ABOVE : Alternative Attitude help to wind up the 2019 Plymouth Punx Picnic
I missed a lot of bands this year, including the whole of Day three, the openers on Thursday and Friday and the headliners No Rebel who closed the weekend on Sunday, so apologies for things outside of my control, but those I did catch were bloody marvellous, and restored my faith in not being deaf yet. Long may the picnic carry on and continue to bring together fans, bands, promoters, venue owners and staff, in a celebration of the open arms and many tribes of punkdom in this fair city and it's neighbours.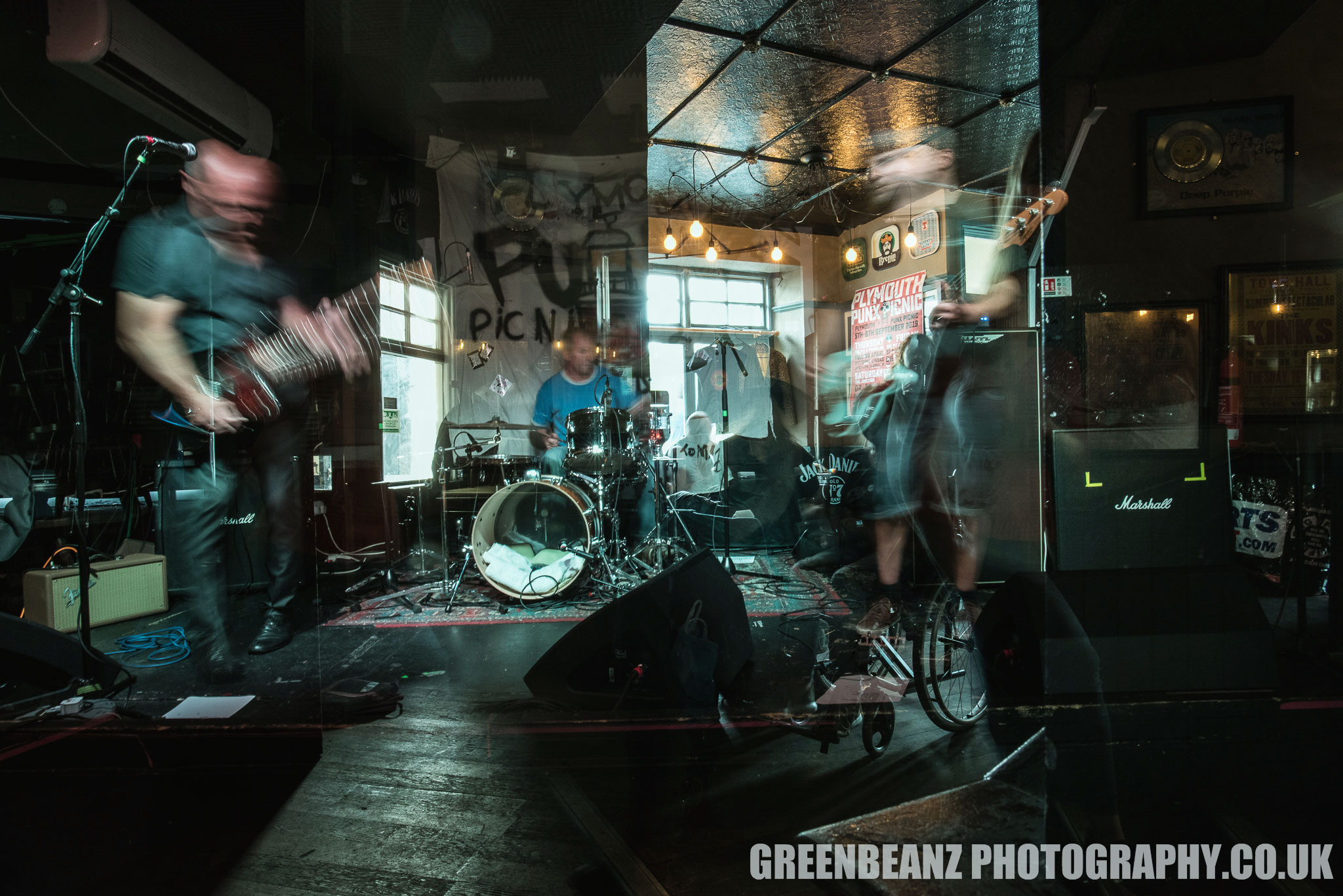 ABOVE :The Waterboarders at The Junction in Plymouth for the 2019 Punx Picnic
You can find more photographs from the gigs here - Greenbeanz Photography on Facebook