Bad Manners | The Hub | Plymouth | Thursday 29 March 2018
Greenbeanz Photography
Bad Manners | Thursday 29 March 2018 | Plymouth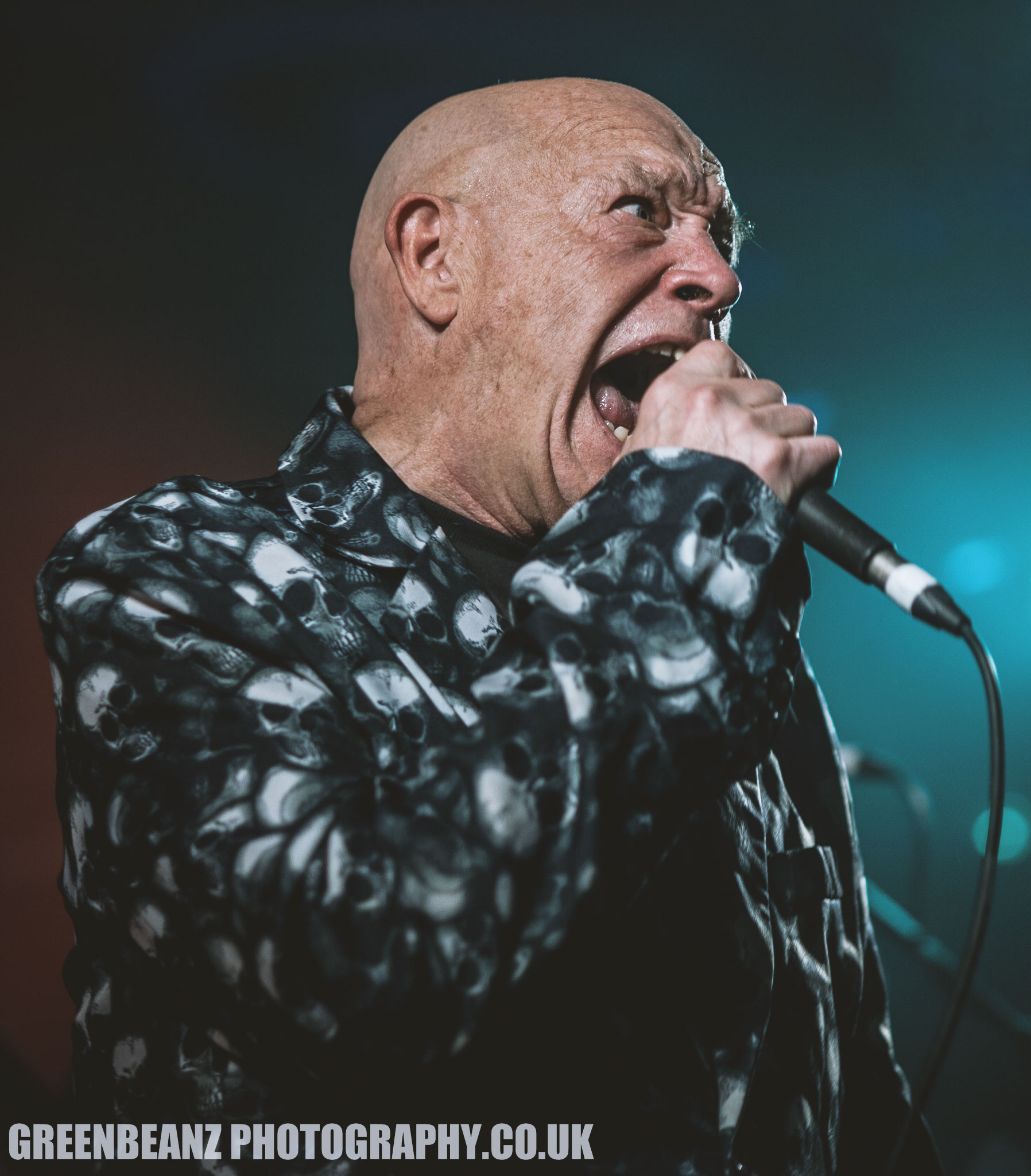 ABOVE : Buster Bloodvessel at The Hub Plymouth Thursday 29th March 2018
Two years ago in 2016 Bad Manners toured the UK to celebrate their 40th Birthday. Tonight Buster Bloodvessel and his crazy cohorts took to the stage at Plymouth's Hub and took the 400 or so Ska Fans on a loony journey through a back catalogue chock full of huge party tunes, in a skanking celebration of UK Ska.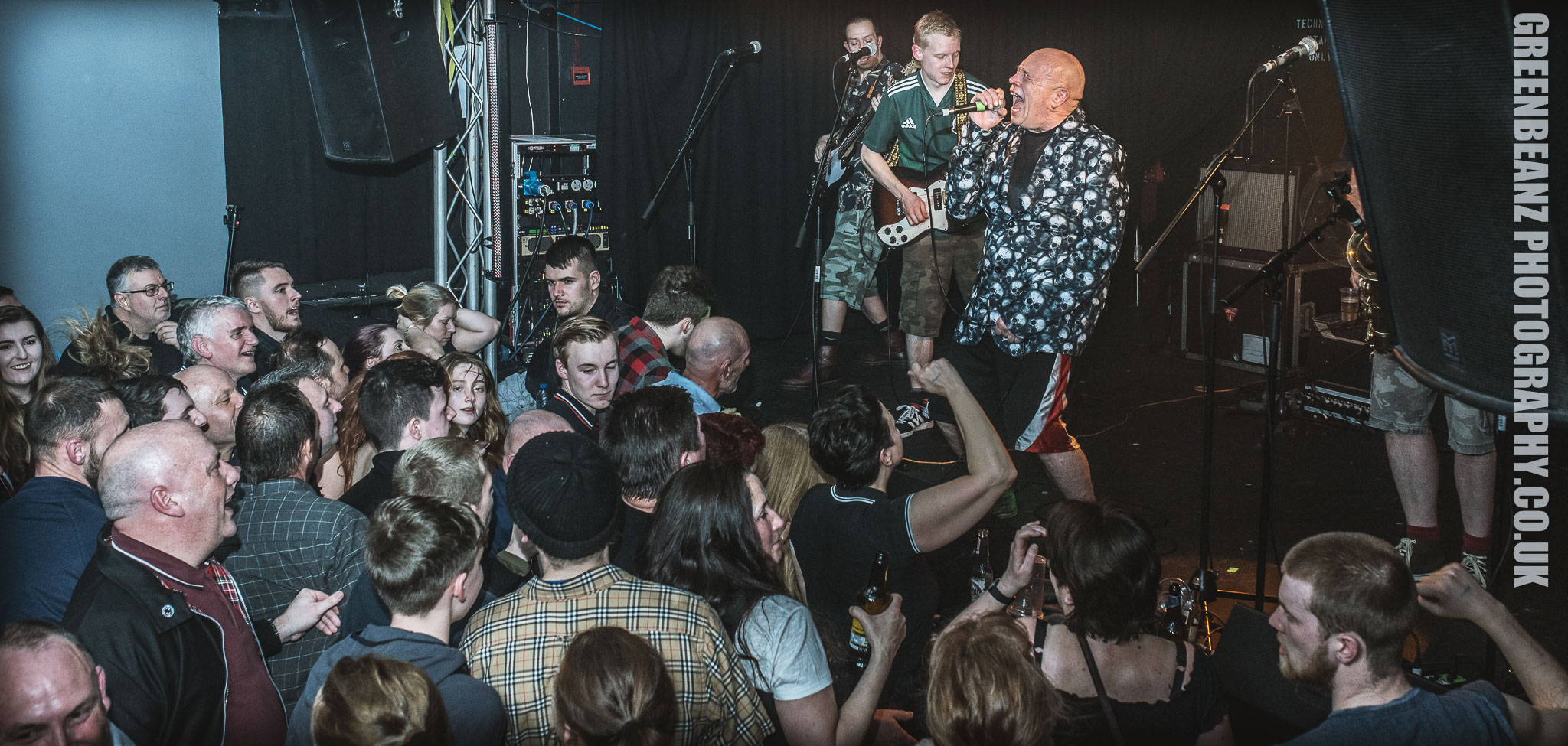 ABOVE : Bad Manners UK SKA legends live at The Hub Plymouth
Douglas Trendle AKA Buster Bloodvessel is a legend of the UK live music scene. The bald headed, massively tongued, short wearing frontman is a huge talent, notorious as much for his huge appetite for life off-stage, as his performances over so many years, as the rudest of rude boys on it.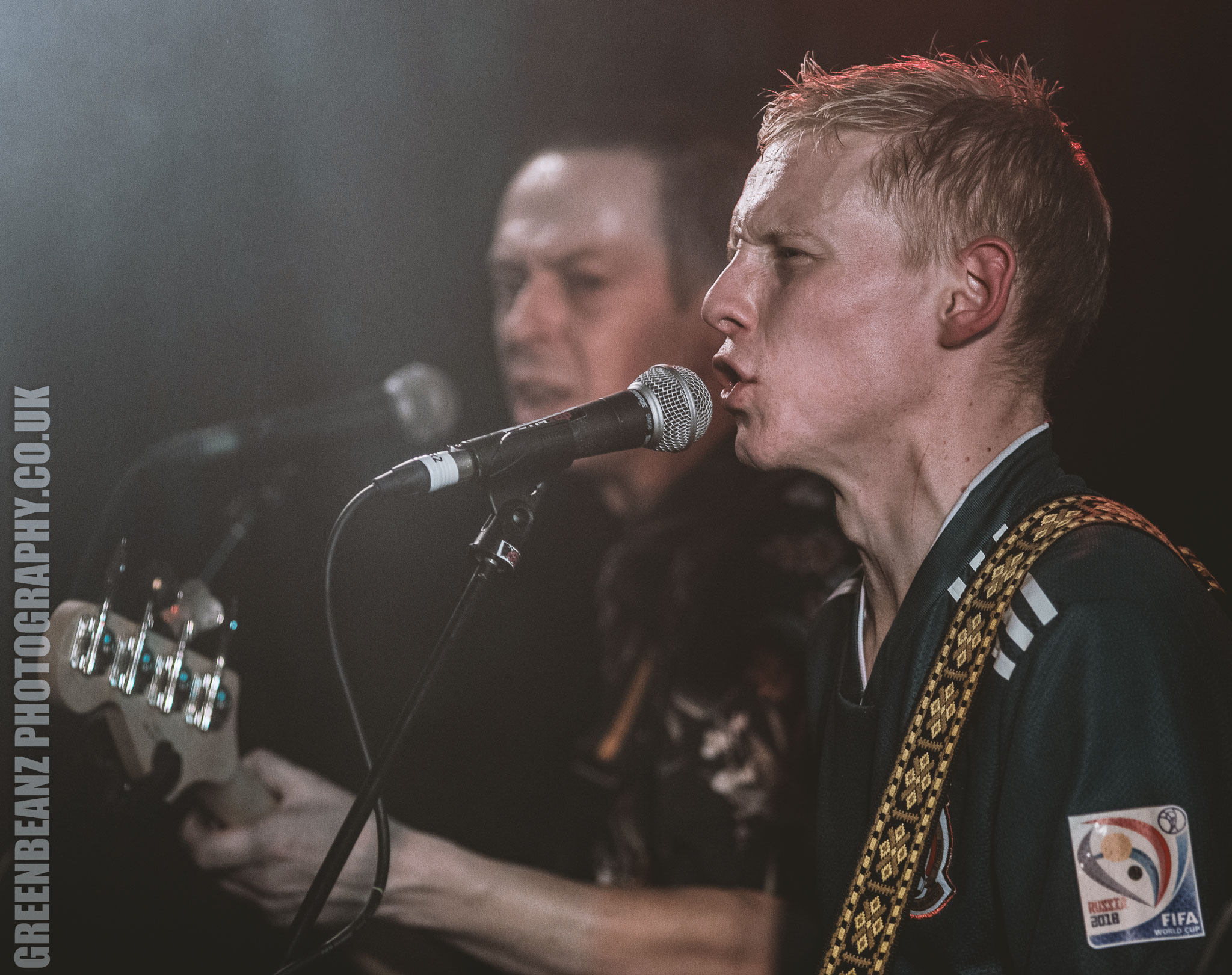 ABOVE : Bad Manners Surf Drenched Guitar on 'Don't Knock The Baldhead
Although never signed to the Two-tone label, Bad Manners were no less honest when it came to writing songs about their lives. While The Specials, and The Selecter etc were more overtly political in their subject matter, Buster never had a problem singing about his own passions, with songs like Special Brew and Lip up Fatty endearing him to a whole generation of Ska fans who grew up listening and dancing to the sound of Bad Manners.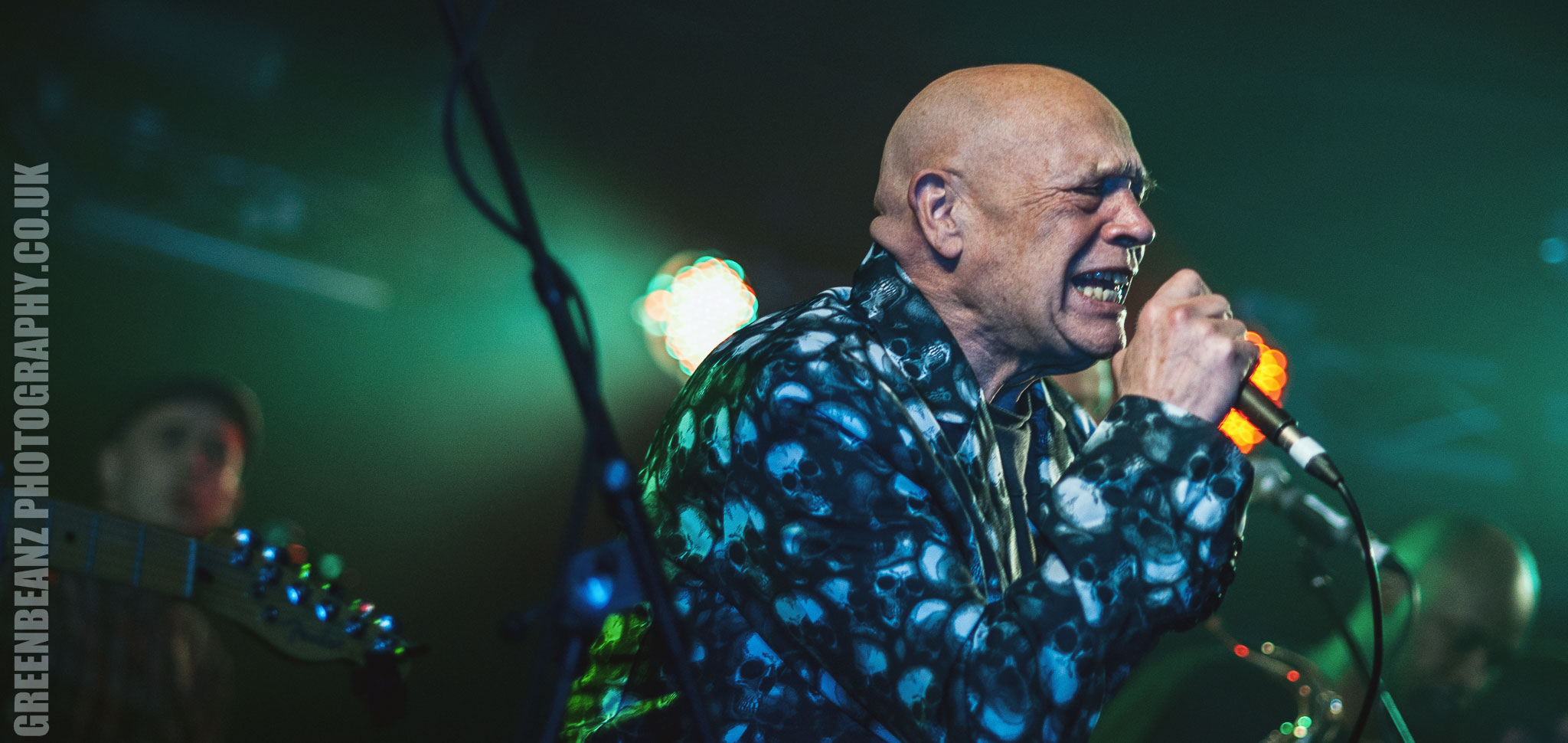 ABOVE : Buster Bloodvessel and Bad Manners British Ska Legends live in Plymouth 2018
Growing up in a Hackney drenched in Reggae and Ska, there is like their 80's fellow Ska Band, Madness, still an unmistakable Britishness in their interpretation of this joyful, timeless music. The brass section is vital, but the harmonica and the music hall sense of irreverent humour is there too, daring other bands to take themselves less seriously, while twinning witty lyrics with clever arrangements that would have your dead auntie Norah up and dancing on the living room table if you played it loud enough. Their popularity was undeniable, for a large part of the early 1980's Bad manners never left the UK singles chart.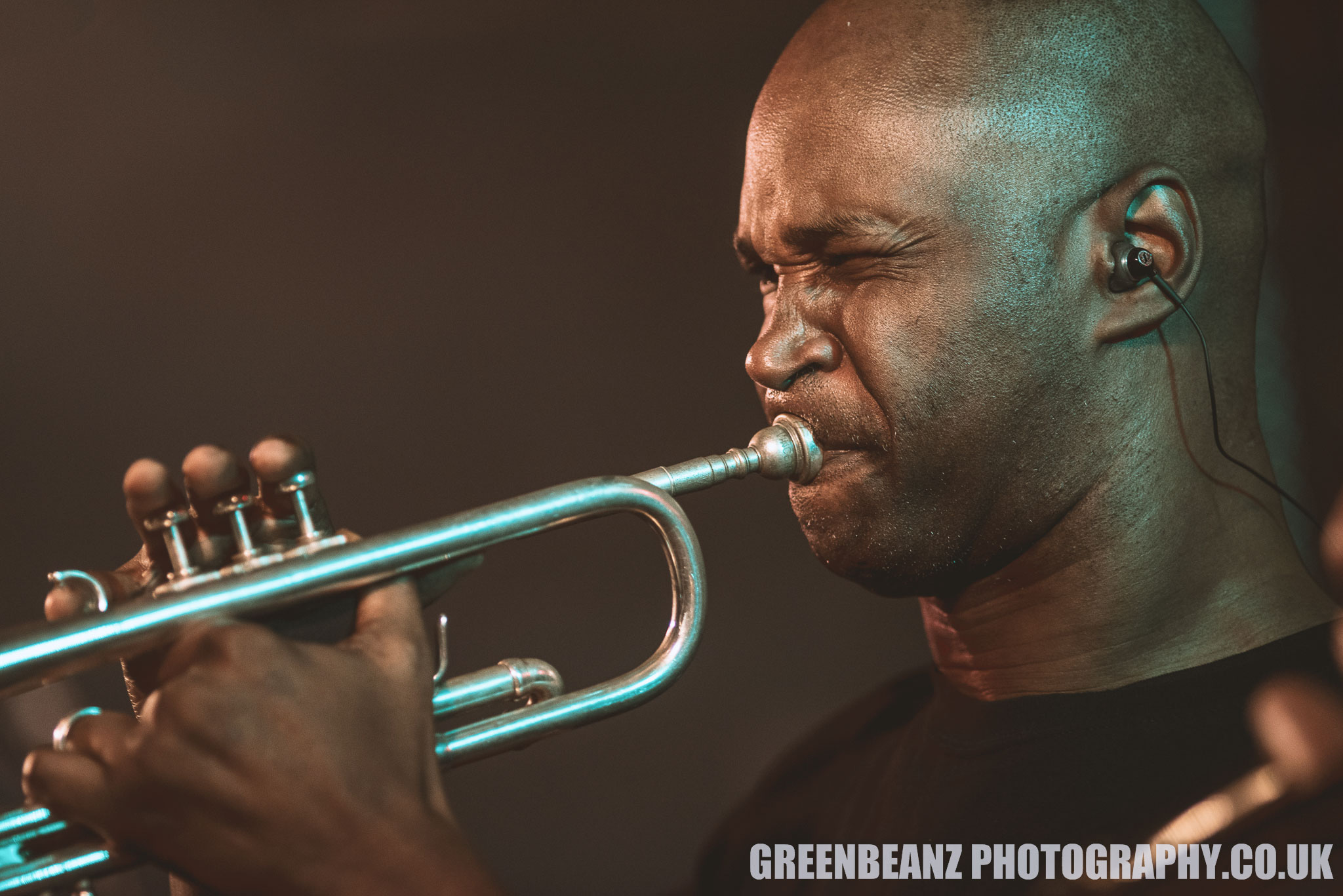 ABOVE : Infectious Brass Heavy Ska from UK Sks Masters Bad Manners in 2018
There are few people who have given more on a stage, than this national treasure of British Ska. An ambition to act was realised in his adoption of the role of Buster Bloodvessel,the Manor House man mountain, something that nearly cost him his life before surgery and massive weight loss in the the early noughties. The ebullient, infectiously funny frontman is much more than an image though. He lives it, and all those years of gigging and honing his craft, has the audience eating out of his hand.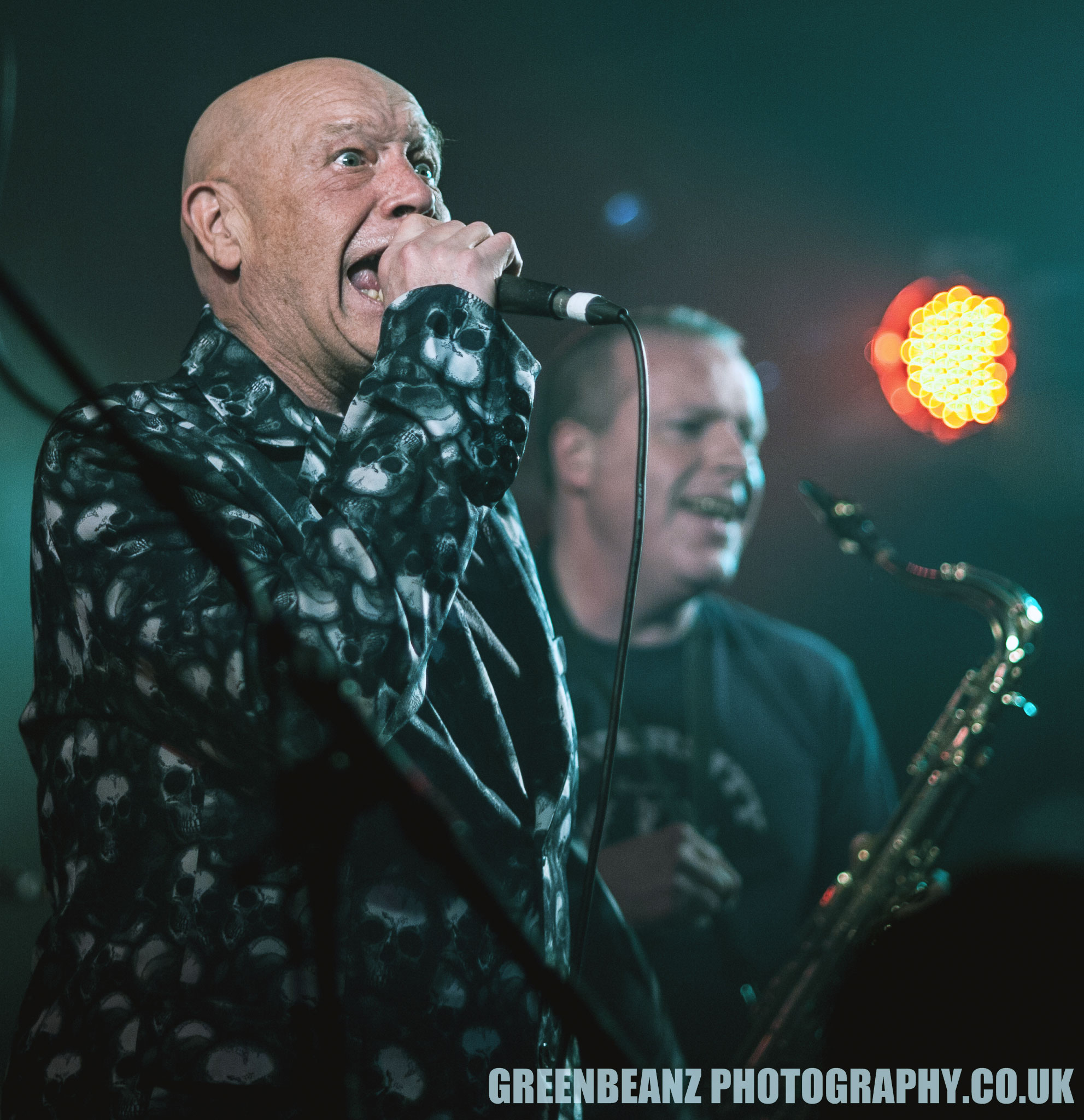 ABOVE : Buster Mark 2.The Frontman with less front still dominates the stage
The Band march on and open with Echo 4-2, warming the crowd up for the arrival of the main man. Eschewing the white jumpsuit for shorts and a skull print jacket, he thanks the 400 present for calling him a fat B*st*rd and launches into This is Ska, swiftly followed by a bouncy My Girl Lollipop, with a huge percentage now singing along. Lorraine is next, the crowd skanking and throwing themselves into it as the hugely expressive face of Buster contorts from despair to disdain, his titanic trademark tongue making it's first appearance in between verses.


ABOVE : UK Ska Fans skanking to Bad Manners at Plymouth's Hub in 2018
He apologises for being a little late on stage and asks if anyone Feel's Like Jumping? It is at this point you realise quite how densely packed their set is with unforgettable exultant exhortations. As always the Manners are in a party mood and sweep the crowd along with them. Buster coaxes the crowd into singing the na na na refrain and counting in the stabs of a brass section who are really in the swing of it now. You realise what a celebration of the working class this is, from one of our own, with Walking in the Sunshine. Like many of the choruses here, it would be as at home, as an ironic ode on a football terrace, as the Skatastic storming dance anthem it becomes here.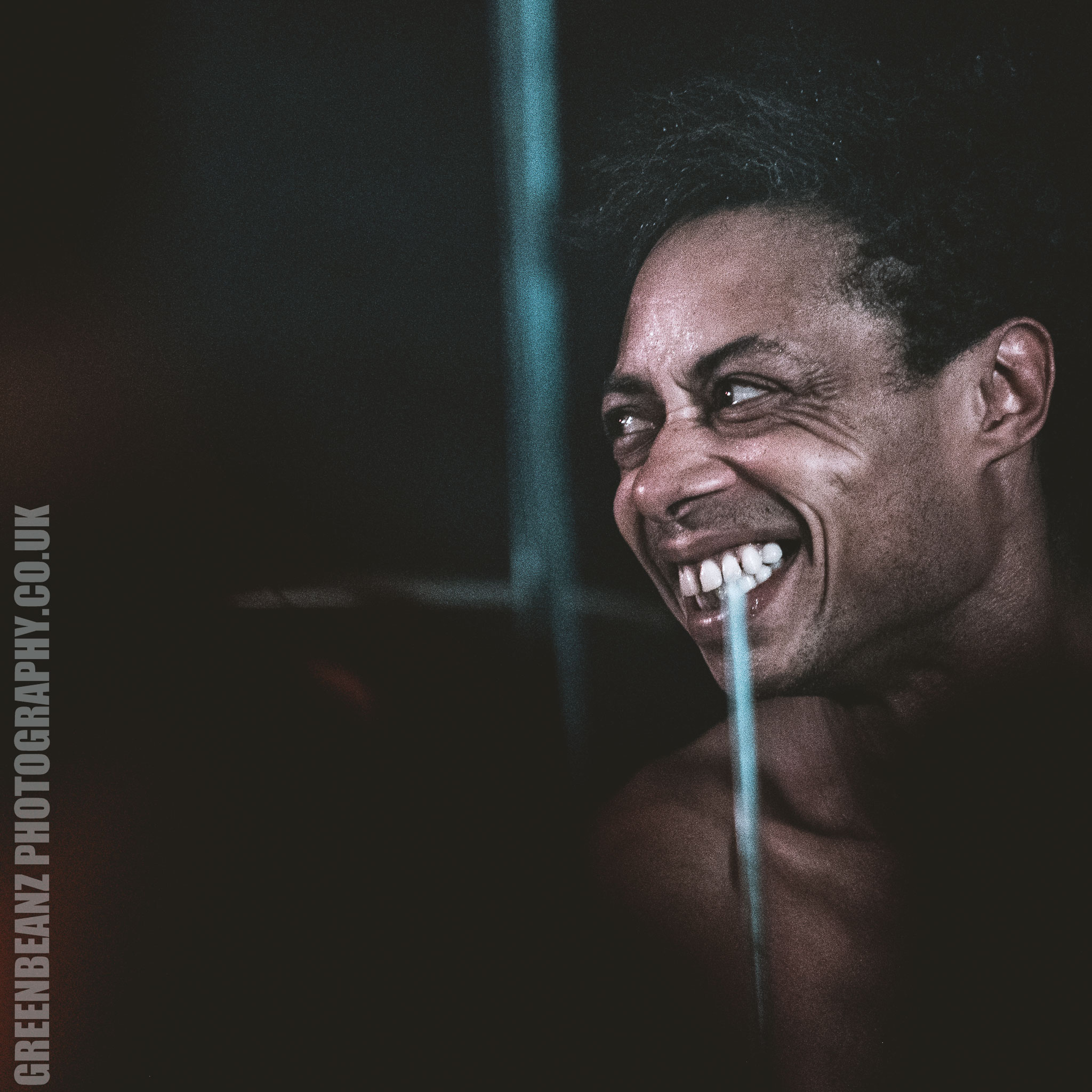 ABOVE : The Drummer from Bad Manners live in Plymouth 2018
Then my personal favourite Sally Brown rings out and I can't help but move my feet. I have been trying to keep them planted up to now, in order to capture some of the magic on camera, but with a vibe like this, it becomes all but impossible. It is as vital and life affirming now, as it was when it appeared on Return of the Ugly in 1989, when I had just started working. The crazy organ run leads up into Fatty Fatty, and the thoughts of an adoring audience are summed up in it's opening line. 'I really love you Fatty Fat'.
BELOW : Buster Bloodvessel and addresses Plymouth Ska Fans in 2018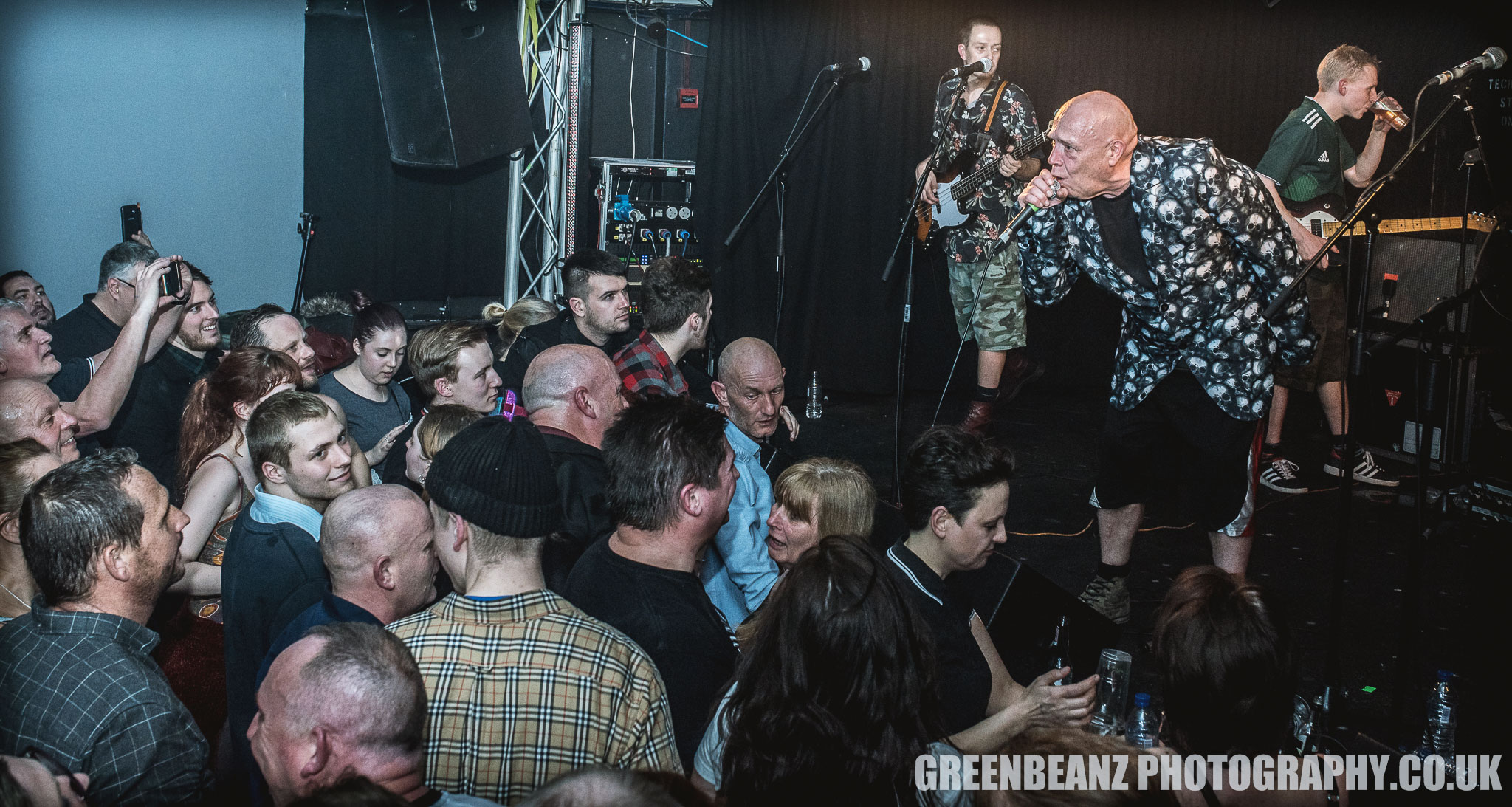 The organ again leads us into another brass heavy number with King Ska/Fa. The trumpet player almost keeps up with Buster in the gurning stakes, with the face pulling fanfare that announces Red River Ska. So sing-a-long are this band, that half the audience la la la and na na na, along with the brass lines of this instrumental. Can't take my eyes off of you the 1967 Crewe and Gaudio classic released by Frankie Valli, is masterfully reworked as a celebration, and the badda's and na na na's are back as the crowd sing every word, 'I love you baby' ringing around The Hub. Just a feeling is next, the Loonee Tunes classic preceding a dedication to all the feather cut wearing ladies in attendance with Skinhead Girl. The band march on with Inner London Violence before playing The Skatalites El Pussycat as the packed Hub skanks along in merry abandon.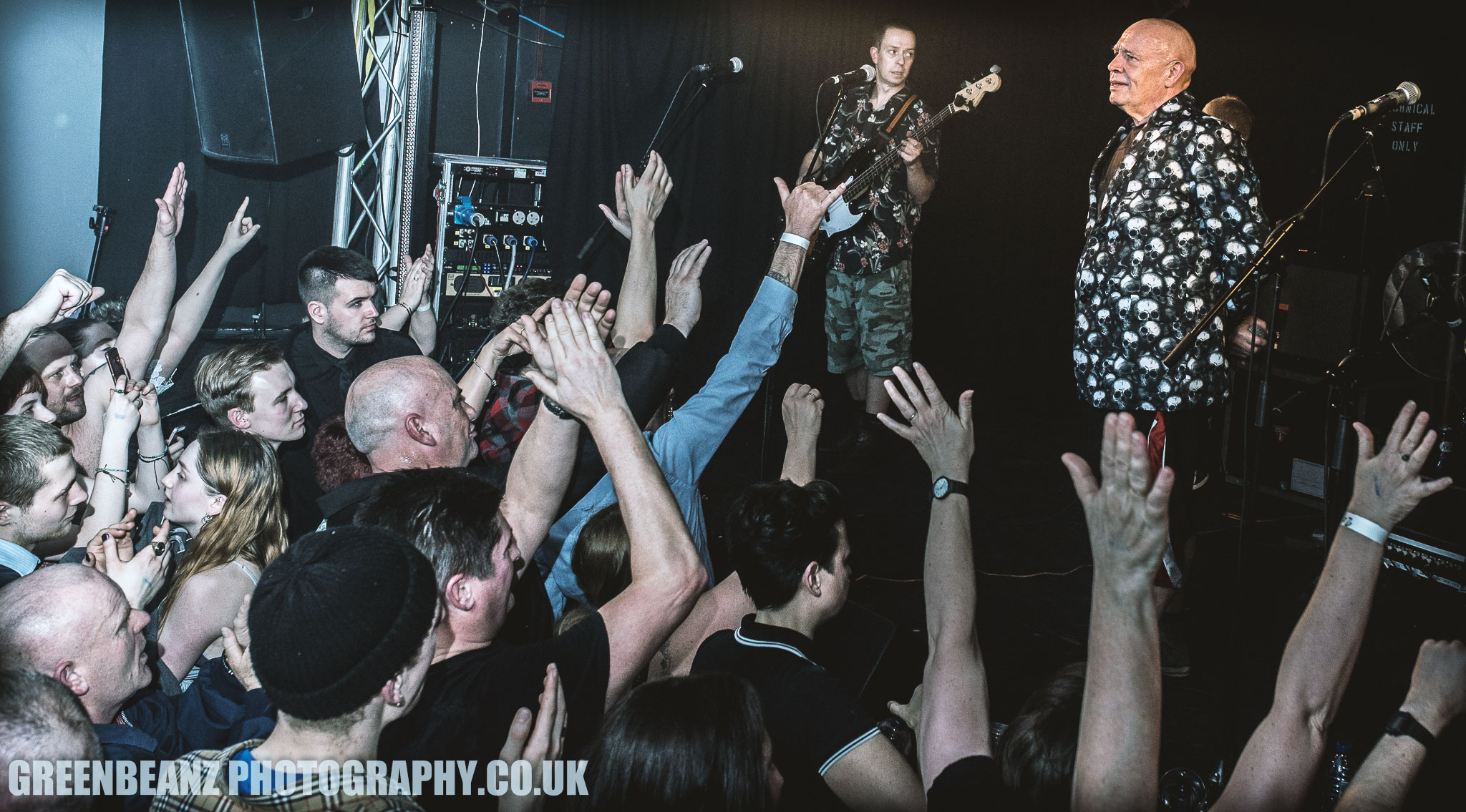 ABOVE : Ska fans at The Hub Plymouth for Bad Manners in 2018
The template for nonsense syllables was set from the very start of this joyous band, as demonstrated by their debuting with a cover of Dicky Doo and the Don'ts Ne-Ne-Na-Na-Na-Na-Nu-Nu, which they segued straight into, finishing with Buster singing 'end of song' , and then quipping that they wrote it at the age of two.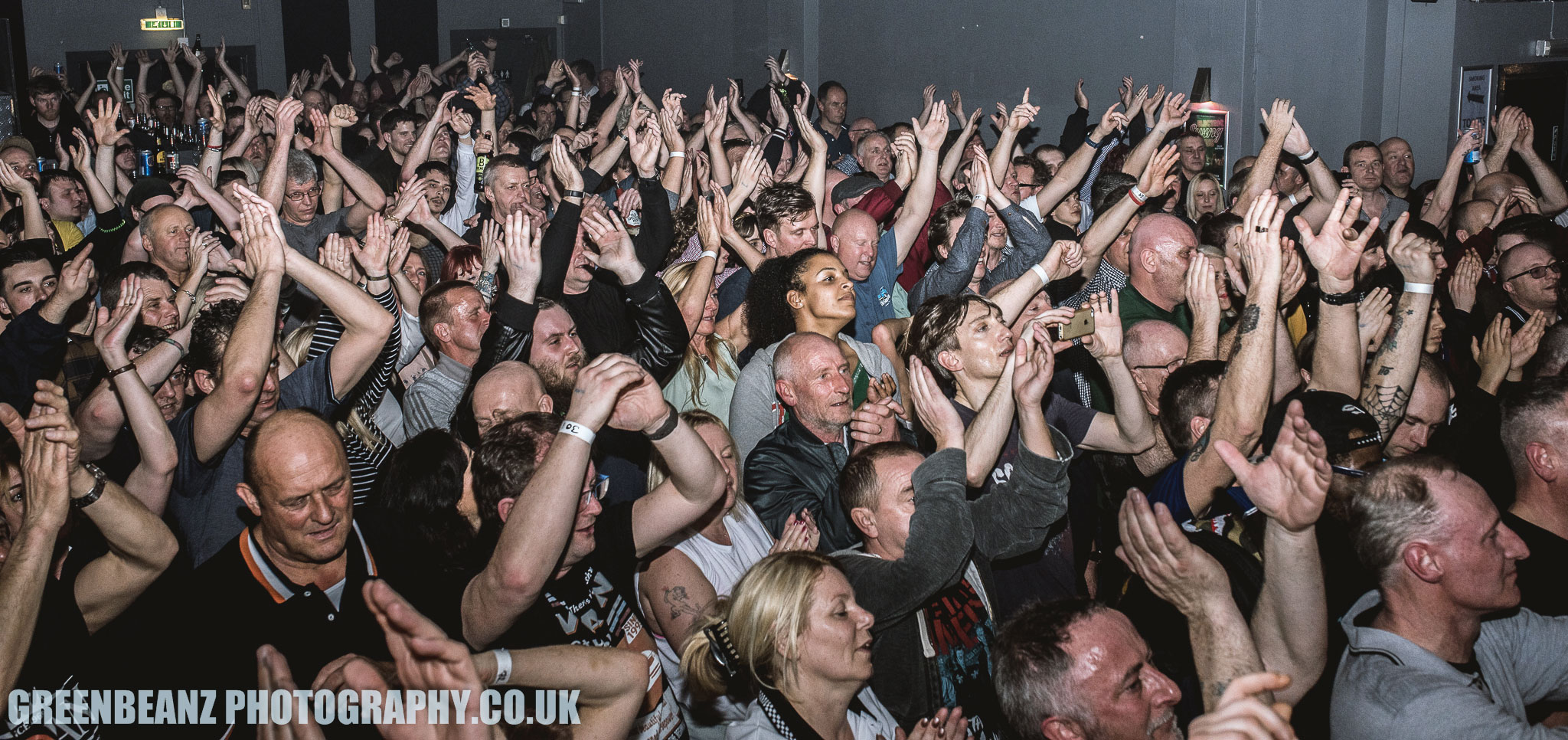 ABOVE : Plymouth Ska Fans Applaud Bad Manners in 2018 at The Hub
Buster then gives the audience a sing-a-long master class with another cover, the Nappy Brown classic Don't be angry. By now he could have sung the Yellow pages if it still existed, and everyone would have joined in, so Woolly Bully is no problem, with the Keys player shredding it as the crowd start on the road to full on mental. This was the bands first gig back in England after a stint in the States and Special Brew had the same inebriating effect of a few cans of the syrupy canned beverage.
Buster left the stage to the same chants of 'You fat B*st*rd' that had welcomed him,and the band encored with Don't knock the Baldhead, complete with some suitably surf style guitar work, for down here in the westcountry. The mirthful maestro returned with Lip up Fatty, and the crowd were encouraged to go fricking mental to the Can Can. They were only to happy to oblige.
More pictures to come later on facebook here