Greenbeanz Photography
Four Candles| Harbour House Kingsbridge| 13-18 /07/2021 | Ian Shalliker, Jo Beer, Niki Hill and Stephen Beer
Four Candles | Harbour House | Kingsbridge | July 2021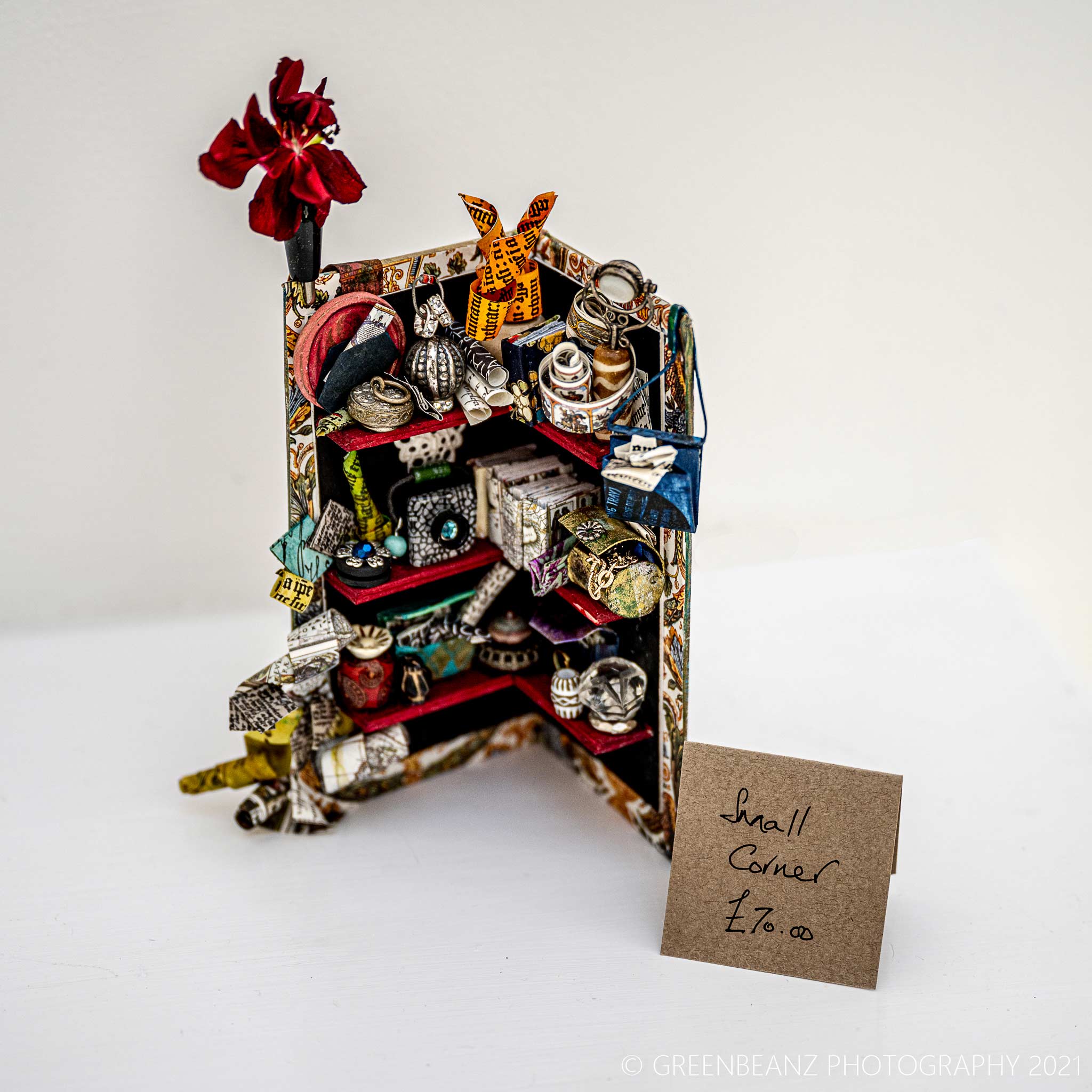 ABOVE : Niki Hill's 'Small Corner' at the Four Candles exhibition in Kingsbridge
I was very engaged by Niki Hills miniatures, a much overlooked and too easily dismissed discipline that under her hands unfurl tightly wound stories that are so much bigger than the often tiny packages into which they are woven. There is a lightness of touch in the attention to detail here , nothing overworked or made dull through repetition.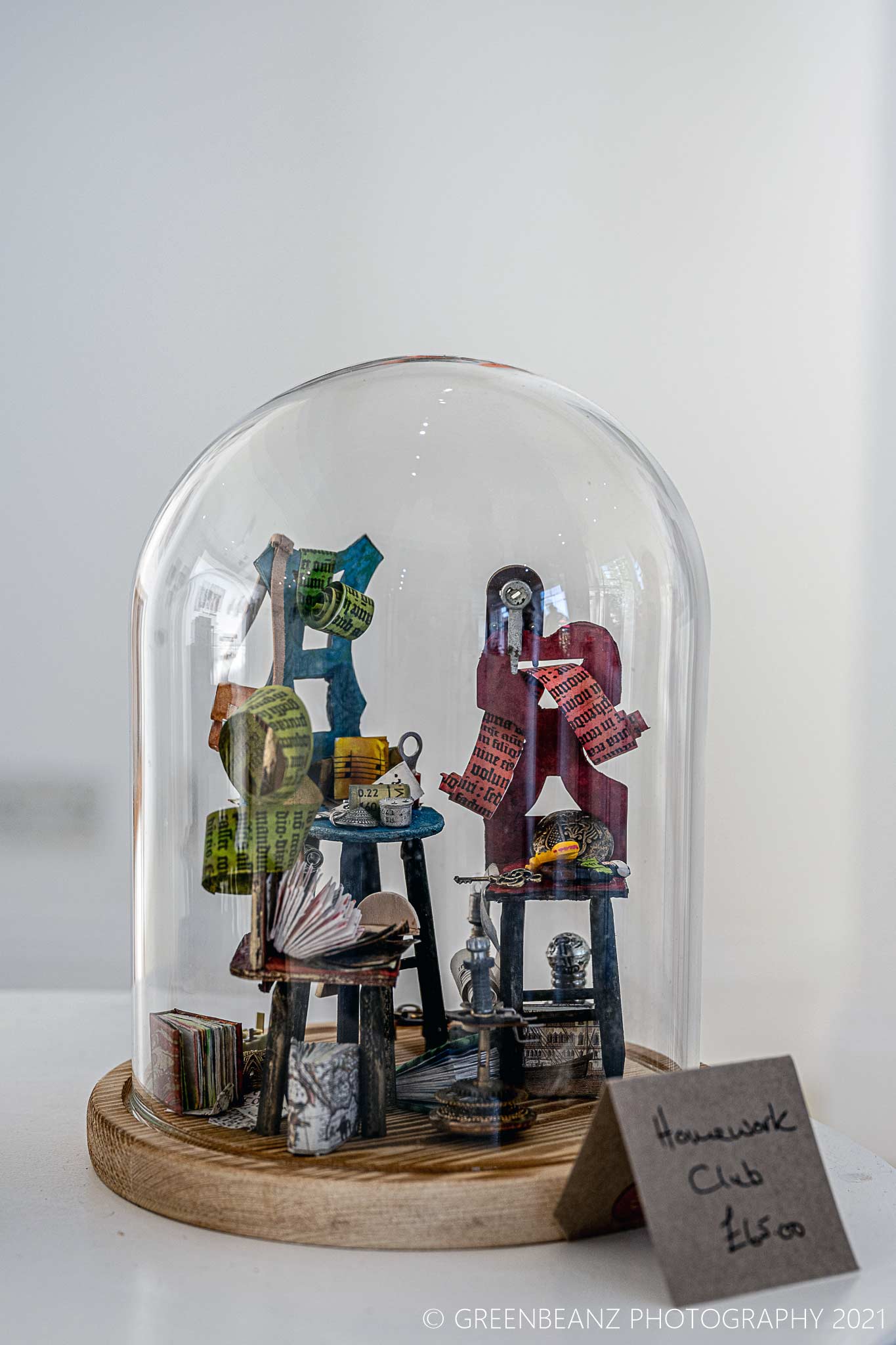 ABOVE : Niki Hills 'Homework Club' at Harbour House in Kingsbridge 2021
Like a collection of short stories or a shelf full of novellas, the insatiable youthful curiosity evoked by 'Homework Club' , the questing nature of 'The Journey' and the touching affection of a much repeated glamour ritual of the mirrored dressing table in 'Getting Ready', (complete with the faded romance of dress jewellery and love letters), all hint at a much larger world beyond the tiny books and hidden treasures so meticulously re-created. Like an illustrator these are not replicas they are stylistic impressions of a shared inner world.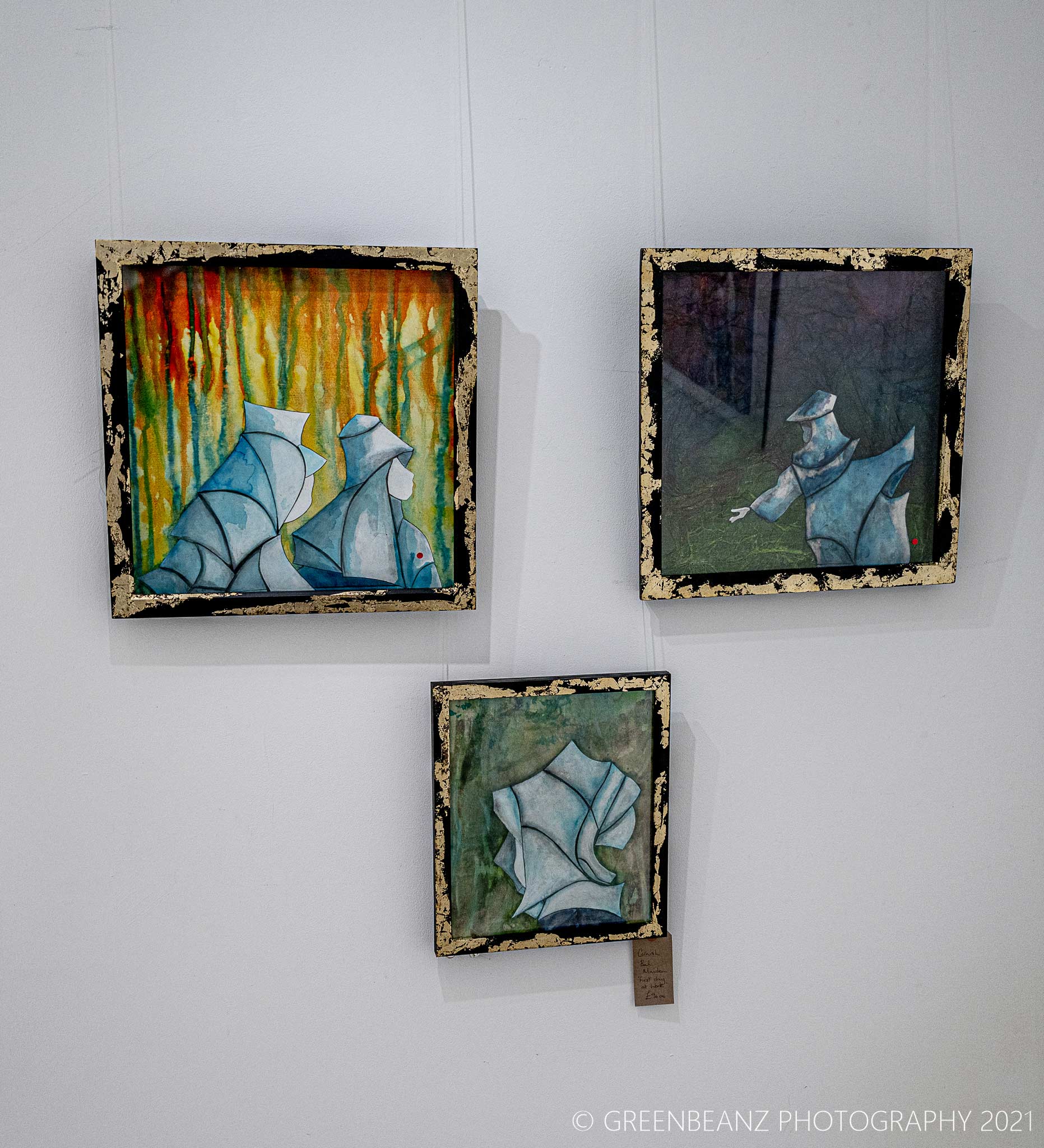 ABOVE : Niki Hills 'Cornish Bal Maidens' at Harbour House in Kingsbridge 2021
Her Cornish Bal Maidens, hand cut cardboard profiles of the much maligned labourers with gold leaf frames reflect the same kind of inner light as religious icons with there multifaceted nun like robes and headdresses calling to mind precious gems and hinting at the untapped mythologies as though they were all on some pilgrimage that history never thought important enough to be recorded.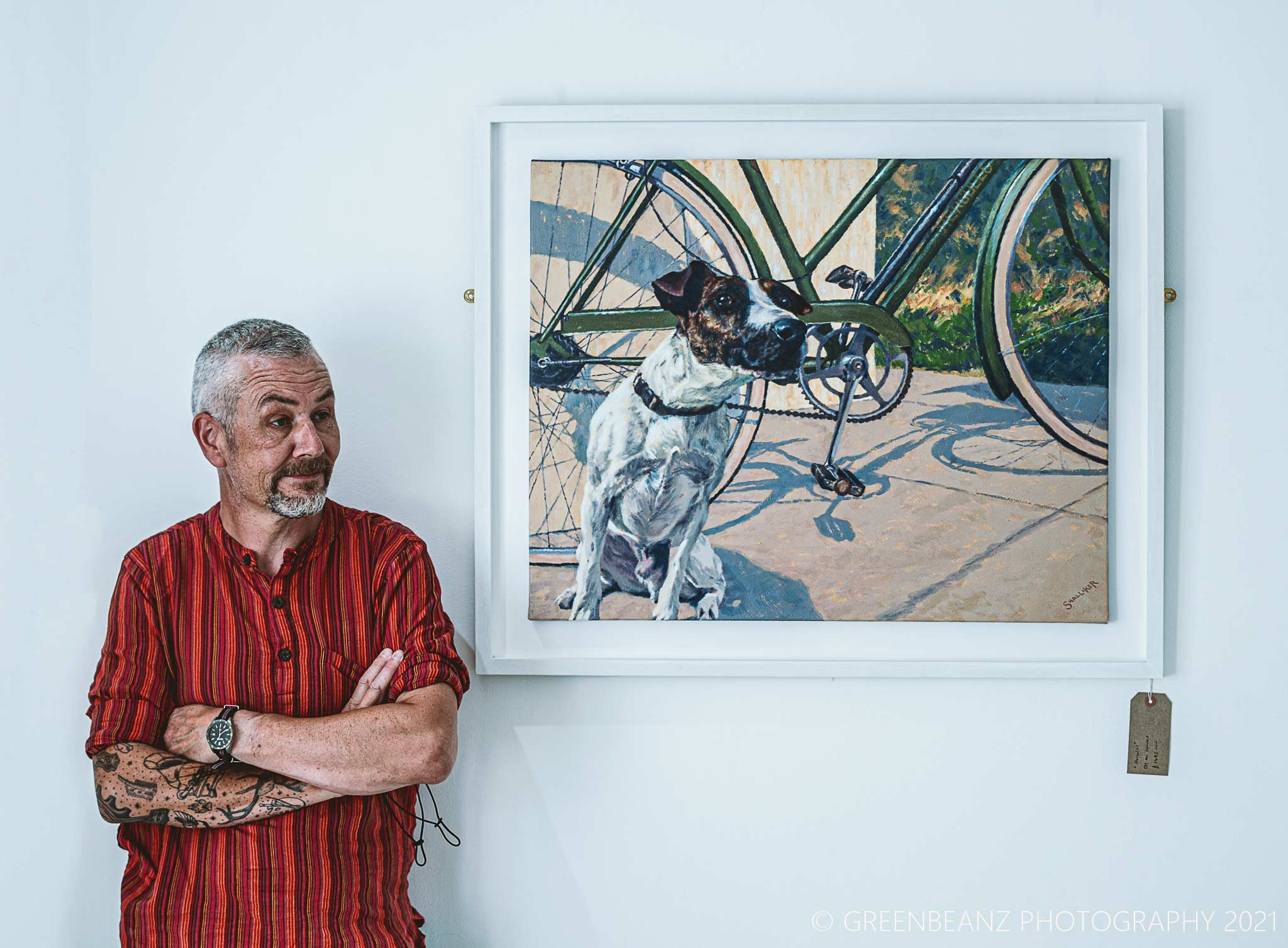 ABOVE :Ian Shallike at Harbour House with his painting 'Hercules'
Much like Ian Shallikers ' Hercules ' the Hellenic hero here is small, in this case, his own little terrier, full of character and curiosity meeting the viewer in a collection that under this painters hand, captures that special light you remember from your childhood when days seemed to last forever.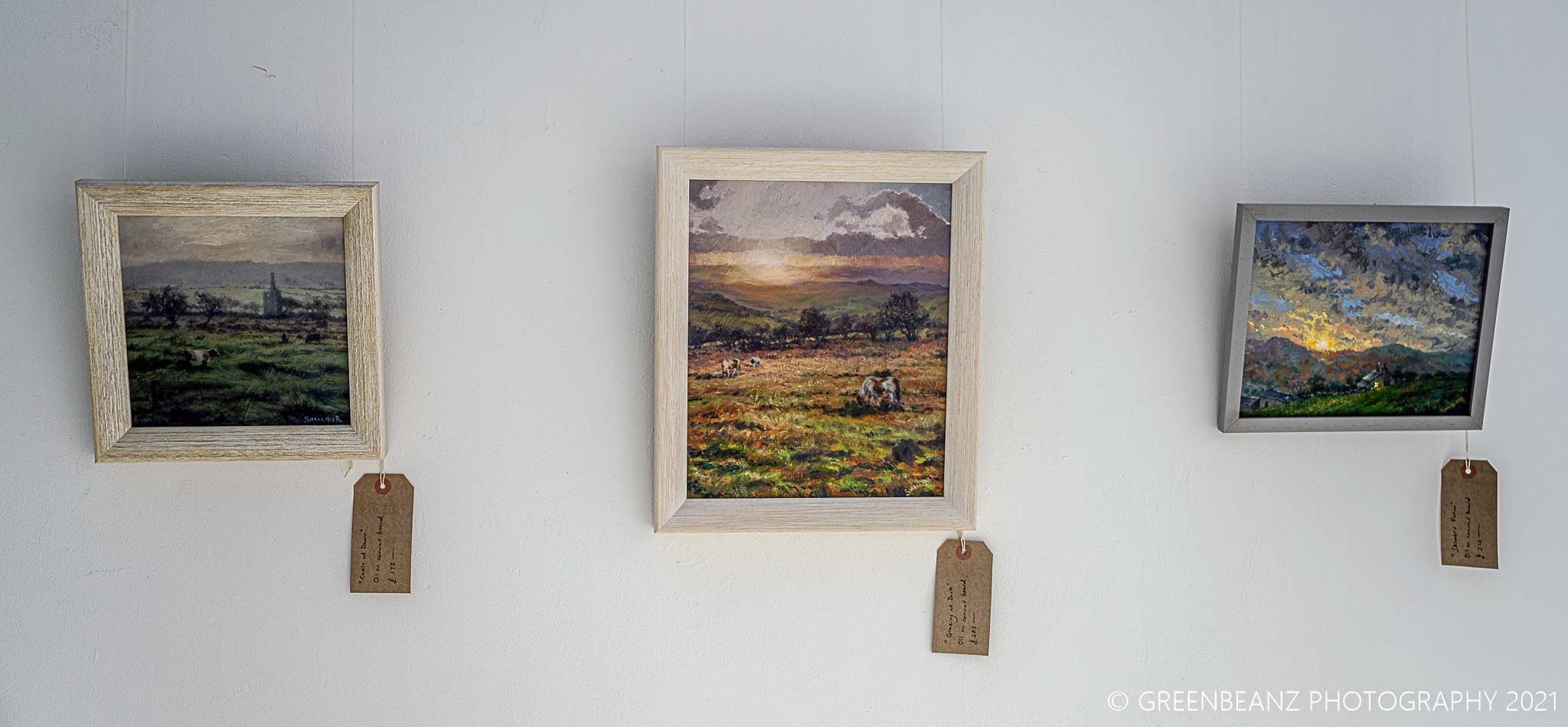 ABOVE : Ian Shalliker Landscapes at Harbour House
Working with oil on board and canvas, his landscapes are bathed in the warm diffused glow of sunlight kissed through clouds, and recreate a muted moorland of great depth, along with more personal evocative themes and characters, like his dog or an old Chopper pushbike, that reflect back on endless summers.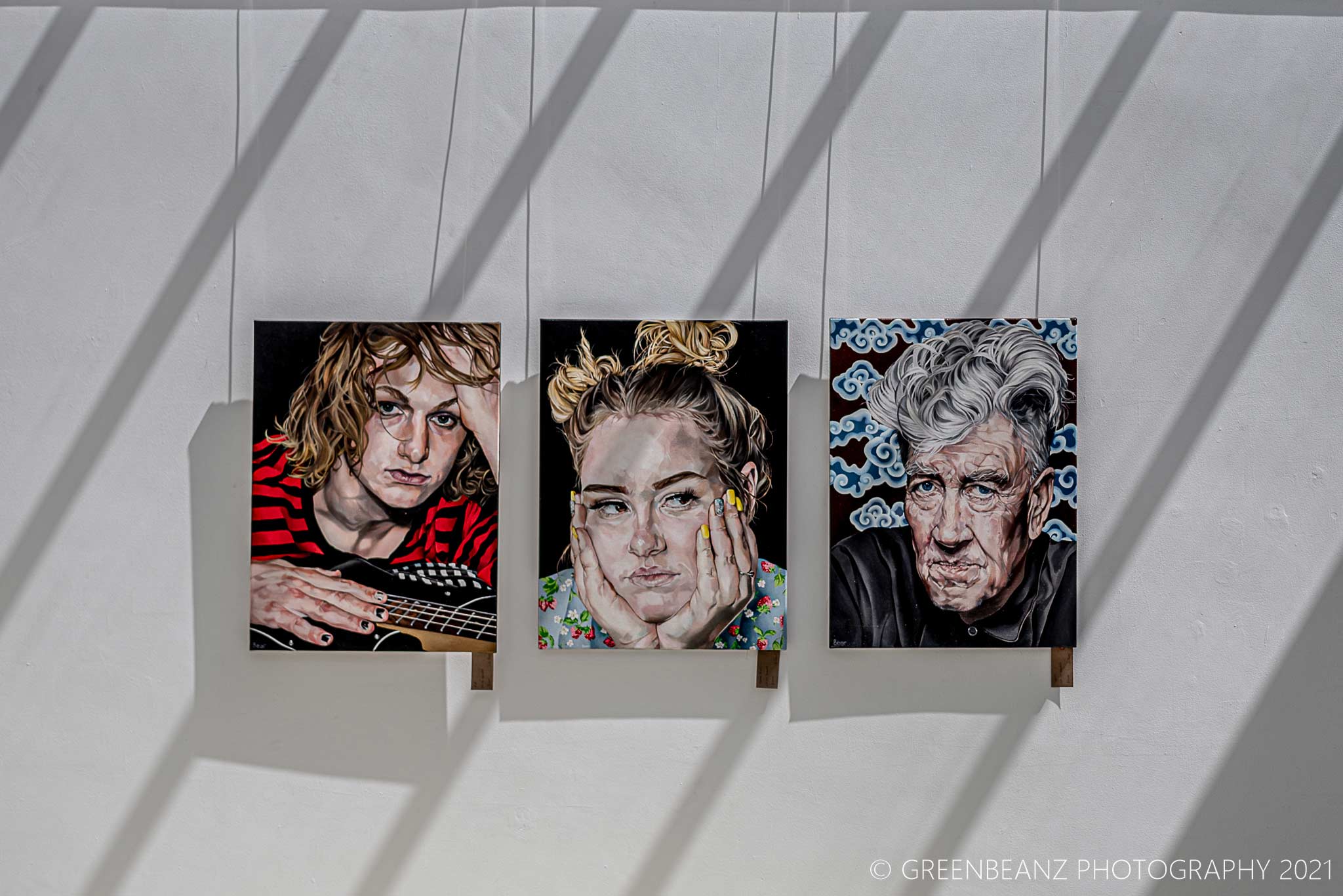 ABOVE : Jo Beer's portraits at Four Candles in Kingsbridge in 2021
That same eternal light permeates through the clouds behind Jo Beer's luminescent portrait of David Lynch, signalling his transcendental meditation and the power of it as a practice long before things like mindfulness reminded us all of why there is only ever really now.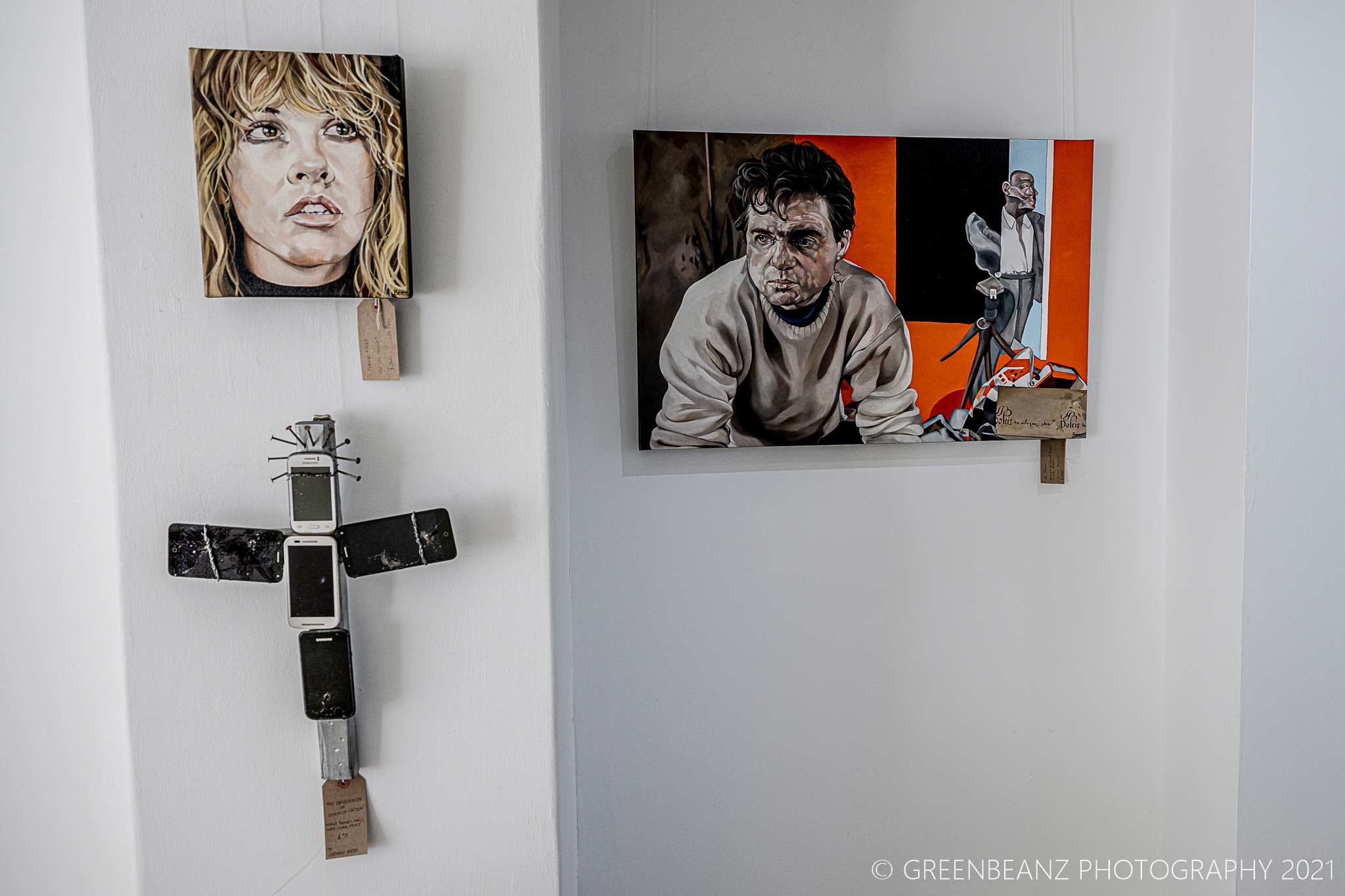 ABOVE : Jo Beers Bacon and Nicks Portraits and Stephen Beer's art at Harbor House 2019
Her portraits are constantly evolving and the context of the sitters now often juxtaposed as subjects with their own work or practice joining them on the canvas, has given them a magic that is skilfully demonstrated here in her portrait of Bacon. It hangs in this cleverly curated exhibition space, next to her square canvas of Stevie Nicks, a Witch whose ethereal voice seems to comfort a viewer faced with the uncompromising Bacon and Steve Beer's 'The Crucifix of Communication' that hangs below, broadcasting a warning about the almost religious devotion that cell phones encourage in drawing our focus away from more heavenly faces of our loved ones still here on earth.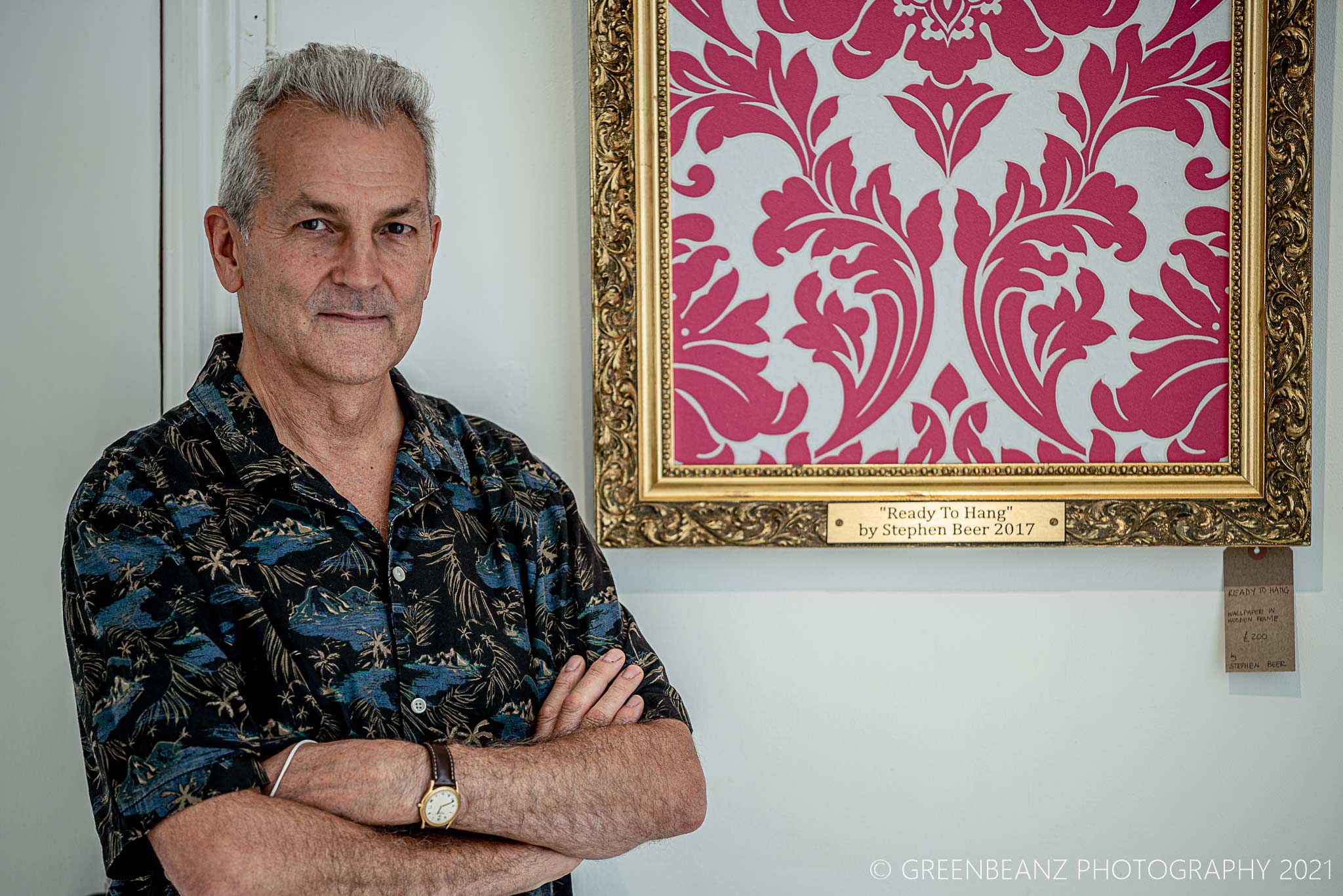 ABOVE : Stephen Beer next to 'Ready to Hang' at the Four Candles exhibition
Steve Beer has always struck me as somebody never afraid to nail the light down. His focus is clear and resonant in whatever medium he chooses to work and I have yet to be confused or left in the dark in response to work that so brilliantly makes light work of some epic subject matter. His faceless ciphers, rendering emoji like pop culture icons with a light touch one minute, and then his epic ' Ready to Hang' re-contextualisation of everything from ready mades to framing and what constitutes art and where it lies inside and outside the frame, with a big sexy Gothic gong reverberating next to Jo Beers magnificent Vivienne Westwood, transported almost like an alien angel from a constellation of Royal crown jewels, 'God save the Queen ' still ringing in my ears .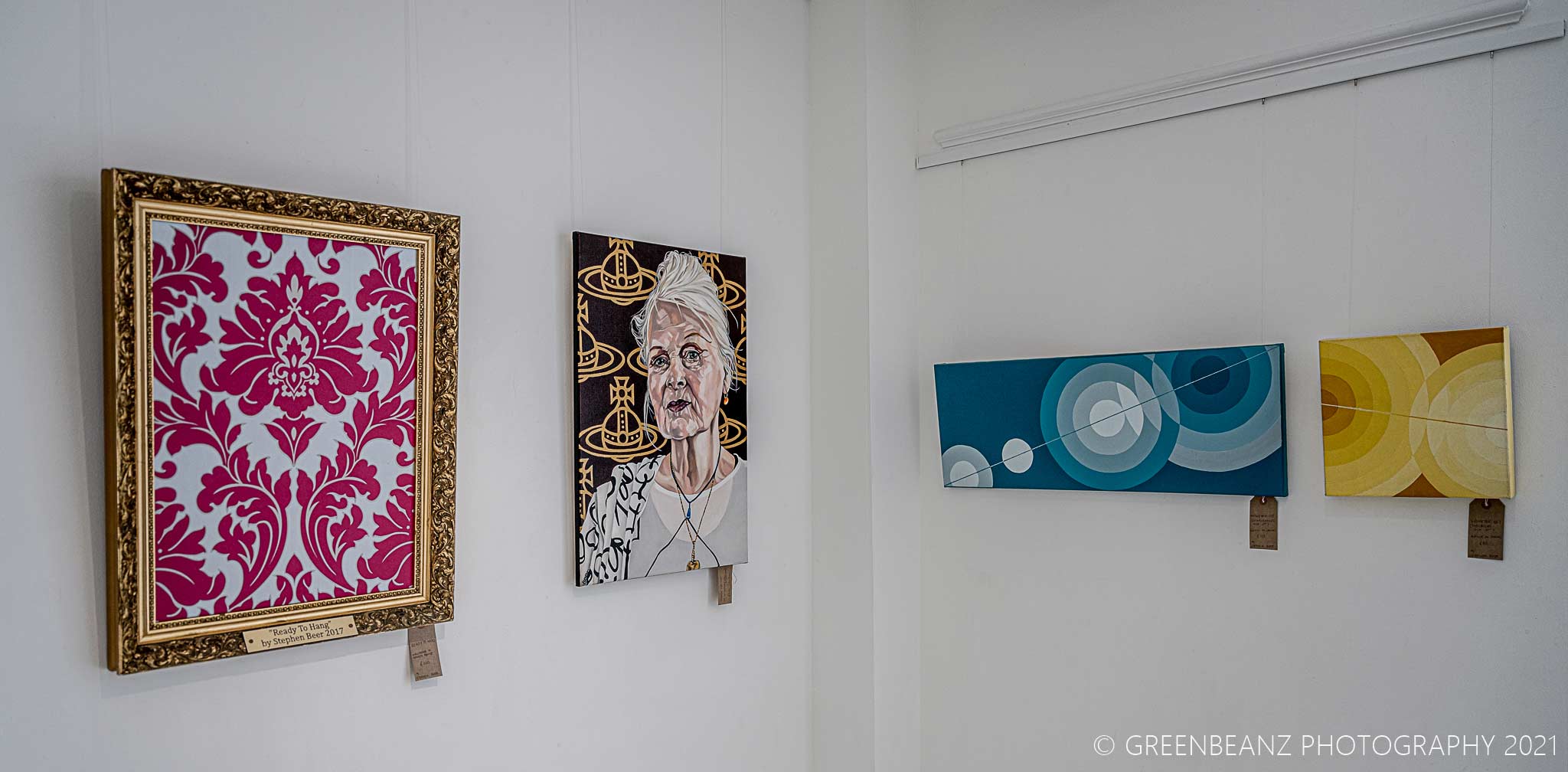 ABOVE: Stephen Beer and Jo Beers work hanging in Kingsbridge 2021
It has been a long time to be away from exhibitions and the stories that they give us. From Niki Hills exquisite little windows into a world of books, adventure, and the hidden tales of forgotten corners, to Ian Shallikers organic conversations with nature and the light that attends it, to Jo Beers spotlights on the inners faces of those we thought we already knew to Steve Beers willingness to take a story to pieces and put it back together again.
I feel refreshed and like I am starting to see chinks of a light that for a long time now has made reading almost impossible and the creation of new stories itself a far and distant dream.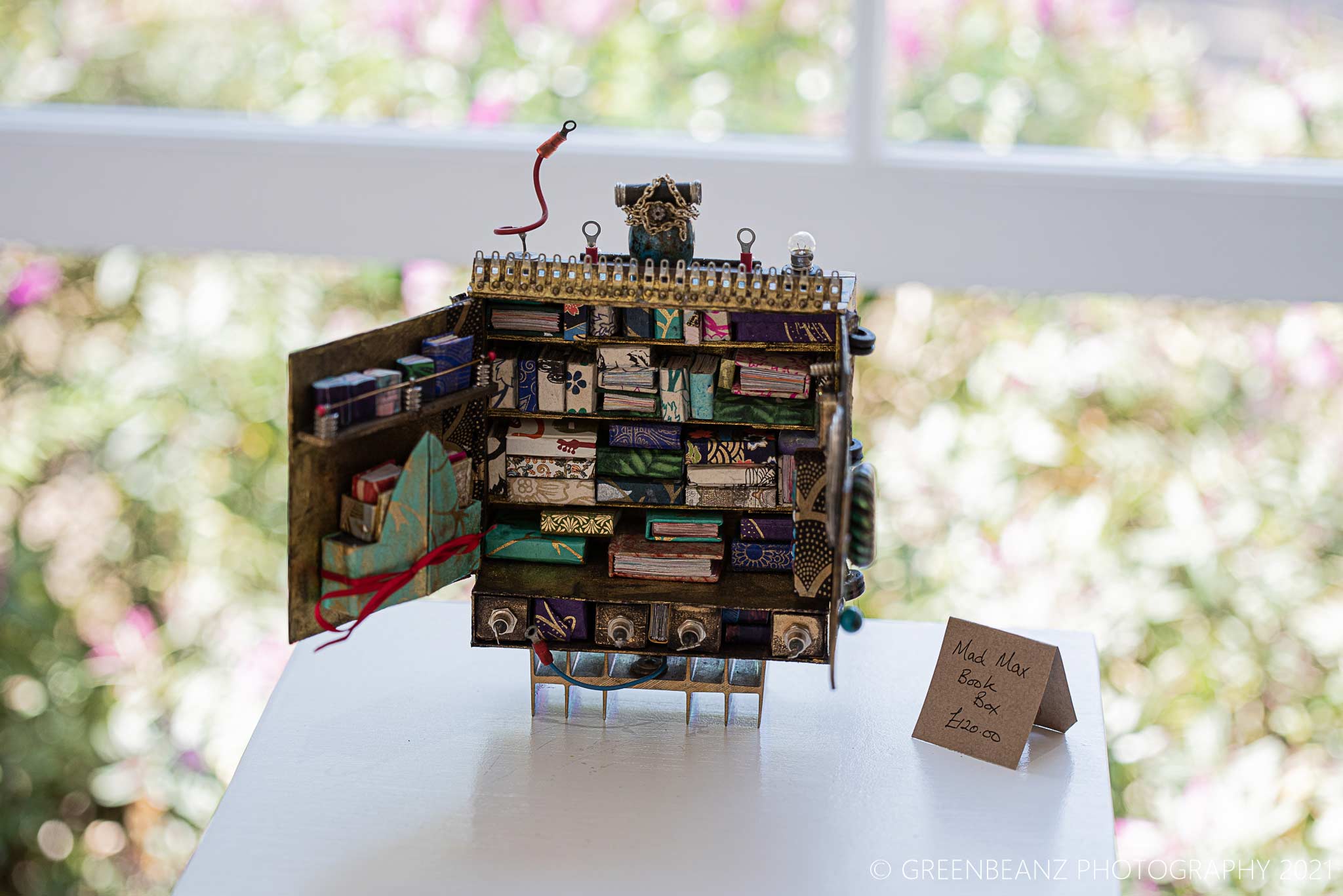 ABOVE: The artists Niki Hill's 'Mad Max Book Box' at Harbor House in 2021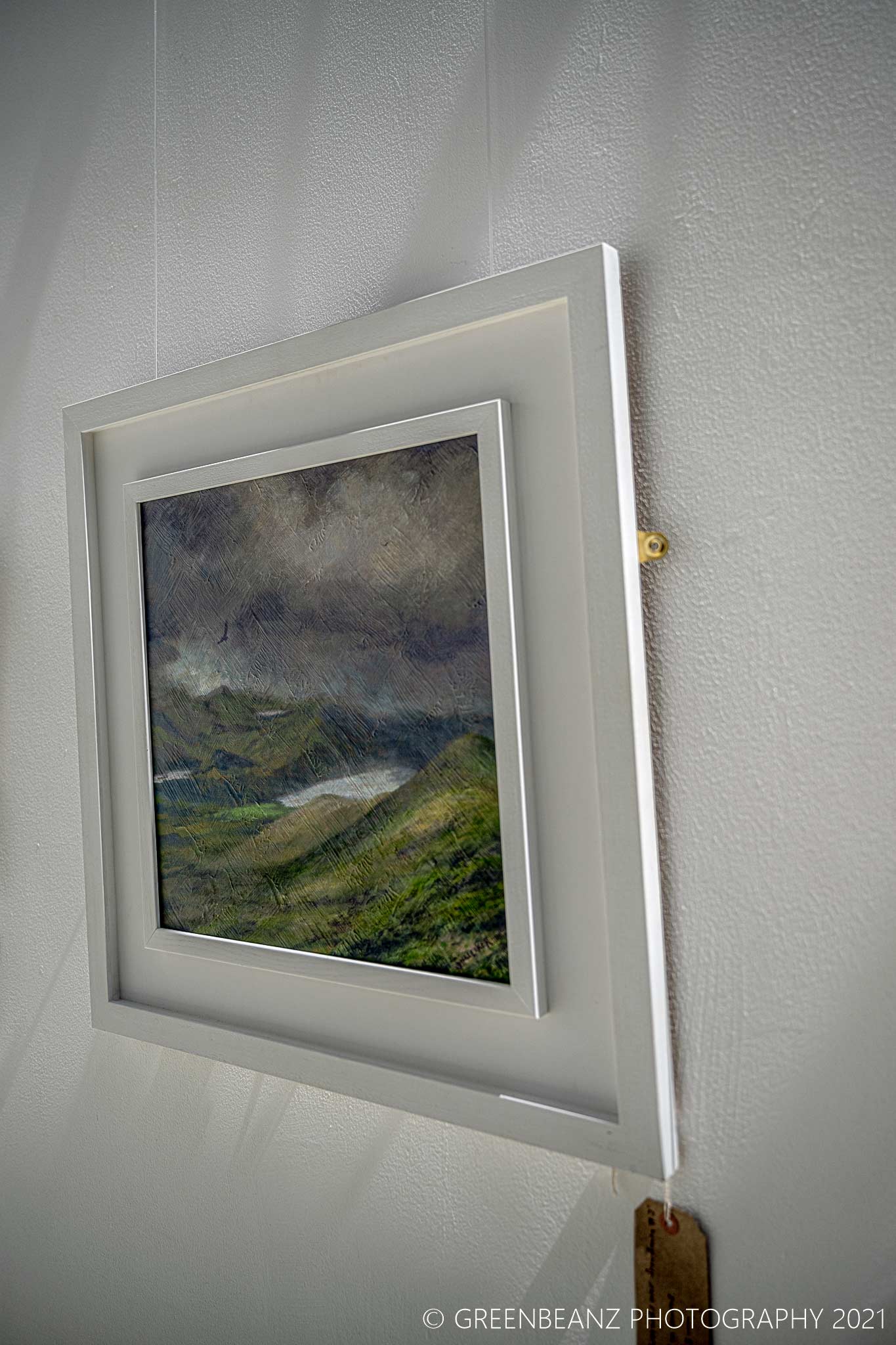 ABOVE: Ian Shallikers paiting at Harbour House in Kinsgbridge 2021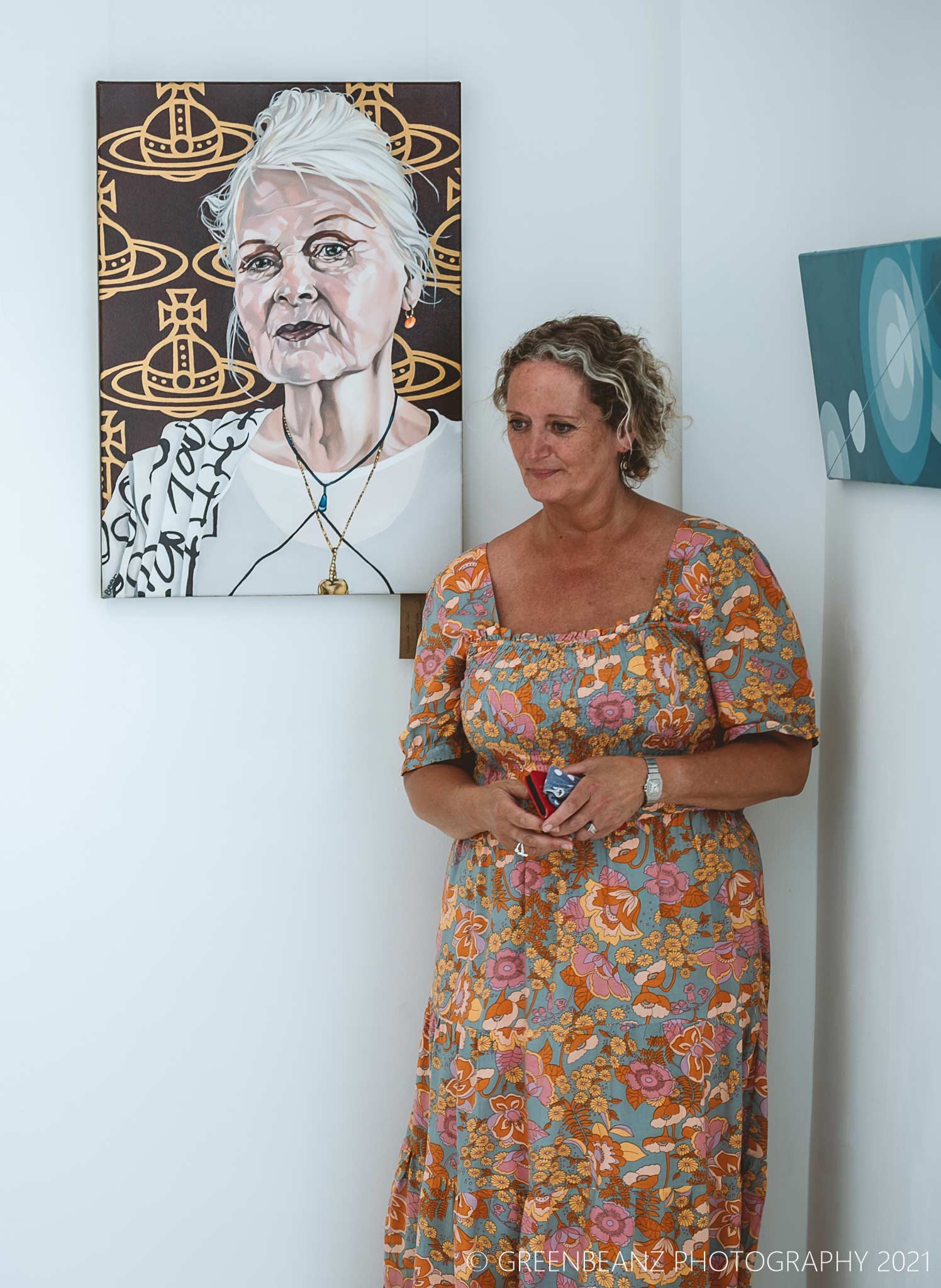 ABOVE: Jo Beer with her portrait painting pf Vivienne Westwood in Kingsbridge 2021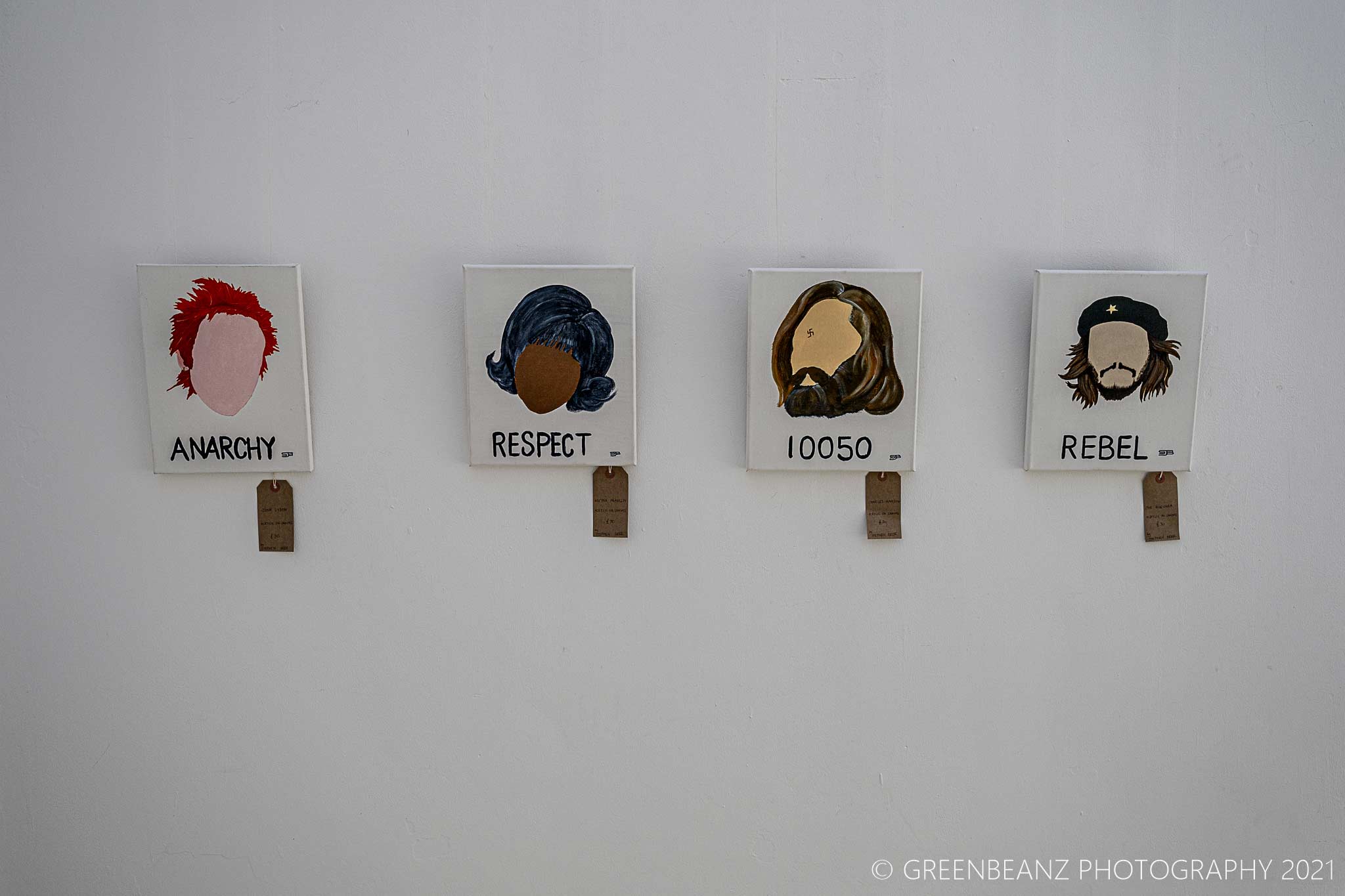 ABOVE: Stephen Beer's Icons at Kingsbridge 2021
BELOW: Four Candles at Harbor House in Kingsbridge 2021